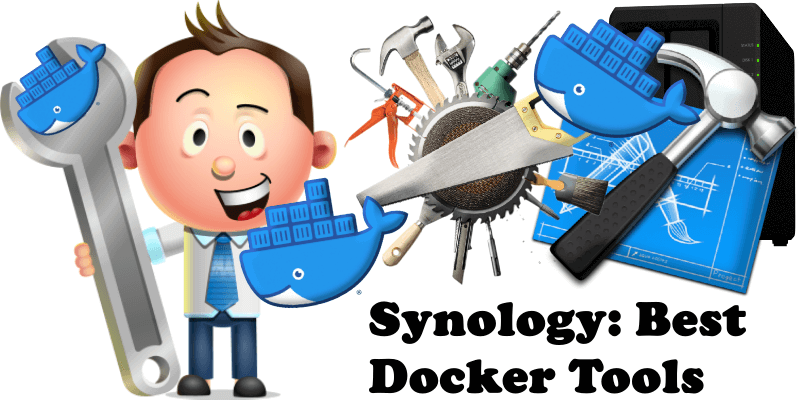 In today's article I will take you on a discovery of the best TOOLS for your Synology NAS that will help you with your daily work. The Docker and non-Docker TOOLS I'm presenting to you today are very powerful and useful, not to mention indispensable for all Synology NAS owners. Rejoice in this collection and take your NAS to the next level!
IT-Tools groups together over 50 useful tools for developers and people working in IT. The cool thing about this amazing tool is that it requires no setup, no persistent volumes, you can start to use it immediately at the speed of thought. Note: Install IT-TOOLS on Your Synology NAS.
With Website Shot you can generate a full web-page screenshot and automatically save it on your Synology NAS. Website Shot provides a rich interface to make any kind of web screenshots online for free with no limits. The simplest way to take a full page screenshot is here! The container supports long pages of up to 20000 pixels. The biggest advantage of using Website Shot hosted on your own Synology Server is that you have full privacy compared to third-party widgets that you install on your browser for the same purpose. Supported format: PNG, JPEG, WEBP. Note: Install Website Shot on Your Synology NAS.
Glances is a cross-platform monitoring tool which aims to present a large amount of monitoring information through a curses or Web based interface. The information dynamically adapts depending on the size of the user interface. Note: Install Glances on Your Synology NAS.
Shlink is a self-hosted open source URL shortener which provides both a REST and a CLI interface to interact with it. Shlink comes with some features which are not usually available in other hosted and self-hosted services. Shlink is a more advanced alternative to Lynx URL shortener and Reduced. Note: Install Shlink on Your Synology NAS.
Stirling-PDF is a powerful locally hosted web based PDF manipulation tool using Docker that allows you to perform various operations on PDF files, such as splitting merging, converting, reorganizing, adding images, rotating, compressing, and more. Note: Install Stirling PDF on Your Synology NAS.
CyberChef is a simple, intuitive web app for carrying out all manner of "cyber" operations within a web browser. These operations include simple encoding like XOR and Base64, more complex encryption like AES, DES and Blowfish, creating binary and hexdumps, compression and decompression of data, calculating hashes and checksums, IPv6 and X.509 parsing, changing character encodings, and much more. The tool is designed to enable both technical and non-technical analysts to manipulate data in complex ways without having to deal with complex tools or algorithms. It was conceived, designed, built and incrementally improved by an analyst in their 10% innovation time over several years. Note: Install CyberChef on Your Synology NAS.
Diagnosis Tool is a package of tools that Synology engineers use to test a Synology NAS device, and contains 79 practical tools that you might need. The Diagnosis Tool package cannot be installed via Package Center, but it can via task scheduler very easily. Note: Install Stirling Diagnosis Tool on Your Synology NAS.
🍀Note: Check out the Best Docker Office Containers.
🍀Note: Best Docker Containers For Your Business.
🍀Note: Best Docker Wiki Containers.
🍀Note: Best Docker Containers For Your Website.
🍀Note: Best Docker Containers For Invoices.
🍀Note: Best Docker Containers For Privacy.
🍀Note: Best Docker Containers For Startups.
🍀Note: Best Docker Containers For Ecommerce.
🍀Note: Best Docker Containers To Build Communities.
🍀Note: Best Docker Containers To Share Secrets.
This post was updated on Monday / August 7th, 2023 at 12:05 AM