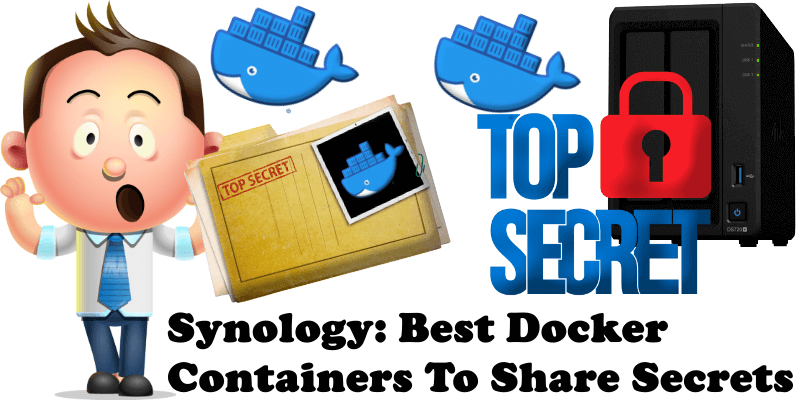 So much of managing our privacy and cybersecurity involves not sharing secrets over the Internet. Some people love to overshare private information on different social media platforms. They can post all kinds of personal information or send emails with passwords or credit card numbers. But how can you safely share private information like this over the Internet? From Amazon or Netflix passwords to important routing information for your bank account, it can be difficult to securely share anything. The last thing you want to do is just share these via email, WhatsApp, Messenger, Telegram or via direct message. But what are some strategies for sharing secret information safely and securely over the Internet?  If you are the owner of a Synology NAS, you have at your disposal the "world". Today I want to surprise you with some Docker applications that you can use to Share your secrets over the Internet in a safe and private manner.
Password Pusher is an opensource application to communicate passwords over the web, similar to Yopass and Private Bin. Links to passwords expire after a certain number of views and/or time has passed. Note: Install Password Pusher on Your Synology NAS.
PrivateBin is a minimalist open source web service that allows you to create a paste of your text output and bind it to a single URL that you can then share. It's similar to Yopass and Password Pusher. This method is perfect for sharing private information inside a Facebook chat, WhatsApp chat or any other IM platform, email etc. The end-user would just click on the link and get the output in a browser. The information will be automatically deleted/destroyed at a time of your choice: as soon as the receiver reads it, after a few minutes, after a week or several months etc. Data is encrypted and decrypted in the browser using 256bit AES in Galois Counter mode.  Note: Install PrivateBin on Your Synology NAS.
The Hemmelig application is to be used to share encrypted secrets across organizations, or as private users. Hemmelig truly cares about your privacy, and will do everything to stay that way. Note: Install Hemmelig on Your Synology NAS.
Yopass is a project for sharing secrets in a quick and secure manner, similar to Password Pusher and Private Bin. The sole purpose of Yopass is to minimize the amount of passwords floating around in ticket management systems, Slack messages and emails. The message is encrypted/decrypted locally in the browser and then sent to Yopass without the decryption key which is only visible once during encryption; Yopass then returns a one-time URL with a specified expiry date. Yopass is designed to be as simple and "dumb" as possible without compromising on security. Note: Install Yopass on Your Synology NAS.
Cryptgeon is a secure, open source sharing note or file service inspired by PrivNote, written in rust and svelte. Each document note has a 512bit generated id that is used to retrieve the note. All the data you create through cryptgeon is stored in memory (RAM) and never persists/stays on your disk on the NAS. Note: Install Cryptgeon on Your Synology NAS.
FlashPaper is a one-time encrypted zero-knowledge password/secret sharing application focused on simplicity and security. No database or complicated setup required. Note: Install FlashPaper on Your Synology NAS.
MicroBin is a super tiny, feature rich, configurable, self-contained and self-hosted paste bin web application. It is very easy to set up and use, and will only require a few megabytes of memory and disk storage. It takes only a couple seconds to set it up. Note: Install MicroBin on Your Synology NAS.
🍀Note: Check out the Best Docker Office Containers.
🍀Note: Check out the Best Wiki Containers.
🍀Note: Check out the Best Docker Tools.
🍀Note: Best Docker Containers For Your Business.
🍀Note: Best Docker Containers For Your Website.
🍀Note: Best Docker Containers For Invoices.
🍀Note: Best Docker Containers For ECommerce.
🍀Note: Best Docker Containers To Build Communities.
This post was updated on Saturday / July 15th, 2023 at 5:57 AM