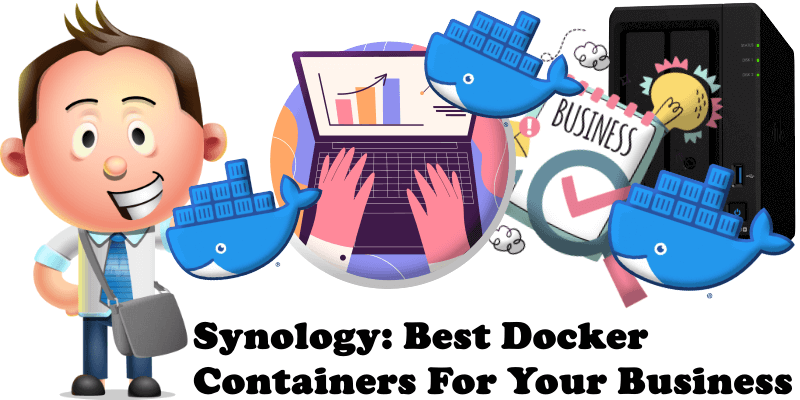 Do you have a business and want to improve it? Well, to do that you need a Synology NAS that is capable of helping you manage your business right from your home or office. To that end, I have been collecting the best Docker containers to boost your business by decreasing your working hours and halving the costs within your company. On mariushosting I want to teach you how to become independent by helping you run your projects independently. Today I want to surprise you with some Docker applications that you can use to boost your business so that you can reduce your work hours and increase your business productivity.
Calcom is the event-juggling scheduler for everyone. Focus on meeting, not making meetings. Free for individuals. Scheduling infrastructure for everyone. With Calcom you are in charge of your own data, workflow and appearance. You have full control of your events and data, and have a power scheduling infrastructure. Note: Install Calcom on Your Synology NAS.
Plausible Analytics is a simple, lightweight, open source and privacy-friendly alternative to Google Analytics, similar to Umami and Matomo. It doesn't use cookies and is fully compliant with GDPR, CCPA and PECR. The mission of Plausible is to reduce corporate surveillance by providing an alternative web analytics tool which doesn't come from the AdTech world. Note: Install Plausible on Your Synology NAS.
FreeScout is the super lightweight and powerful free open source help desk and shared inbox written in PHP (Laravel framework). It is a self hosted clone of HelpScout. Now you can enjoy free Zendesk & Help Scout without giving up privacy or locking you into a service you don't control. The things I like the most about FreeScout are its speed, the way it's coded and, last but not least, the privacy it offers. Note: Install FreeScout on Your Synology NAS.
Listmonk is a self-hosted, high performance mailing list and newsletter manager. It comes as a standalone binary and the only dependency is a Postgres database. You can easily manage millions of subscribers across many single and double opt-in lists. Note: Install ListMonk on Your Synology NAS.
Trudesk is an Open Source Help Desk Software built with one goal in mind: to keep workloads organized and simple. It's used for customer messaging & user support. Trudesk is built with Node.js and MongoDB and you can easily run it with Docker. Note: Install TruDesk on Your Synology NAS.
Kimai is a free, open source and online time-tracking software designed for small businesses and freelancers. It is built with modern technologies such as Symfony, Bootstrap, RESTful API, Doctrine, AdminLTE, Webpack, ES6 and many more. Note: Install Kimai on Your Synology NAS.
Mautic is the world's largest open source marketing automation project. Mautic empowers businesses by making it easy to manage their marketing across a range of channels. One of the goals of Mautic is to provide professional Marketing Automation for small businesses.. Note: Install Mautic on Your Synology NAS.
Invoice Ninja is a leading platform for freelancers & SMB's to invoice clients, accept payments, track expenses & time-billable tasks. Invoicing, Quotes, Expenses, Tasks. Note: Install Invoice Ninja on Your Synology NAS.
Firefly III is a self-hosted manager for your personal finances. It can help you keep track of your expenses and income so you can spend less and save more. Firefly III supports the use of budgets, categories and tags. Using a bunch of external tools, you can import data. It also has many neat financial reports available. Firefly III should give you insight into and control over your finances. Note: Install Firefly III on Your Synology NAS.
Dolibarr ERP & CRM is a modern software package to manage your organization's activity (contacts, suppliers, invoices, orders, stocks, agenda). It's an Open Source Software suite (written in PHP with optional JavaScript enhancements) designed for small, medium or large companies, foundations and freelancers. Note: Install Dolibarr on Your Synology NAS.
ERPNext is a full-featured business management solution that helps SMEs record all their business transactions in a single system. With ERPNext, SMEs can make informed, fact-based, timely decisions to remain ahead of the competition. It serves as the backbone of a business, adding strength, transparency, and control to your growing enterprise. ERPNext will help you: track all invoices and payments, know what quantity of which product is available in stock, identify and track your key performance indicators (KPIs), identify open customer queries, manage employee payrolls, assign tasks and follow up on them, maintain a database of all your customers, suppliers, and contacts, prepare quotations, track your budgets and spending, determine effective selling price based on the actual raw material, machinery, and effort cost, get reminders on maintenance schedules and publish your website. Note: Install ERPNext on Your Synology NAS.
Splunk is a software platform to search, analyze and visualize the machine-generated data gathered from the websites, applications, sensors, devices etc. which make up your IT infrastructure and business. If you have a machine which is generating data continuously and you want to analyze the machine state in real time, then how will you do it? Can you do it with the help of Splunk? Yes! You can. You see servers and devices, apps and logs, traffic and clouds. Splunk sees data. Everywhere. Splunk provides the leading platform for Operational Intelligence. It allows the curious to see closely what others ignore, machine data, and find what others never see: information that can make your company more productive, profitable, competitive and safe. Note: Install Splunk on Your Synology NAS.
Automatisch is an open source Zapier alternative business automation tool that lets you connect different services like Twitter, Slack, and more to automate your business processes. You can build workflow automation without spending time and money using Automatisch. No code is required. Note: Install Automatisch on Your Synology NAS.
Activepieces is an open-source business automation tool alternative to Zapier, and fully self hosted. It's built for no-code users and citizen developers. For example, you can build automations to receive email and Slack notifications about new contacts added to your HubSpot CRM. Activepieces allows you to automate almost anything without the need to code. Note: Install Activepieces on Your Synology NAS.
🍀Note: Check out the Best Docker Office Containers.
🍀Note: Check out the Best Wiki Containers.
🍀Note: Check out the Best Docker Tools.
🍀Note: Best Docker Containers For Your Website.
🍀Note: Best Docker Containers For Invoices.
🍀Note: Best Docker Containers For Privacy.
🍀Note: Best Docker Containers For Startups.
🍀Note: Best Docker Containers For Ecommerce.
🍀Note: Best Docker Containers To Build Communities.
🍀Note: Best Docker Containers To Share Secrets.
This post was updated on Saturday / July 15th, 2023 at 6:00 AM