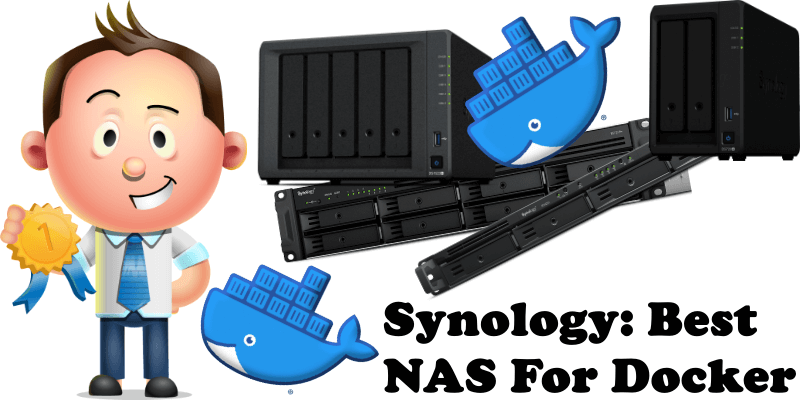 As you can probably tell by now, your friend Marius has a great passion for Docker. After all the work I've put in over the past few years and the experience I've gained along with it, I've not only picked up, but also discovered so many useful pieces of information, such as that some Docker containers cannot be installed on some NAS models 20+ series with dated CPUs that do not have AVX support. Advanced Vector Extensions, AVX for short, are extensions to the x86 instruction set architecture for microprocessors from Intel and AMD Advanced Micro Devices. To better help you navigate the complexities of deciding which NAS is best for Docker, in today's article I want to put you on the right track and help you choose a good Synology NAS model for Docker. All my recommendations are for models designed to make Docker work perfectly, run fast, without any kind of error and at peak performance, allowing you to install all of your favorite Docker images.
The idea for this article came to me after repeated testing during which I realized that some NAS devices lack the capacity to run some Docker containers. Docker containers such as for example Rocket.Chat, Umami, Wekan, MongoDB 5 need "better" processors with some extra features to work. Many people on the Internet recommend NAS models without having firsthand experience on the battleground 🙂 They give advice based on what they think would sell best so the commissions they make from the direct sales or through affiliate links of the said products add up.
My recommendations on the other hand are genuine which is why you will not find any trace of affiliation in this article, or anywhere else on the mariushosting blog. My recommendations are based on firsthand experience gained working extensively with NAS devices and creating Docker content.
I am going to tell you what is the model I personally consider to be the best for running Docker, and you can buy it wherever you want, whenever you want, if you want, without any obligation whatsoever, while knowing you are choosing the right product. Before bringing any kind of criticism to my recommendations, do read all the notes at the end of the article carefully.
Note: I personally advise against buying the 20x series NAS for Docker. Although almost all Docker containers work on these models, some of them do not work at all due to the devices not having AVX support. The absence of AVX support is in itself a good reason to leave these models behind.
Note: In this article I have presented only 6 NAS models which I have chosen to recommend specifically for their good quality-price ratio.
Note: Why didn't I recommend the 21x series models for Docker? Because most of the models of this series do not have CPU turbo. That doesn't mean they don't support Docker, but this feature is quite important if you are looking to run Docker on your NAS. Like I said before, in this article I have chosen to list the best models for Docker and the fact of the matter is some Docker containers need CPU turbo to run fast under specific conditions.
Note: Are there any good 2-Bay models for Docker? Yes, the new Synology NAS DS723+.
Note: My advice is to visit this page again because it will be updated frequently with new model recommendations for Docker.
Note: There are other RS (RackStation) models that are also good for Docker, but I haven't listed them here because they are simply too expensive.
Note: DS723+, DS923+ and DS1522+ remain the best NAS devices for Docker for a range of budgets.
Note: Many NAS devices support Docker, but there is also a matter of how well you can run Docker containers on them. Performance is affected by the Docker containers themselves. There are light Docker containers and very heavy Docker containers. For the latter you need to select a NAS model that is up to the task.
This post was updated on Friday / June 9th, 2023 at 6:58 PM