Huginn is a system for building agents that perform automated tasks for you online when you are not at computer. Huginn can read the web, watch for events, and take actions on your behalf. Huginn's Agents can create and consume events, propagating them along a directed graph. In this step by step guide I will show you how to install Huginn on your Synology NAS using Docker.
Please Support My work by Making a Donation.
Install Docker via Synology "Package Center".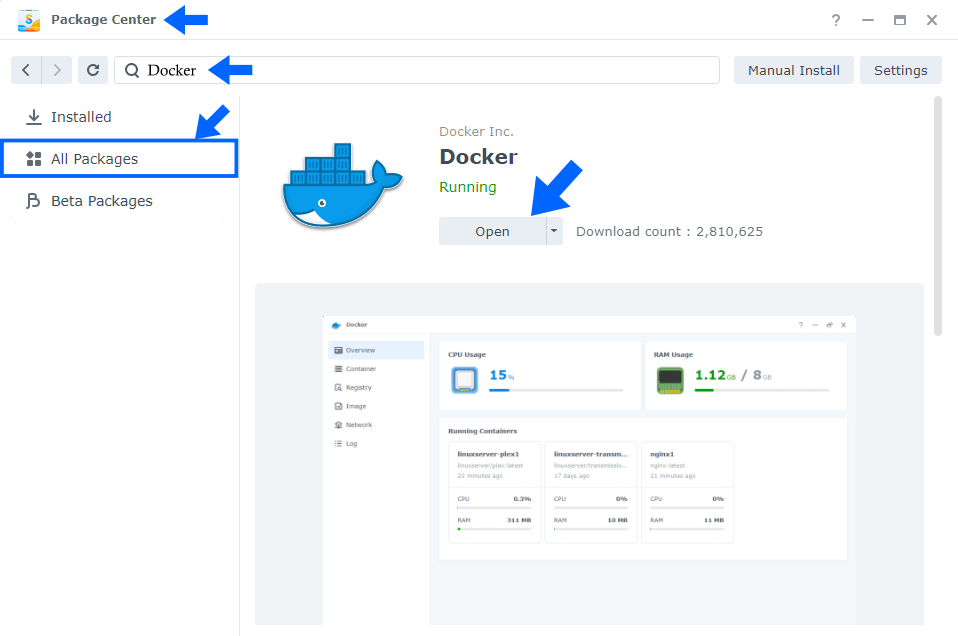 Go to File Station and open the docker folder. Inside the docker folder, create one new folder and name it huginn. Follow the instructions in the image below.
Note: Be careful to enter only lowercase, not uppercase letters.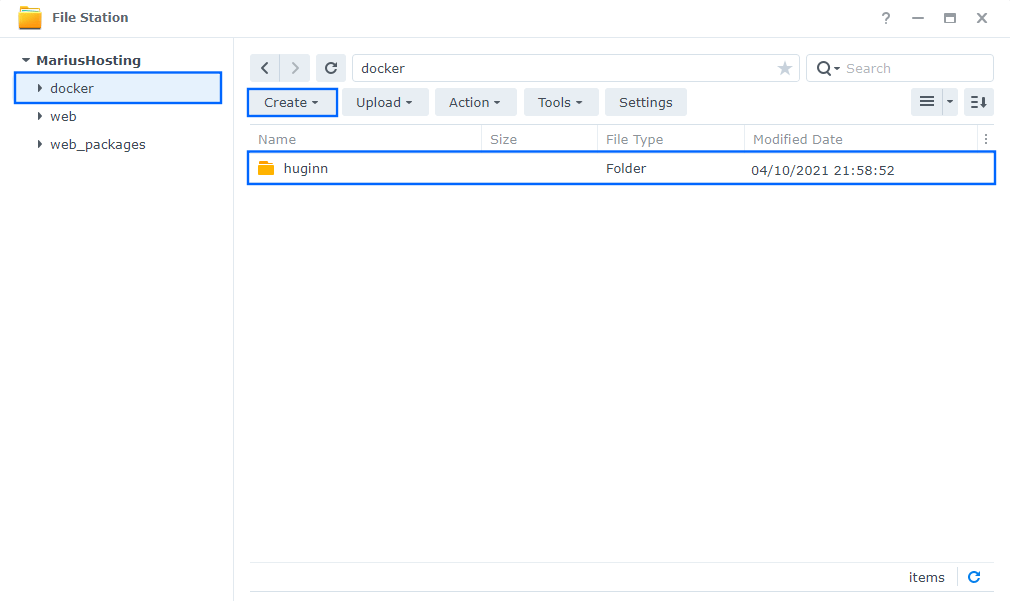 Go to Control Panel / Task Scheduler / Create / Scheduled Task / User-defined script. Follow the instructions in the image below.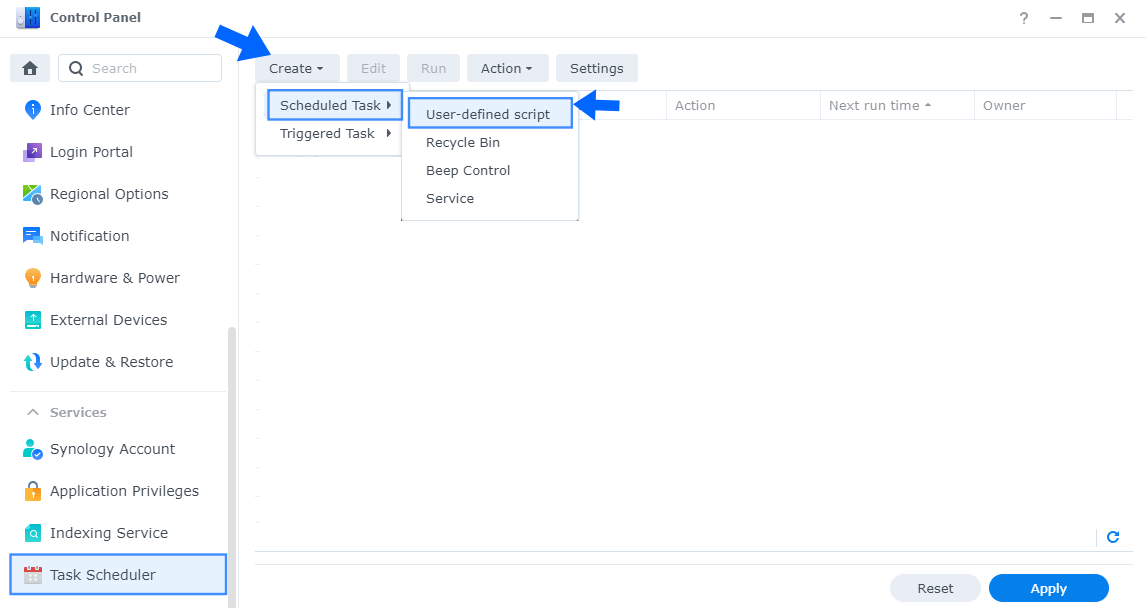 Once you click on User-defined script a new window will open. Follow the instructions below:
General: In the Task field type in "Install Huginn". Uncheck "Enabled" option. Select root User.
Schedule: Select Run on the following date then select "Do not repeat".
Task Settings: Check "Send run details by email", add your email then copy paste the code below in the Run command area. After that click OK.
docker run -d --name=huginn \
-p 3008:3000 \
-v /volume1/docker/huginn:/config \
--restart always \
huginn/huginn

After you click OK on STEP 5 a new warning pop up window will open. Click OK.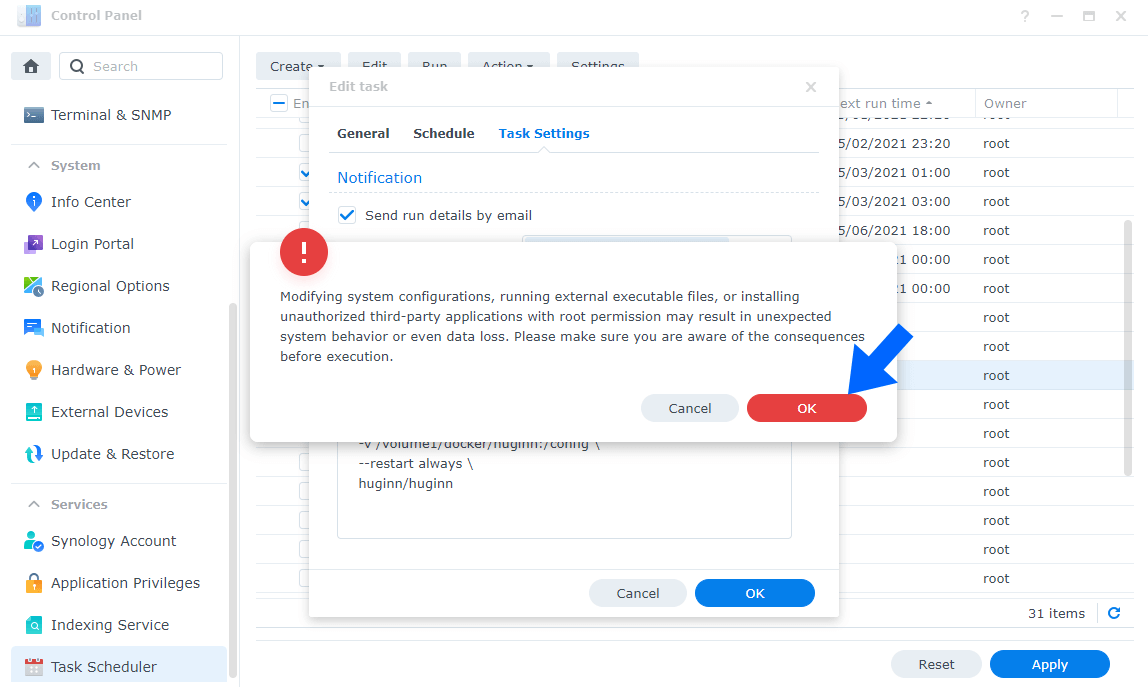 After you click OK on STEP 6, select your "Install Huginn" Task then click the "Run" tab. You will be asked to run Install Huginn – click Yes. Follow the instructions in the image below.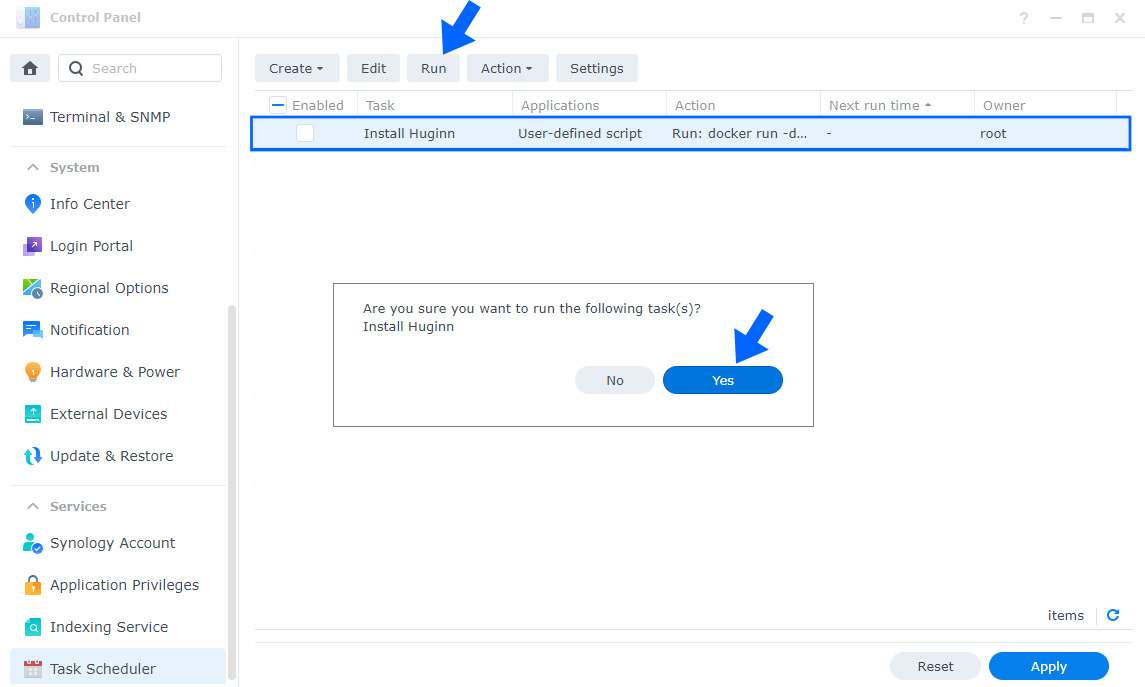 Go back to STEP 1 or you will deal with karma 🙂
The installation process can take up to a few seconds/minutes. It will depend on your Internet speed connection. Now open your browser and type in http://Synology-ip-address:3008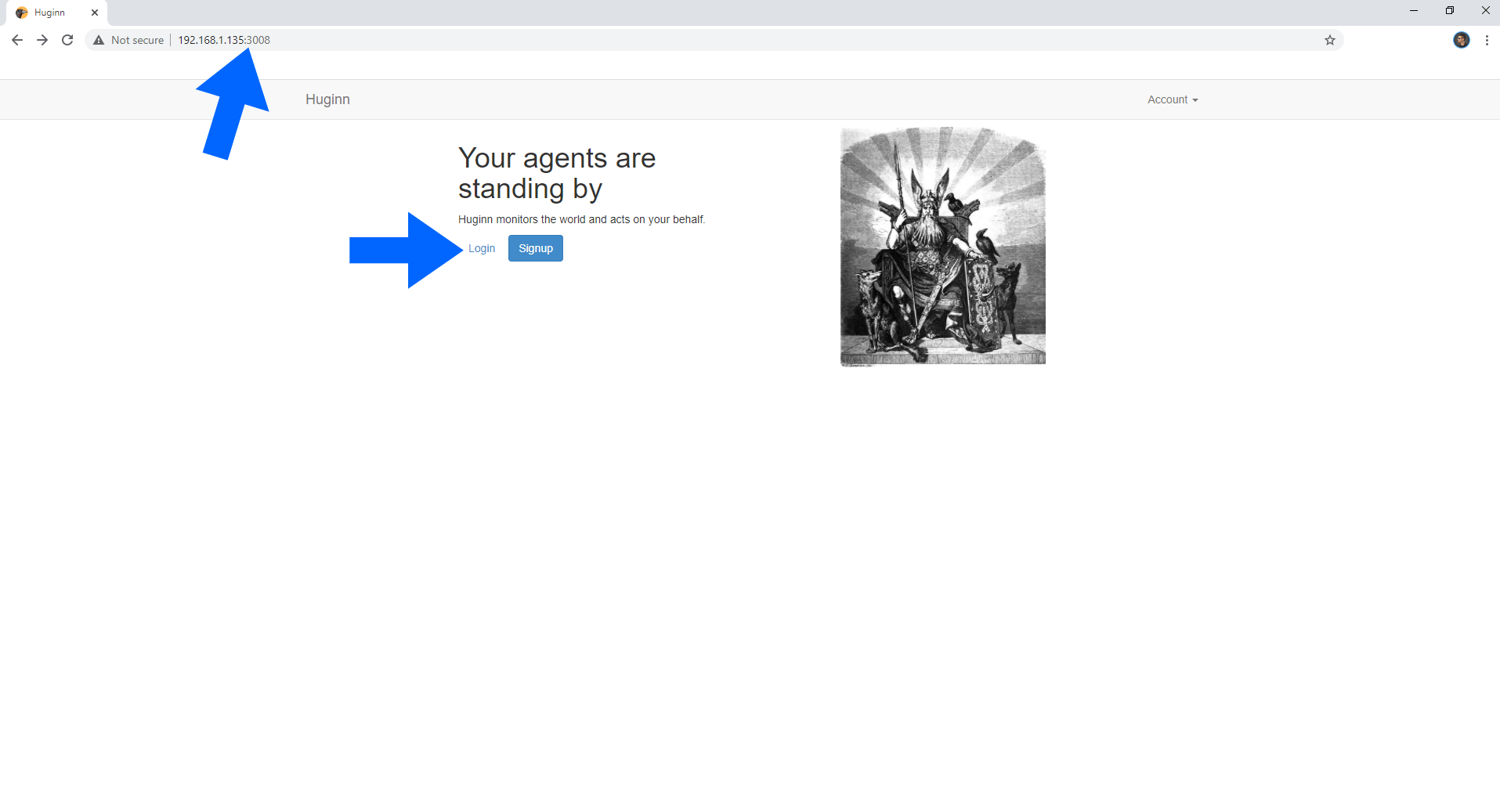 Type in the default Username and Password, then click Log in.
You can change username and password later.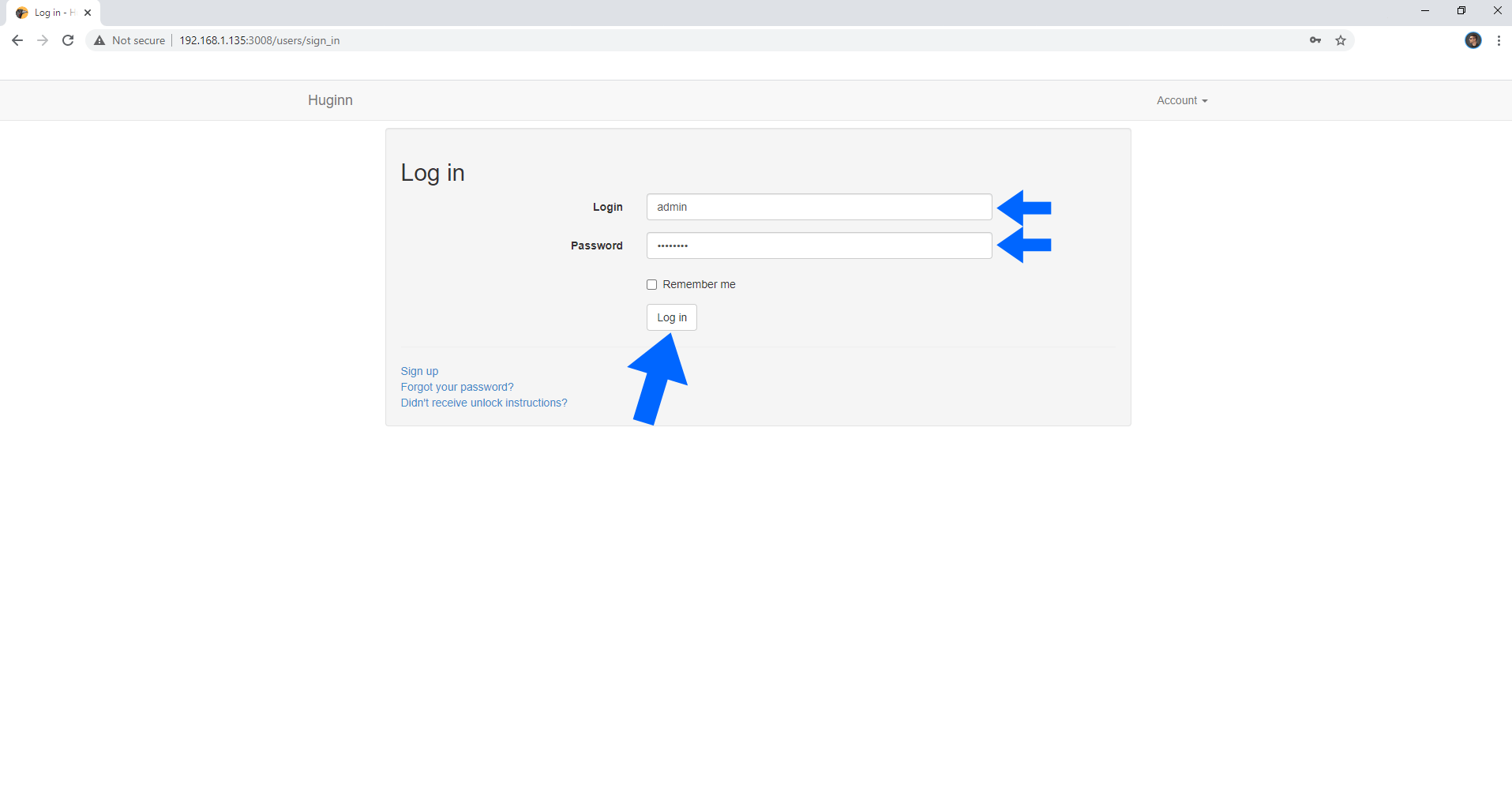 Enjoy Huginn!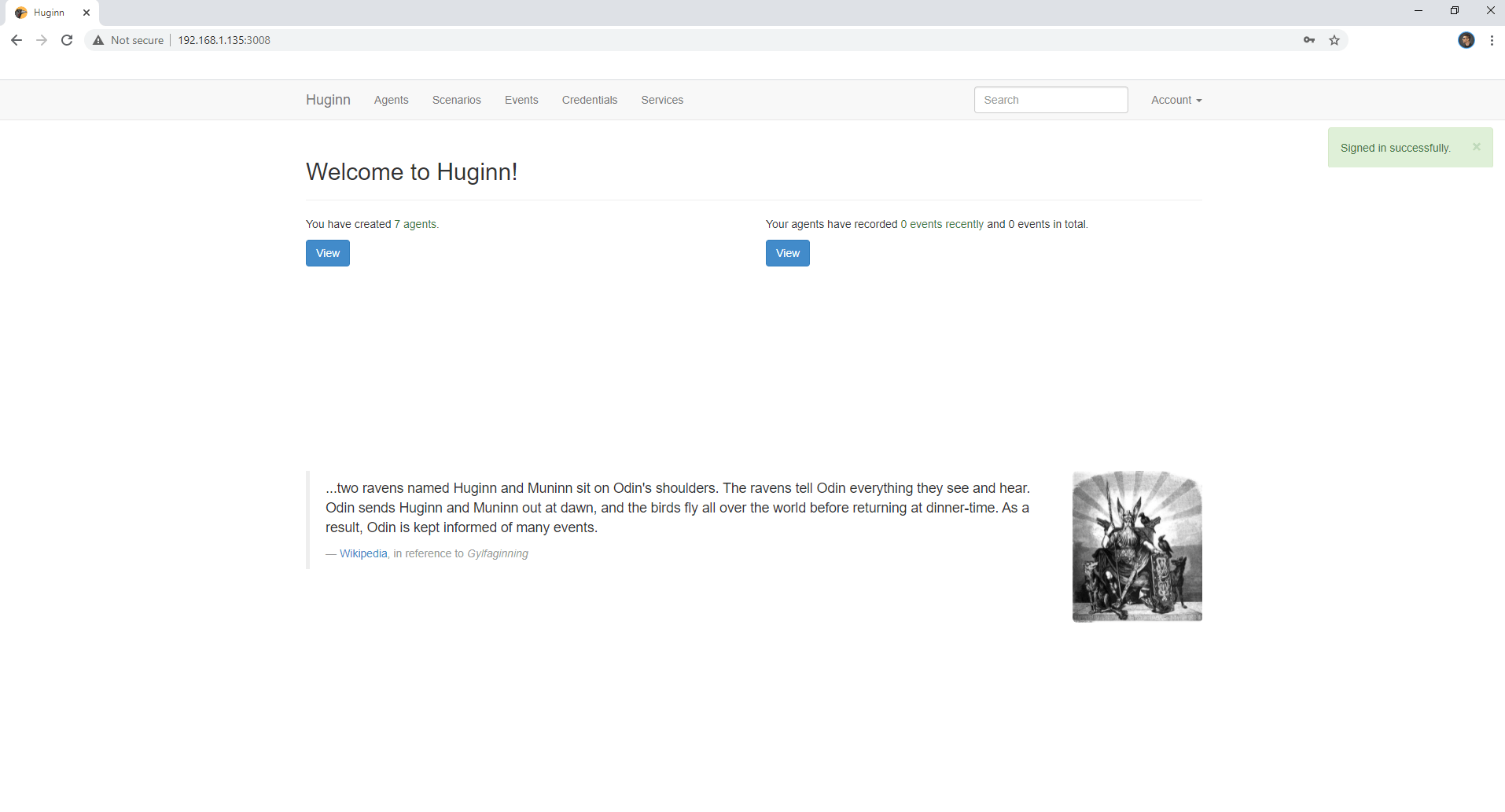 STEP 12 Run Container via HTTPS
Read the Step by step guide on How to allow Huginn to Work Over an HTTPS Connection. Method 1.
Read Synology: HTTPS-SSL to Your Docker Containers Without Port at The End. Method 2.
Note: Can I run Docker on my Synology NAS? See the supported models.
Note: Find out how to update Huginn container with the latest image.
This post was updated on Sunday / May 2nd, 2021 at 11:02 PM