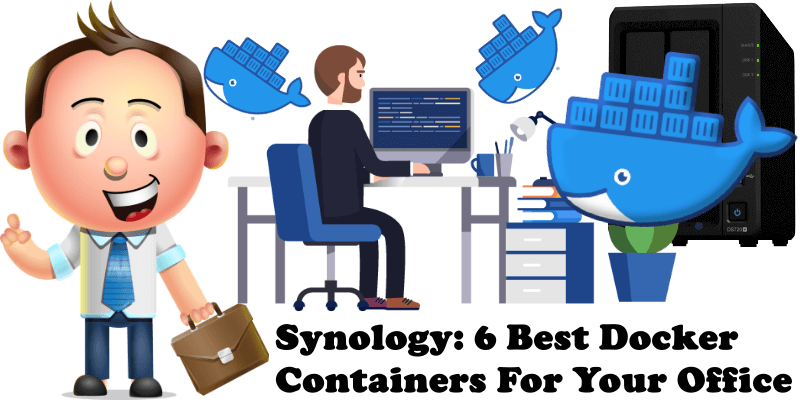 Nowadays having a Synology NAS in your office has become indispensable because it helps you organize all the different aspects of your work. Thanks to the free tools it provides, having a Synology NAS means you can be productive at work like never before. Do you remember my article where I took you on a discovery of 5 free official Synology apps for your office? Today I want to surprise you with 6 free Docker applications, and one bonus container, that you can use in your office so that you can reduce your work hours and increase your productivity.
Paperless-ngx is a document management system that transforms your physical documents into a searchable online archive so you can keep, well, less paper. Note: Install Paperless NGX With Office Files Support on Your Synology NAS.
Stirling-PDF is a powerful locally hosted web based PDF manipulation tool using Docker that allows you to perform various operations on PDF files, such as splitting merging, converting, reorganizing, adding images, rotating, compressing, and more. Note: Install Stirling PDF on Your Synology NAS.
Reactive Resume is a free and open source resume builder that's built to make the mundane tasks of creating, updating and sharing your resume as easy as 1, 2, 3. With this app, you can create multiple resumes, share them with recruiters or friends through a unique link and print it as a PDF, all for free, no ads, no tracking, without losing the integrity and privacy of your data. Note: Install Reactive Resume V3 on Your Synology NAS.
OpenResume is a powerful open-source resume builder and resume parser. The goal of OpenResume is to provide everyone with free access to a modern professional resume design and enable anyone to apply for jobs with confidence. The resume PDF is a modern professional design that adheres to U.S. best practices and is ATS friendly to top ATS platforms such as Greenhouse and Lever. It automatically formats fonts, sizes, margins, bullet points to ensure consistency and avoid human errors. The app only runs locally on your browser, meaning no sign up is required and no data ever leaves your browser, so it gives you peace of mind on your personal data. If you already have an existing resume PDF, you have the option to import it directly, so you can update your resume design to a modern professional design in literally a few seconds. In this step by step guide I will show you how to install OpenResume on your Synology NAS using Docker and Portainer. Note: Install OpenResume on Your Synology NAS.
Firefly III is a self-hosted manager for your personal finances. It can help you keep track of your expenses and income so you can spend less and save more. Firefly III supports the use of budgets, categories and tags. Using a bunch of external tools, you can import data. It also has many neat financial reports available. Firefly III should give you insight into and control over your finances. Note: Install Firefly III on Your Synology NAS.
Flatnotes is designed to be a distraction free note taking app that puts your note content first. This means: a clean and simple user interface. No folders, notebooks or anything like that. Just all of your notes backed by powerful search and tagging functionality. You will have quick access to a full text search from anywhere in the app (keyboard shortcut "/"). Note: Install Flatnotes on Your Synology NAS.
IT-Tools groups together over 50 useful tools for developers and people working in IT. The cool thing about this amazing tool is that it requires no setup, no persistent volumes, you can start to use it immediately at the speed of thought. Note: Install IT-Tools on Your Synology NAS.
🍀Note: Check out the Best Wiki Containers.
🍀Note: Best Docker Containers For Your Business.
🍀Note: Check out the Best Docker Tools.
🍀Note: Best Docker Containers For Your Website.
🍀Note: Best Docker Containers For Invoices.
🍀Note: Best Docker Containers For Privacy.
🍀Note: Best Docker Containers For Startups.
🍀Note: Best Docker Containers For Ecommerce.
🍀Note: Best Docker Containers To Build Communities.
🍀Note: Best Docker Containers To Share Secrets.
This post was updated on Wednesday / September 13th, 2023 at 2:14 PM