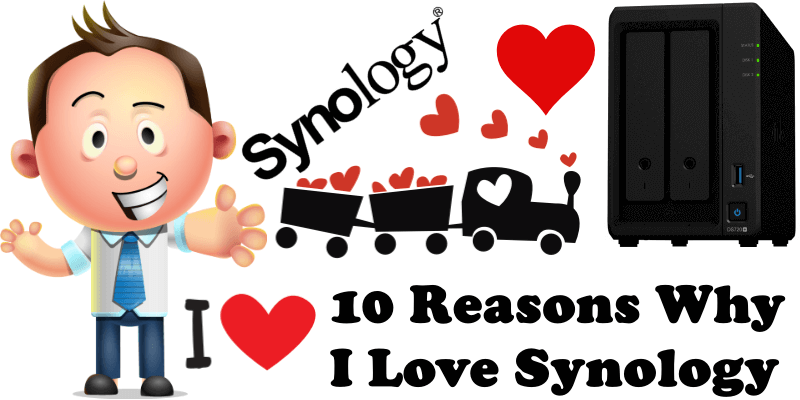 Surely many of you have been wondering why I like Synology so much. So much that I've built an entire website around it and work every day to teach people all the cool and useful things they can do with their NAS box. Well, when I bought my first Synology NAS a few years back, I bought it with the intention of hosting a few websites. At the time I did not know what the full extent of the capabilities of the DSM operating system was. The year 2018 was one of significant financial sacrifices for me so that I could afford to buy my first NAS, a DS718+, two SSD disks from crucial, and a RAM memory from Kingston Hyperx. As soon as everything arrived, I got right to work – doing the RAM upgrade, let me tell you, I was sweating buckets and was gripped with anxiety about possibly breaking some component! I had nothing to eat all day because of the stress, and I love to eat. Intense days of testing, defeats, failures and plenty of research followed.
In time I realized how easy it all actually was and that my initial fears were passing. I realized that the Synology NAS used by so many for storage alone was an even more powerful tool than it appeared. Different horizons opened up and I discovered the capabilities of Synology Software. Not only was the Synology software very advanced for 2018, but also the ease of use left me astounded. On January 9, 2019, I began to host mariushosting, slowly recounting my experiences with the NAS. Intensive testing followed and, after that, lots of guides and tutorials because I wanted other people to be able to enjoy their NAS to its full extent too. This has lead to me upgrading my box a year later with a DS720+ NAS model that paved the way towards M.2 SSD caching which made my website, mariushosting, so much faster and accessible. My discovery of the Synology RT2600ac router and the MR2200ac Mesh router has allowed me to make great strides in organizing my network and upping my webhosting game.
During this time I was also able to put substantially more effort into my Docker work, providing more easy Docker guides on mariushosting that helped thousands of people discover the potential of their NAS, and their excitement for the box and what they could do with it. Years of upgrades, collaborations and, consequently, work followed, and so did the DS1621xs+ that I currently use. In 2022 I decided to open the door to video surveillance content. It seemed the next logical step and, thanks to Surveillance Station 9, an exciting new avenue full of possibilities.
A Synology NAS is no longer just a storage box. My self-hosted website, mariushosting, is living proof that you can webhost yourself. Not just this, but a NAS box has a myriad of ample uses that extend way beyond first impressions. Like I said a few times in the past, a Synology NAS is an indispensable piece of technology that every household would benefit from. I really think every household should have one. Below are the 10 reasons why I love Synology:
A Synology NAS device, with its accomplished DSM 7.1 operating system, is just so simple to use. Every new user is surprised at how intuitive the operating system is which is what makes the device so easy to use.
One of the top reasons why I love Synology is how secure it is. Honestly, Synology is the best when it comes to security. Over the years we have seen major security flaws in other NAS vendors. All Synology NAS models run a Linux-based operating system and the Synology team releases security fixes all the time to stay ahead of any potential security risks. I love Linux! I love Synology!
I think SHR makes Synology NAS superior to other vendors. What is SHR?
You can use a Synology NAS to Play Music thanks to the Audio Station package and DS Audio app for mobile phones. You can also use Audiobookshelf, Navidrome etc.
You can use a Synology NAS to Play Movies thanks to the Video Station package and DS video app for mobile phones. You can also stream video and movies using Plex, Jellyfin, Emby etc.
You can host a website on a Synology NAS. Or multiple websites. Yes, you've heard that right: you can host your own website on your NAS, just like I do with mariushosting and have been doing for years now. And the quality of webhosting on your own Synology NAS rivals that of external webhosting services, without the insane costs.
The Synology NAS is in every way, manner or aspect a webserver. It allows you to host your own website, paving the way to self-hosting thanks to Docker. The possibilities in this case are endless!
Synology doesn't just make NAS devices, but also routers! That's right, you've heard well: Synology has come out with its own line of routers – the RT6600ax, the RT2600ac, and the MR2200ac Mesh routers, all powered by an exceptional operating system called SRM (Synology Router Manager).
Synology produces its own HDD and SSD disks which are superior to many other brands on the market. What I love about this, in addition to the quality and performance of the disks, is the fact that the upgrade to the firmware can be done without removing the disks from the NAS.
The NAS can be used as a potent instrument for video surveillance thanks to Synology's Surveillance Station software. You can register video material continuously for days at a time on your own NAS, and keep your home or office and surroundings safe with your choice of video surveillance cameras. As of right now there are thousands of compatible video camera brands that you can choose from to use with your NAS.
This post was updated on Wednesday / August 10th, 2022 at 9:43 PM