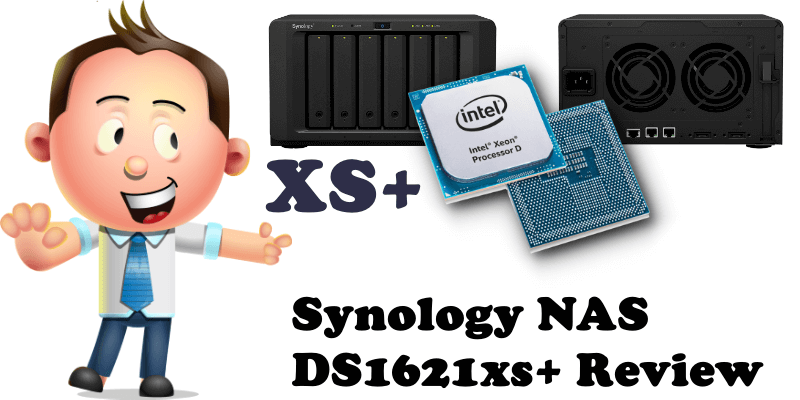 The adventure continues on mariushosting with a new Synology NAS. Today I have added the reputed DS1621xs+ Synology NAS to my setup. The DS1621xs+ is looking to be one of the best upgrades I have made recently, a leap in innovation, and will take the place of my current DS720+ on which mariushosting is currently being hosted. Next week I will be moving everything on my DS720+ to my new DS1621xs+ which will be marking an excellent upgrade of my setup.
DSM 7 Operating System
Feel free to admire the DSM Operating System installed on the DS1621xs+ Synology NAS. Do you like the wallpaper? You can download it from here.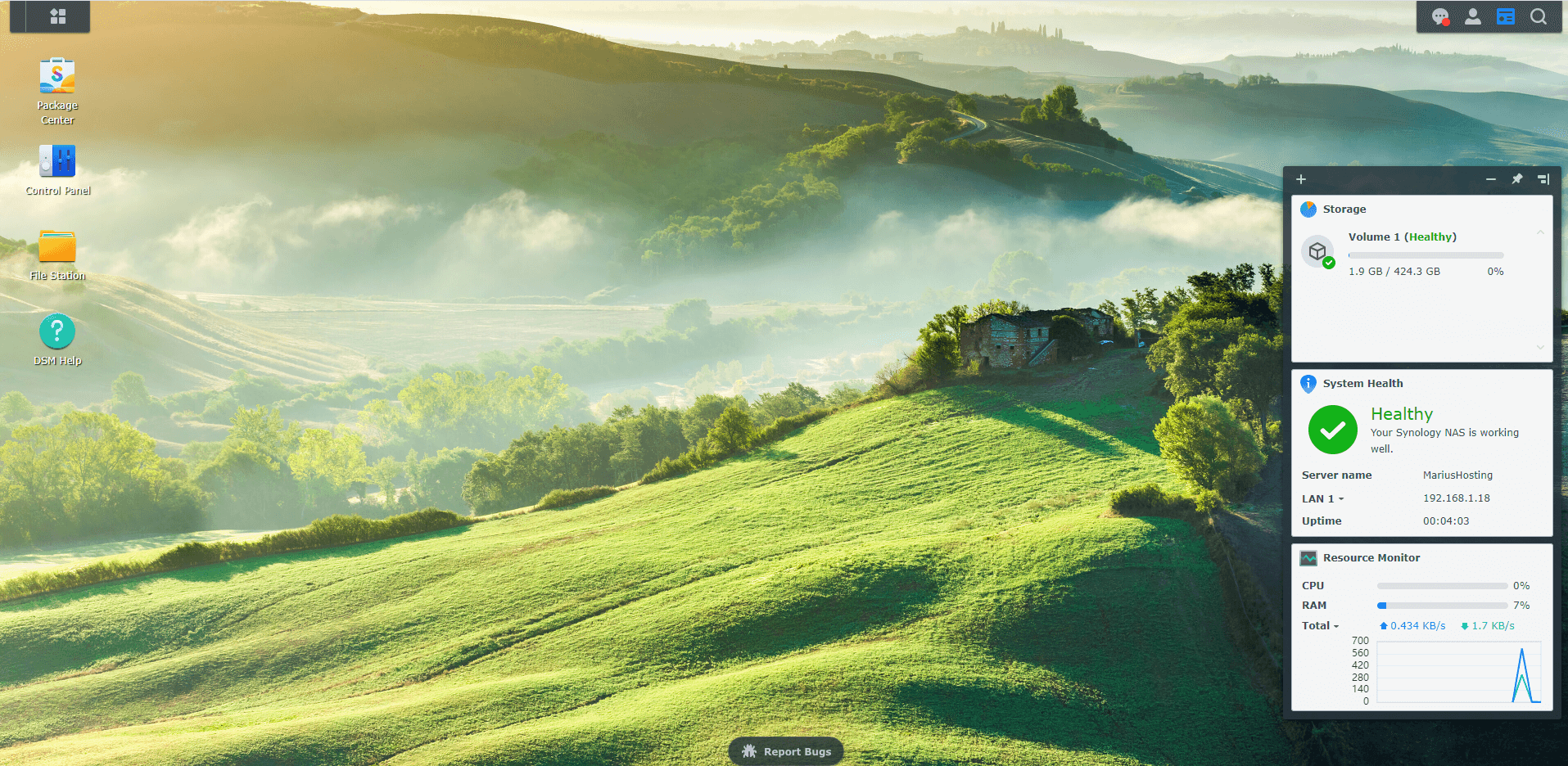 First Impressions
Here's what else you'll find in your DS1621xs+ box, aside from the NAS itself: the power cable, two Gigabit cables CAT5e, the quick installation guide as well as two keys to physically secure your NAS and screws for your disks. Professional packaging, six bay compartments, metal case – this is the DS1621xs+. Over the years, NAS devices have changed as technology grew and have become top of the range. The leap in technology has made them into something we can no longer do without and every household and every business now needs a Synology NAS. And here it is in all its glory: the DS1621xs+!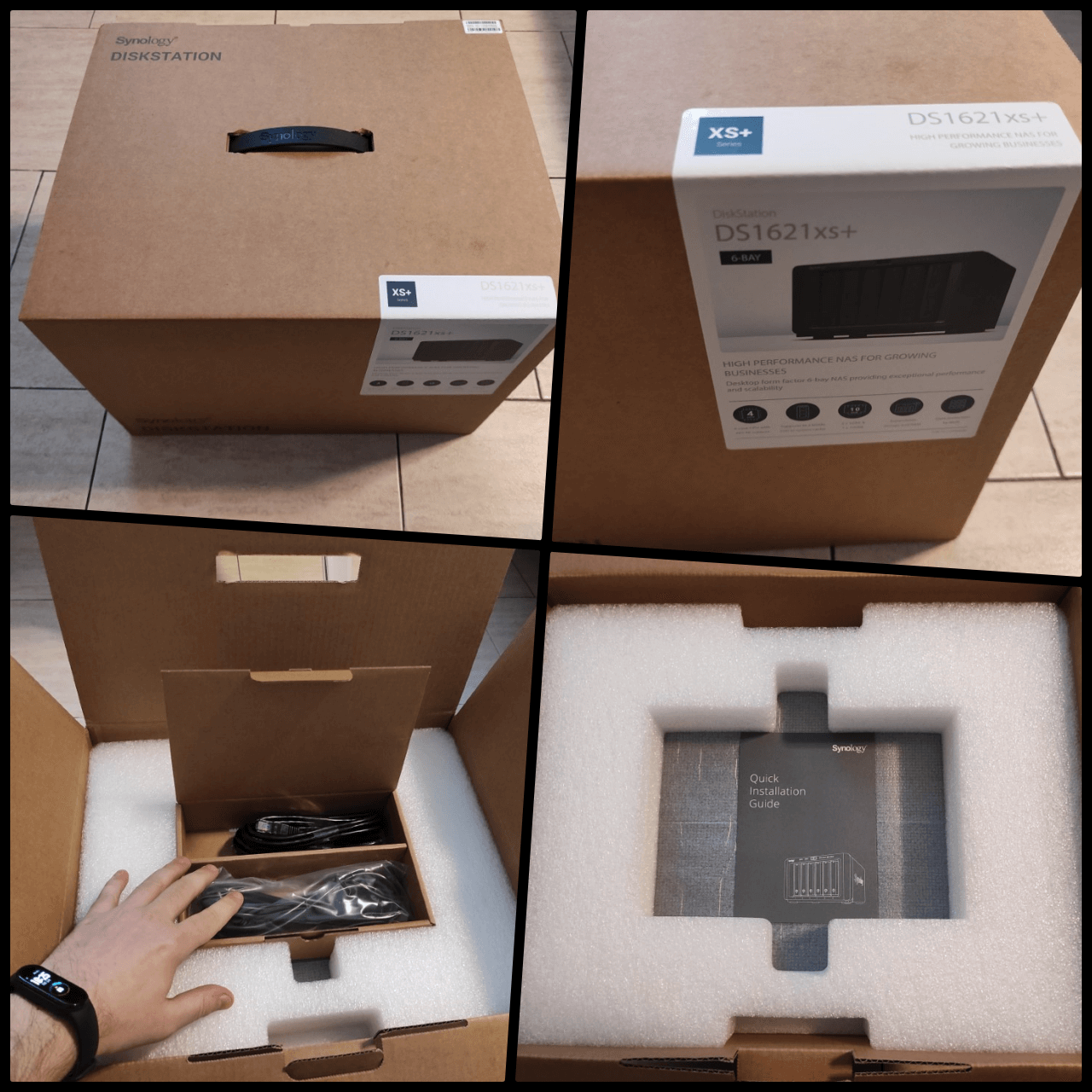 1621xs+ Great Design, Choice of Quality Materials and High Performance
The DS1621xs+ has a metal case instead of plastic like other NAS models. One touch and you can feel the materials are high-quality. The product is compact, much heavier than 2-bay NAS devices. Over the years Synology has aimed for a "minimalist" design which brings elegance into your home/business office.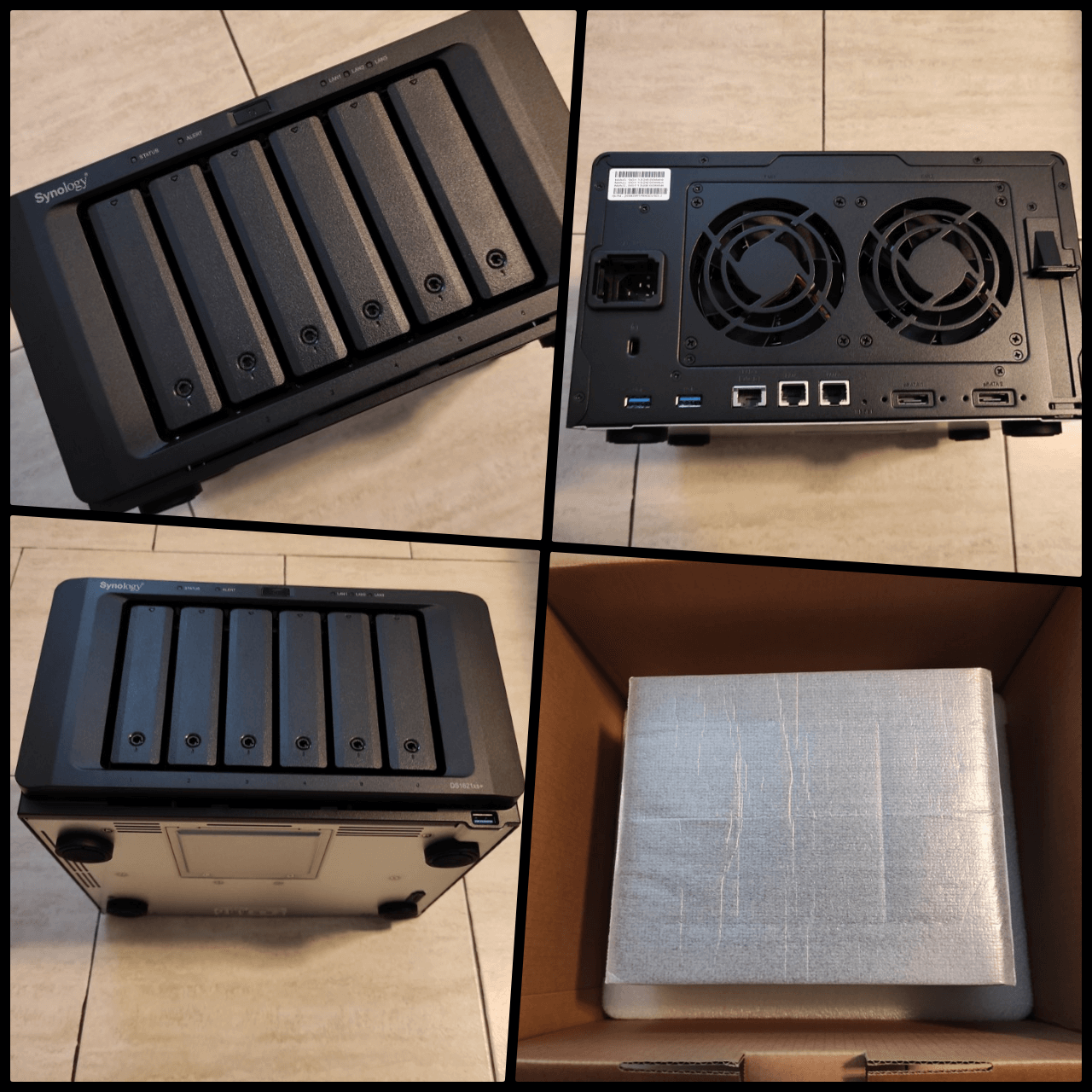 Back view of the DS1621xs+
Power port
Kensington Security Slot
FAN 1 and FAN 2
PCIe Expansion Slot
2x USB 3.0
1x 10GbE Rj-45 port
2x 1GbE Rj-45 ports
2x eSATA Expansion ports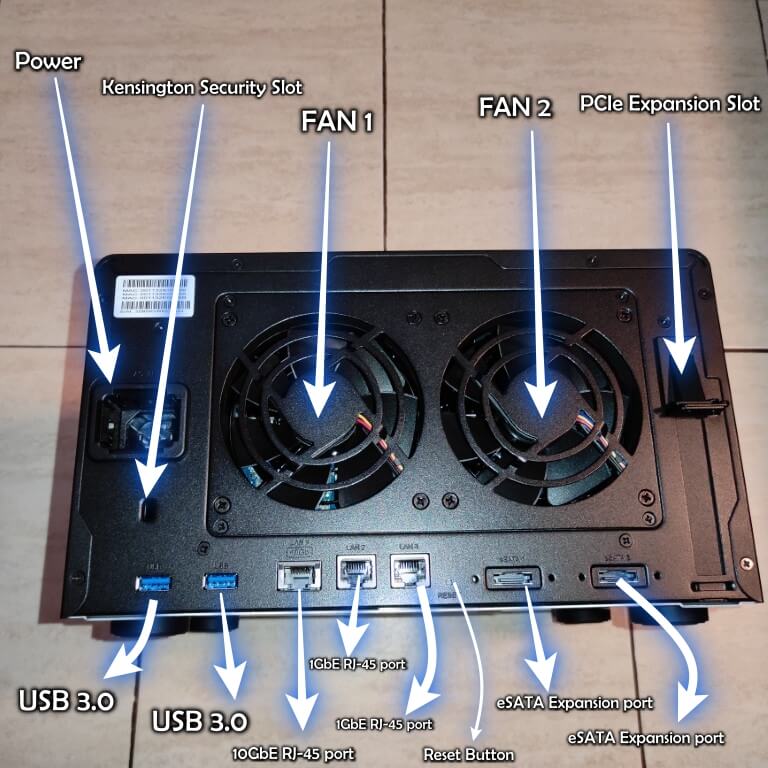 Surprisingly Silent
Who would have thought that? With SSD drives, the DS1621xs+ is quite silent and you can even keep it in your bedroom. I have to say, I never expected this from a 6-bay NAS! And something you'll certainly notice when you get your own DS1621xs+ is the green LED lights that are so much brighter than those of its predecessor.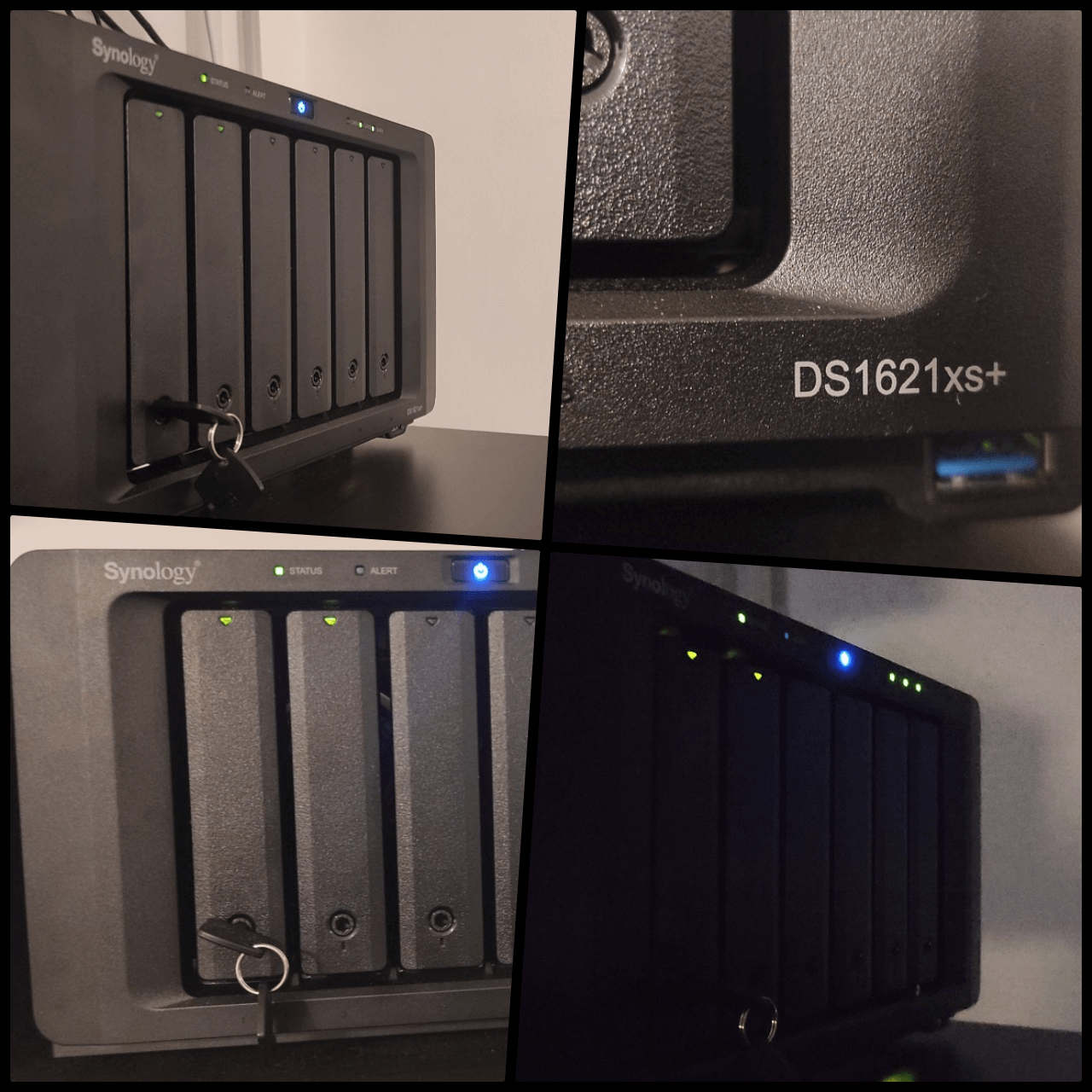 Cache Acceleration
DS1621xs+ comes with built-in M.2 SSD cache slots capable of providing I/O response speeds that are 20 times faster than hard drives, without occupying front drive bays. The built-in 10GbE port provides fast data transmission and can be bonded with an additional network interface card for higher network bandwidth. Note: Those with big hands like myself may find it difficult to insert the M.2 SSD disks and, to be honest, I would have preferred to insert them under the NAS near the RAM memory.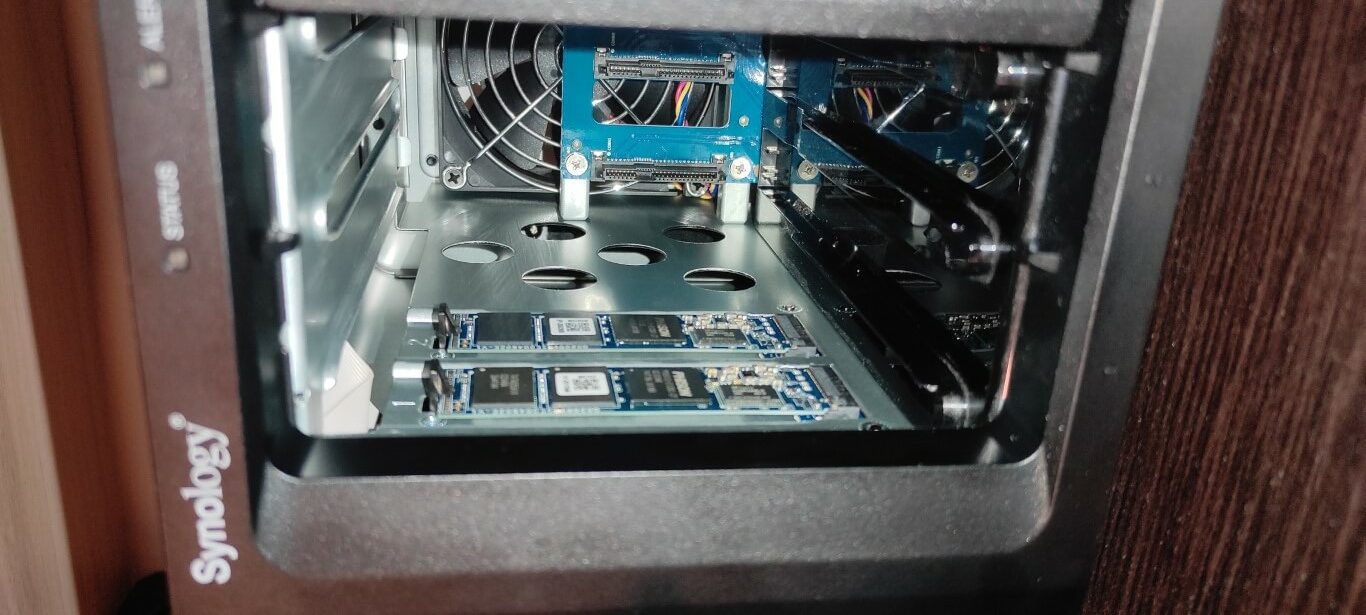 Under the DS1621xs+
Here we find the slots to upgrade the RAM. The RAM is 8 GB DDR4 ECC SODIMM, and you can upgrade it up to 32 GB. Note: see which RAM to buy for the DS1621xs+ NAS. Changing the RAM is child's play. You only need a small screwdriver to remove the two screws and the protection to access the RAM. See my upgrade with 32 GB of RAM.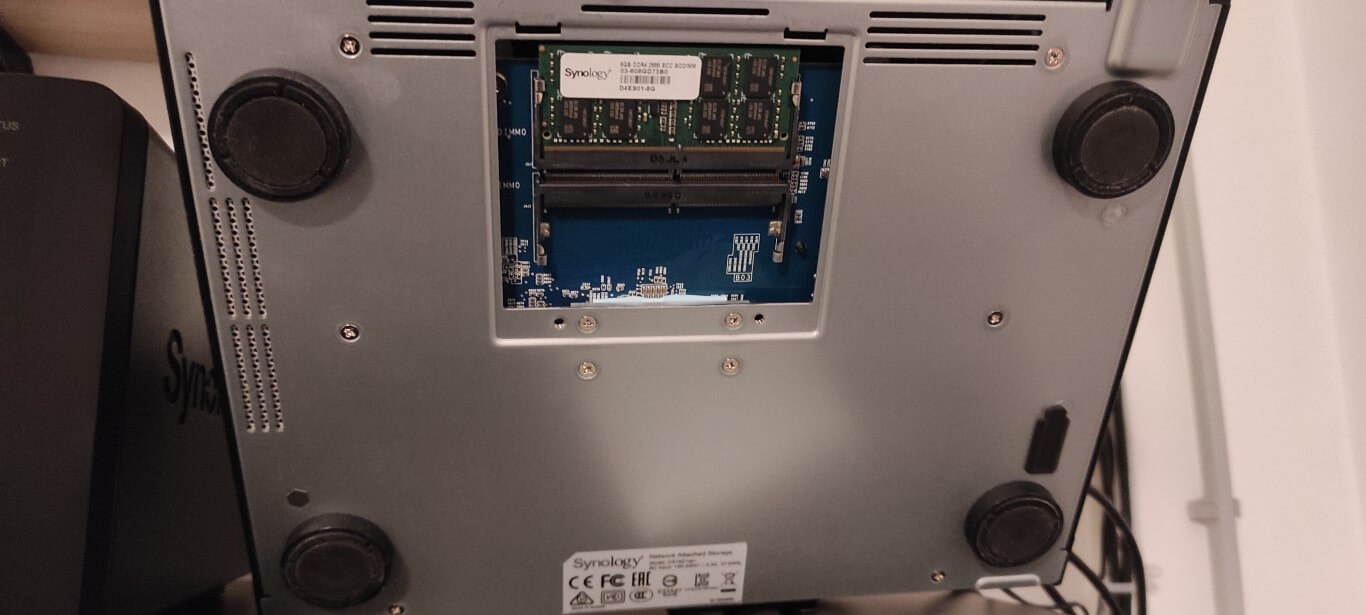 PHP Response Efficiency
By analyzing performance on the Synology site in link 1 and in link 2 you can see the PHP response efficiency of the DS1621xs+ compared to the DS720+ (pictures below). You can see that the DS1621xs+ has nearly double the PHP speed response efficiency vs the DS720+. What this means is that the DS1621xs+ is faster than the DS720+ and so will mariushosting when I host it on this new NAS. The faster PHP response time is owed to its Intel® Xeon D-1527 4-core 2.2 GHz processor.
DS1621xs+ = 64730.67

DS720+ = 33239.44

Conclusion
A DS1621xs+ connected in a Gigabit network and complete with capacious disks becomes an almost bottomless, miscellaneous network storage space. You use it to put everything in it and, once you have made the connections and established the automatism on your operating system, it'll work so well and require so little maintenance that you end up almost forgetting about it.
Note: Internal disks are not included but they are mandatory. You will have to choose which ones to buy and this will depend on your needs.
Note: NVMe disks are not included either, nor required, but they make a world of a difference for read/write speed.
Note: Which NAS Should I Buy For Synology Photos?
This post was updated on Friday / August 4th, 2023 at 1:29 PM