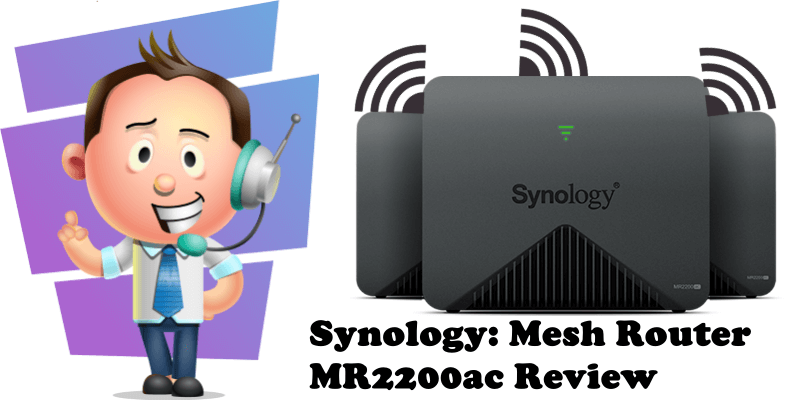 As a fan of Synology NAS products, I was beyond excited that Synology is tackling other areas of networking in addition to NAS devices. A few days ago I had the honor and pleasure of adding 3 Synology MR2200ac Mesh routers to my home network. Setup was a breeze and the Mesh routers work wonderfully with my Synology RT2600ac router. A Synology Mesh router is the only way to go if you need to extend your Wi-Fi signal both for your home and for your business. It costs more than a simple extender, but it works a whole lot better. No network switching as you move through the house, no dropped Wi-Fi connections, and you enjoy full Wi-Fi speed anywhere. I can achieve 400MB Wi-Fi speed on my phone even when I'm in the bathroom. If you have a Synology RT2600ac router, then this is the extender for you. It only takes a few minutes to set up, and it just works.
Minimalist Design
The MR2200ac has a nice design, no pointy antennae, and 4 CPU cores at 717 Mhz. In the package, in addition to the router, you can find a CAT5e LAN ethernet cable, an AC Power Adapter and the installation guide.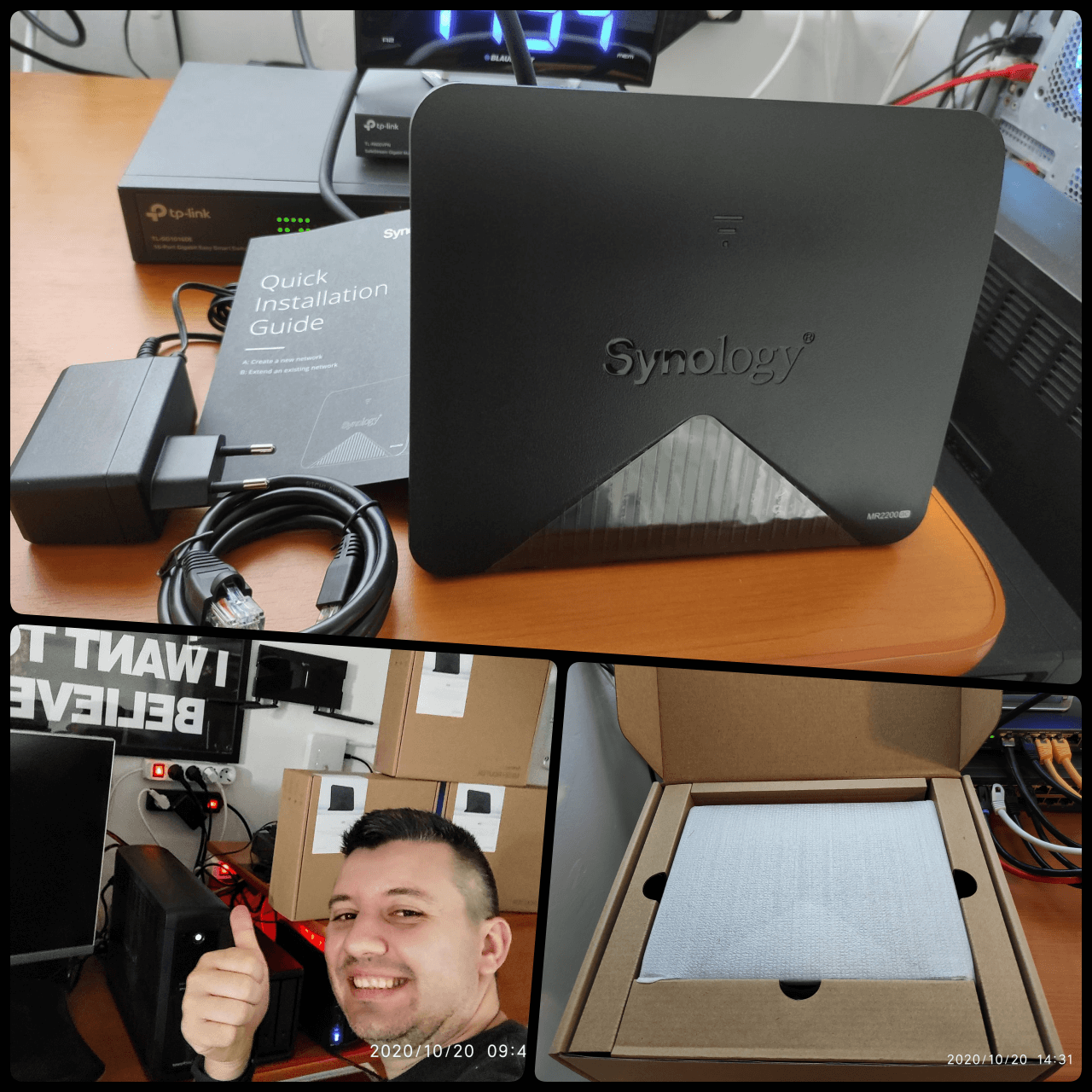 Mesh Network for your Home and Business
A Mesh network is a local network topology in which the infrastructure nodes connect directly, dynamically and non-hierarchically to as many other nodes as possible and cooperate with one another to efficiently route data from/to clients. The Synology Mr2200ac Wi-Fi router can be used as a single unit or, when paired with one or more additional MR2200ac nodes, transformed into a Mesh network. The algorithms built into SRM (Operating System) make deployment incredibly easy. The system intelligently self-configures, self-optimizes, and even self-heals, always giving you the fastest possible path to the Internet.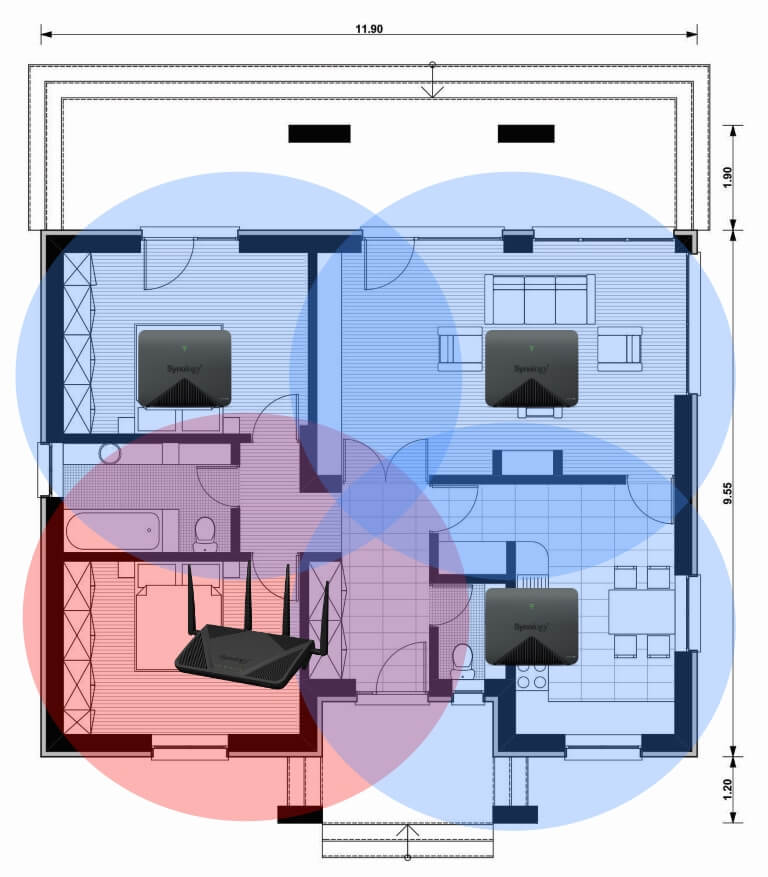 You Are in Control Everywhere
Currently, my 3 Meshes are positioned like this: kitchen, bedroom and living room, and I can say the performance is brilliant. You can easily check everything that happens from your pc, from your mobile phone, or remotely when you are not at home.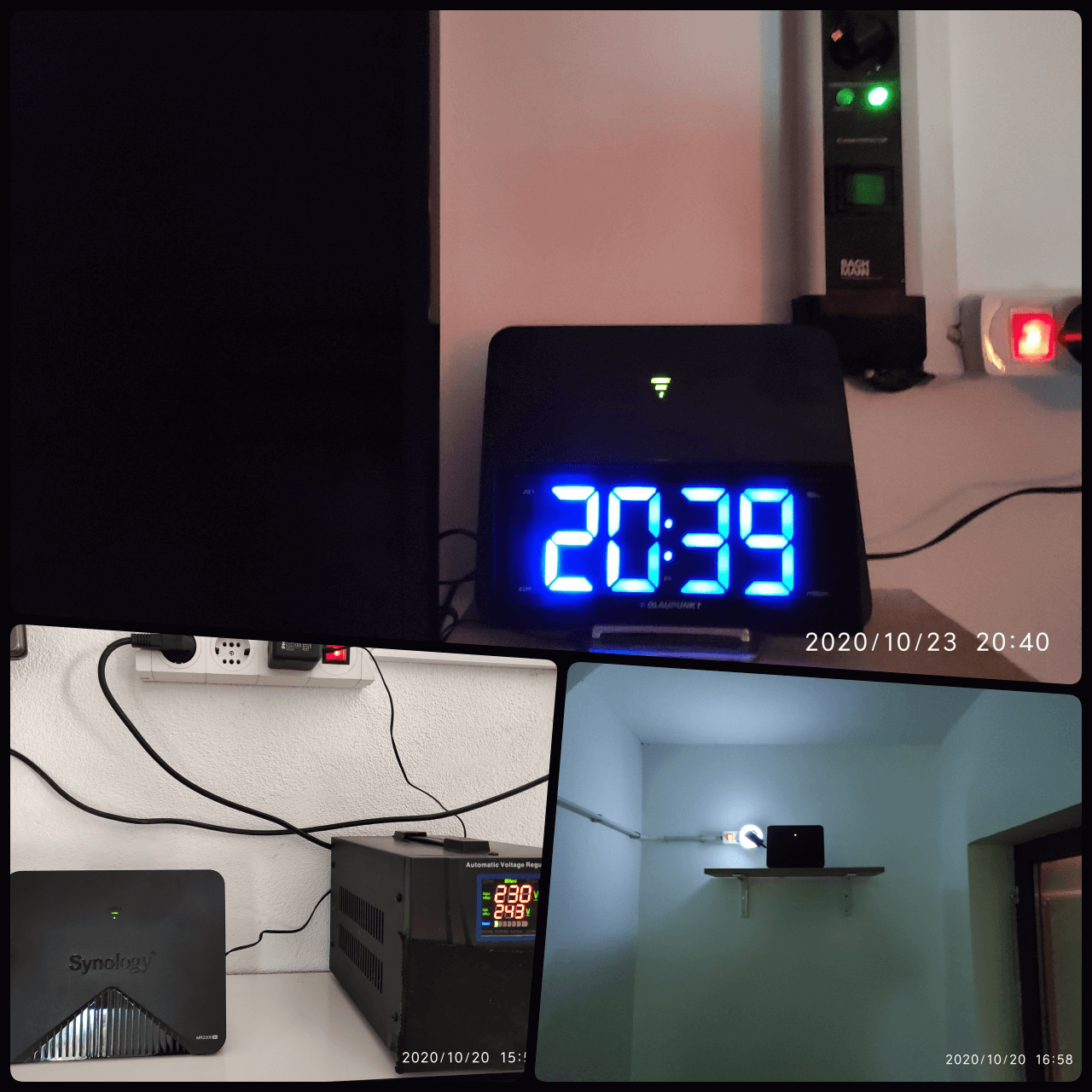 The MR2200AC is Stellar as a Home or Small Business Wi-Fi access point
The Synology devices communicate with one another via a dedicated Wi-Fi band and can pass traffic between them. Coverage reaches 5Ghz without problems, 65 meters from the last Mesh point installed in the open air, no walls.

Speed Test
The MR2200ac easily connects to your current Synology RT2600ac Router, allowing you to extend the Wi-Fi for both 2.4GHz and 5GHz (ability to choose one or both). The wireless signal is so powerful, and it switches automatically from 2.4GHz to 5GHz. If you are very far from the router, the signal automatically switches to 2.4GHz. If you get close to the router, the signal automatically changes to 5Ghz and you won't even tell. In the DS Router App you are able to see the Health status of the product, how many devices are connected to it, the transfer speed for each of the devices connected, set priorities etc. Below you can see the speed of my Wireless connection using the MR2200ac Mesh.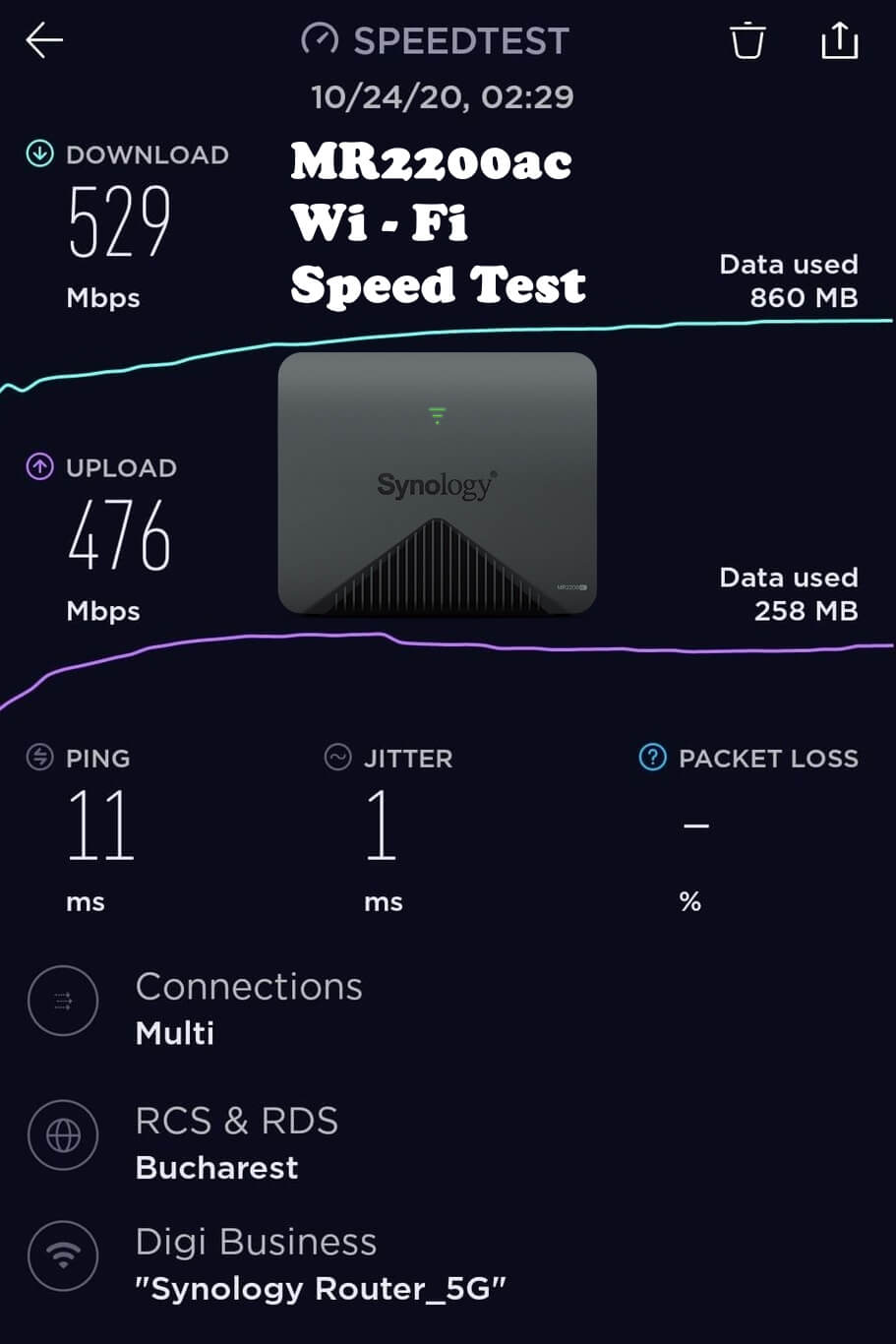 Easy Mobile Setup
One of the things I love the most is that you can configure your Mesh routers without using a computer or laptop, via the free mobile application for Apple and Android called DS Router. DS Router is designed as your personal network control center on your Android mobile device or Apple iOS. From the initial setup of your Synology router to fine-tuning your network's firewall settings and adding Wi-Fi Points, DS router makes network management truly easy, intuitive, and mobile. You can easily deploy a Mesh network from your phone. Stay on top of the traffic usage, user activities, and security events wherever you are, and act on them with just one tap on the screen. With the DS router app you're never too far away from home.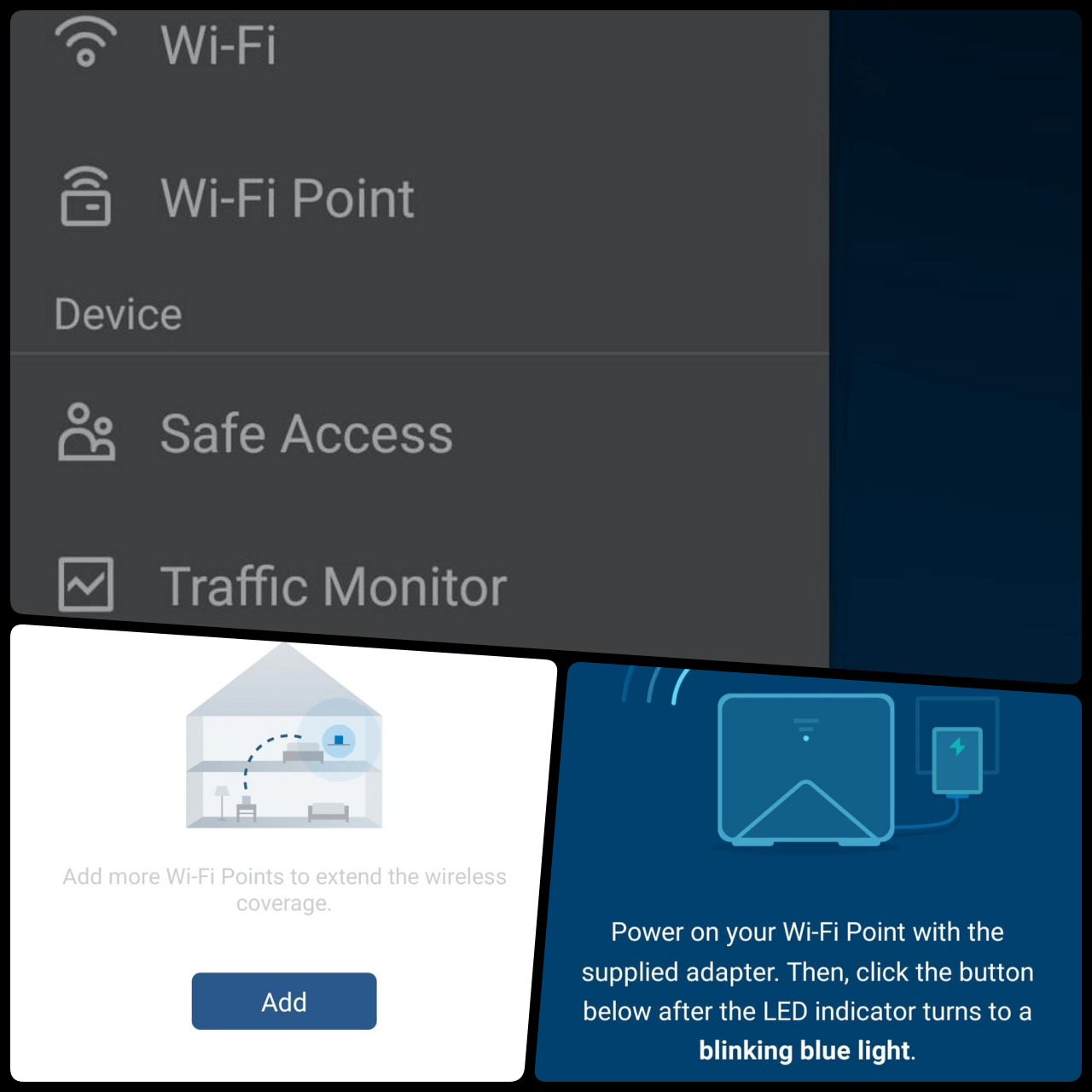 Mesh Network Ready in 10 Minutes
The complete configuration takes a maximum of 10 minutes, but it will also depend on the speed of your ISP because the latest updates of the SRM operating system will be downloaded once the Mesh is connected to your RT2600ac. The router does its job, and the connection is stable and fast.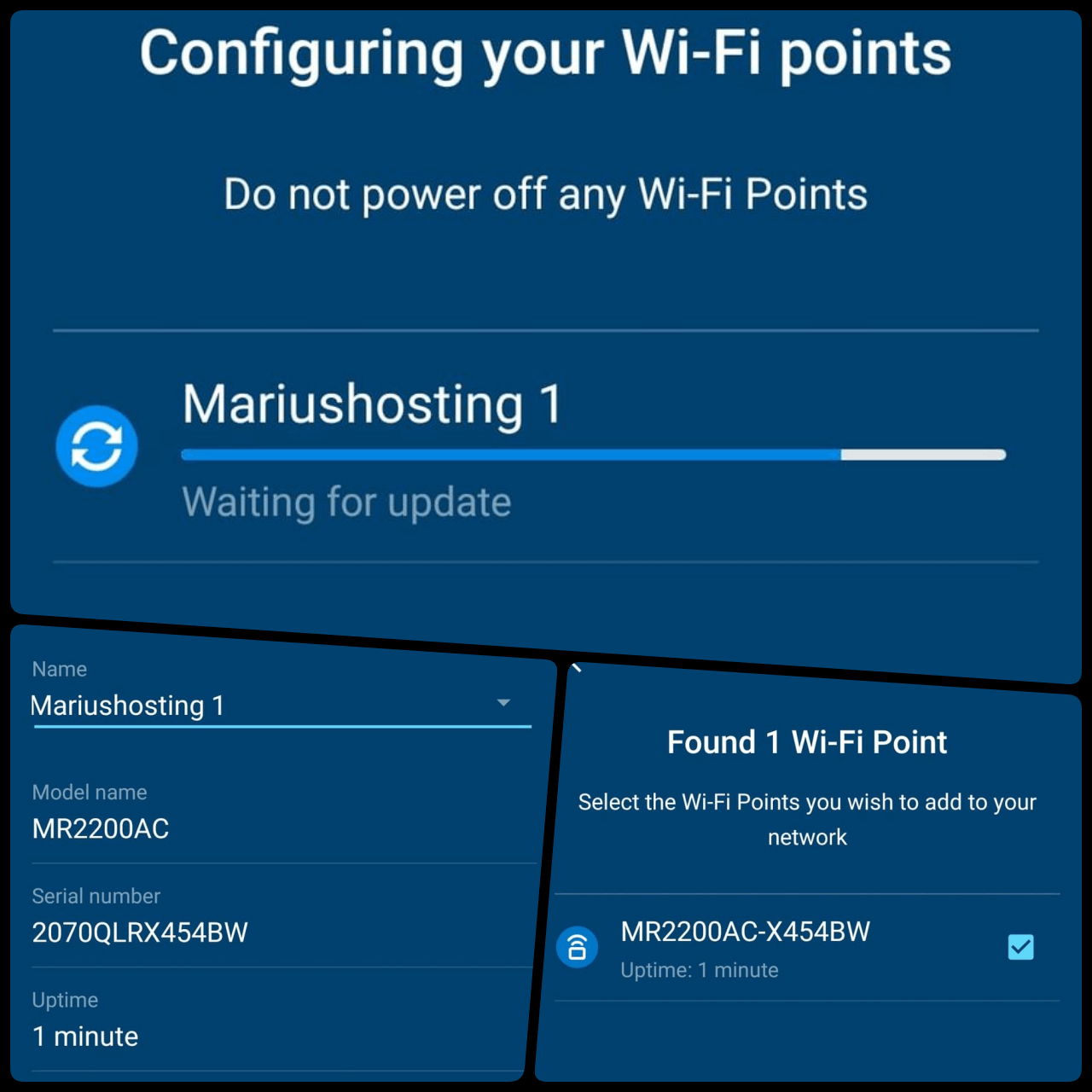 Same Identical Functions as RT2600ac
As I previously said, the MR2200ac Mesh router can be used as a normal router and can easily replace an RT2600ac because it has the exact same functions and the exact same operating system that I talked about extensively in my previous review.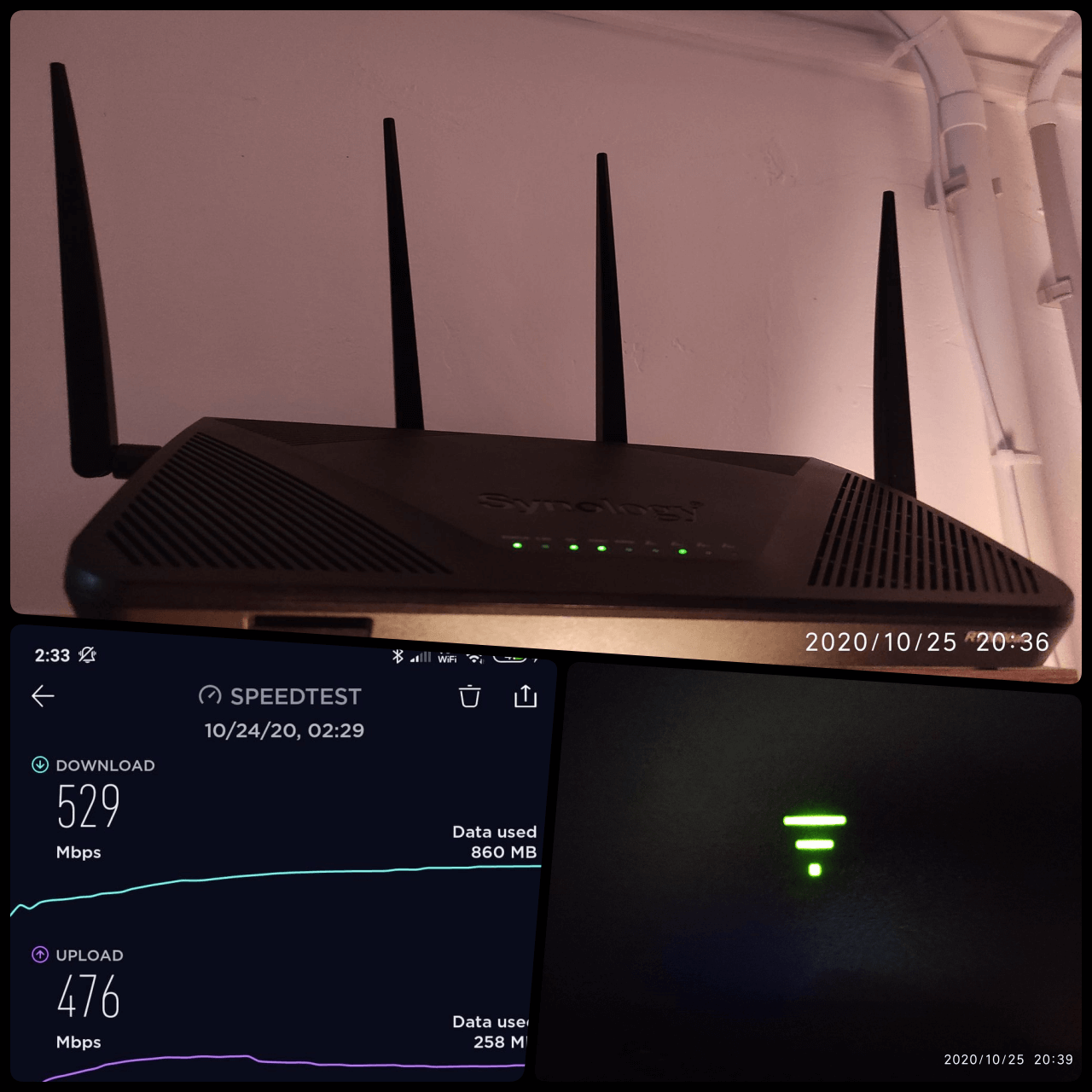 View From the Back
From left to right we have:
USB 3.0 Port: Connect an external drive, USB printer, or other types of USB devices here.
WPS Button: Press to start WPS.
Wi-Fi Button: Press to turn on/off the Wi-Fi network.
LAN Port: Connect network cables into these ports to establish a LAN connection.
WAN Port: Connect a network cable from the ISP modem into this port to establish a WAN connection. (MR2200ac is not only a Wi-Fi extender, but can also be used as a real router.)
Reset Button: Press and hold for four seconds (Soft Reset) or for ten seconds (Hard Reset).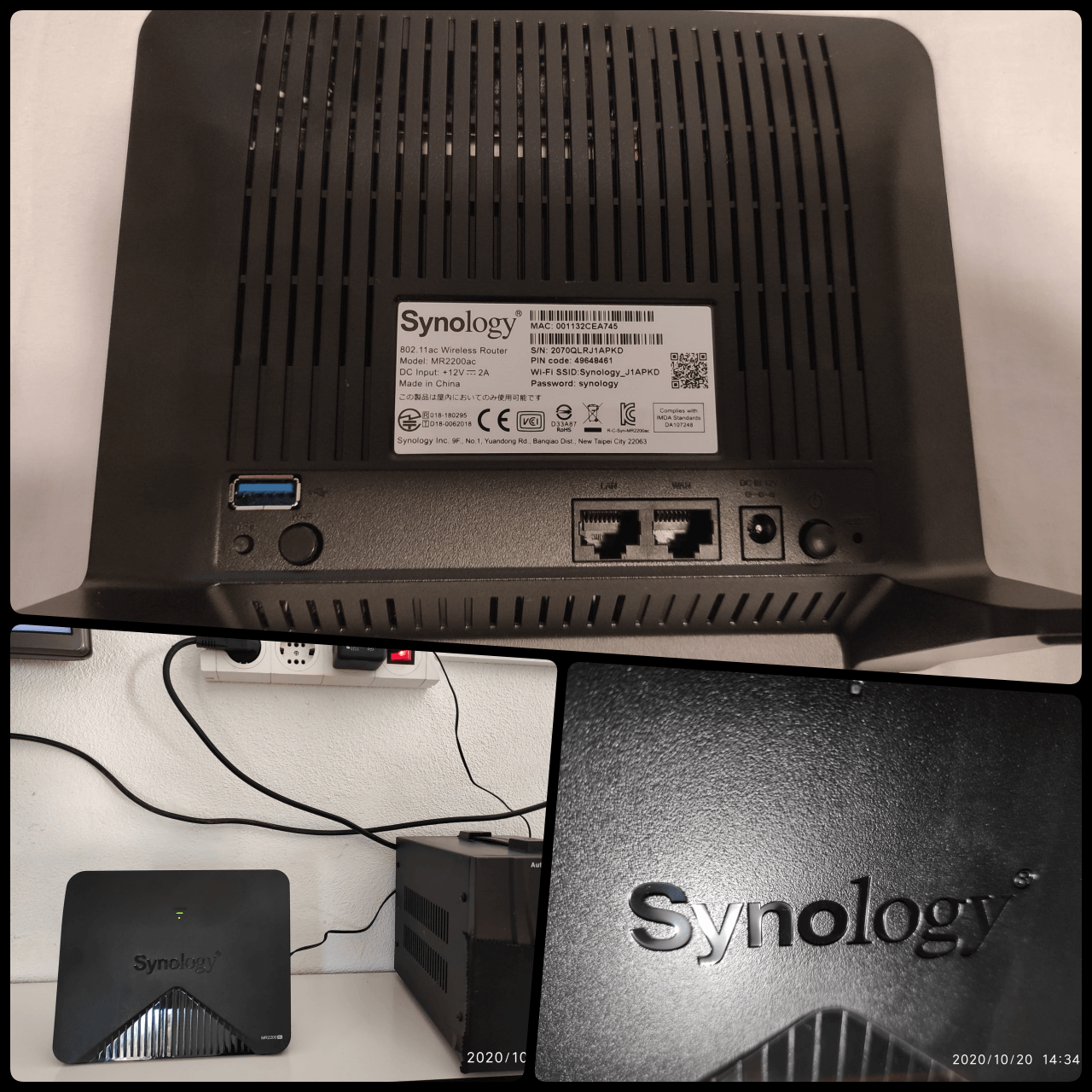 Synology MR2200ac: Full Hardware Specifications
CPU

Quad core 717 MHz

Memory

256 MB DDR3

Antenna Type

2×2 MIMO high-performance internal antenna (2.4 GHz / 5 GHz)

LAN Port

Gigabit (RJ-45) x 1

WAN Port

Gigabit (RJ-45) x 1

External Ports

USB 3.0 x 1 (5V, 0.9A power output)

IEEE 802.11ac

IEEE 802.11a/b/g/n/ac
Simultaneous tri-band Wi-Fi
5GHz-1: 867Mbps
5GHz-2: 867Mbps
2.4GHz: 400Mbps

IEEE 802.11ac Wave 2

MU-MIMO

Wi-Fi Encryption

WEP, WPA/WPA2-Personal, WPA/WPA2-Enterprise, WPA2/WPA3-Personal, WPA3-Personal/Enterprise, Wi-Fi Enhanced Open (OWE)

Button and Switch

WPS, Power, Reset, Wi-Fi On/Off

Size (Height x Width x Depth)

154 mm x 199 mm x 65 mm

Weight

0.45 kg

Temperature

Operating Temperature
5°C to 40°C (40°F to 104°F)
Storage Temperature
-20°C to 60°C (-5°F to 140°F)
Relative Humidity
5% to 95% RH

Certification

FCC
CE
BSMI
VCCI Class B
RCM
KC
iDA
TELEC
JATE
IC

Wi-Fi Certification

Warranty

2 Years
Notes
The warranty period starts from the purchase date as stated on your purchase receipt. (Learn more)

AC Input Power Voltage

100 V to 240 V AC

Power Frequency

50/60 Hz, Single Phase

Power Consumption*

12.95 W (Access)
5.21 W (Idle)

Environment

RoHS Compliant

Packaging Content

Main Unit X 1
AC Power Adapter X 1
RJ-45 LAN Cable X 1
Quick Installation Guide X 1
My Configuration
My configuration includes an RT2600ac router that I call the mother ship, to which 3 other MR2200ac spacecrafts are connected. Together they provide Wi-Fi coverage for the entire surface area of my house, as well as the entire front and back garden.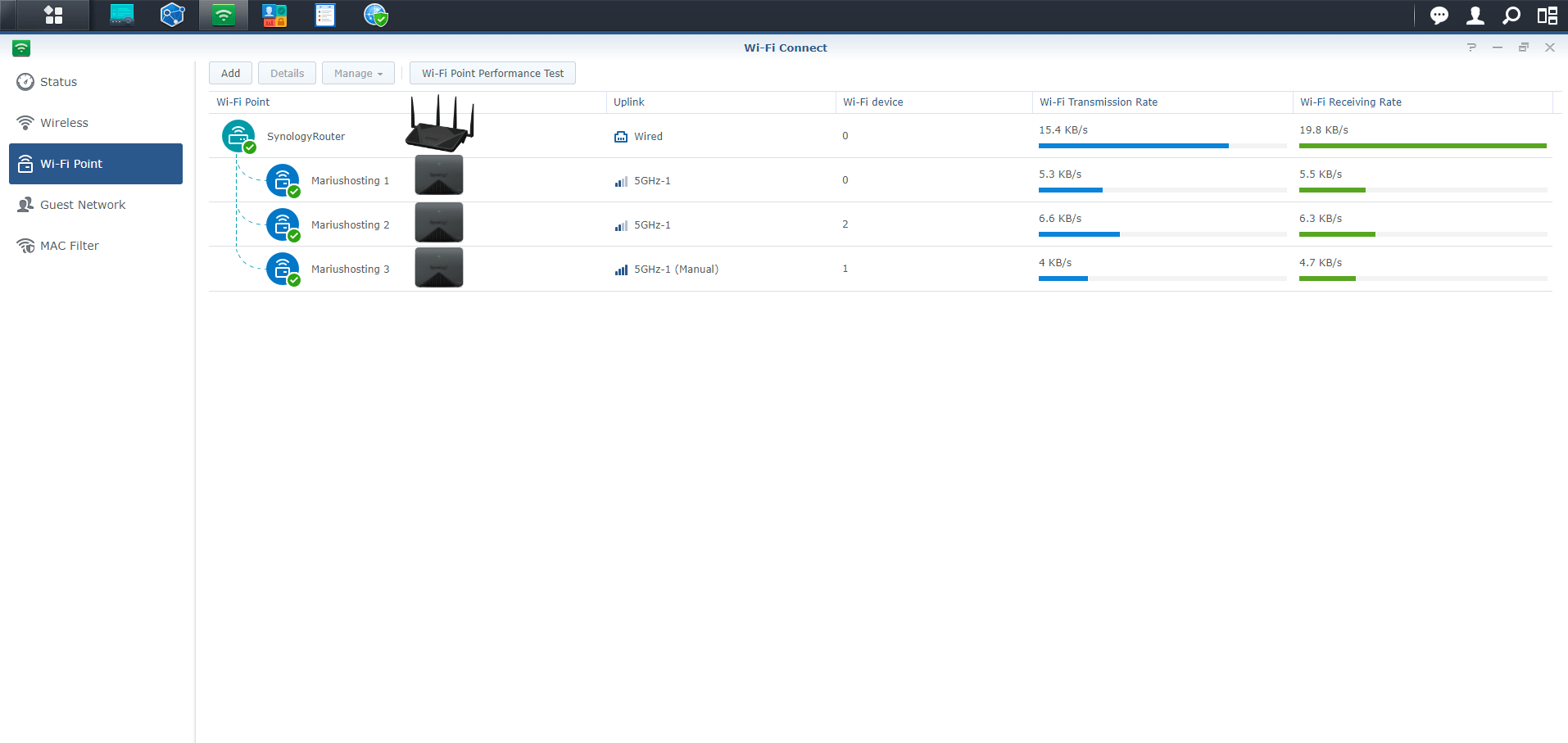 Strengths of the SRM operating system
Easy and intuitive operating system similar to DSM.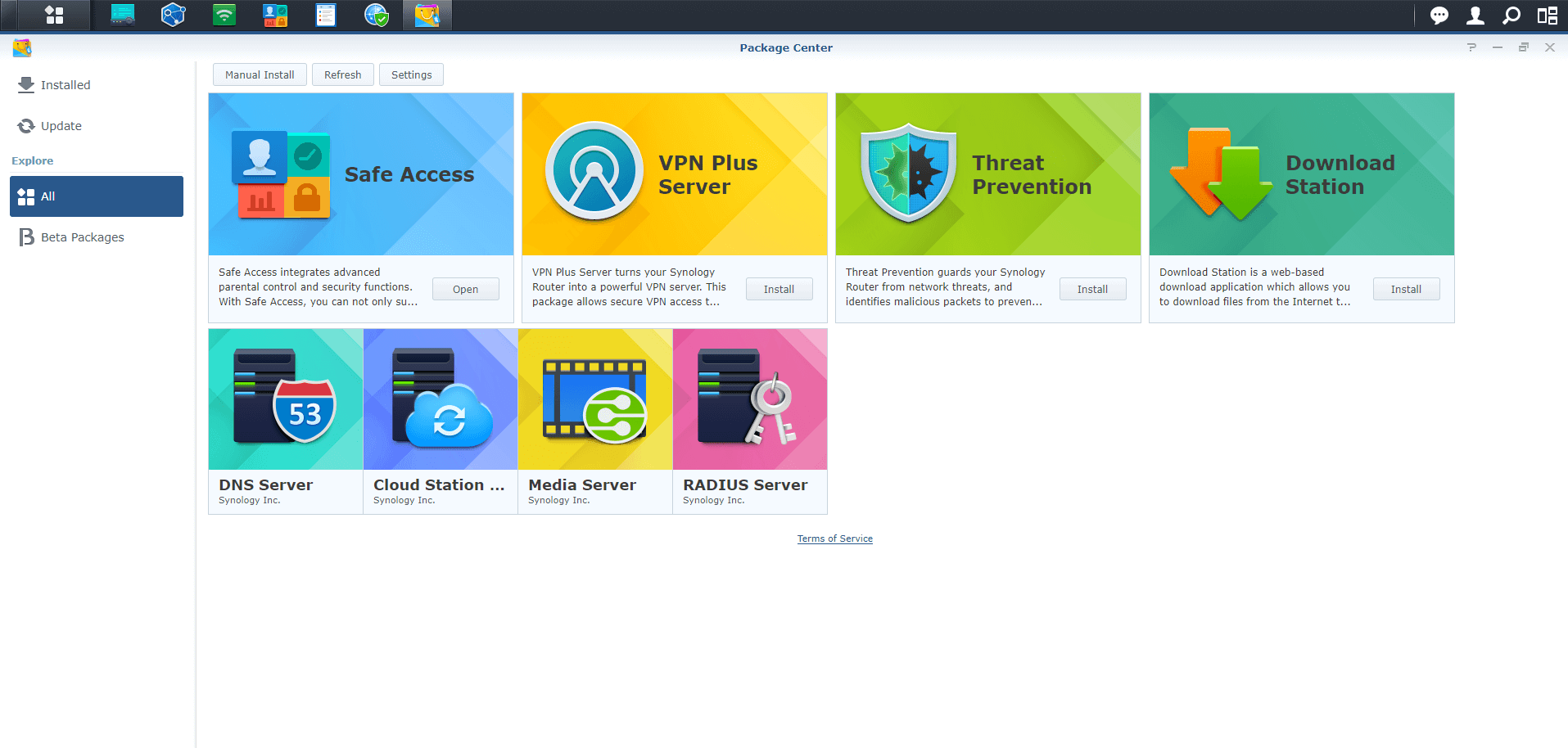 Note: When you do the setup for the first time, remember that, once you have plugged in and connected the Mesh to the powerline and the blue LED lights up, you will have to wait for the latter to blink. Because if it still does not blink blue when you proceed to do the installation, you will get an error.
Note: Every additional MR2200ac Mesh unit adds 2,000 ft2 / 185 m2 to your Wi-Fi range/coverage.
Note: Did you know an RT2600ac adds 279 m2 to your Wi-Fi range? So if you, like me, have one RT2600ac and three MR2200ac, you will have a total Wi-Fi coverage of 834 m2. That's insane!
Note: Keep the distance between the primary and additional Wi-Fi points within 2 walls.
Note: Remember that the higher the MR2200ac router is placed, the better the Wi-Fi signal is distributed.
Note: Within the Wi-Fi Mesh network only one device is the router. In my case, the RT2600ac is the router.
Note: Within the Wi-Fi Mesh network the MR2200ac acts as a Wi-Fi access point, not as a network router.
Note: How much does the Synology MR2200ac cost? According to Amazon, the MR2200ac is listed at 125 EUR.
Note for Romanian users who have DIGI as their ISP: If you decide to use the MR2200ac Mesh as a router and have an ONT "Optical Network Terminal" like Huawei, ZTE, FiberHome, whether your DIGI ONT is in bridge mode or not, you will need to configure your Synology MR2200ac using the first option: Wireless Router (as in the image below). If you decide to use your MR2200ac Mesh as a Wi-Fi point, ignore this step because your primary router, the RT2600ac, will already be connected to your ONT via ethernet LAN cable.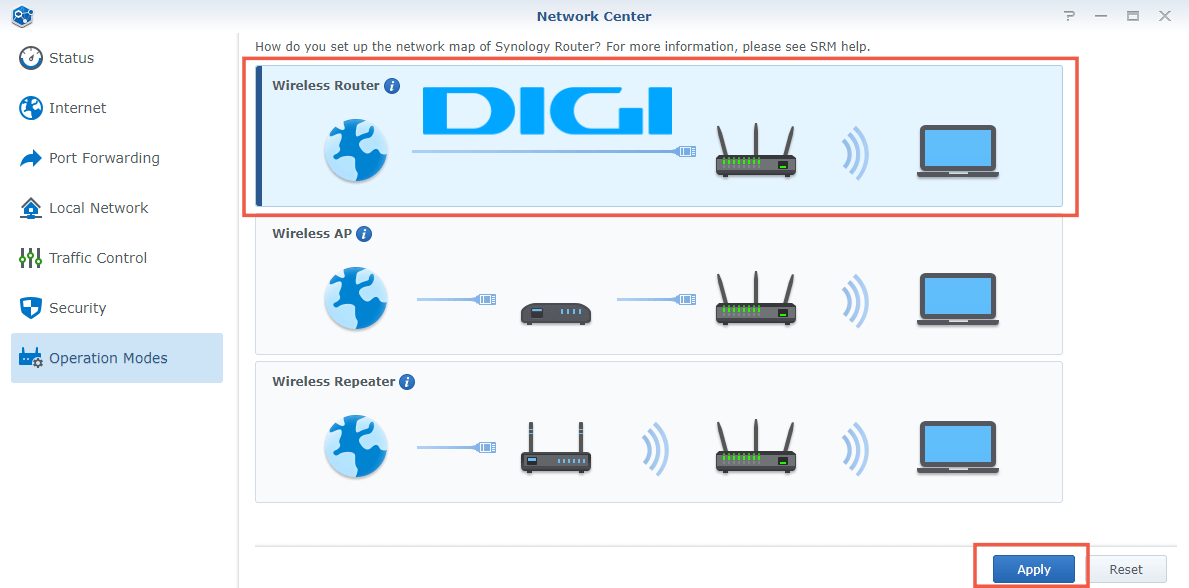 This post was updated on Friday / October 30th, 2020 at 7:55 PM