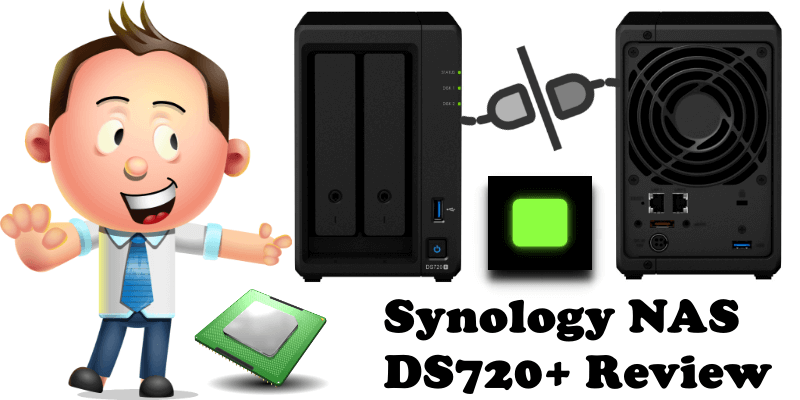 Today continues an adventure that began on January 9, 2019 with my first Synology NAS DS718+ purchased after so many months of going back and forth on the decision. Well, looking back now, getting a Synology NAS was one of the best decisions I ever made. And so, my adventure continues today with a new Synology NAS model, the DS720+. I am here today to share with you this first major upgrade on mariushosting.com which is a leap in innovation. The DS720+ entered the Lixandru home on a torrid summer day with temperatures of over 40 degrees Celsius. Despite the raging heat, the arrival of the DS720+ was like a breath of fresh air and the emotion was indescribable.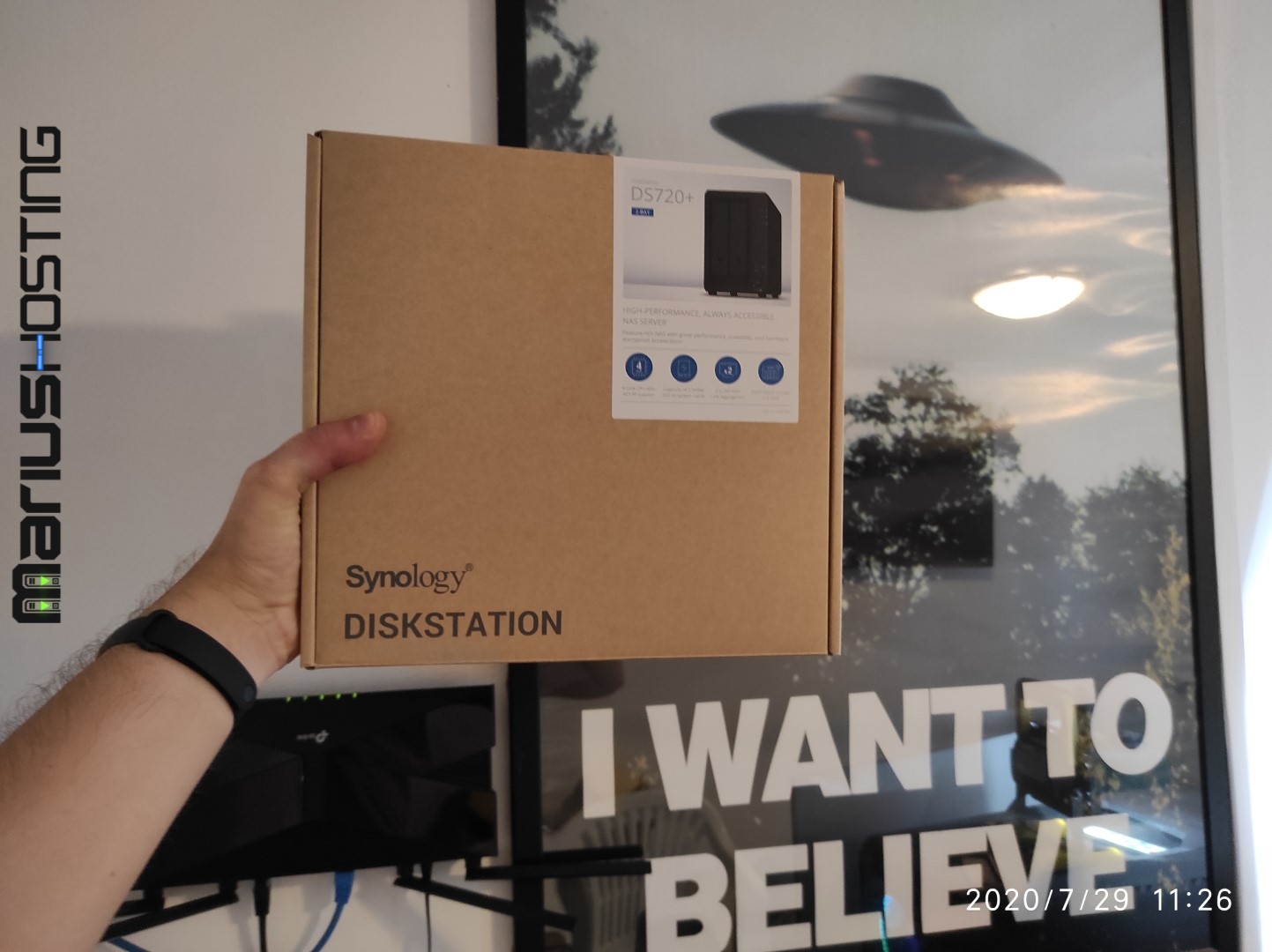 First Impressions
Over the years, NAS devices have changed as technology grew and have become top of the range. The leap in technology has made them into something we can no longer do without and every household and every business needs a Synology NAS. And here it is in all its glory! The DS720+. Two bay compartments, one inch taller than its DS718+ predecessor and an overall great product. Feel free to admire it in the images below.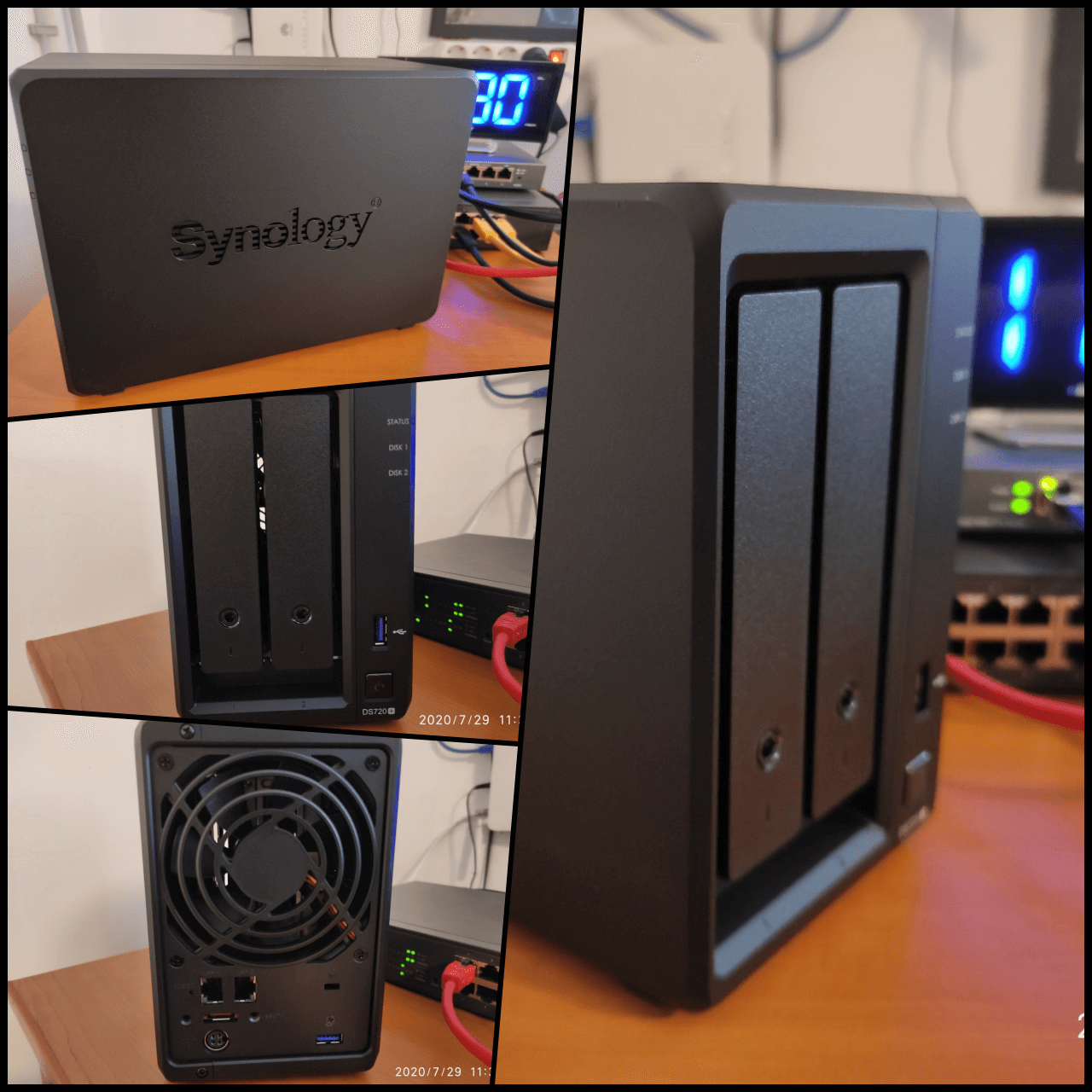 DS720+ Great Design, Choice of Quality Materials and High Performance
It's very easy to see that the DS720+ Synology NAS is made with quality materials. One touch and you can feel the materials are high-quality, not the cheap plastic that breaks in your hands you see in a growing number of tech nowadays. It doesn't smell of plastic and has a modern, elegant, yet clean, minimalist design. The DS720+ is clearly the product of attention to detail and, in my opinion, outperforms its predecessors in terms of design.
The DS720+ has an Intel Celeron J4125 4-core 2.0 GHz CPU, burst up to 2.7 GHz. And the 2 built-in slots for M.2 2280 SSD NVMe disks provide impressive cache acceleration. There's also an average 15% boost to computing-intensive applications compared to its predecessor thanks to a more powerful CPU processor. The new 4-core processor boosts photo indexing, database response times, and web PHP response efficiency. Easily categorize your photo memories, smoothly manage files across computers and mobile devices, and enjoy blazing fast web applications. You can experience all of this every day when you come to mariushosting.com and you realize the speed that this website has while hosted from home on the new Synology DS720+.
The DS720+ NAS model is recommended for both at home use and for the office, anywhere you need plenty of storage space really. The DS720+ is much more than just a simple NAS for backing up and sharing files, from your local network or outside the home. It's a virtual machine, a print server, a server for security IP cameras, a server to block advertising, a router for VPN, a server for the distribution of video and audio, a server for hosting, a storage for photographers, a real-time collaboration on your private cloud. All made possible thanks to its powerful Linux-based DSM operating system, made to be easy to use, innovative and secure. And sooner or later you will need it and all the things it can be. You can also expand your DS720+ up to 7 drives with a DX517 expansion unit. To achieve the expansion, the new DS720+ comes with one eSATA port. Another great feature are two USB 3.0 ports which can be used for UPS support, an external disk and, why not, a cool LED lights strip.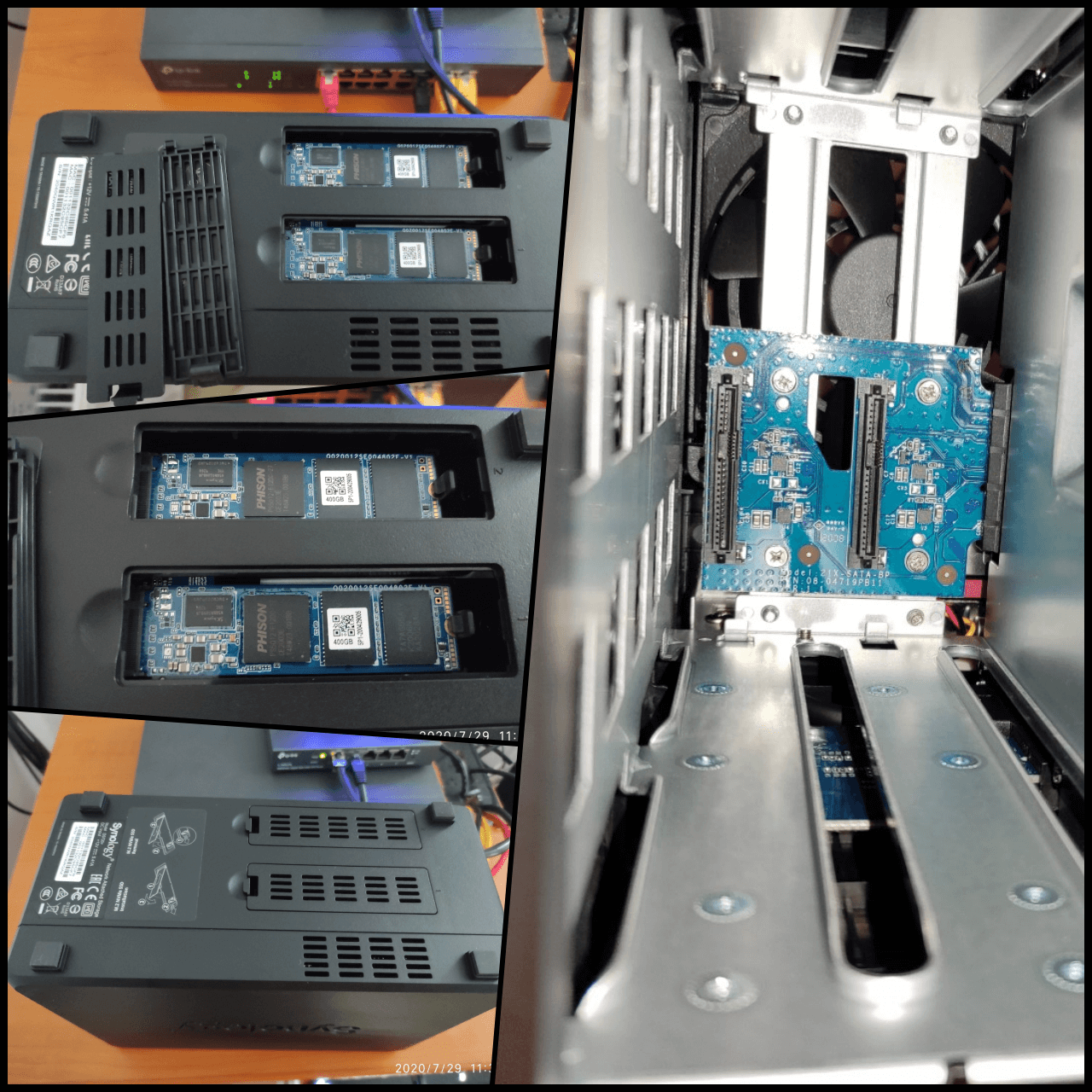 Minimalist Design
Over the years Synology has aimed for a "minimalist" design and brought elegance into your home.
DS720+ Upgrade at Your Fingertips
Synology DS720+ comes with a 2GB DDR4 preinstalled RAM which is bound to the motherboard (they're actually welded together). But you have a front slot for upgrading your RAM. Read my instructions on how to choose the RAM model compatible with your DS720+. As time goes by and your needs grow and you need more power, you can easily upgrade your DS720+ Synology NAS. Memory, Internal Disks, NVMe Disks.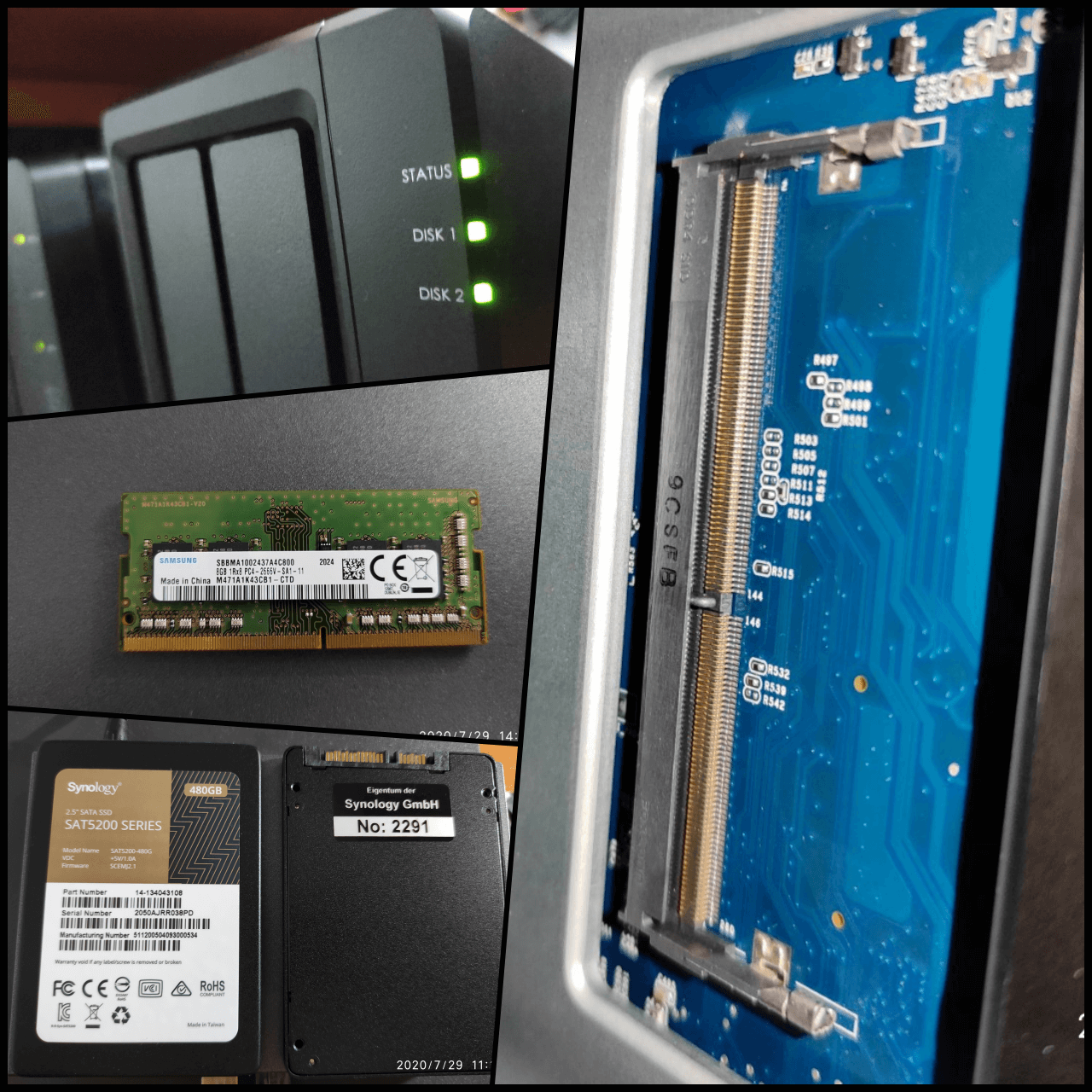 Reduced Power Consumption and Quietness
The DS720+ has a power consumption close to 17 watts and fans that you almost can't hear. The air that comes out is cool despite the temperature in the room in which it is located (it's the end of July in southern Romania and 104° Fahrenheit – 40° Celsius, so you get the idea).
Brighter Green LEDs
A novelty in the design are the LED lights. Compared to its predecessor, the DS718+, which has 6 LED lights, the DS720+ has 4 LED lights. As you can see in the photo below, the green colored LEDs are actually on the side of the device which is a more modern design. And something you'll certainly notice when you get your own DS720+ is the green LED lights are so much brighter than those of its predecessor. Unfortunately, the photos cannot show the quality of the LEDs which is something that stood out from the first power on. It looks truly magical, seriously. You can get a pretty good idea of the difference in LED lights brightness between the two models from the photo below where you can see my old DS718+ in the background and the new DS720+ at the front. You can also adjust the brightness of the LED indicators in Control Panel and even turn them off.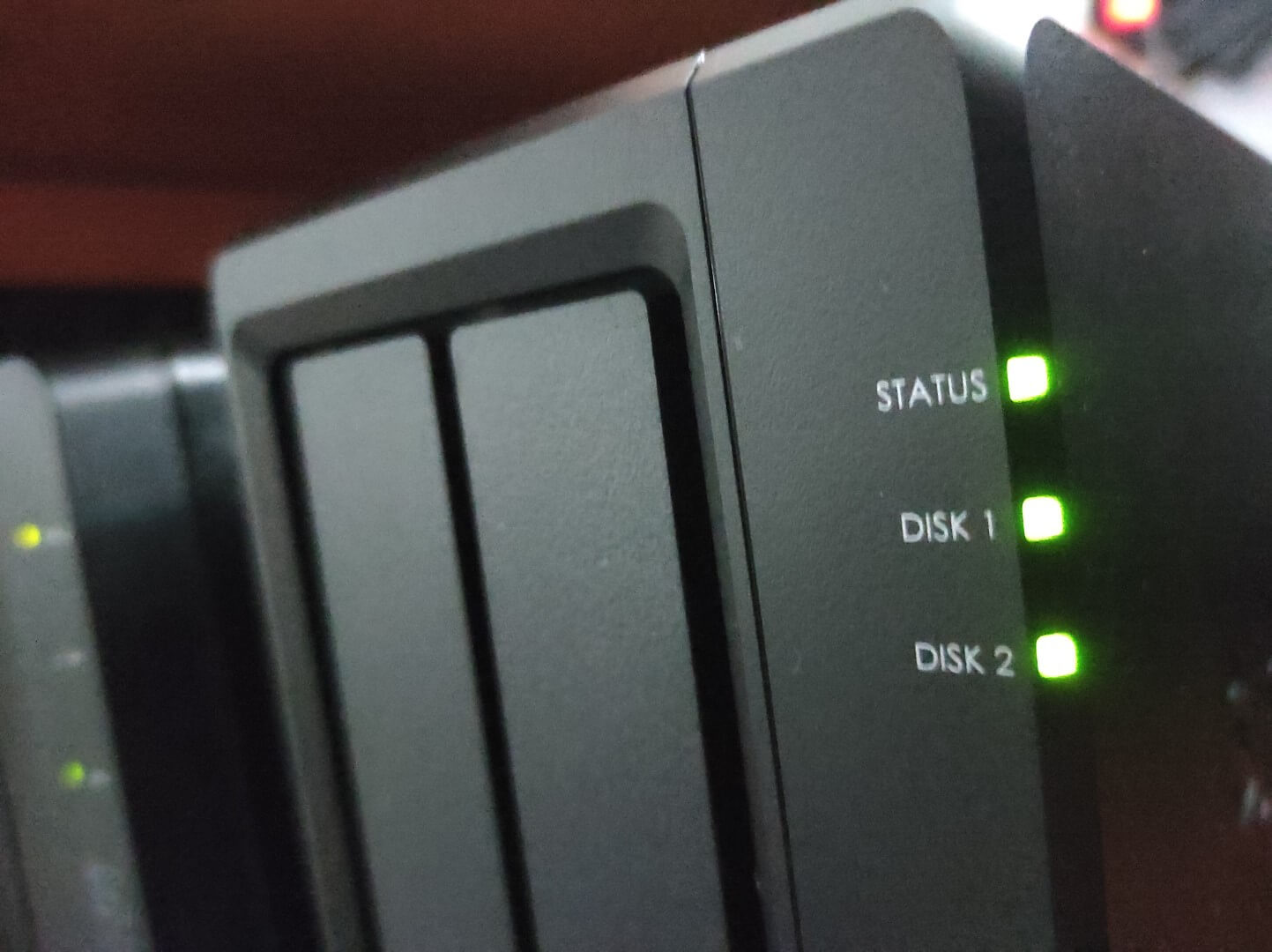 DSM Operating system
Admire the DSM Operating System installed on the Synology NAS DS720+. Do you like the wallpaper? You can download it from here.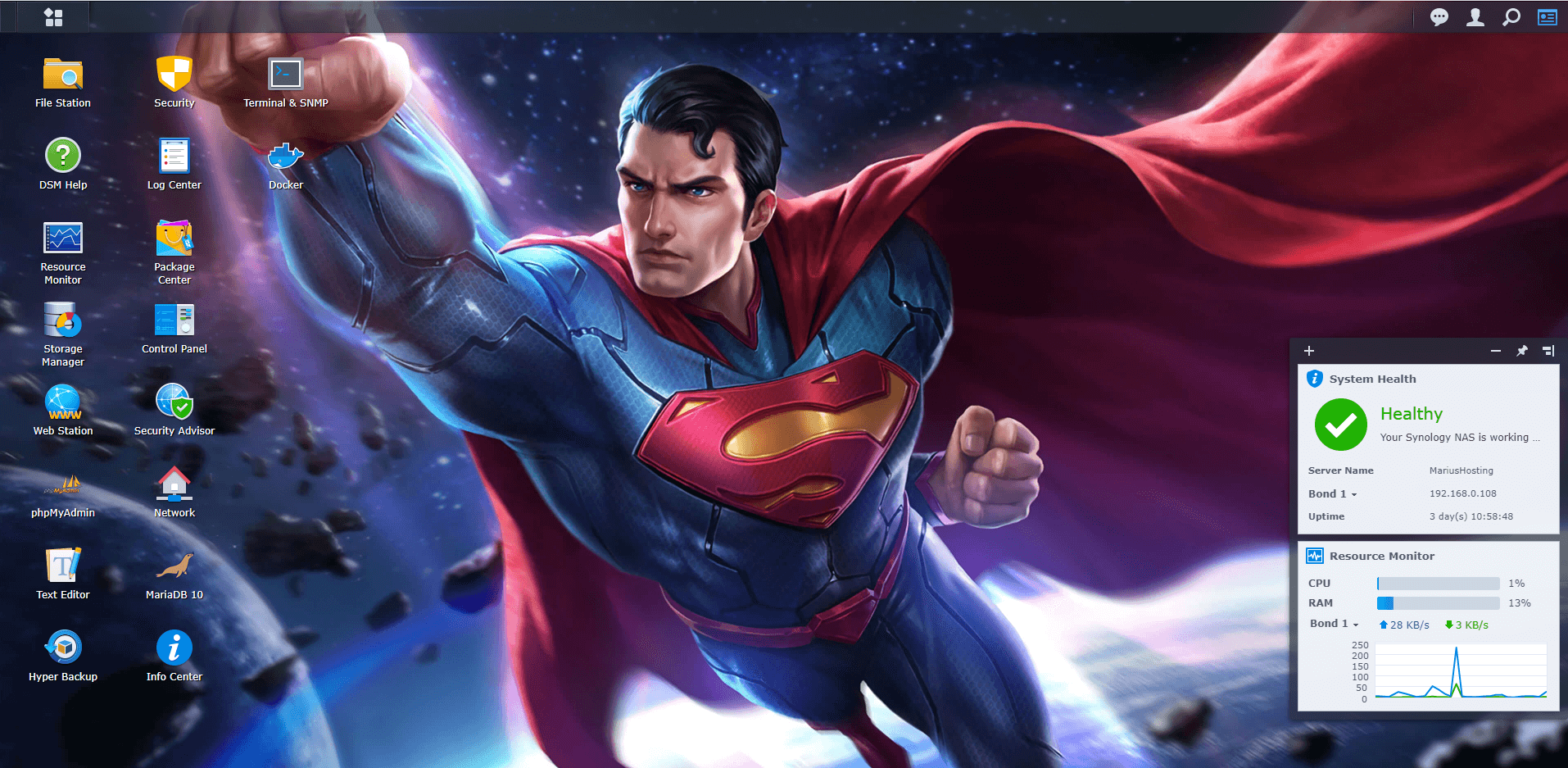 Does mariushosting.com Predict the Future?
In early 2020, after a strange dream I had one night, I changed the header on mariushosting.com Facebook and Twitter pages to include 3 bright, green LED lights sitting close together to one another. And when the new Synology DS720+ NAS model came out, it had 3 bright, green LED lights sitting close together to one another like in my social media pages header. Coincidence? Maybe. Maybe not.

Conclusion
A DS720+ connected in a Gigabit network and completed with capacious disks becomes an almost bottomless, miscellaneous network storage space. You use it to put everything in it and, once you have made the connections and established the automatism on your operating system, it'll work so well and require so little maintenance that you end up almost forgetting about it.
Also, here's what else you'll find in your DS720+ box, aside from the NAS: the power supply, two Gigabit cables, and the quick installation guide as well as two keys to physically secure your NAS and screws for your disks.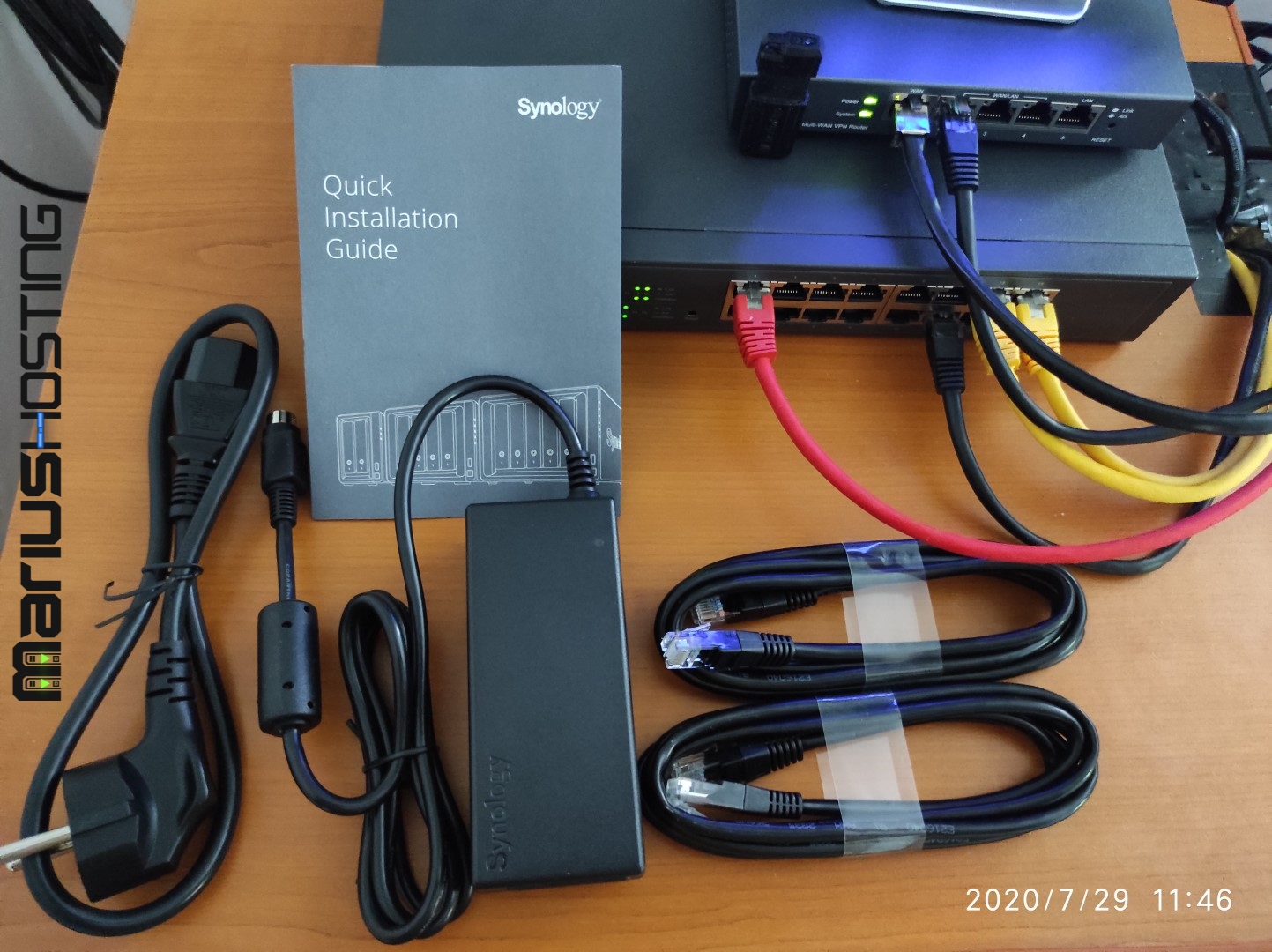 Note: Internal disks are not included but they are mandatory. You will have to choose which ones to buy and this will depend on your needs.
Note: NVMe disks are neither included, nor required but they make a world of a difference for read/write speed.
This post was updated on Tuesday / August 31st, 2021 at 11:17 AM