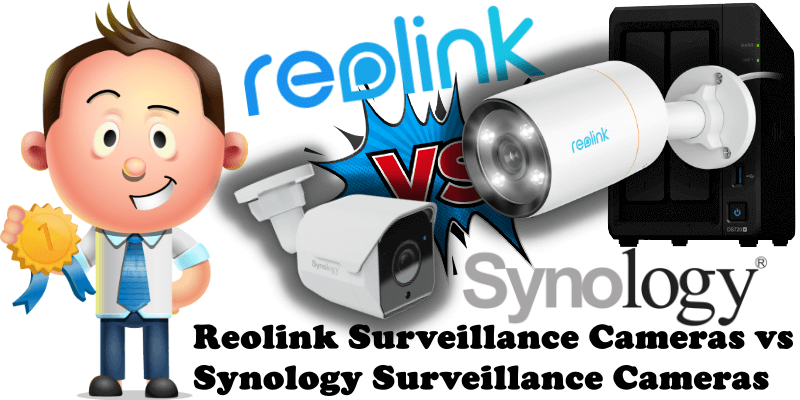 In recent years, I have reviewed various Reolink brand video surveillance cameras such as the RLC-511WA, the RLC-811A, the RLC-1212A and the CX410 ColorX, and have found them very good. Recently, Synology entered the video surveillance camera market with two of its own brand products, the TC500 and the BC500. Naturally, the new Synology video cameras sought to outsell the competition, an objective supported by the cameras not requiring the purchase of a Synology Surveillance Camera License which, in all honesty, is appealing right? When I first heard the news that Synology was coming out with its own video surveillance cameras, I was excited, and hoped for something downright revolutionary. However, I soon realized that there was really nothing revolutionary, except for, maybe, the lack of surveillance license requirement. Now, since so many of you have been consistently asking me for my opinion on what surveillance camera to buy, today I'm going to start by comparing the merits of the cameras I myself have been using for years now, the Reolink video surveillance cameras, vs the new Synology video surveillance cameras. Although I am a big Synology fan, today you'll discover that I'm not that big of a fan of Synology cameras. And you'll see exactly why.
📄Note: My blog does not and never has sold any products. I have not had and do not have any kind of affiliation. I earn absolutely nothing from the sale of any product mentioned in this article and throughout this blog. I value giving an unbiased and real point of view in a world where personal opinions nowadays are dictated by affiliate links. Personally, if I see online reviews of products that are then immediately followed by affiliate links, especially a whole list of them, I do not trust the opinions expressed as being genuine.
💡Good to know: If you have a Synology NAS, you should know that you have 2 free licenses for Surveillance Station. If you have a Synology NVR, you automatically have 8 free licenses to use with Surveillance Station. Read my post on the difference between a NAS and NVR.
💡Good to know: Use the official Reolink Website and the official Synology Website for a more in-depth comparison of the devices.
Compatibility: Reolink video surveillance cameras are compatible with Synology Surveillance Station software.
Variety: Reolink offers a variety of video surveillance camera models to suit all needs, for home, professional and industrial settings. Models range from 2MP to 12MP with different technologies for different requirements.
LED Spotlight: All Reolink video cameras have powerful built-in LEDs that automatically turn on when the cameras are set to detect motion from people, vehicles or animals. The LED spotlights are a strong deterrent that effectively combats any ill intention.
Powerful Sound Alarm and Built-In Microphone: Most Reolink video surveillance cameras come equipped with sound alarms and a built-in microphone that can be activated, if needed.
Easy Google Assistant Integration: Reolink cameras can easily be integrated with Google Assistant.
Price: Honest prices. Suffice it to say, one of their top 12MP cameras (the RLC-1212A) is priced at only 155 EUR or 150 Dollars.
The Synology TC500 and BC500 video surveillance cameras come with a maximum of 5MP resolution. For the time being, there are no models with 8MP or 12MP resolution.
The Synology TC500 and BC500 video surveillance cameras lack Led Spotlights. No LEDs in 2023?
Synology TC500 and BC500 video surveillance cameras have no sound alarm and no built-in microphone.
Synology video surveillance cameras are very expensive compared to Reolink. This is a fact. On Amazon France, for example, I have seen absurd prices ranging from 300 to 340 EUR for a single BC500 camera. Some argue that the Synology cameras come with a free camera license each which would somehow serve to placate any reservations having to do with the high cost. Maybe, if your budget allows for it and you really want the brand, then you could see the camera license as a bonus that comes with your purchase. But, on the other end of the consumer opinion, we have the reality of no LED lights, no spotlight, no sound alarm, lack of microphone, and resolution no greater than 5MP.
Synology video surveillance cameras cannot be integrated with Google Assistant.
📄Note: I'm confident that, in the future, Synology will expand its range of video surveillance cameras to include more variety, more powerful models, integrate different technologies, but, for now, they are simply not the best camera to buy. I would recommend going for those who have been in the game for longer and can offer a greater range of the product, with more powerful models to choose from and more-than-basic integrated technologies.
This being said, the aspect that probably sets the new Synology video surveillance cameras apart from competitor options is their IP67 rating, meaning the cameras have a higher waterproof rating. Also, another advantage of the Synology cameras is the 3-year warranty versus the 2-year warranty of Reolink cameras. I feel that Synology could have launched a superior camera model right away, given that technologies are readily available. We can observe a similar approach when it comes to their NAS CPUs, as they haven't moved up to a more powerful processor, and it's been a few years. On the same note, the motherboard supports PCIe Gen 3 for the M.2 NVMe SSDs instead of the outperforming PCIe Gen 4. To conclude, it seems there was a lot of enthusiasm surrounding the launch of Synology video surveillance cameras, but that enthusiasm quickly faded following the release. Many people expected the new cameras to be on par with other Synology technology, as in something revolutionary that would simply outperform and outsell most other competitor products from the get-go. People want to see something revolutionary and a good company like Synology, with equally good and reliable products that continue to lead the niche, might do just that in the not-so-distant future. But for that to occur, we need a change of vision.
This post was updated on Friday / August 4th, 2023 at 1:20 PM