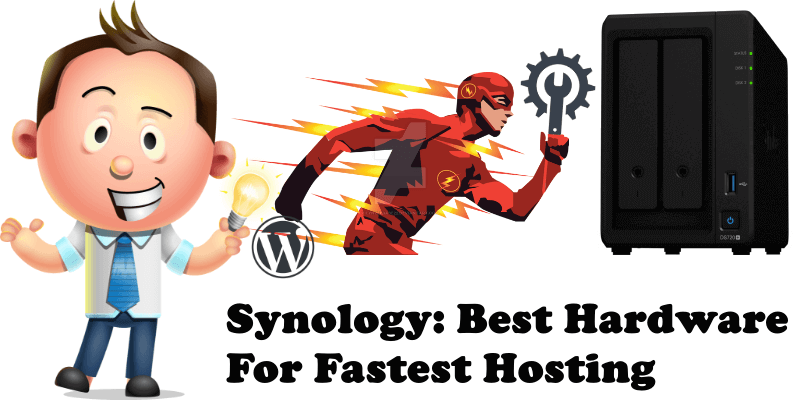 Have you thought about hosting your website from home? Did you read my previous article Pay For Web Hosting vs Hosting on My Synology NAS? Are you sold on the idea of hosting from home on your own Synology NAS? If you are, then today I want to talk to you about the best hardware to get for the fastest website hosted from home. With the right hardware, you can now get the best website page speed score, better than anything dedicated hosting services, VPS or other hosting services provided by hosting moguls (at steep prices nonetheless) can ever get you.
Do you want to know how to have a fast website? Faster than anything you've ever had before? With this hardware, your website will be not just faster than before, but the fastest!
Hardware: 
1 – Crucial 8GB DDR4 2666MHz CL19 1.2v or Kingston HyperX Impact, DDR4, 8GB, 2666 MHz, CL15, 1.2v (and with the original 2GB memory included in the DS720+ Synology NAS, you'll have a total of 10GB RAM)

2 – SSD Samsung 860 Pro 512GB SATA3 7 mm 2.5 inch

2 – SSD Samsung 980 PRO 512GB NVMe M.2 PCI-E (

Coming soon August 2020

).

1 – Wireless TP-Link Archer AX6000 Wi-Fi 6 Router

1 – CYBERPOWER Gaming UPS 1500VA\900W LCD 2xUSB 6 x Schuko or Universal Socket
This blog is already so fast, I can't even begin to imagine how much faster it will get with all the hardware listed above. The expense is considerable, but well worth it. Look at this hardware as an investment because it will get you the speed and performance no hosting service can ever get you (despite charging you more than the cost of all of this hardware over time).
As for the software part?
1 – Latest version of the DSM operating system coming soon: DSM 7

1 – Latest  WordPress version

1 – PHP 7.4

1 – Apache 2.4

1 – Maria DB 10

1 – Let's Encrypt SSL certificate
Must haves:
1 – Fiber Connection (FTTH) or Cable connection maximum download speed 100mb and upload speed 90mb

1 – Static IP
This post was updated on