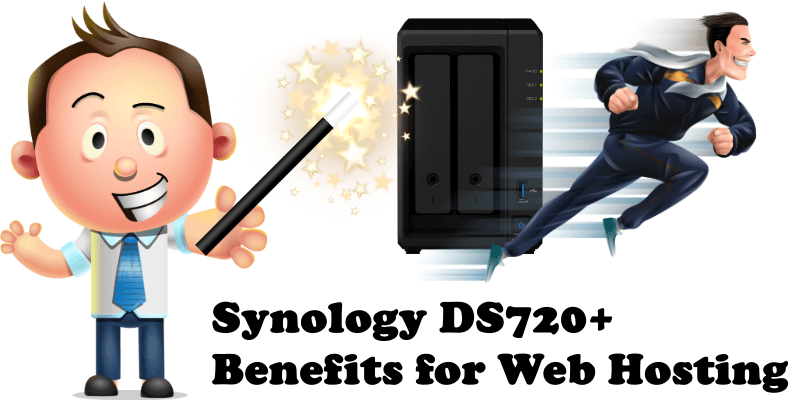 Yesterday I announced the imminent arrival of the new Synology DS720+. Many people asked: Marius, why did you write "this is a revolution" if the new NAS only has a more powerful processor and nothing more? Well, today I am here to explain the advantages of this new NAS model and the revolution that it will bring in all of our homes, especially the homes of those of us who do web hosting from home, as is my case. Below is the revolution I was talking about:
CPU Intel Celeron J4125 4-core 2.0 GHz, burst up to 2.7 GHz (A more powerful CPU than the old Intel Celeron J3455 1.5 GHz Boost 2.3 GHz with 4 CORE present in the DS718+). Even if there's only an additional 500 MHz, it's a huge difference for a 2-bay NAS for web applications, docker and VM). The powerful CPU can accelerate the performance of intensive computing applications. The new 4-core processor improves the efficiency of photo indexing, database response time, and web page PHP response performance. It can easily categorize your photo collections, and manage files smoothly between computers and mobile devices, while enjoying excellent webpage application.
DDR4 Memory instead of DDR3L. (DDR4 RAM is better and faster than DDR3L, its clock speed is higher and you can upgrade it easily with 8 GB without problems. DDR4 has higher-speed I/O and larger DIMM capacities).

M.2 2280 NVME SSD (Read max. 3500 MB/s Write max. 2500 MB/s) Instead of (Read max. 560 MB/s Write max. 510 MB/s of typical SSD disk). With NVME support you will have a 6 times faster page loading speed compared to the old DS718+. Your visitors will open your pages extremely quickly and the lag and waiting time will be just a bad memory. Another advantage is your NAS will power on in a second.
Reduction of number of LEDs. As you have noticed, the LEDs go from 6 to 4 with a lower power consumption. Also, the big blue power on LED was replaced by a little turn on/off blue LED button.

DSM 7. The new operating system of Synology is so much faster than the old DSM 6.2.4 and, combined with the DS720+, it will be a revolution. When hardware and software meet on the same road, a mutually beneficial friendship is born.
It should be noted that Synology is currently working on making important updates to all the applications in their Package Center. The DS720+ will be a revolution for those acquainted with the NAS world. A processor that is this more powerful than its predecessor marks a new age.
Note: Read my full review about DS720+ NAS
This post was updated on Tuesday / February 23rd, 2021 at 7:22 PM