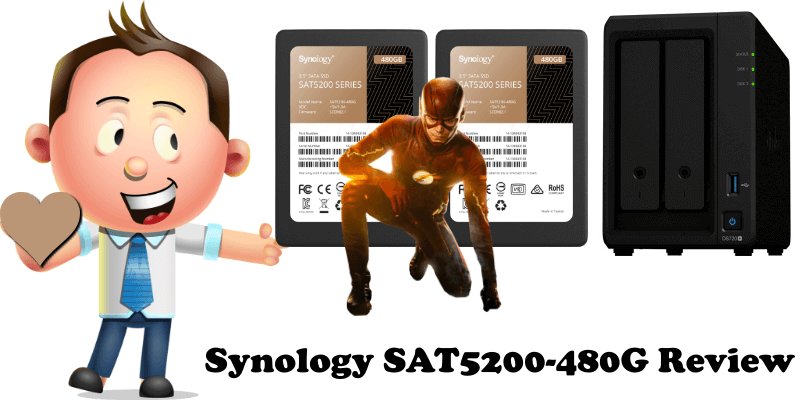 Synology, the King of NAS, has once again risen to the occasion. This time Synology launched a new solid-state drive (SSD) product line, which is mainly designed for the increasingly demanding enterprise-level work environment, such as virtualized workloads and high traffic, database storage, artificial intelligence and high-performance computing. It is true that, as long as you do not get your hands on a product yourself, you cannot speak. I myself was convinced long ago that home SSDs were good, perhaps "better", but I admit the comparison I was making was wrong.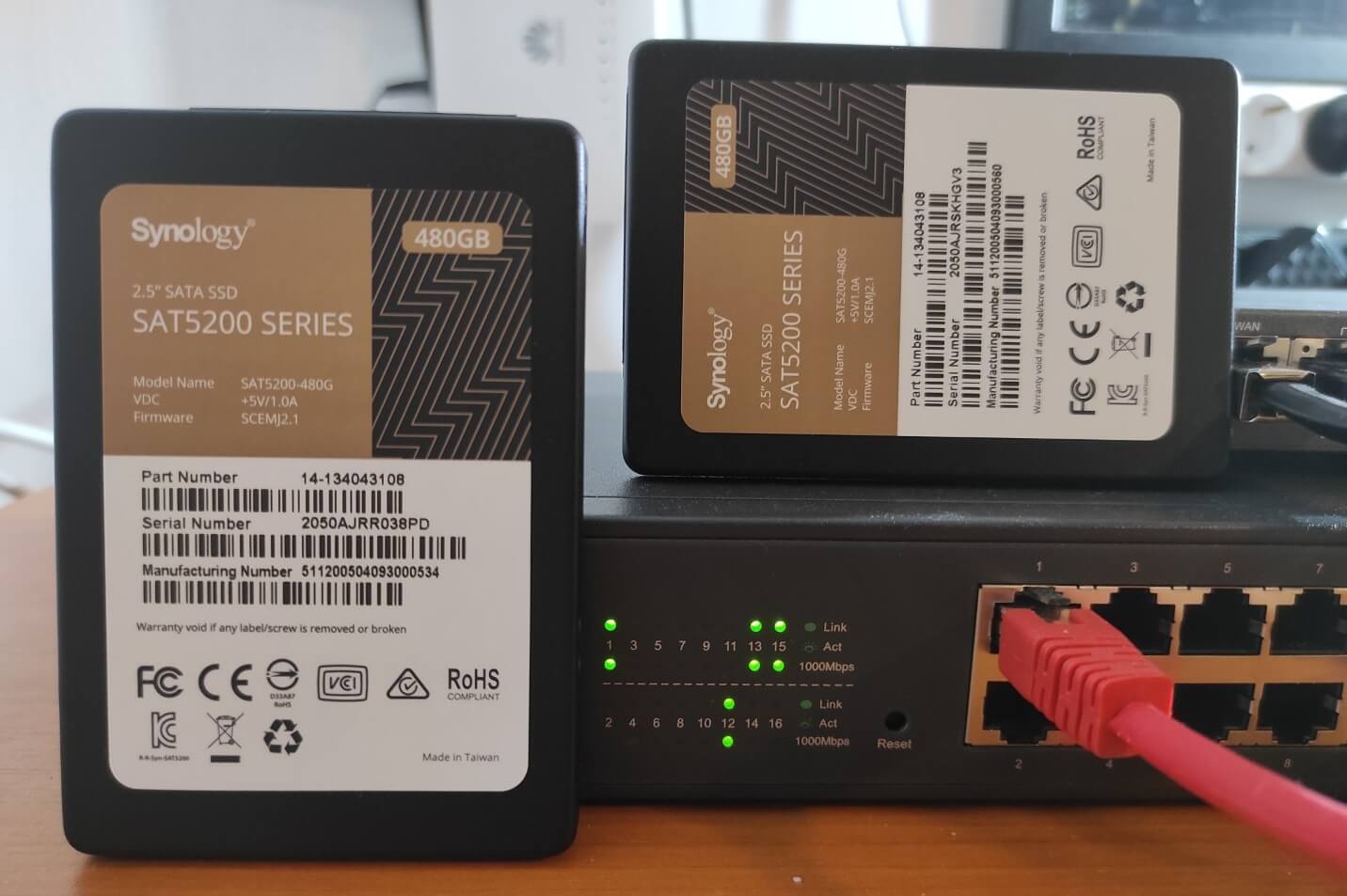 Have you ever wondered why this website has become even faster?
The answer lies in the Synology SAT5200 discs. SAT5200 have a performance that surpasses that of same-level hard disks, and can effectively accelerate workloads. In steady state, 4K random read/write can reach 95,000/65,000 IOPS, which can provide high durability and minimize performance degradation during the disks life cycle.
The built-in power failure protection and end-to-end data path protection mechanisms of the SAT5200 series ensure that data integrity can be maintained and the service interruption time caused by data corruption can be reduced. The Drive Writes Per Day (DWPD) of the SAT5200 is 1.3 under the JESD219A enterprise-level workload test method, which can easily cope with mixed deployment methods.
Synology's new SAT5200 SSDs are available in 3 memory sizes: 480GB, 960GB, 1920GB and 3840GB. Being SATA drives, the sequential read speed is 530MB/s and the sequential write speed is 500MB/s. The 3840GB cut, as top of the range, has an advantage in terms of performance: we are talking about 98,000 IOPS read speed and 58,000 IOPS write speed. My current 480GB Synology drives reach 95,000 IOPS read speed and 55,000 IOPS write speed.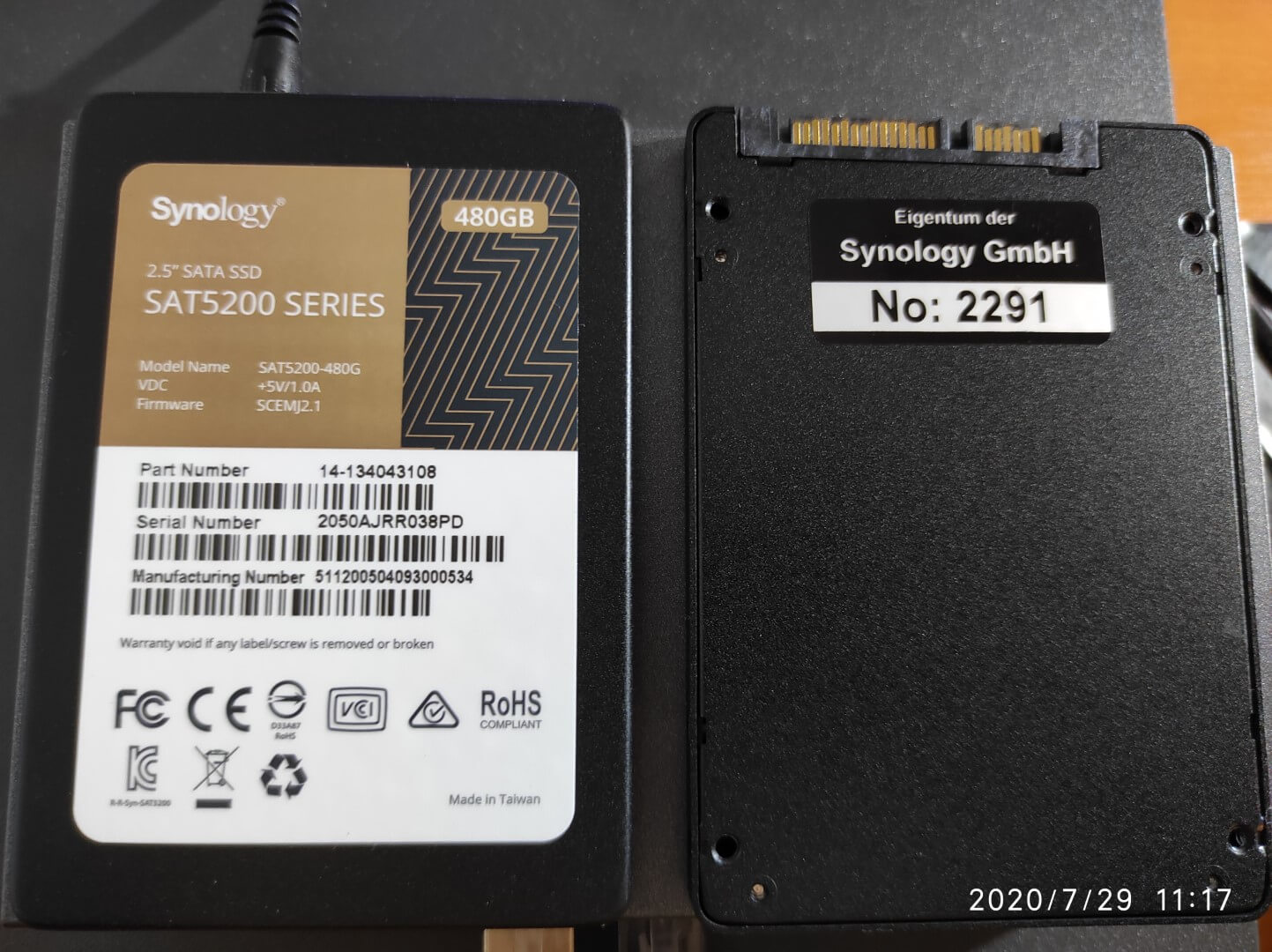 Reduced power consumption, no overheating, no noise
An interesting feature of the Synology SAT5200 discs is their low power consumption. For example, the disks that I have, the 480 GB SAT5200, have an Active read power consumption of  2.6 watts, an Active write power consumption of 4.2 watts and an idle disk power consumption of 1.4 watts. Incredible, isn't it? Well that's incredible when compared to HDDs power consumption. If you want to know more about the Synology SSD disks power consumption, I recommend reading the full Data Sheet released by Synology.
As for overheating, there is none. So compared to HDDs, the SAT5200 are the better choice from this point of view.
Inserting them into my DS720+ Synology NAS was a breeze. You will find 4 screws for each disk inside your NAS package. Of course Synology has thought about this little detail. The noise of the SSD disks? Noise? Are you kidding? There is no noise with SSDs!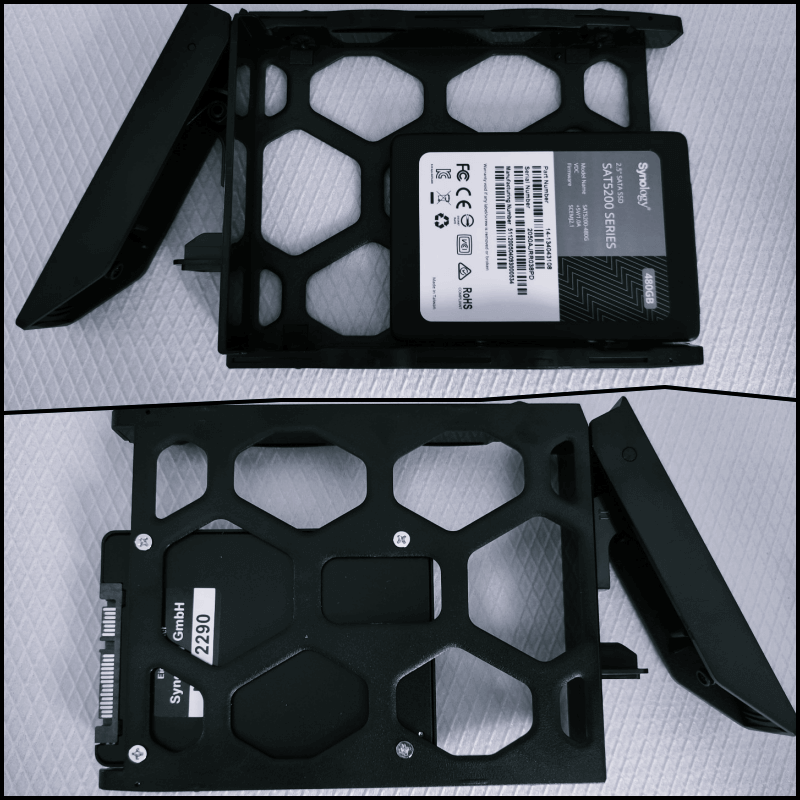 The SAT5200 SSD disks become essential if you intensively use your NAS mainly for:
Web hosting: WordPress websites etc.
Docker containers: Increased performance for Docker images.
Virtual Machines: Virtualization works smoothly.
File server: Best read/write for file server.
Surveillance Station: Increased speed when recording/viewing videos.
Drive and Cloud applications.
Synology Photos
Read/Write speed combined with durability make it a product of extreme quality. The name says it all! Enterprise disks ie high-level.
Conclusion:
As I see it, the future will be represented exclusively by SSD disks and this will cause the NAS to reduce in size by half over time. And this is a not too distant future. The storage market is changing and experiencing a marked evolution. HDDs may offer superior performance than SSDs, but only under special conditions.
The performance of SSD disks is always better than that of any HDD, even faster than mechanical hard drives. At least when we consider typical personal computer or workstation scenarios. In other areas, such as servers, this is not so obvious.
At the same time, traditional hard drives offer more storage space for the same cost. This implies that, within a data center, it still makes sense to rely on classic mechanical disks instead of modern SSDs. Partly because the new HDD units reach 16 TB and are highly energy efficient, reducing the gap that separates them from the SSDs, an important aspect for a data center. I think HDDs will disappear when SATA disappears.
This post was updated on Monday / March 1st, 2021 at 12:33 AM