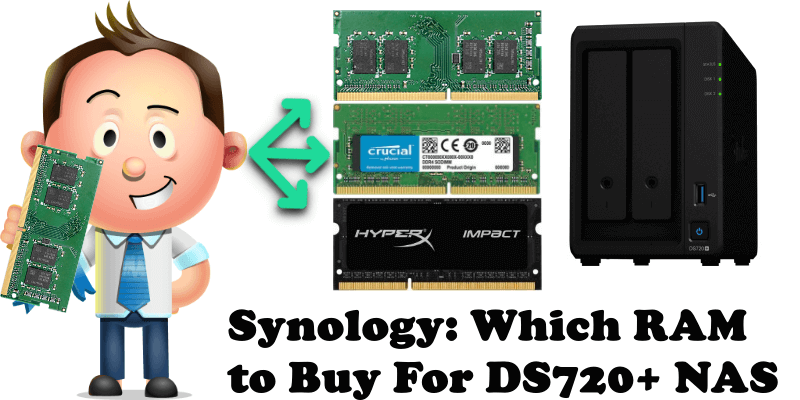 Have you recently purchased your new DS720+ Synology NAS or are you planning the purchase and you are undecided about what RAM memory to buy? This article comes to your aid. The kind of memory you will need to buy for your DS720+ Synology NAS device is Samsung 8GB DDR4 CL19 2666MHz Product Code: M471A1K43CB1-CTD or the official Synology RAM module D4NESO-2666-4G. Update: February 1, 2021 DS720+ also support Arch SY4GB2666SOr1b8-TZ001 RAM memory.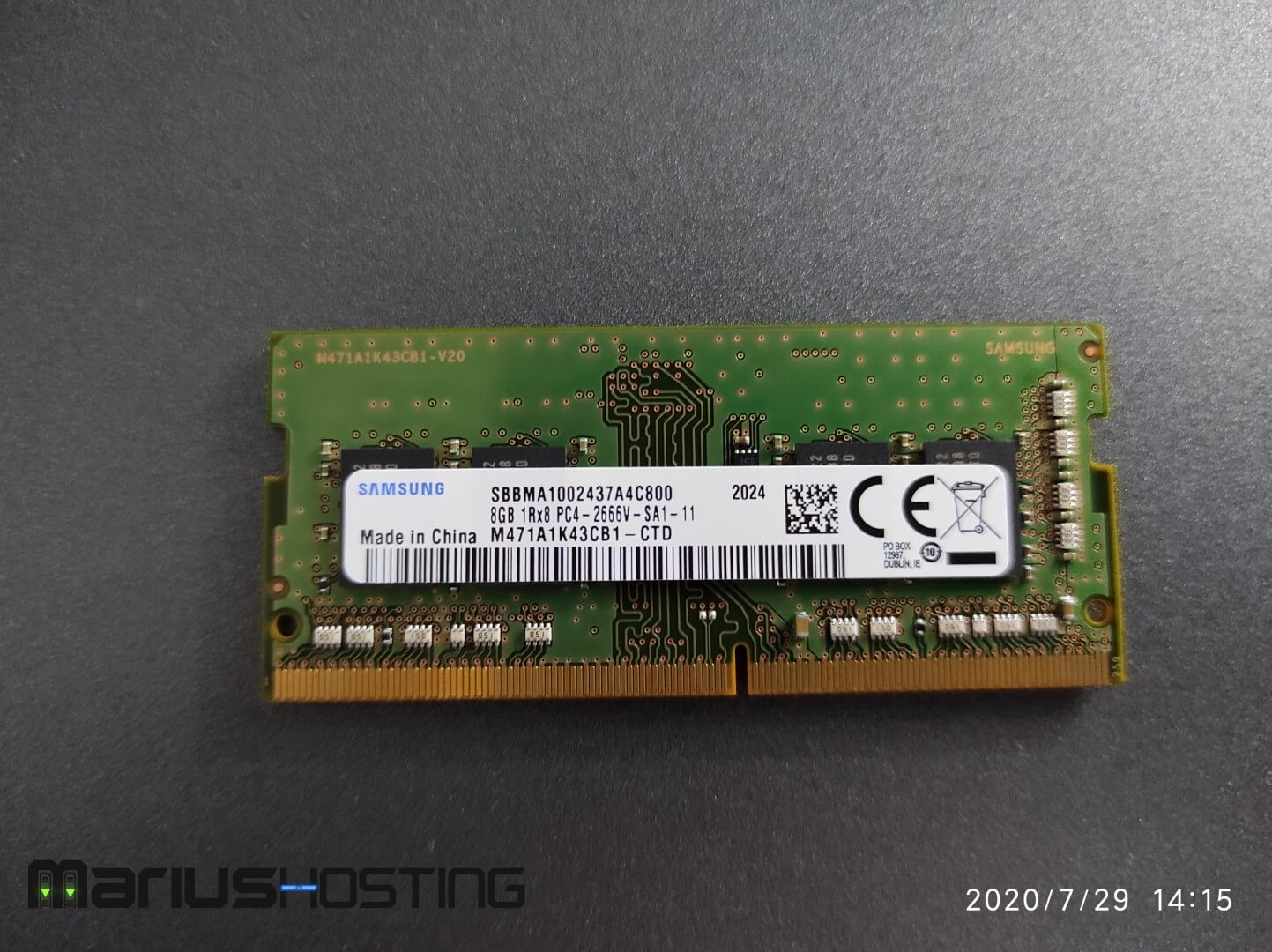 So, for your DS720+ NAS, you will need to buy a Samsung RAM with CL19. The original preinstalled RAM, which is the D4NESO-2666-2G, is bound to the motherboard in your DS720+ NAS (they're actually welded together) and is CL19 Samsung manufactured. Update 20.08.2020.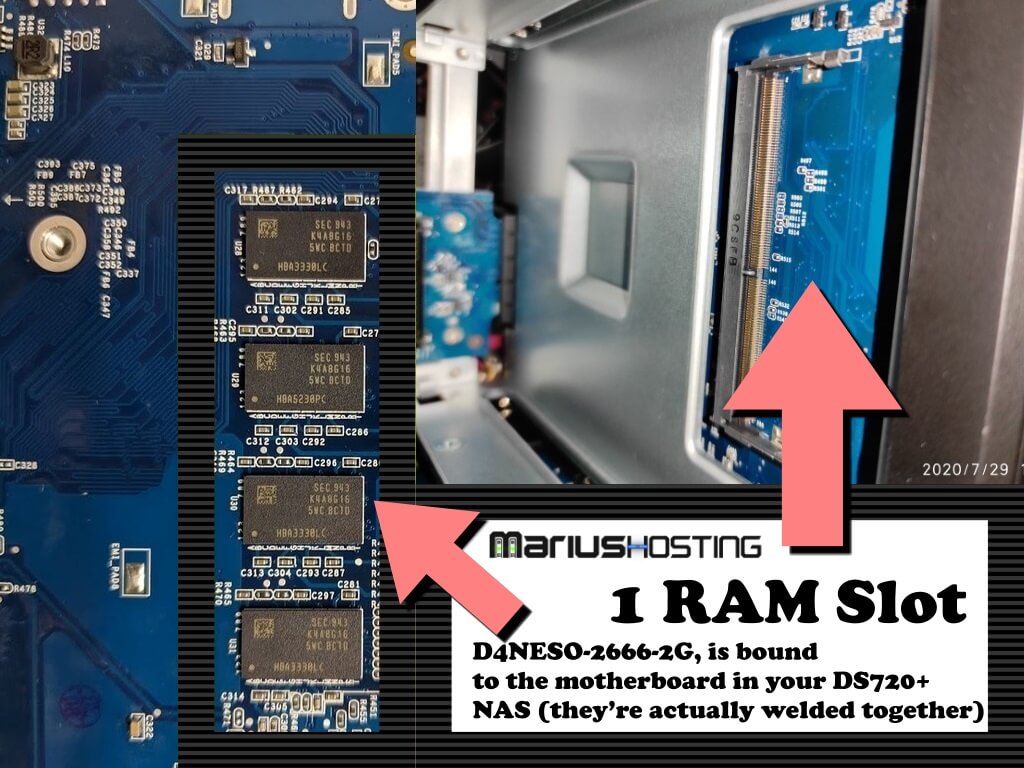 Blogs and forums recommend the 16 GB or 8 GB RAM from Crucial. However, some users have shared with me that the Crucial CL19 RAM memory has some incompatibility issues with the original preinstalled memory on the DS720+ NAS. It would appear that the Crucial memory does not always read SSD-NVMe M.2 cache. Also, DSM will show a notification listing the Crucial or HyperX RAM as non official at every start up/reboot. The notification will say:
System Event: Detected non-Synology memory module. Please refer to our official website and select authentic Synology memory modules for better system reliability.
Right now you can't disable this System Event.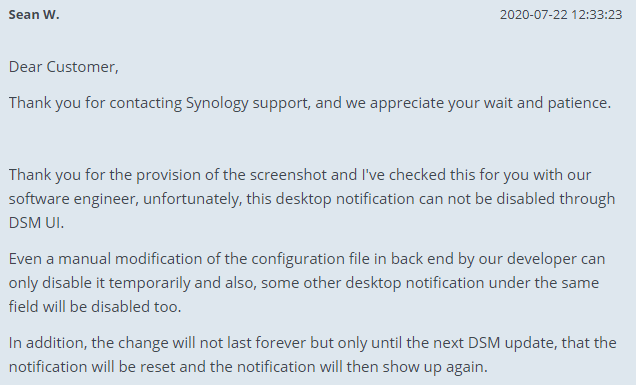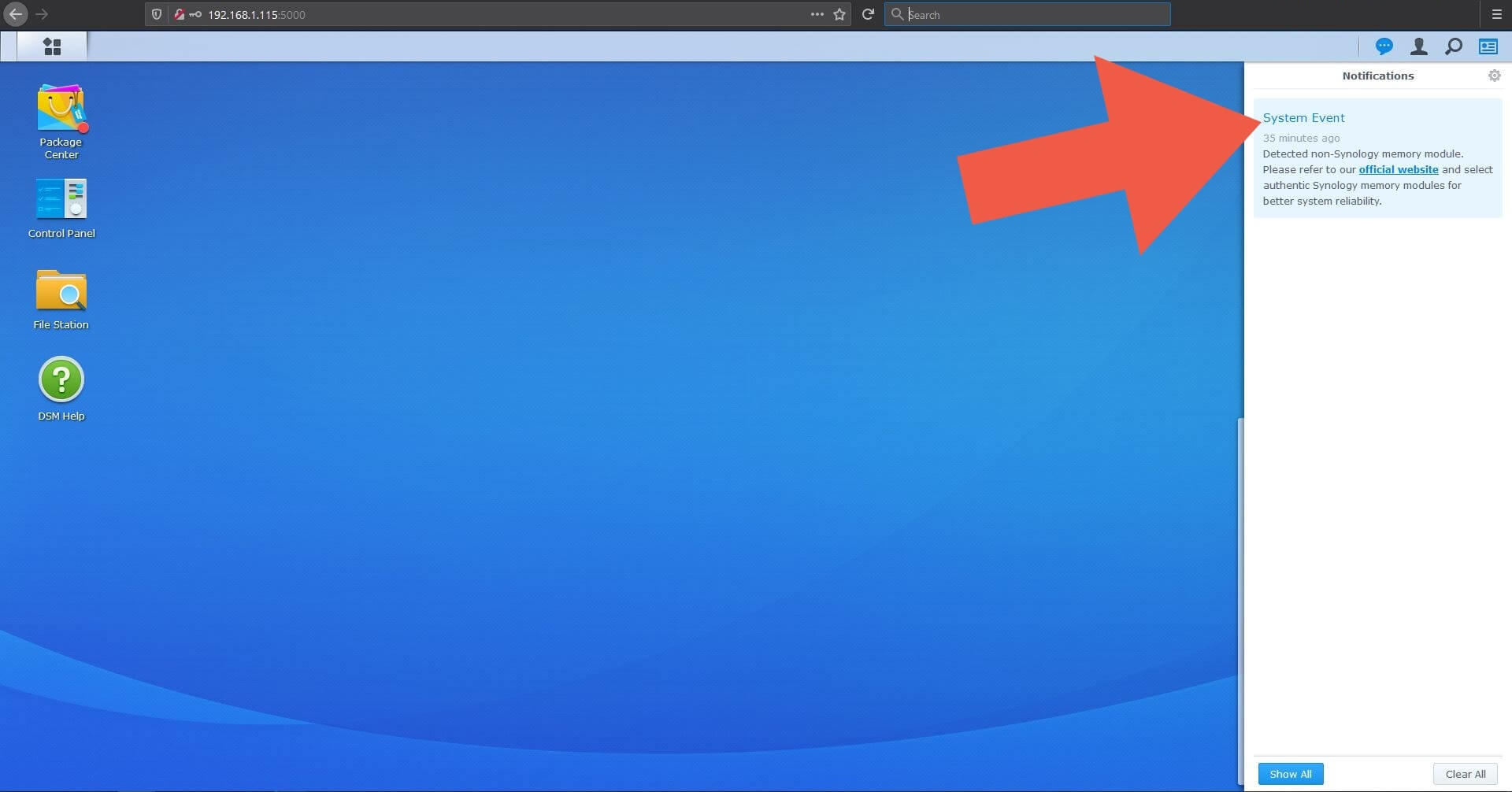 You will not receive any messages in your DSM System event notifications if you install the Samsung 8GB DDR4 CL19 2666MHz Product Code: M471A1K43CB1-CTD because I've tested it myself on my DS720+ and I can say with certainty that it's 100% compatible and perfect work with different SSD-NVMe M.2 brands.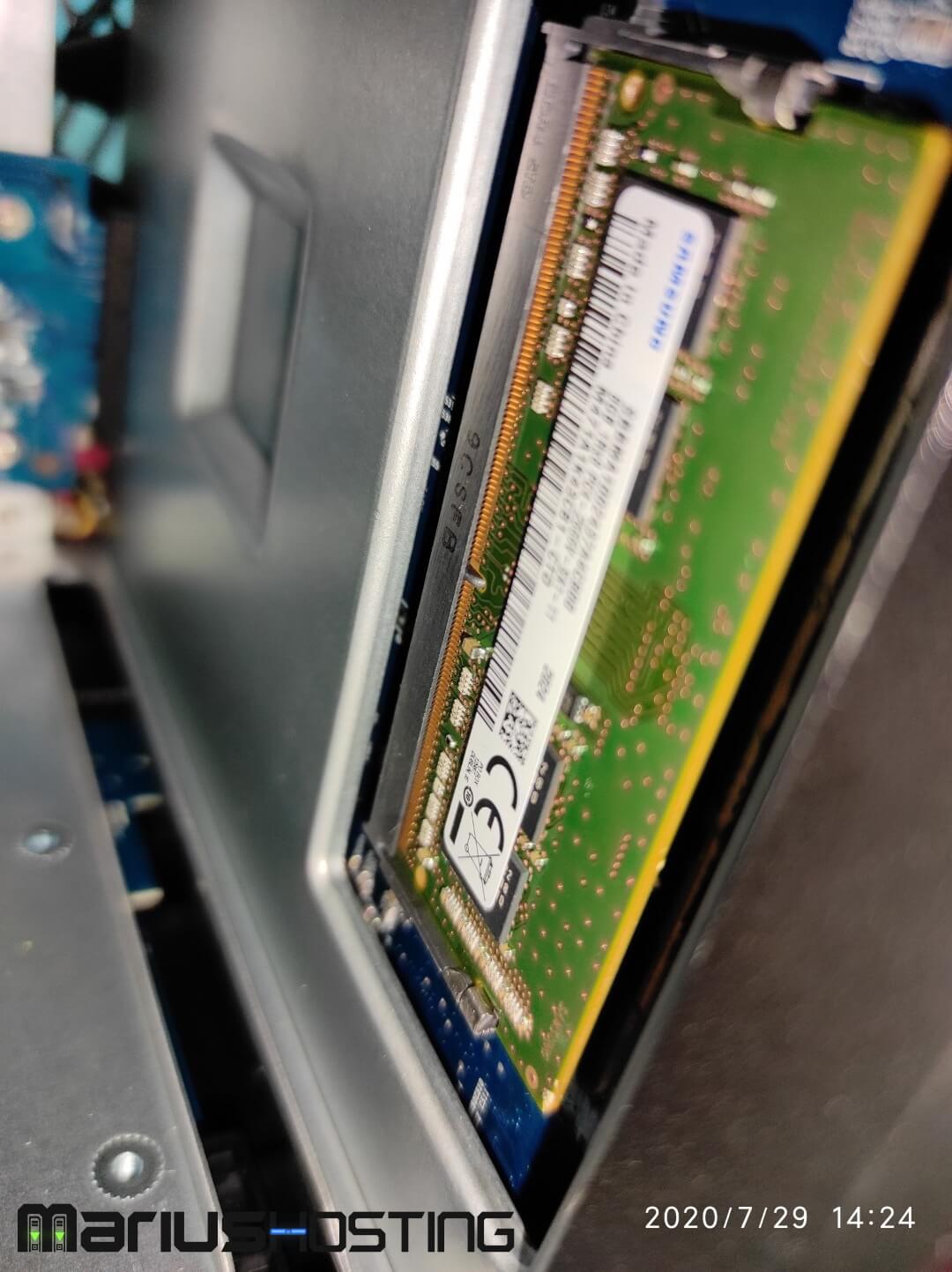 What happens if I install more RAM than the CPU processor can support? The excess RAM will never be used. There are people on YouTube and Forums who have unknowingly and naively installed 16 GB of RAM in their Synology DS720+ and DS220+ but they do not understand that the processor will never use the excess memory. Even if their system detects 16 GB of memory, it will never be used by their CPU. The Celeron J4125 CPU installed on DS720+ can support up to 8 GB of RAM. Synology recommends installing a maximum of 6 GB RAM but they don't offer any explanation as to why only 6, despite the processor supporting 8 GB without any issue (according to Intel, the manufacturer).
DS720+ = CPU Intel Celeron J4125 = Supports 8 GB RAM (Synology says Maximum Memory Capacity 6 GB) (Intel says Maximum Memory Capacity 8 GB).
If you install the Samsung 8GB DDR4 CL19 2666MHz CL19, 1.2v Product Code: M471A1K43CB1-CTD, you will have a total of 10 GB of RAM on your Synology NAS and this is enough. You don't need to open your DS720+ NAS with the screwdriver and lose the warranty on your new product – you need to know that the preinstalled RAM Samsung manufactured is bound to the motherboard (they're actually welded together). At the same time, you are enjoying the maximum memory capacity for your Celeron J4125 processor.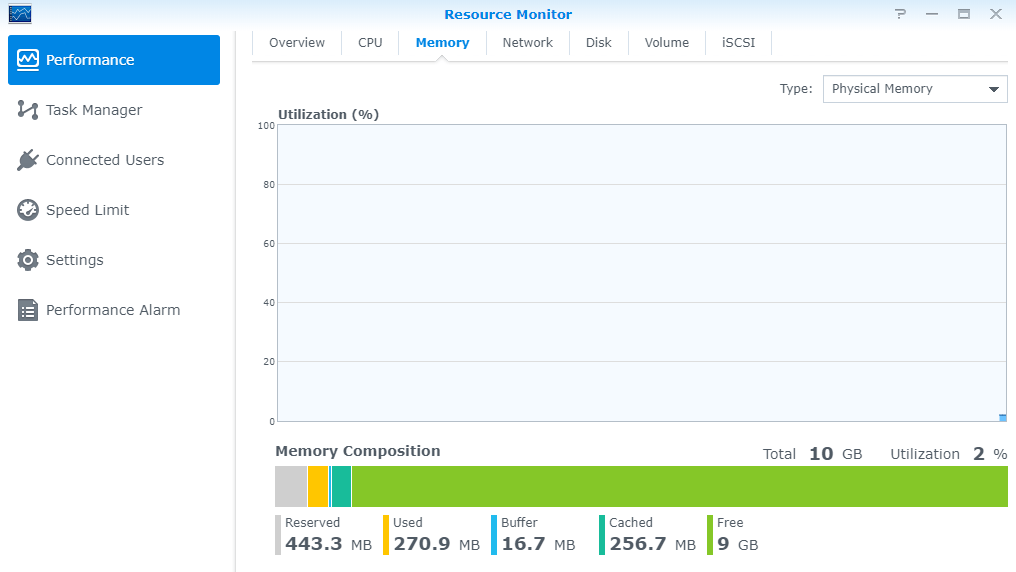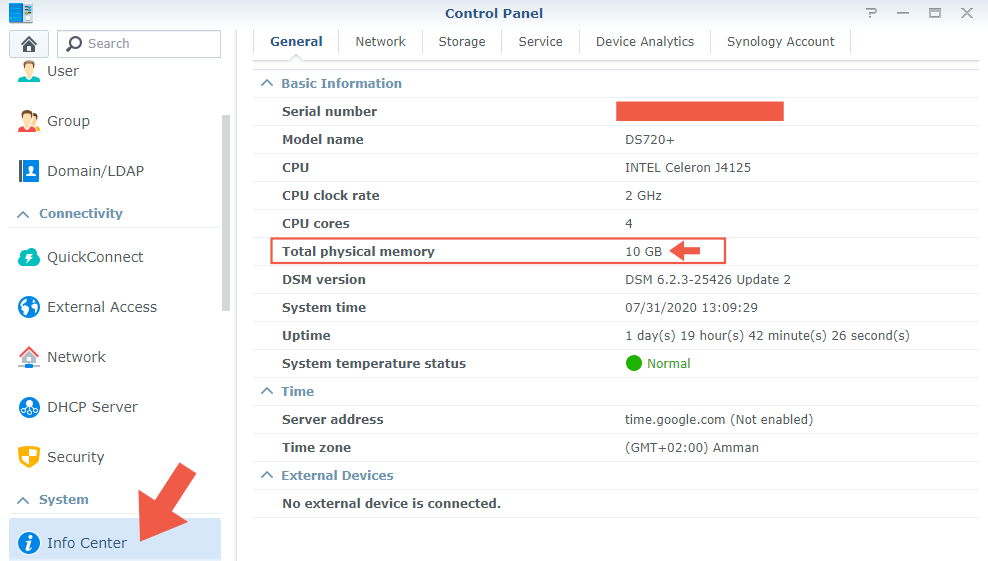 Note: Update February 1, 2021 – DS720+ perfectly support Arch SY4GB2666SOr1b8-TZ001 RAM memory.
Note: Official Synology Memory VS Non Original Memory: PRICE!
Note: I would like to emphasize the fact that it's not a good idea at all to open up your NAS with a screwdriver to upgrade your RAM because you can't in this model. What this will do is cause you to lose your warranty on an already great product. It's best to just use the free RAM slot in the front.
Note: Don't buy a stack of 16 GB of RAM because you will just be throwing money out the window.
Note: Out of a total of 10GB, you will be using only 8GB. The remaining 2 GB won't be used. You won't find a 6GB memory, so you will get a total of 6GB if you buy the 4GB module. But DS720+ support 8 GB according to Intel so, if you buy a RAM module 8GB you will get a total of 10 GB in your NAS but only 8GB will work not 10GB.
Note: As you well know, I do not sponsor any products, nor does my website sell or earn anything or make any kind of profit off the sale of any product. My recommendations are genuine.
Note: Read more about RAM CL Latency – Synology: What is RAM CL Latency?
Note: Synology: How Long Does The Memory Test Last?
Note: mariushosting is not responsible for any malfunctions that may result from the instructions given above. The tests are done exclusively by me and I like to share them with the rest of the world.
This post was updated on Thursday / August 11th, 2022 at 12:34 PM