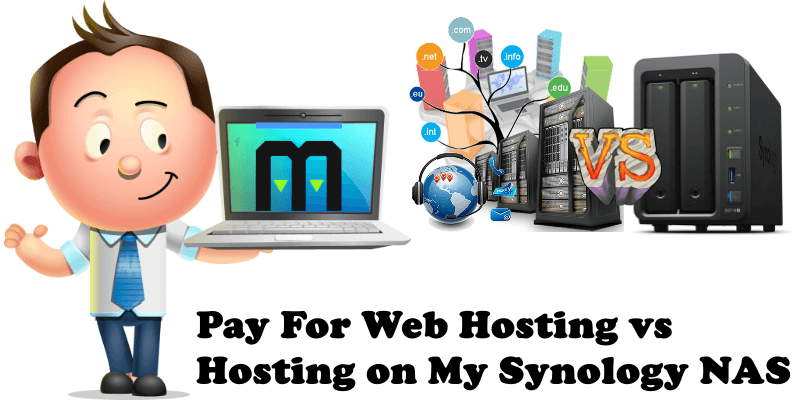 Lately I've been reading a lot of posts on Reddit (the channel dedicated to Synology) about the pros and cons of paying for web hosting vs hosting your website from home, on a Synology NAS. A lot of Reddit users and so many other people on the Internet are asking which is better: buying a web hosting service or hosting from home on a Synology NAS? What most surprises me are the answers these people get from so-called, or better said, self-proclaimed, "experts". Although these "experts" have likely never hosted a website from home themselves (some even say so themselves), they are adamant about not hosting from home. Not just that, but they are offering false information about hosting a website from home and discouraging those who would benefit from it.
Call me paranoid, but I am increasingly convinced that the bulk of misinformation on the topic is intentional, which implies those behind it have ulterior motives. Many of the users I was referencing above might just be drawing water to their own mill – maybe they are working for a larger web hosting company and getting a commission for bringing in new clients; maybe they have their own small web hosting company. But I feel it's just plain wrong to be looking to make a name for yourself and using disinformation on those asking for information as a way to round up new clients.
Do you want real information? You have come to the right place. My website, mariushosting, is being hosted from home on a Synology NAS. And it's doing great with all the visitors it has. Not only is mariushosting a point of reference in the Synology community, but also, according to Alexa stats, it has grown to become a global reference, helping Synology users and enthusiasts from all over the world. I don't use any cookies, nor any type of tracking. While I can't know for sure how many visitors I have on mariushosting, I have several other sites hosted at home on the same Synology NAS, and they bring in plenty of traffic.
So, I am doing web hosting from home on my Synology NAS, successfully hosting multiple sites on the same device. I have been online for over a year now. NAS security is a serious advantage. Applications such as MariaDB10, phpMyAdmin, Apache 2.4, WordPress and SSL certificates make web hosting from home a safe and secure process, and professional web hosting has nothing on home-hosting on a Synology NAS which offers cutting-edge security standards, just as good as anything web hosting companies currently provide.
If you too are looking to host your website from home on a Synology NAS, you'll surely find my articles below extremely useful as they will help you on your adventure and answer all of your questions.
PageSpeed Insights Says: Mariushosting Faster Than Google
Synology: Best FPM Settings For WebStation
How To Change Upload_Max_Filesize on Synology NAS WordPress
How to Set Up FTP on Your Synology NAS
Synology: How to Monitor Website Uptime
How to Backup WordPress Files and Database on Synology NAS
---
GoDaddy vs Synology Performance Stats
SiteGround vs Synology Performance Stats
BlueHost vs Synology Performance Stats
I would never change my Synology NAS with paid hosting. Do not let yourself be discouraged by those who tell you that you cannot host from home on a Synology NAS, not even by those who say they do not do it for security reasons. They don't know what they're talking about. An excellent configuration of the Synology firewall and of its various packages make your box more reliable than many other web-hosting services that pretend to be professional when even the most basic packages like Apache, MariaDB10 etc. have not been updated on their servers for more than 5 years. Ask the real experts, not the supposed ones. Do you need help setting up your website on Synology NAS? Contact me.
Disadvantages of a paid web hosting:
Shared CPU with others on the same server.
Shared HDD / SSD with others on the same server.
Available RAM starting at 1 GB.
IP shared with thousands of other websites.
Basic packages like phpMyAdmin, Apache, MariaDB10, PHP outdated.
Continuous errors: as soon as you reach 100 visitors per day, or even less than that, you will be offered to upgrade your plan – more money for limited resources.
Your files are accessible to web-hosting staff.
Advantages of Synology NAS as web hosting:
Dedicated CPU resources, exclusive to your website.
Dedicated storage resources. You choose the HDD / SSD to buy (brand, speed, storage etc.), a one time payment.
Dedicated RAM, with the possibility of upgrading (one time payment).
Unique IP, not shared with others.
Web hosting packages (phpMyAdmin, Apache, MariaDB10, PHP) with frequent updates.
Over 50,000 visitors per day at no additional cost.
Your files are accessible only to you.
This post was updated on Monday / February 10th, 2020 at 12:35 PM