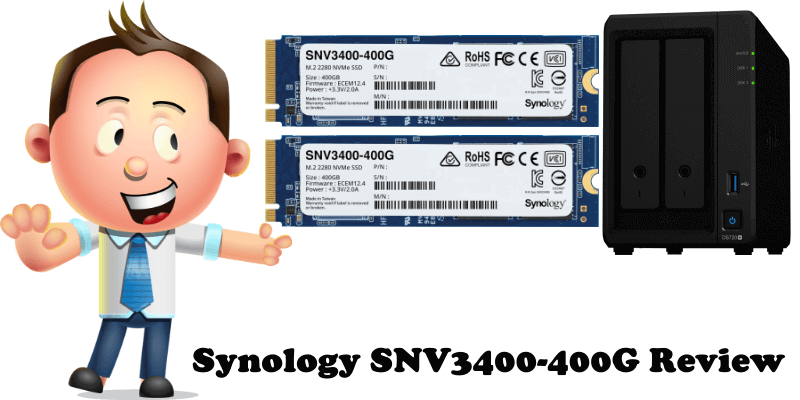 Synology has recently released their own NVMe (Non-Volatile Memory Express) labeled SNV3400-400G. NVMe is a communications interface and drive that defines a command set and feature set for PCIe-based SSDs with the goals of increased and efficient performance and interoperability on a broad range of enterprise and client systems. SNV3400-400G SSDs are 22mm wide and 80mm long, so they will be labeled as 2280. SNV3400-400G are optimized by Synology for use in their NVMe cache-ready NAS devices, for both home use and small businesses, and rackmount solutions (DS420+, DS720+, DS920+, RS1619xs+, DS1621xs+ etc.). The SNV3400-400G have four individual NAND chips and a Phison controller.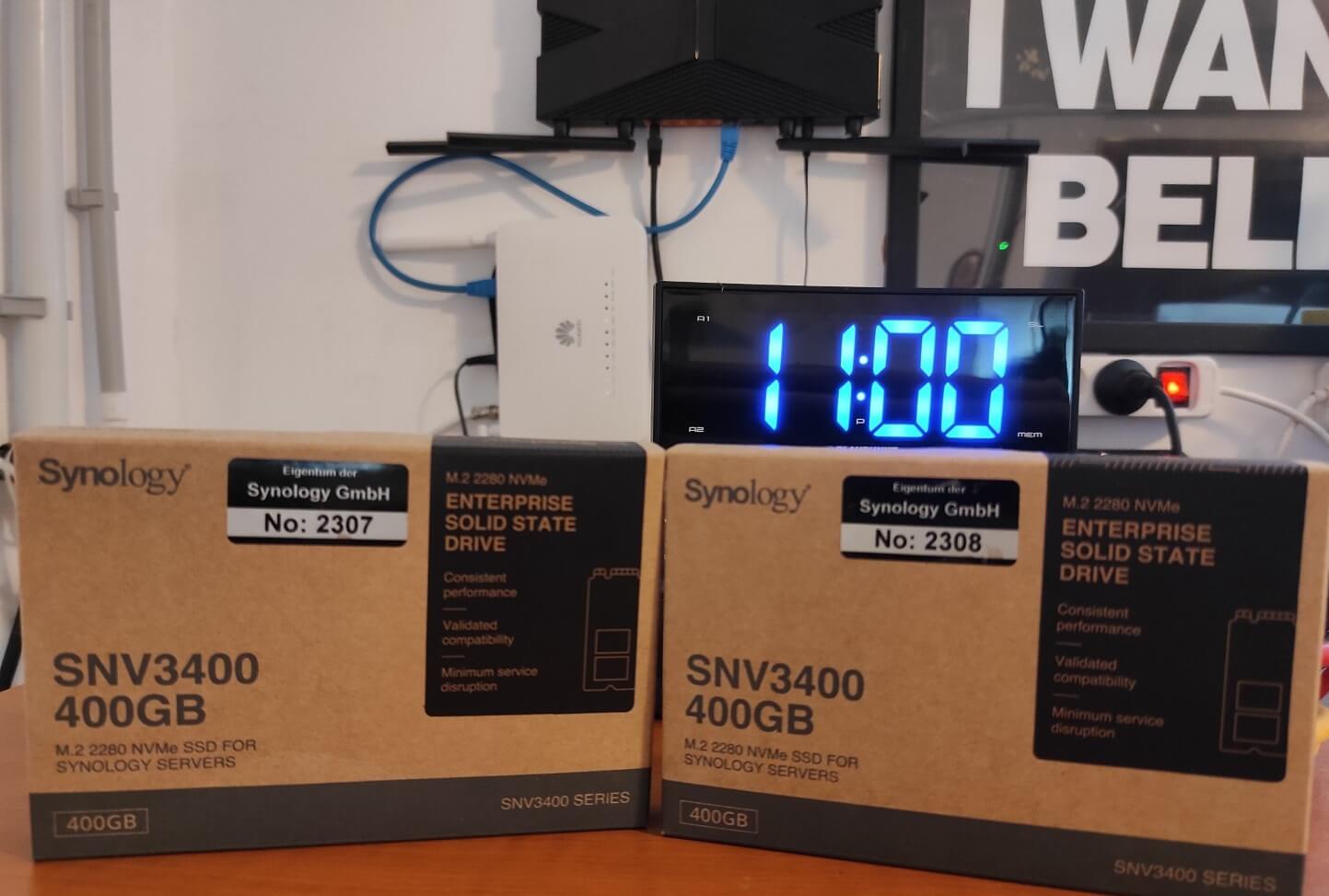 Cache Acceleration
M.2 NVMe SSD is intended for use as a cache drive for systems using an HDD mechanical hard drive or 2.5″ SATA SSDs for primary storage. The data that is frequently or recently used on your Synology NAS can be accessed more quickly from the cache devices (M.2 NVMe SNV3400-400G) than from the larger, slower HDD/SSD devices. So basically, the NVMe SSDs, the SNV3400-400G, borrow frequently or recently used data from primary HDDs/SATA SSDs and cache it. Said data will then be accessed from them by means of a higher read/write performance.
When accessing data from cache, you'll get SSD-like (SNV3400-400G) performance. Have you ever wondered why this website is so fast? Well, mariushosting.com uses two SNV3400-400G Synology drives for cache acceleration. Thanks to their sequential read speed of 3100MB/s, the two SNV3400-400G Synology discs enhance the sequential read speed of my current Synology SAT5200 SATA SSD disks data.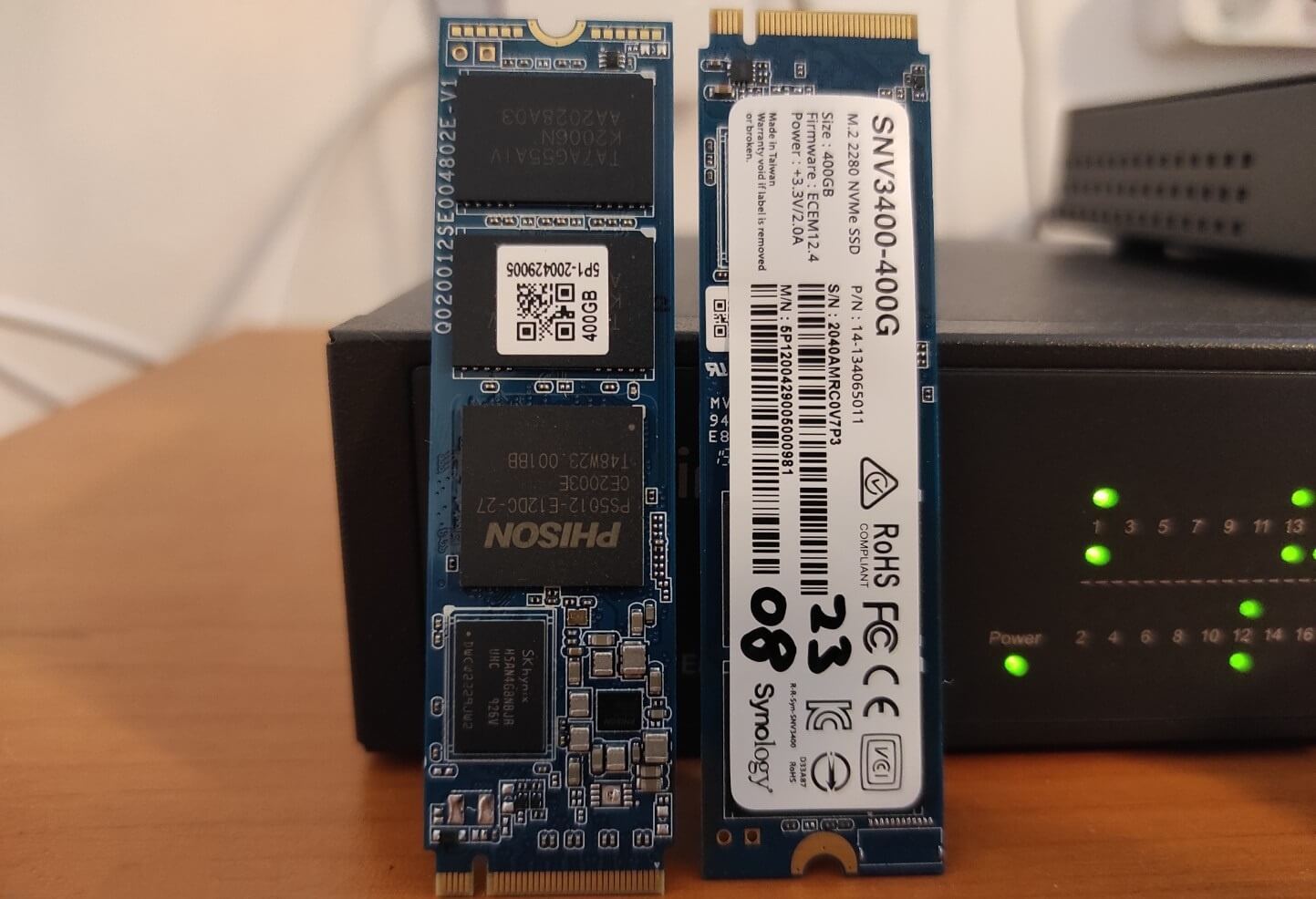 Best performance for web hosting
Synology SNV3400-400G is designed to handle tough caching workloads in a 24/7 multi-user environment. Its durable I/O performance boosts system responsiveness and speeds up handling of frequent access data, providing a streamlined storage experience while minimizing service disruptions to your Synology NAS. As you can see, this website is hosted from home on a DS1621xs+ Synology NAS. Whenever you visit this site, images, text and any and all data that are viewed frequently by visitors are directly taken from the SNV3400-400G cache disks instead of my internal SATA 2.5″ SSD disks. I have always had a Real Time Cache Hit-Rate of 100%. Read more M.2 NVMe SSD Cache Benefits.
To better understand the process, my current SAT5200-480G SATA discs have a sequential read speed of 530MB/s and a sequential write speed of 500MB/s. When using two SNV3400-400G discs as cache, the sequential read speed is up to 3100MB/s and the sequential write speed is 550MB/s. So my visitors will be able to access data from my website 6 times faster. The data that is continuously accessed by visitors will be automatically retrieved from cache.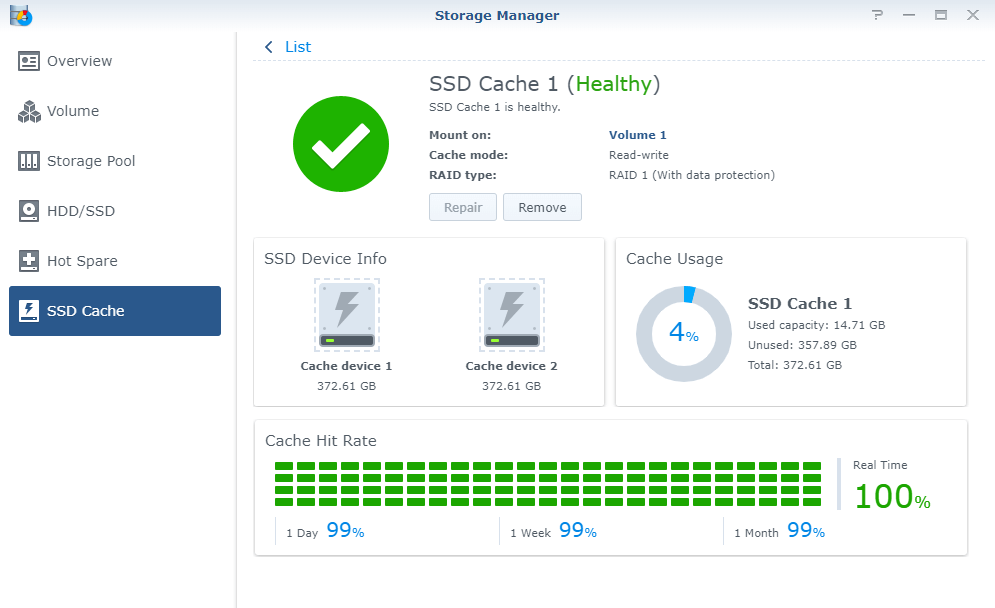 Note: Find out where is Cache Hit Rate in Synology DSM 7.
If you are hosting a website from home on your own Synology NAS and want to speed up access to your site and enjoy all the speed performance your SNV3400 discs can offer, remember to uncheck the option Skip sequential I/O automatically checked by the system in Storage Manager.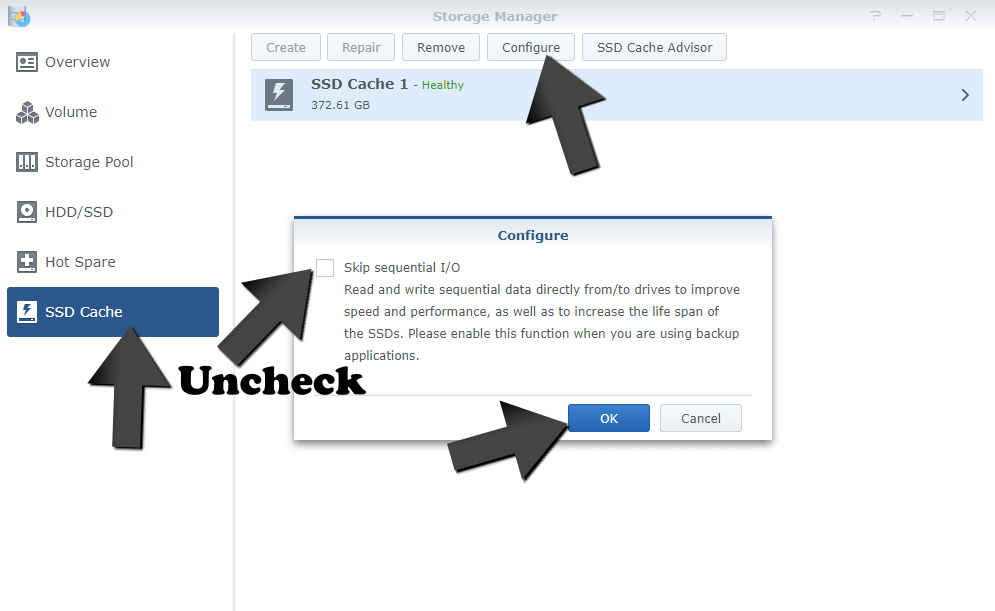 Small disc, but powerful
Built for system cache, Synology SNV3000 series pushes up random I/O performance and reduces latency in demanding 24/7 environments. It offers durable caching with over 205,000/40,000 4K random read/write IOPS1 and a 500 TBW endurance rating2, suitable for multimedia post-production and database applications. M.2 is more than just an evolutionary form factor. Potentially, it could supersede the whole aging Serial ATA format altogether. Synology SNV3400 series integrates end-to-end data protection to safeguard data integrity over the entire transfer path.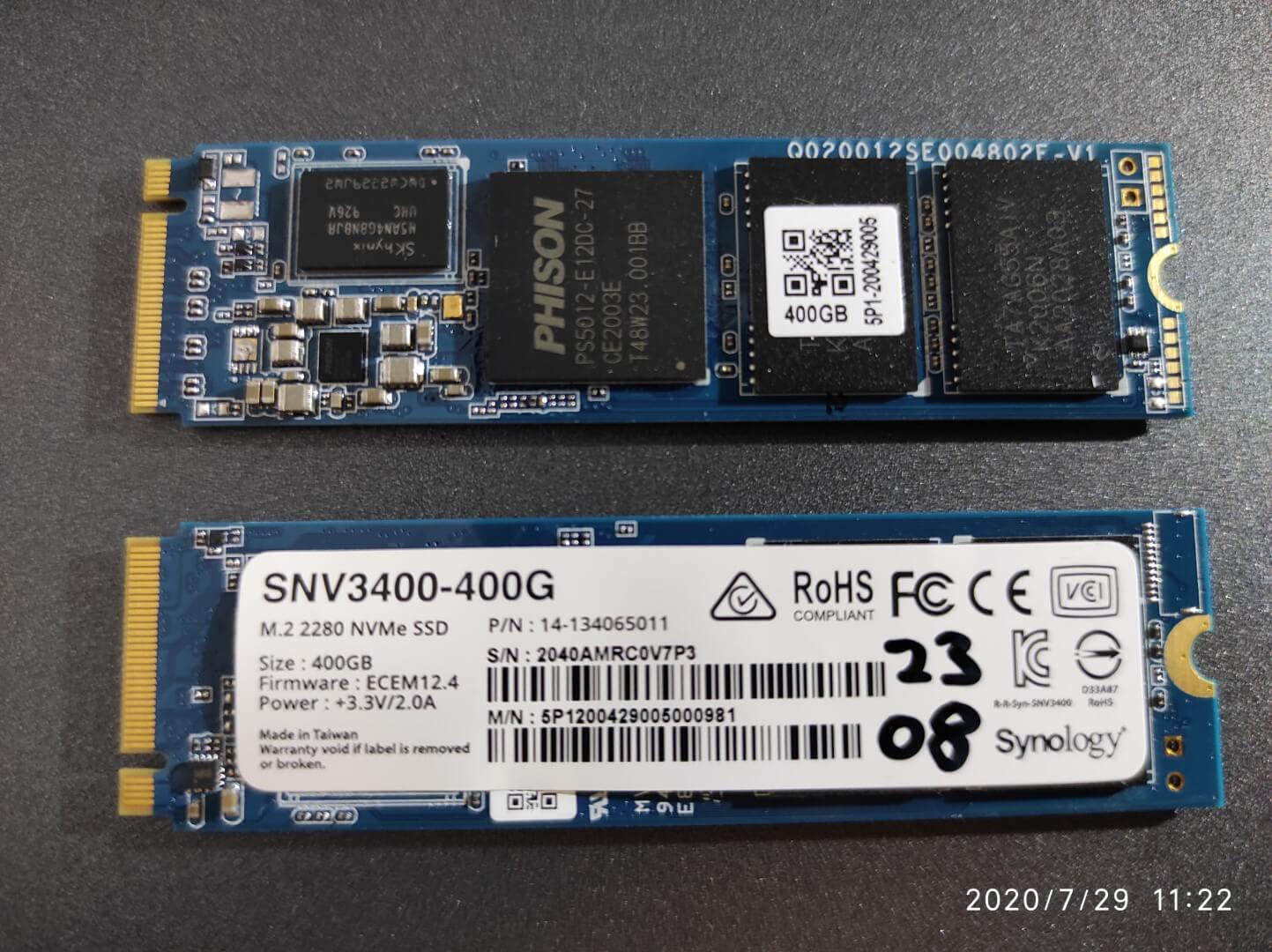 Enterprise-Grade Endurance and 5 Year Warranty
Suitable for intensive caching workloads at up to 500 TBW. The strength of SNV3400 discs lies in their Endurance and Reliability, two aspects that beat all competition. Terabytes written is a measure of the endurance of a solid-state drive to write operations. The 5-year limited warranty provides coverage until the end of the warranty period or until the endurance usage of the drive has been reached, whichever comes first.
Simple installation on NAS
Installing the SNV3400-400G disks in my Synology NAS DS720+ was a breeze.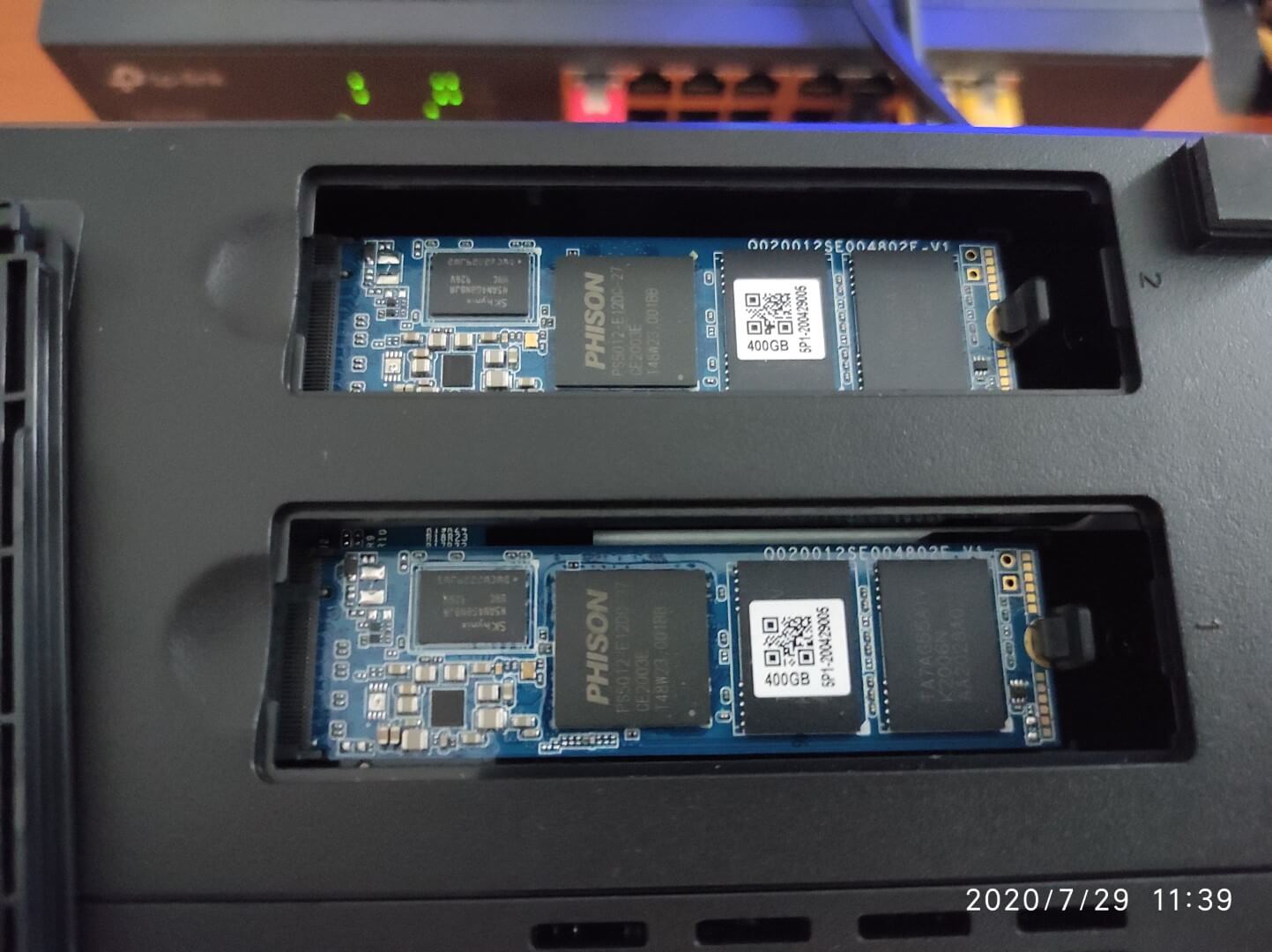 Conclusion
If you use your NAS as an ftp server, for web hosting, intensive file sharing or anything that requires continual and systematic retrieval of data, you will benefit extensively from using the SNV3400-400 GB SSD cache disks.
Note: (According to Synology) Synology SNV3000 series is thoroughly tested for compatibility with our systems following each engineering change, while firmware and component changes are strictly managed. Intensive I/O stress, power cycling, and temperature trials ensure that all products meet our strictest standards for quality and reliability.
Note: What Happens If You Install One NVMe Instead of Two? If you use only one NVMe disk, this disk will be read-only. Synology NAS models that support NVMe disks require two NVMe disks in RAID 1 for Read/Write operations. Ultimately you need to install 2 NVMe disks to benefit from both read and write operations in RAID 1. Never use just one NVMe disk.
This post was updated on Friday / March 25th, 2022 at 3:33 PM