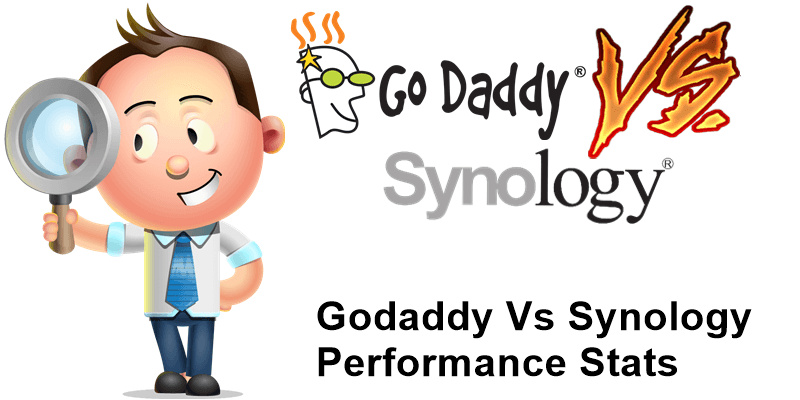 Is it better to buy a website hosting plan on GoDaddy or host your own website directly from home on Synology NAS? After some tests I arrived at the conclusion that hosting from home via Synology is extremely convenient from a financial point of view and offers long-term benefits.
Let's compare a mid-high-end "Business Expand" GoDaddy hosting plan against hosting on Synology DS718 +.
GoDaddy Hardware: 8 GB Ram – 150 GB HDD (unknown vendor) – 4 Core CPU (unknown vendor) – Standard SSL Certificate – Unmetered traffic (But they can limit you).
GoDaddy price: 99.99 dollars per month multiplied by 12 months adds up to a total of 1,199.88 dollars a year.
HTTP/2 support: NO.
SSD support: NO.
Free SSL Certificate: YES.
Linux Server: YES.
Dedicated IP: YES.
Price: 1,199.88 / year without VAT.
VS:
Synology DS718+: 8 GB Ram – 250 GB Crucial MX500 SSD – 4 Core CPU – Free SSL Let's Encrypt Certificate – Unmetered Traffic and data transfer via fiber connection.
Synology DS718+ price: 420 dollars box + two SSD disks at 50 dollars each + 8GB RAM expansion. Total price: 700 dollars (one-time payment). 200 dollars if you add an UPS. Total cost: 900 dollars, a one-time payment.
HTTP/2 support: YES.
SSD support: YES.
Free SSL Certificate: YES.
Linux Server: YES.
Dedicated IP: YES.
Price: 900 / forever.
It's easy to see the difference and realize that Synology NAS has lower costs than GoDaddy's plan, especially long-term. Synology offers all packages needed to start a website and makes updates on a regular basis. Because it's a Linux heart inside the box, choosing Synology means choosing security and stability.
What about power consumption? Synology DS718+ power consumption is 20 Watt. You will pay a maximum of 20 dollars a year, but costs may differ slightly depending on which country you live in.
What about power failure? In my case, I've added an awesome product to my home web-hosting set-up and it's named UPS. CyberPower UPS to be exact. Adding an UPS to your Synology set-up means you won't experience any power failure; by doing this, you will also be extending the life of your Synology NAS.
Winner: Synology DS718+
This post was updated on