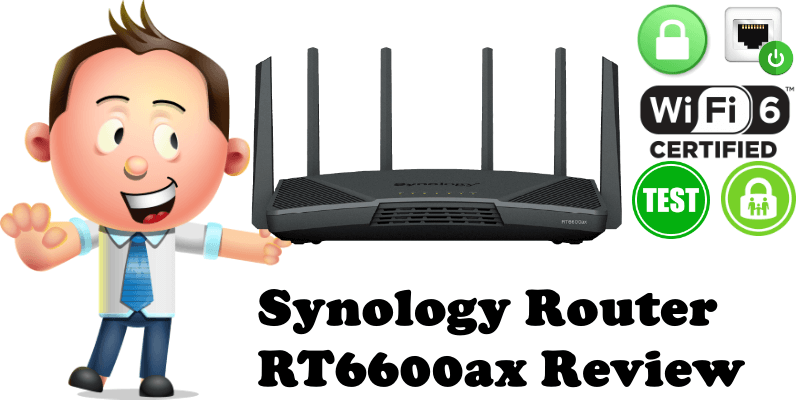 For about a week now mariushosting has been using the new Synology router, codename RT6600ax, in its environment. On October 9, 2020, mariushosting switched from a TP-Link router to an RT2600ac which I have been using, rejoicing in its options and features for 20 months straight. Today, the new RT6600ax router replaces my old RT2600ac, breathing fresh air into mariushosting's setup. The package for the RT6600ax contains the router, of course, a power adapter and a 5e LAN cable, as well as a small instruction booklet.
As always, when a new Synology product arrives, my excitement is at peak level because Synology, for me, is synonymous with security and quality. In the image below you can see the first picture of the router that I took as soon as it arrived. Tara, my Romanian Mioritic Shepperd Dog, was the one to welcome the new RT6600ax, which she greeted benevolently with a compulsory sniff as she does with any and all packages that arrive at the mariushosting residence (just to make sure there isn't any delicious food she's missing).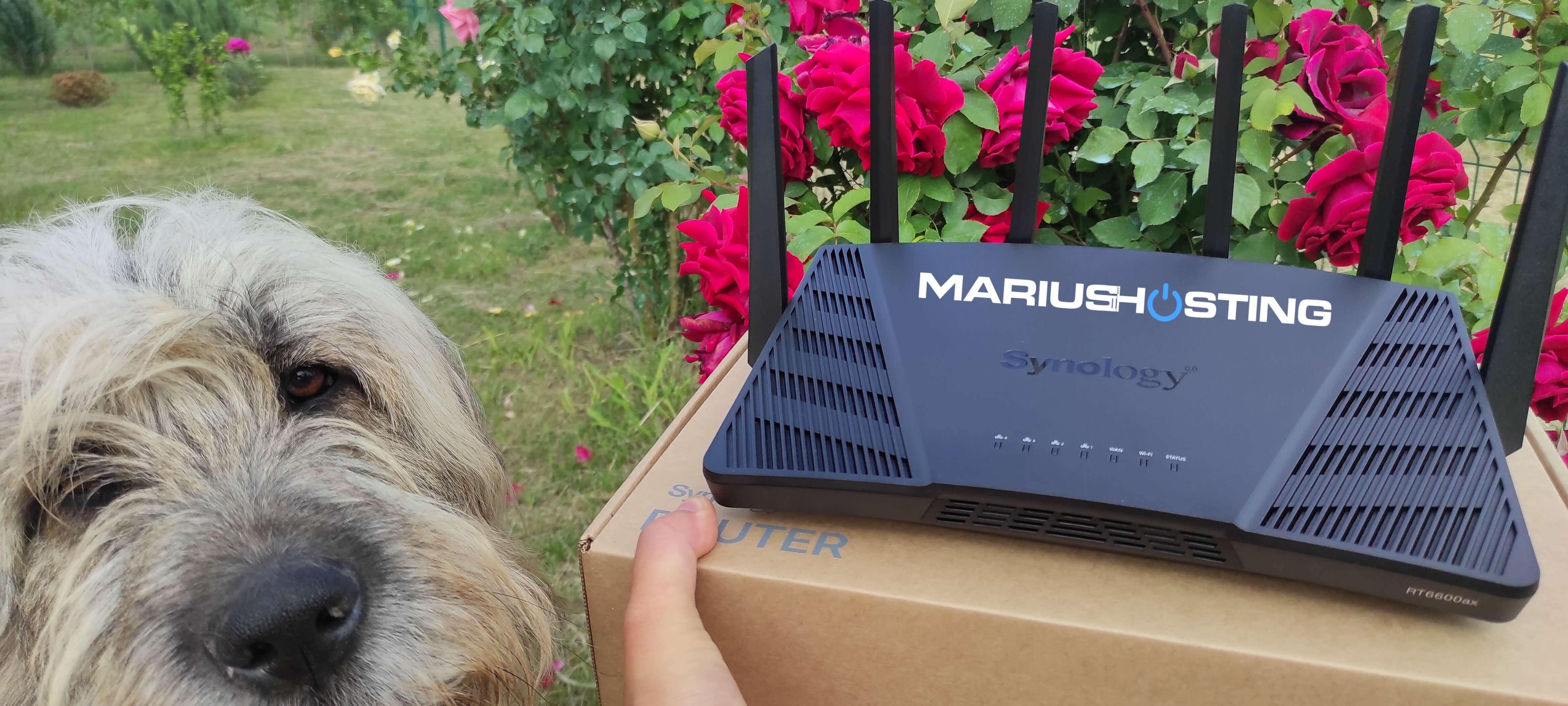 In the second pic below, Nora, Tara's sister, is seen sitting approvingly after she'd just authorized the new router, formally marking its admission into the residence and pack. You have to understand that nothing passes unnoticed at our residence, and sniffing is mandatory for anyone and anything coming or leaving.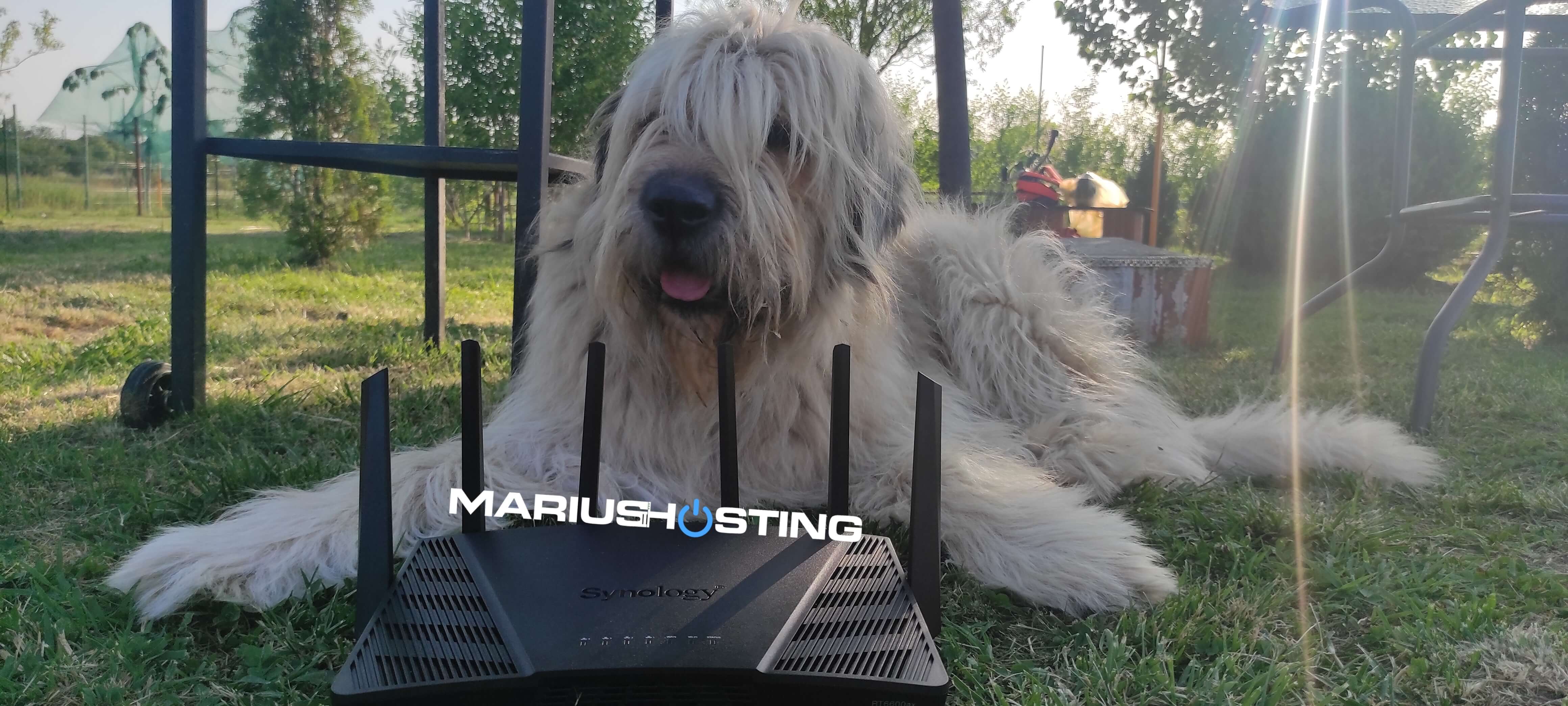 Synology announced the release of its new RT6600ax router on December 2, 2021. Five months after the press release, in May of 2022, the new router landed in most countries.
The new RT6600ax Synology router has 6 antennas vs its predecessor, the RT2600ac, which only has 4 antennas. The RT6600ax supports the Wi-Fi 6 technology which I find is an exciting new feature. To be honest, the first big thing I noticed about it was its weight which is a good 900 grams greater than that of the RT2600ac. That is, the new RT6600ax has a weight of 1.6 KG vs the RT2600ac router which weighs only 700 grams. Quite a difference, don't you think?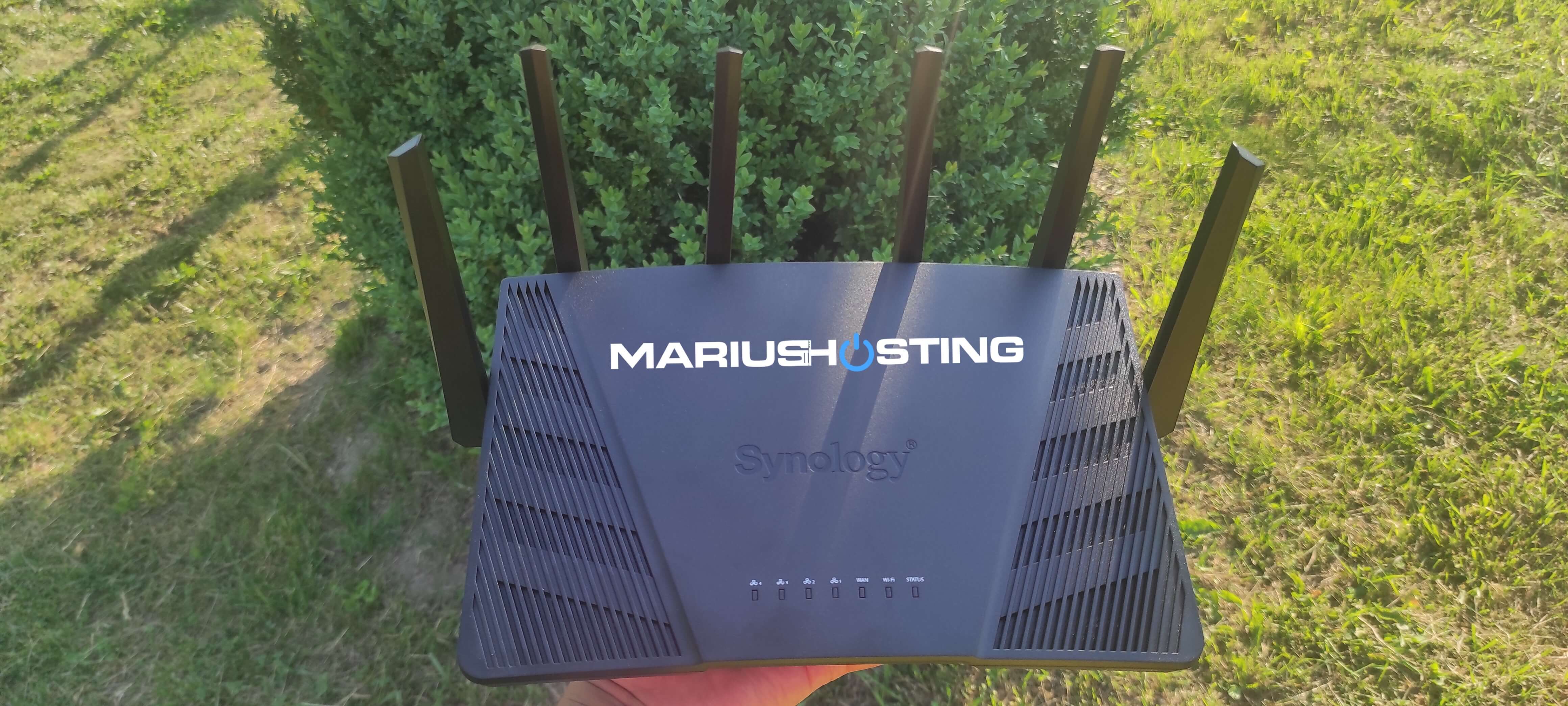 One of the other things I noticed right away is how well ventilated the RT6600ax. Finally it is possible to mount the router on a wall. This is something that was impossible to do with the RT2600ac because of its design. The new RT6600ax can be easily mounted on a flat wall using two wall screws.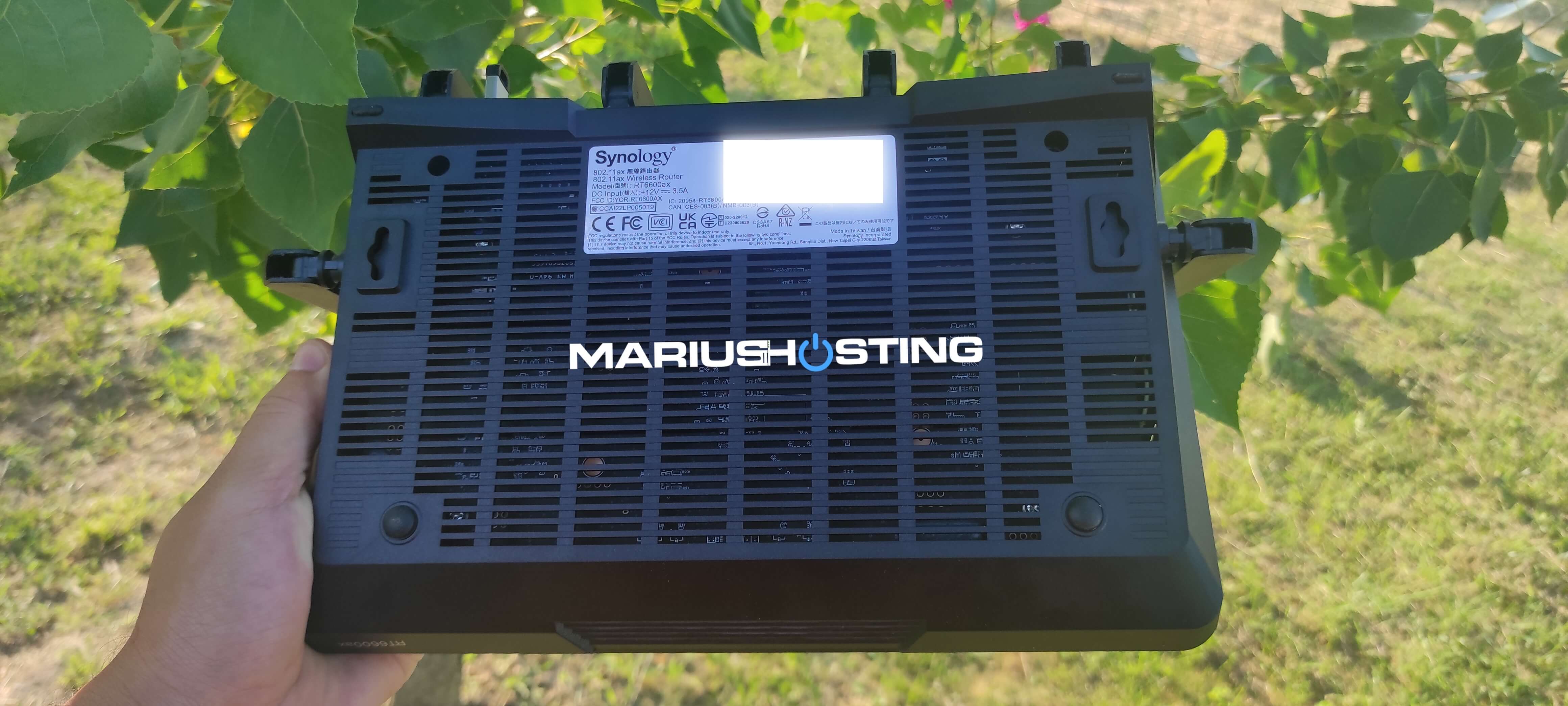 At the back we can see the USB key entry that makes it possible to install some packages such as Threat Prevention on the router. The WAN 1 port is colored in blue – this is where you plug in the LAN cable to connect your RT6600ax router to your modem.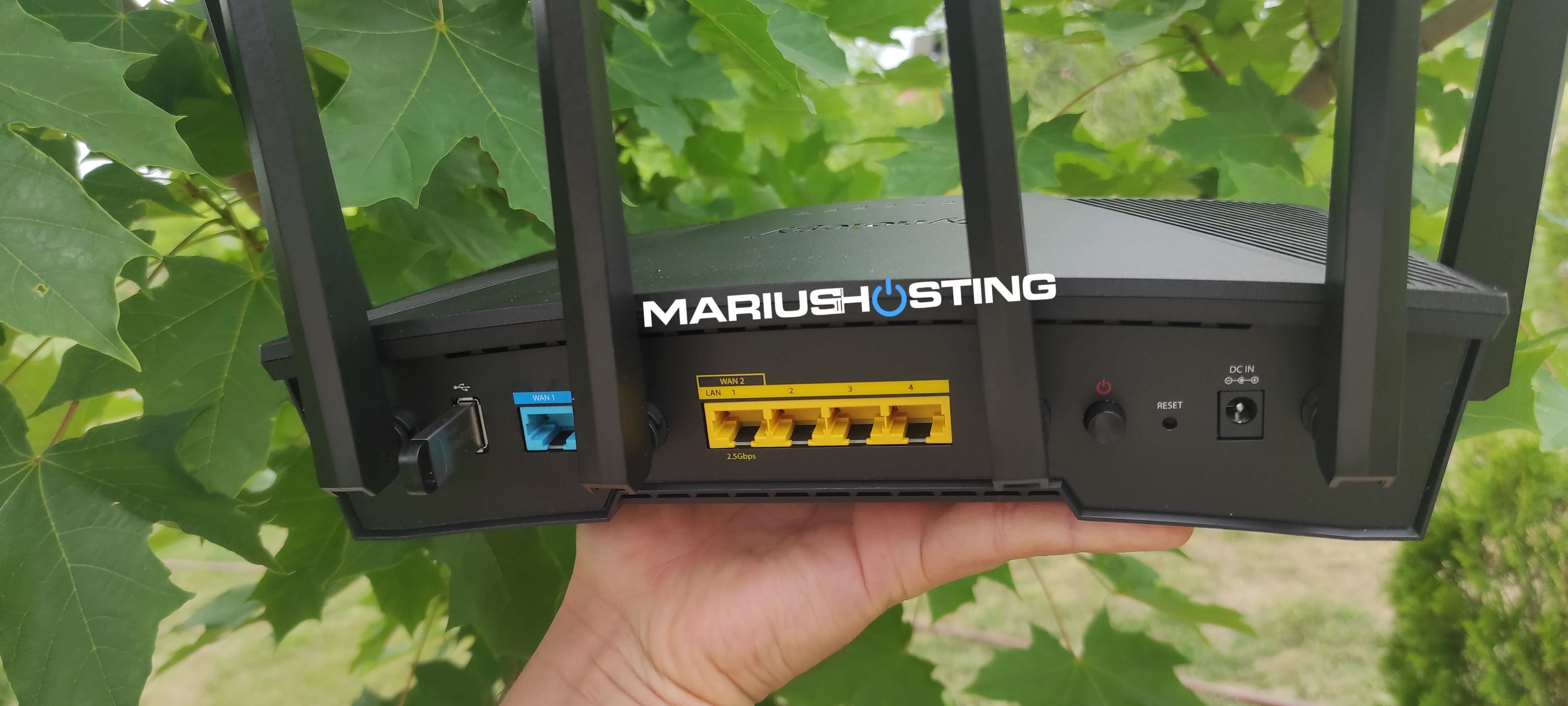 To detail, I'm using a 3.2 USB key from Kingston with a capacity of 32GB.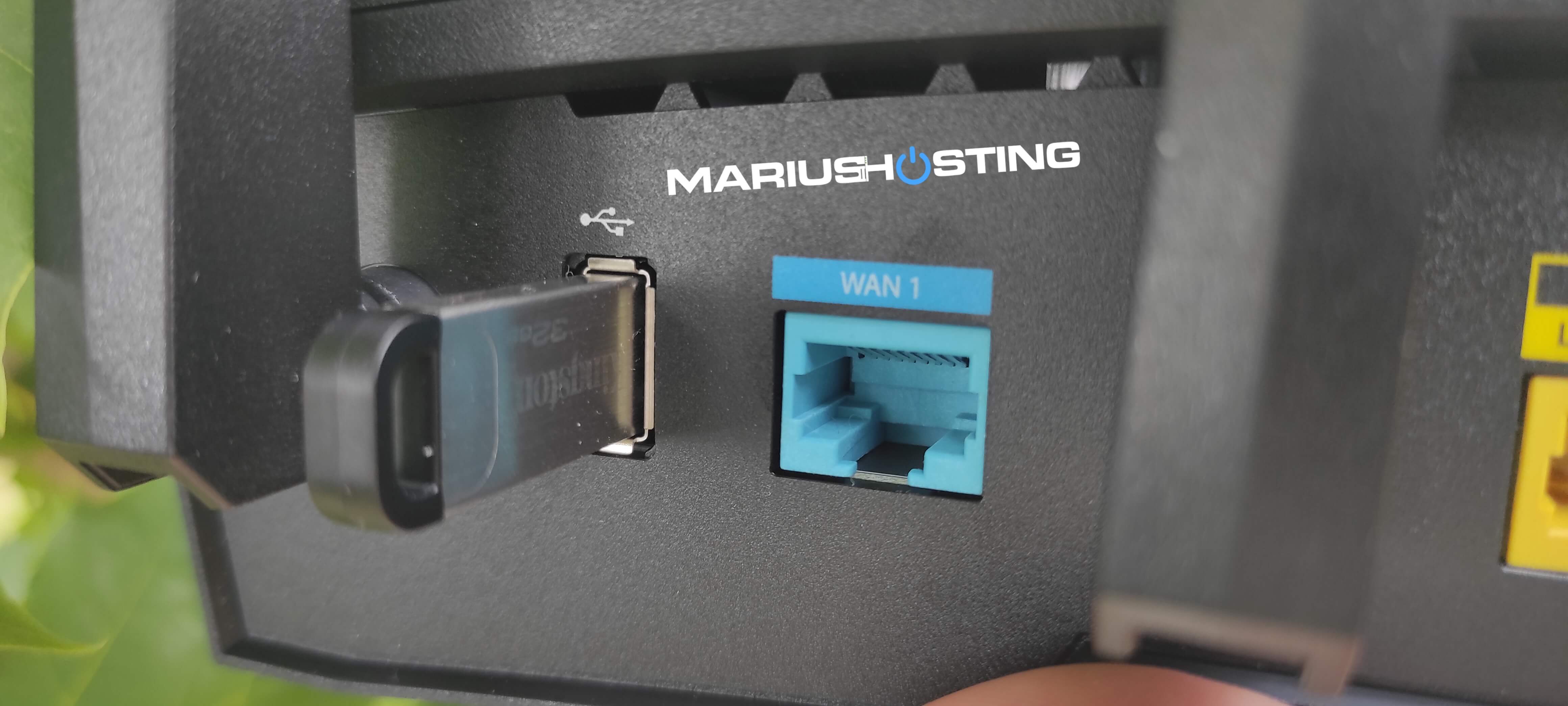 Also on the back of the router you can find the power button, flanked by the small RESET button followed by the power adapter port.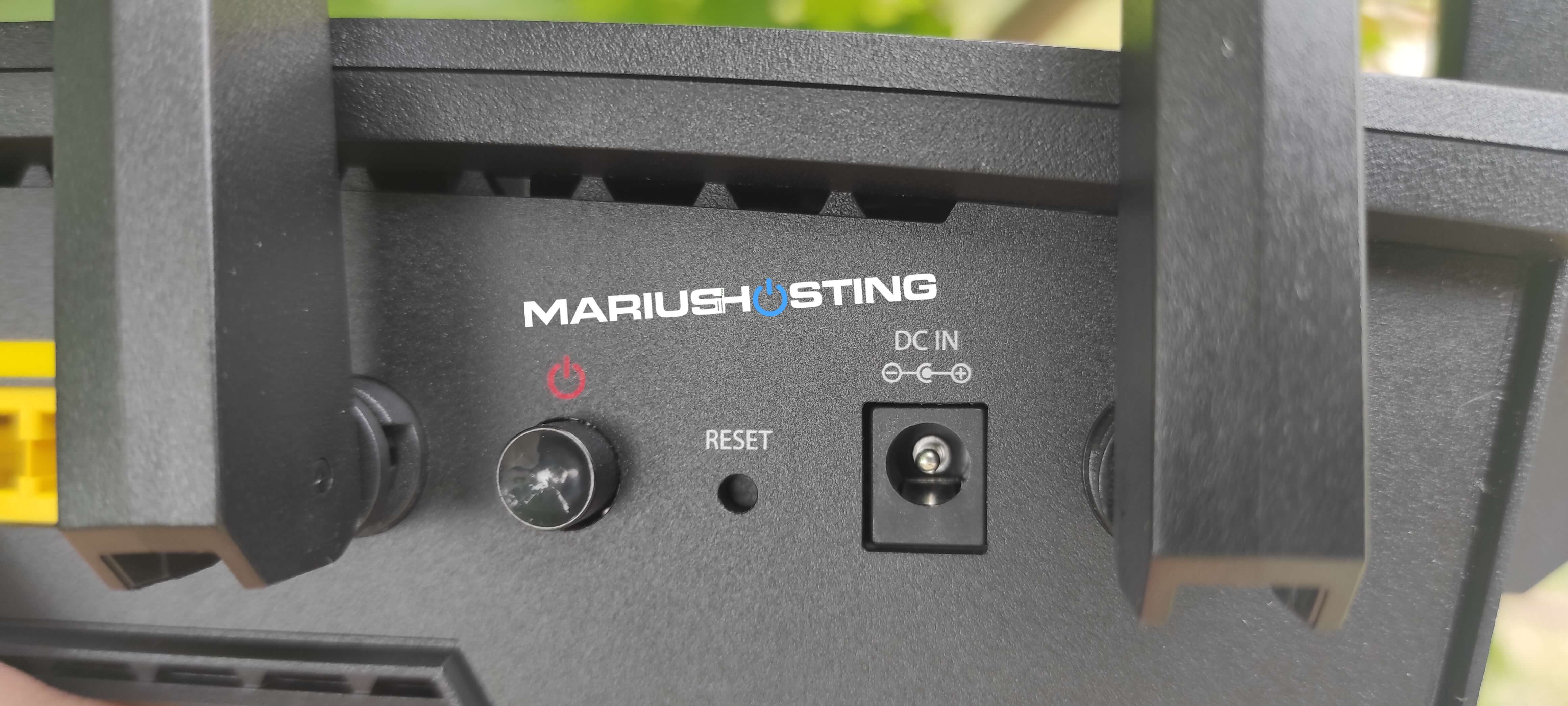 On the side you can see the WPS button and the WI-FI button.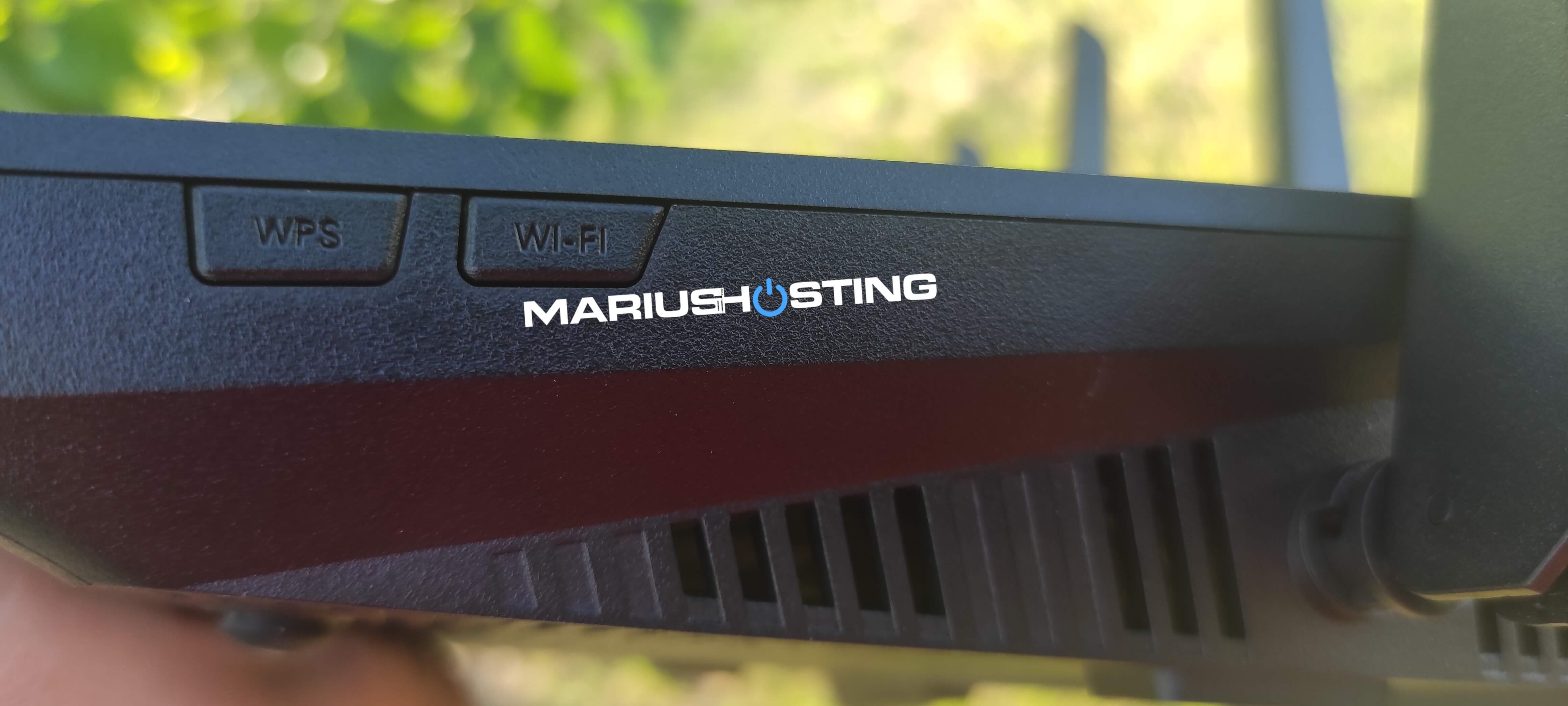 As an overview, the new RT6600ax Synology router is made of a hard-to-touch, high-quality plastic.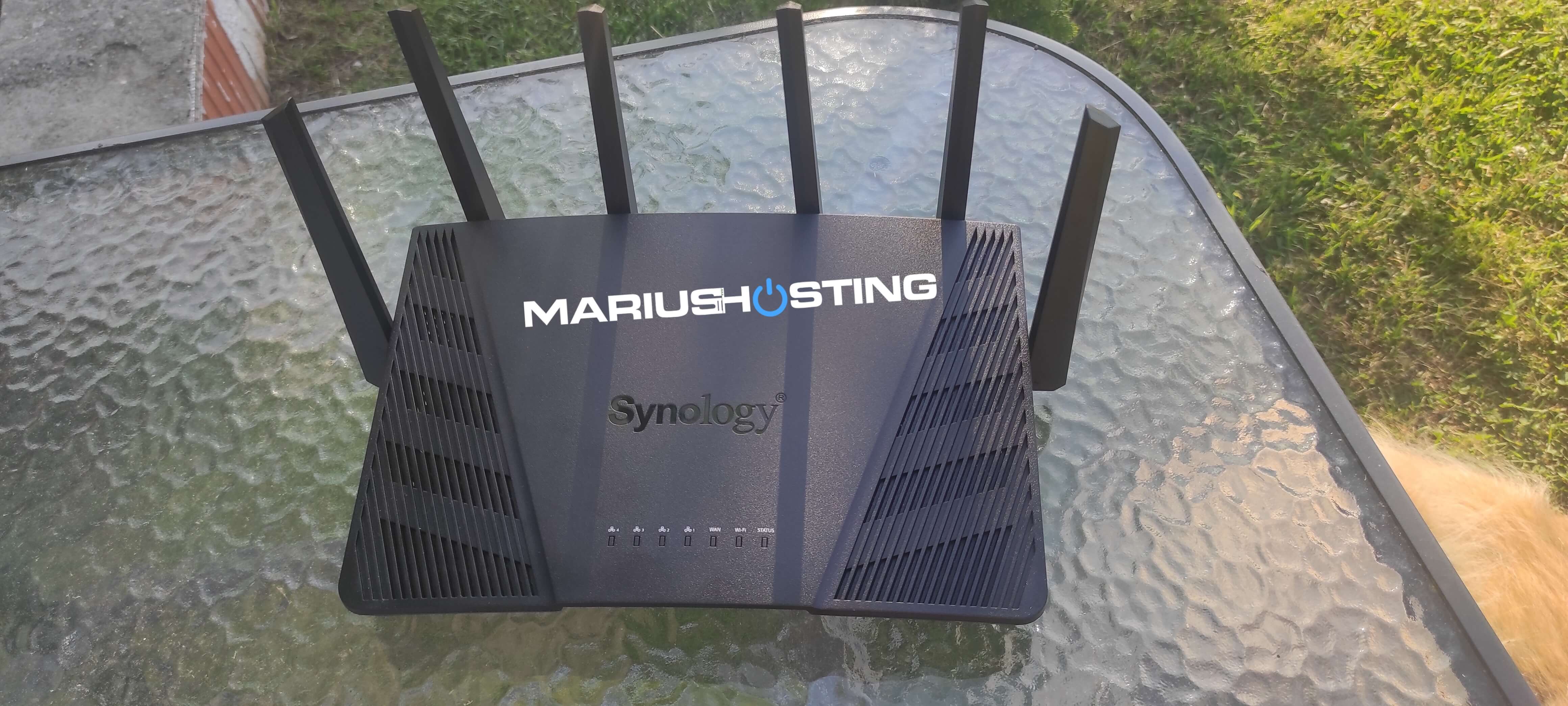 I placed the new RT6600ax router on top of my DVA3221 and put it to work right away.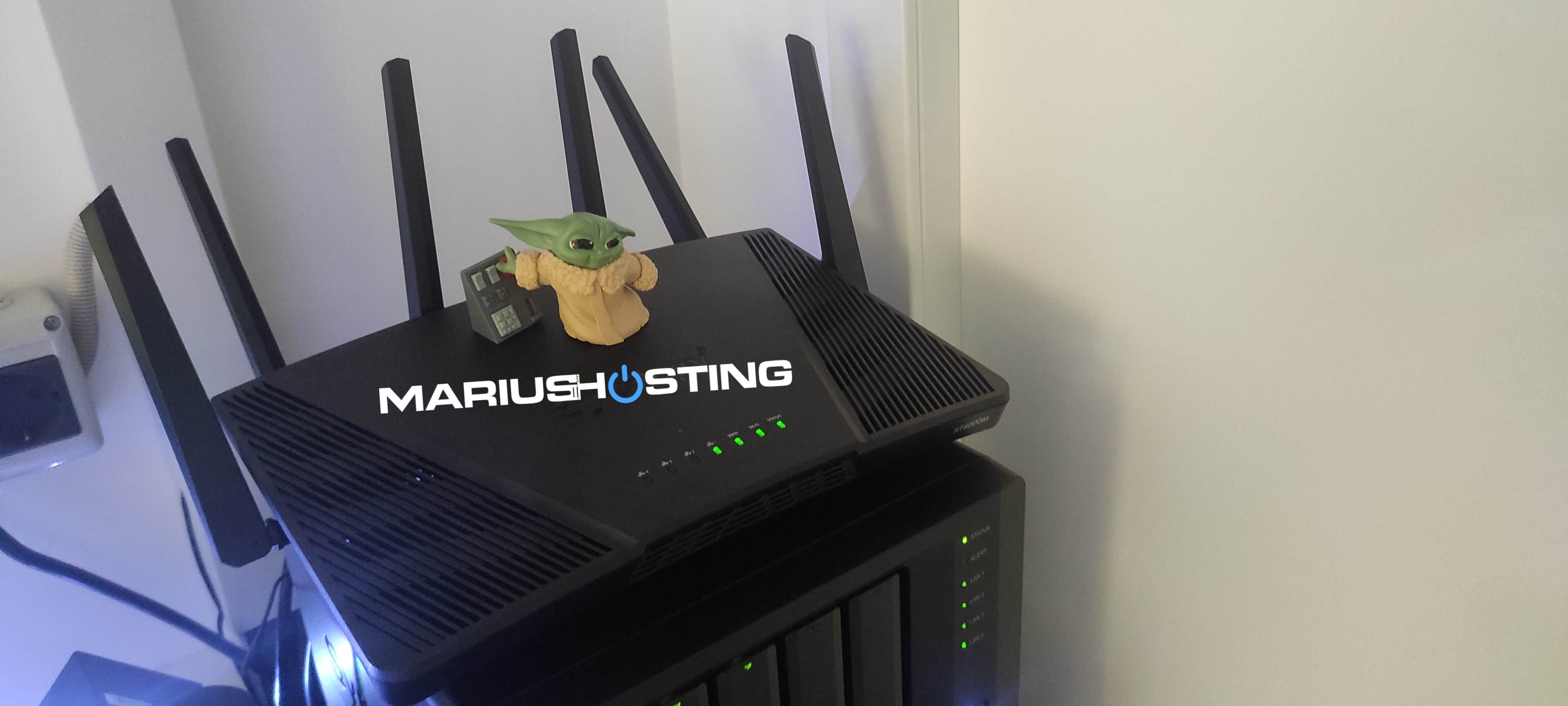 To set up the RT6600ax, connect the power adapter, plug in the LAN cable into the WAN port to connect your RT6600ax to the Internet, then click the ON button on the back to turn on your new router. Next, open your browser by accessing the following address:
Once you enter your personal information such as user name, password and credentials from your ISP, the new SRM 1.3 operating system will begin to install itself on your router. Without a doubt, SRM, the operating system of Synology routers, is the most advanced firmware for routers. Just like DSM for Synology NAS devices, SRM has an incredible interface design. Synology users who are acquainted with DSM will find SRM a familiar design. Configuring the Synology RT6600ax router is actually quite easy.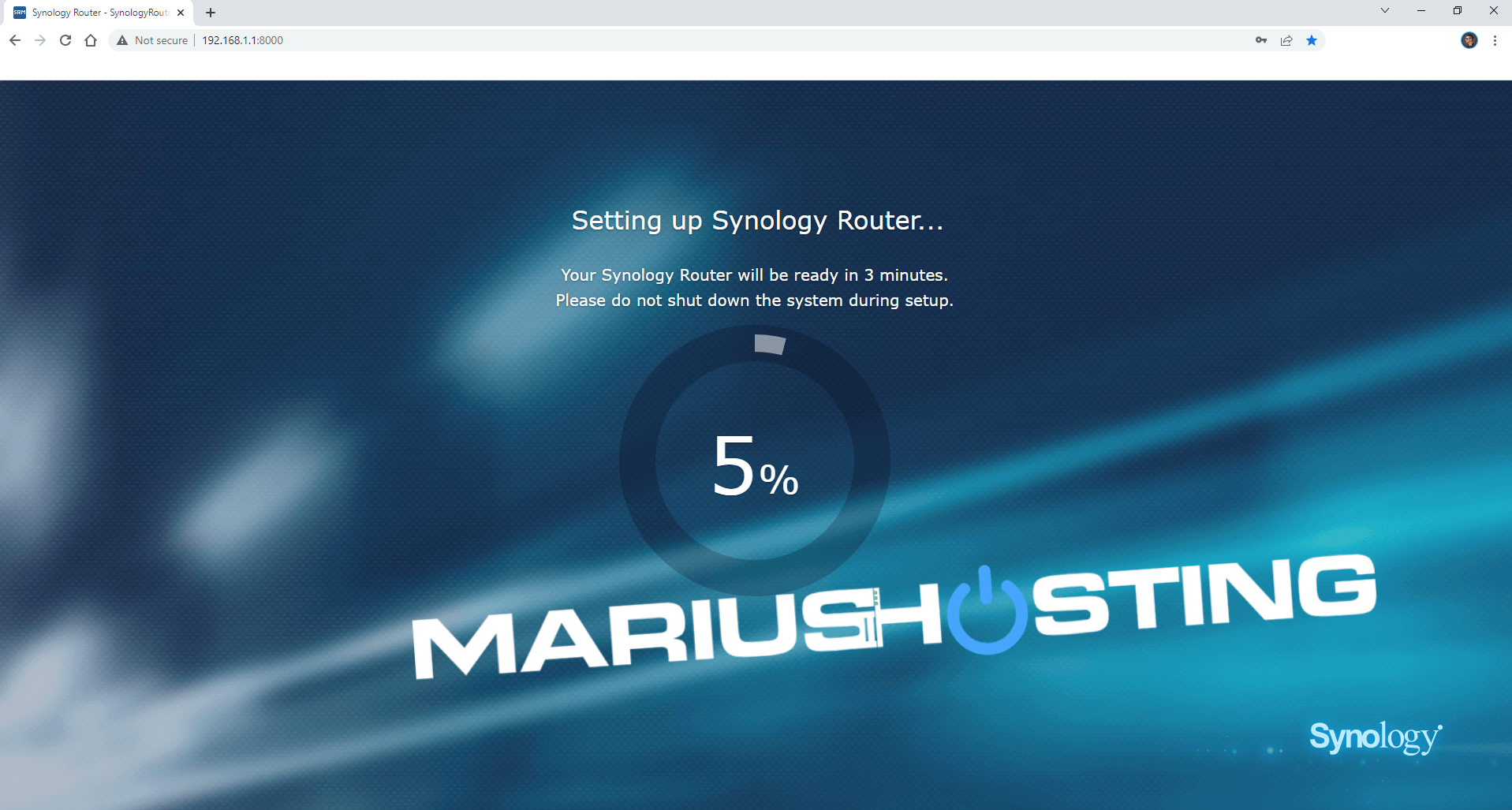 After only a few seconds you will be shown the welcome window for the complete installation of SRM 1.3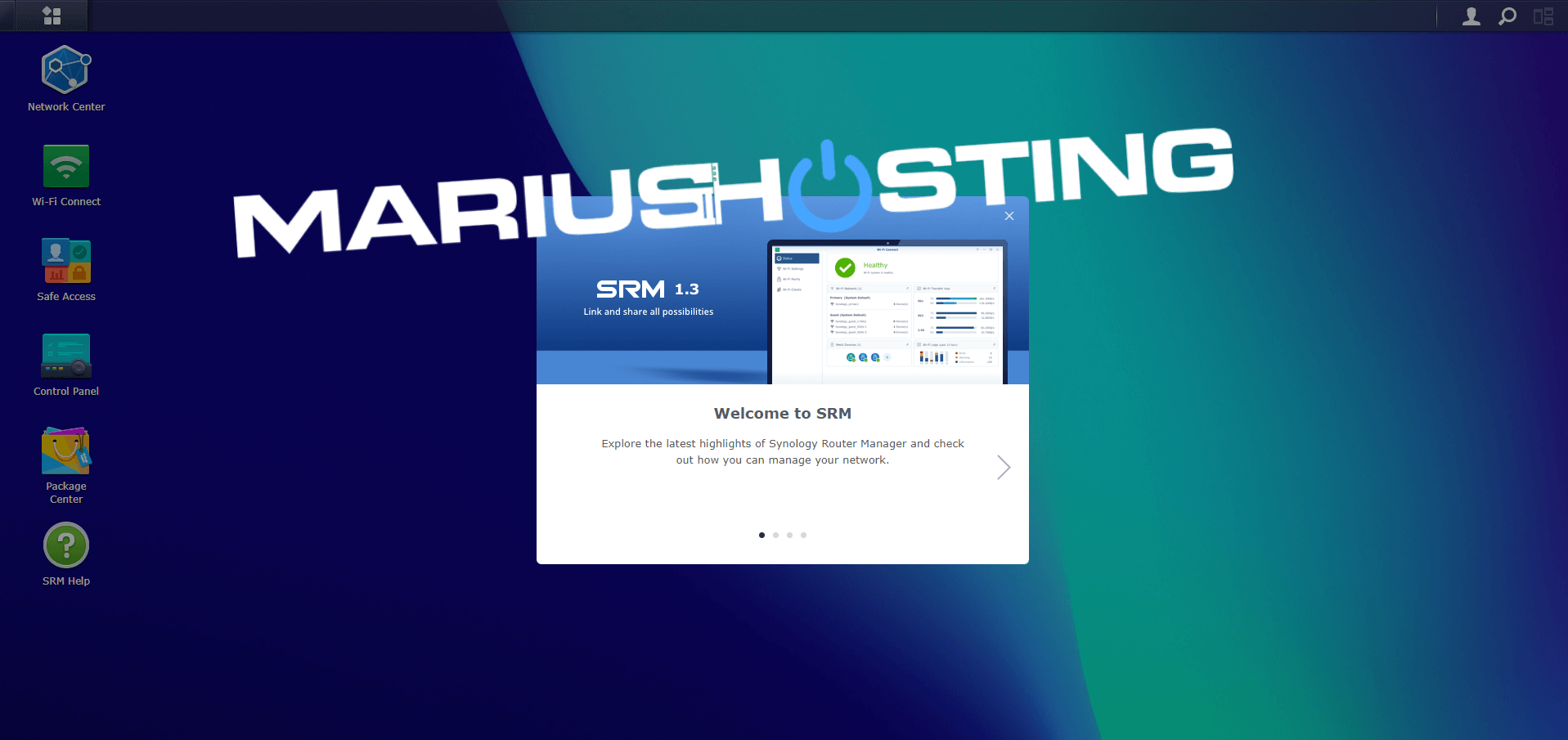 As you can see from the screenshot below, the new RT6600ax features a powerful quad-core 1.8GHz Qualcomm Cypress IPQ6018 CPU with 1024MB of DDR3 RAM which is quite the improvement compared to the dual-core 1.7 CPU and 512MB of RAM of the previous model, the RT2600ac.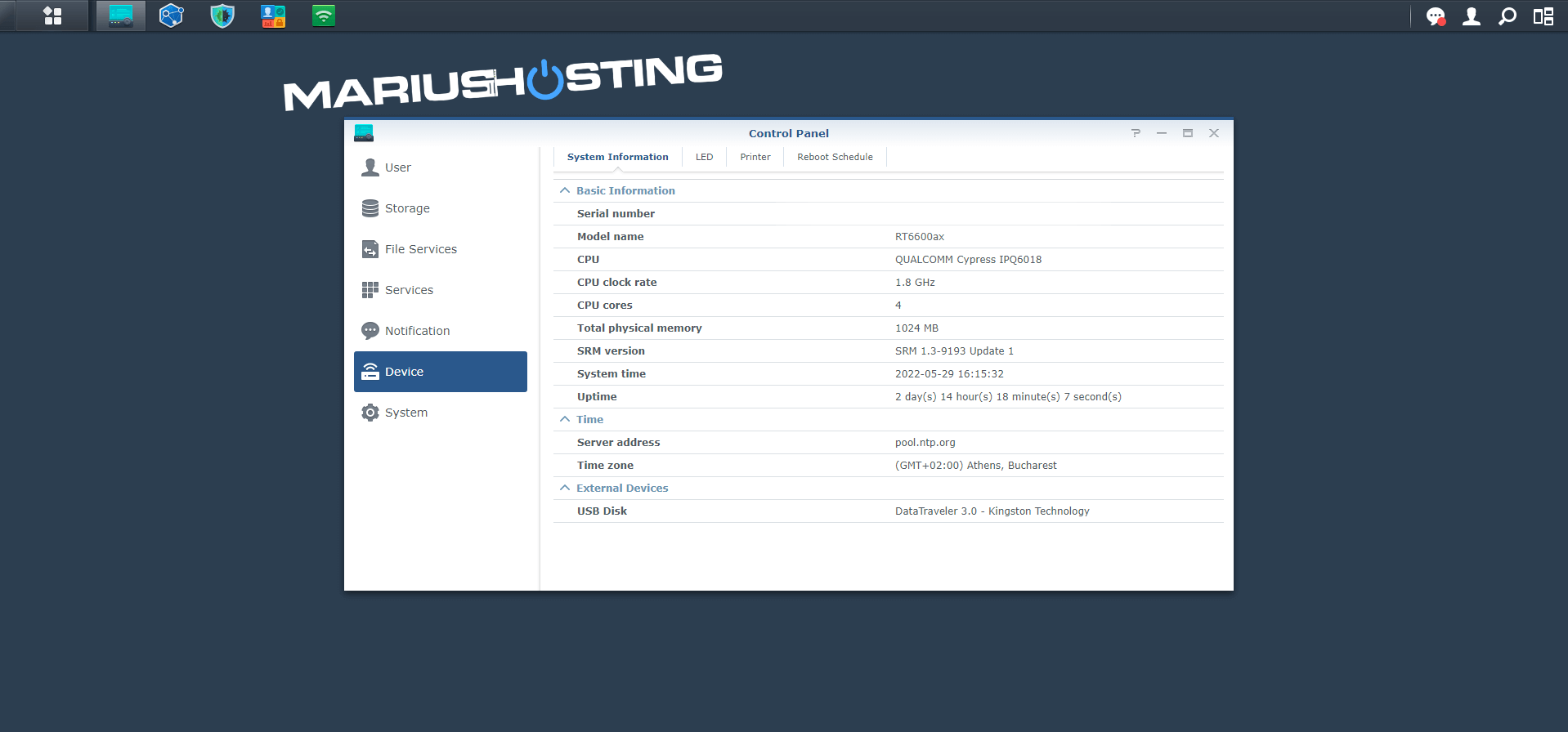 Advantages of the SRM operating system
Easy and intuitive operating system similar to DSM.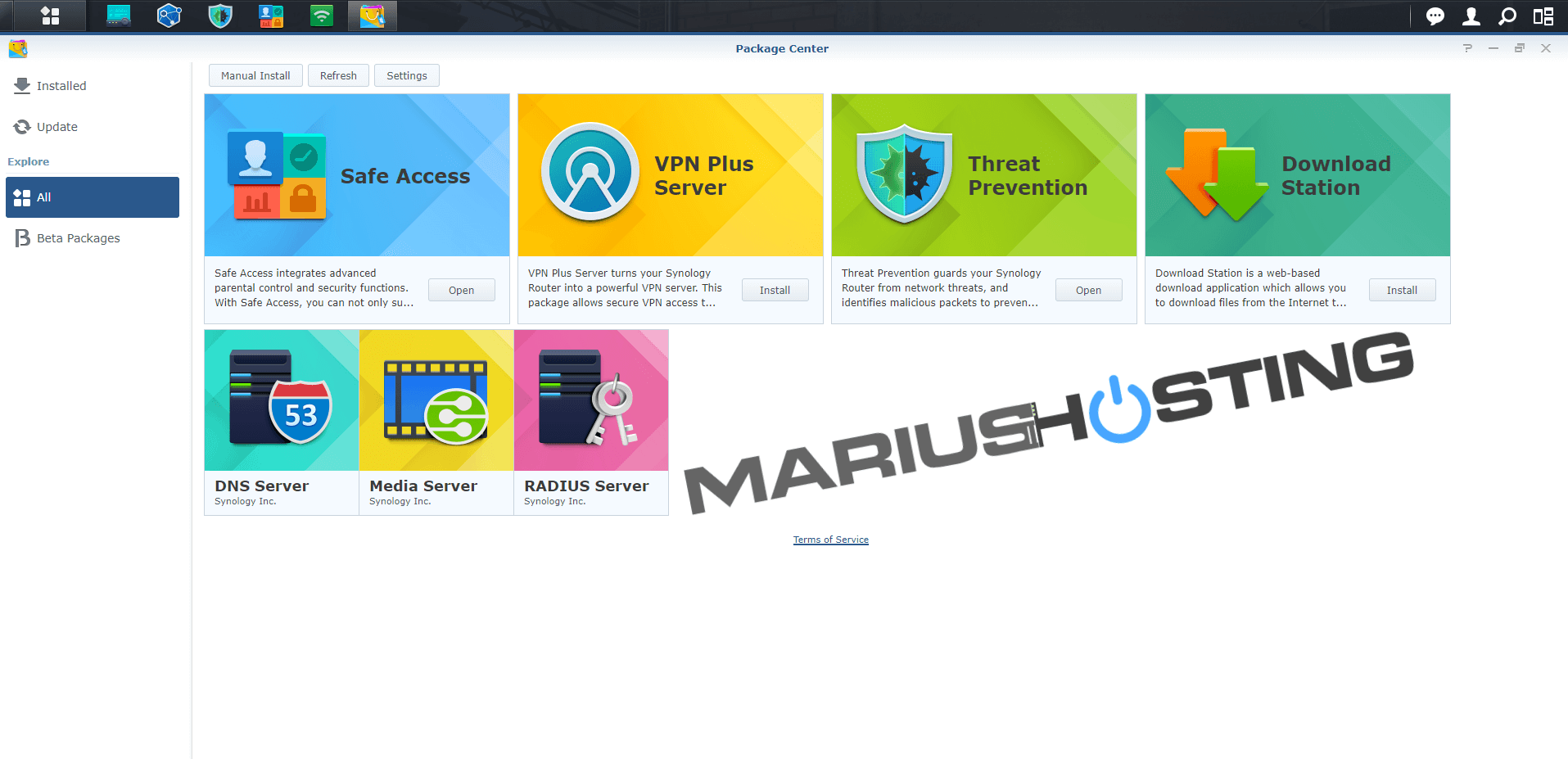 At first glance, the RT6600ax is a simple, straightforward router that gets the job done without drawing much attention to itself. It has pretty much all the options you could want from a consumer/small office wireless router, and its claimed performance is quite convincing. The RT6600ax router also performs beautifully in a gaming environment. We can liken it to TP-Link's high-end routers.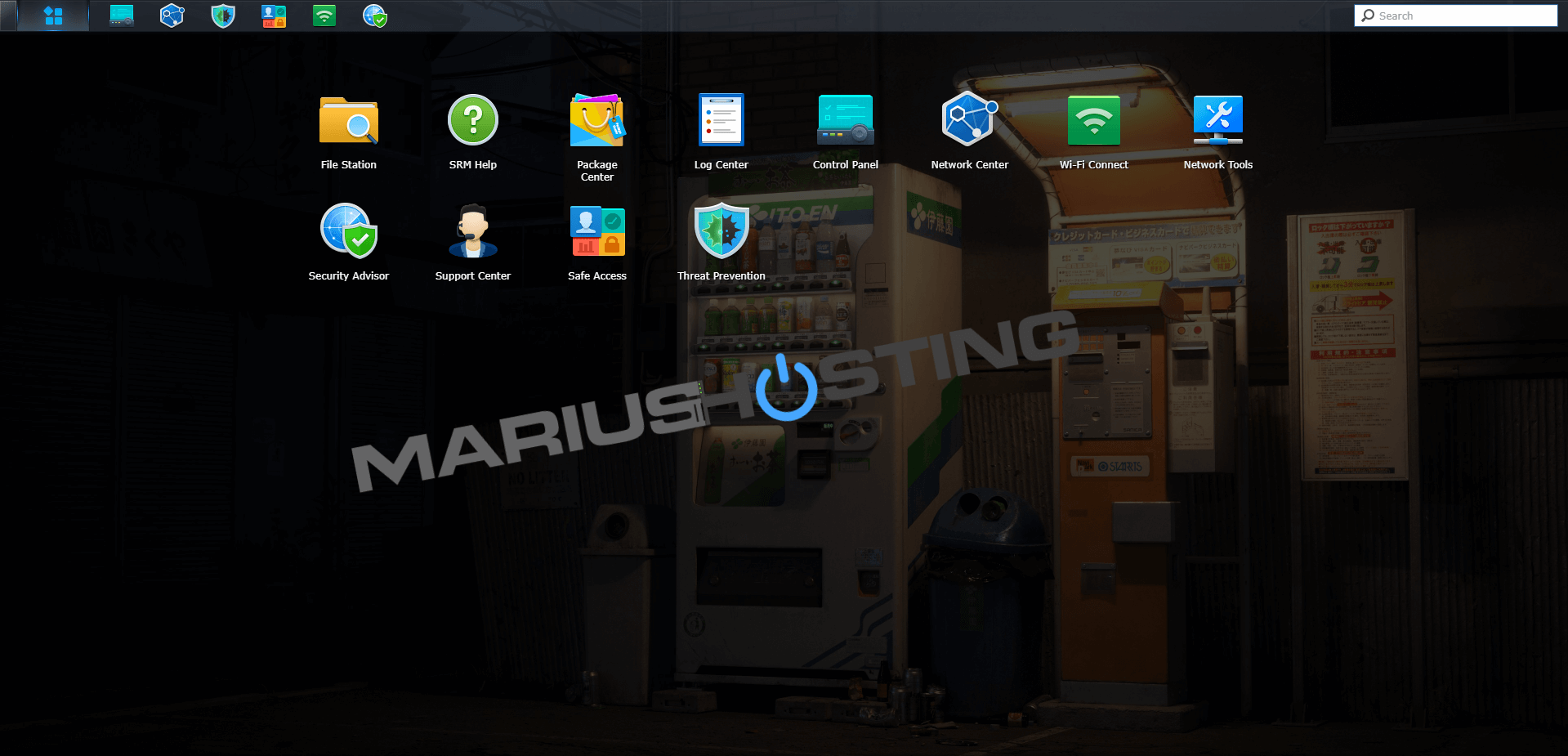 One of the first things I did after installing SRM 1.3 was to install Threat Prevention. The package that I really love and rely on, but that many people underestimate. Once properly set up, you will simply forget about it. Threat Prevention will have your back, and it's your ace in the hole when it comes to online security and data protection. For the Threat Prevention package you will need an external USB device (which you insert at the back of the RT6600ax), in my case, a 32GB Kingston – the USB device is needed to install and run Threat Prevention. You will see RAM usage on your RT6600ax increase once you run the Threat Prevention app, but that's normal.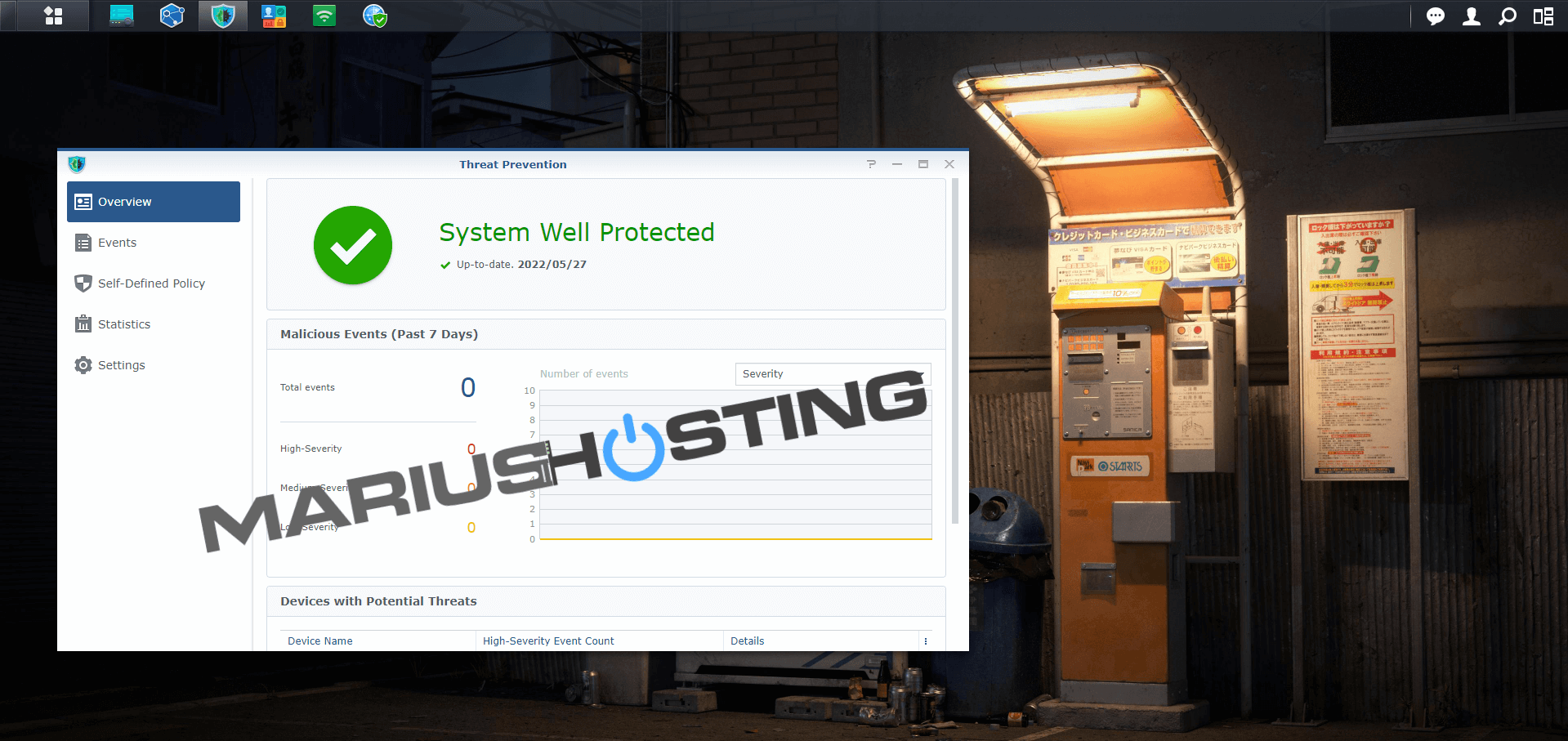 With Safe Access you can easily apply Internet policies to a group of smart devices that belong to someone, or to all gadgets connecting to your network in the future. Even if you don't notice it, the system automatically blocks malicious sites. With a built-in, automatically-updated web database, you can keep users away from phishing, adult, violent, gaming, social networking websites and more in just a few clicks.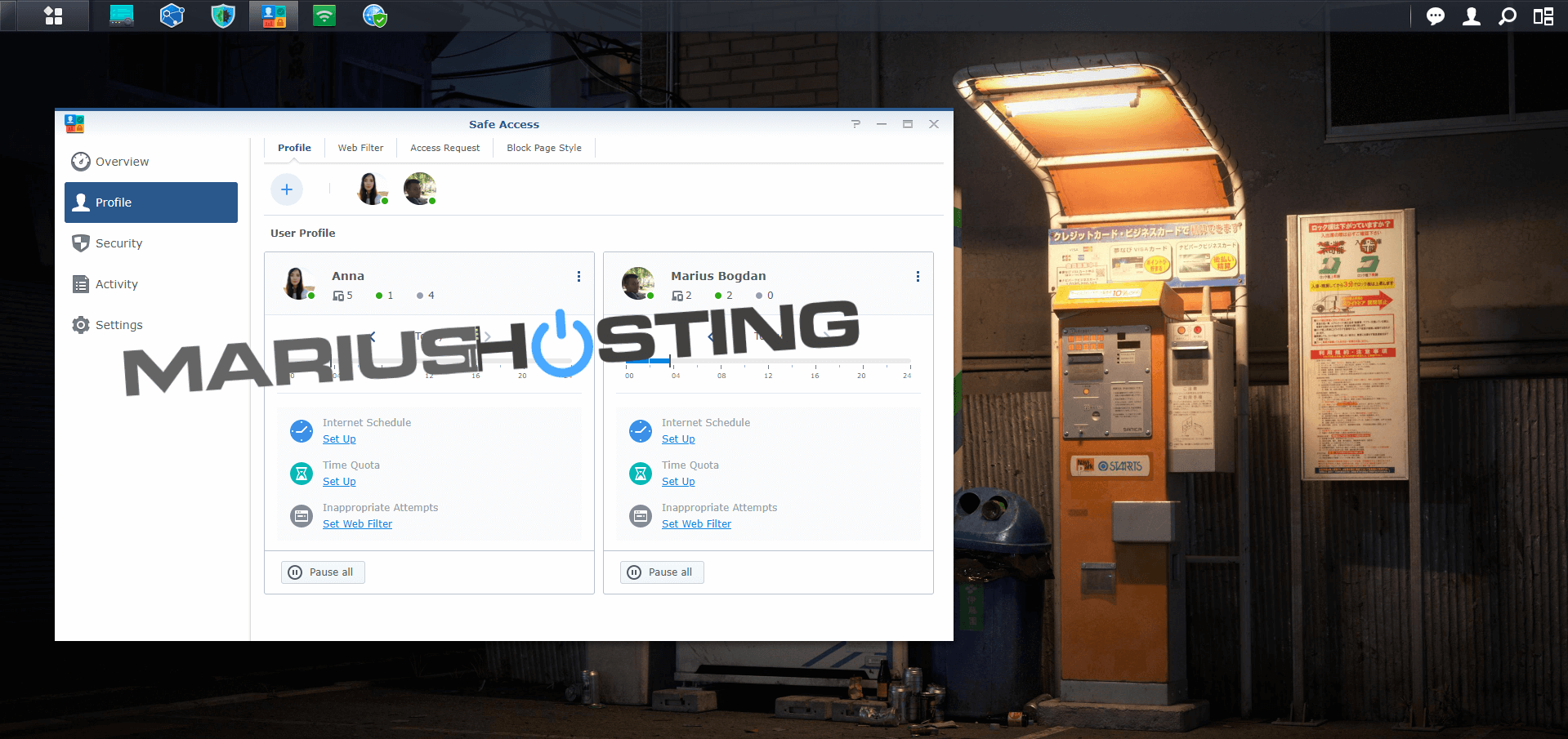 Finally, remember to scan your router using Security Advisor! I honestly couldn't ask more from this router. The extent to which you feel "protected" when surfing the Internet is unparalleled! A router that does its job silently, in the background, and protects you and your data – one less thing you have to worry about. Synology once again surprised me.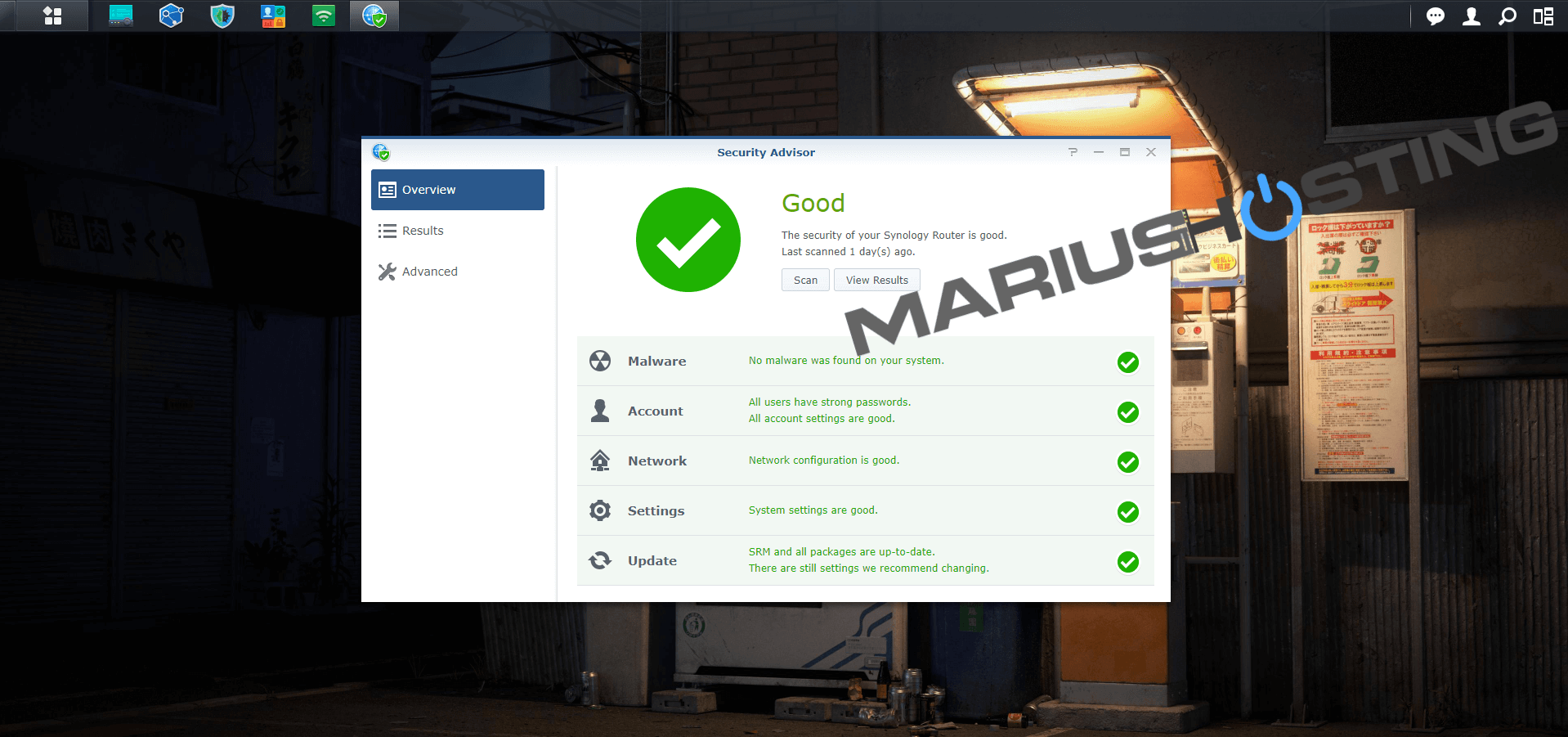 Clean Interface, you can also easily change the wallpaper on your RT6600ax with SRM 1.3 for a more personalized feel.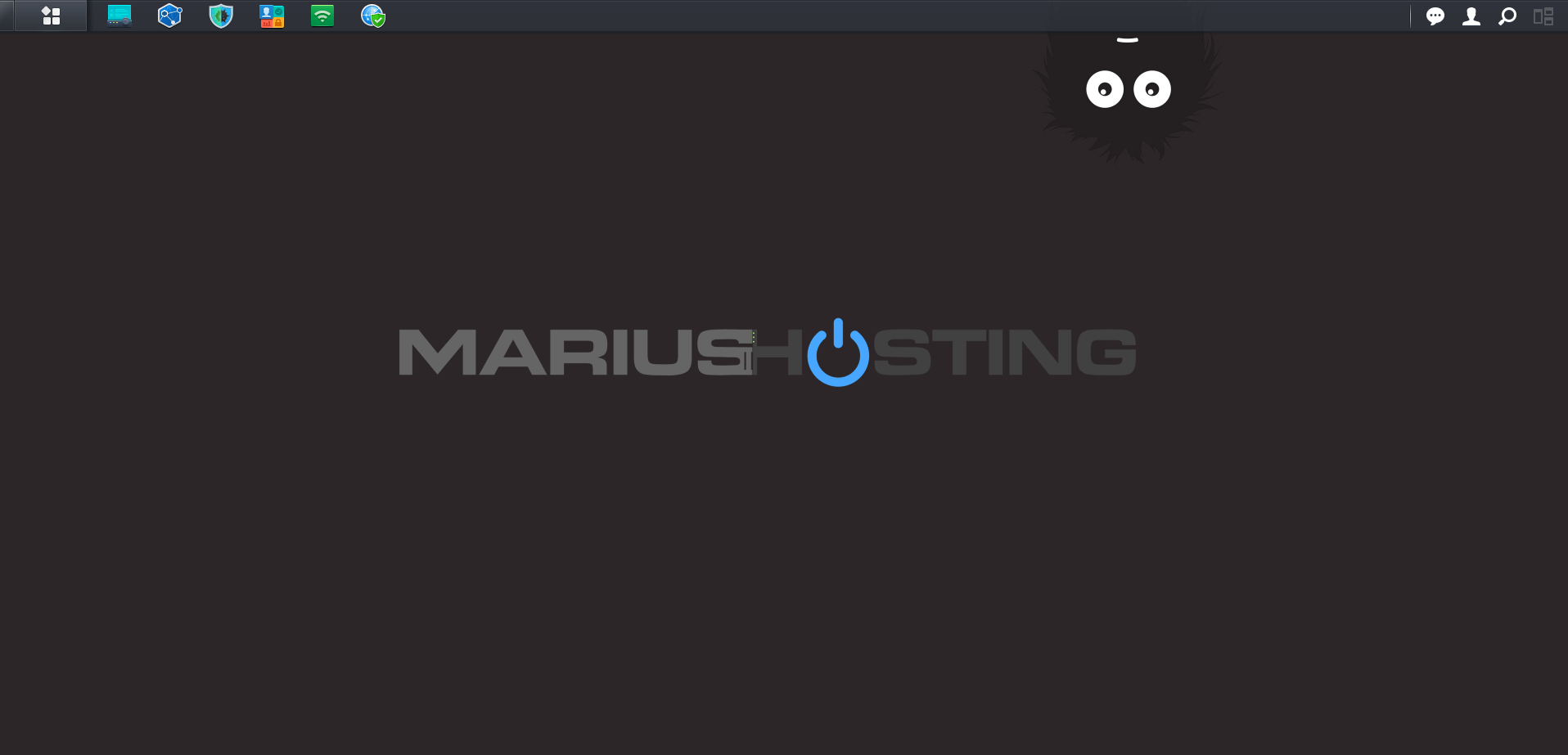 Download the DS Router mobile app for your phone to monitor your router directly from your mobile device. DS Router is designed as your personal network control center on your Android device or Apple iOS. From the initial setup of your Synology router to fine-tuning your network's firewall settings, DS router makes network management truly easy, intuitive, and mobile. For more information, you can take a look at the Synology Website.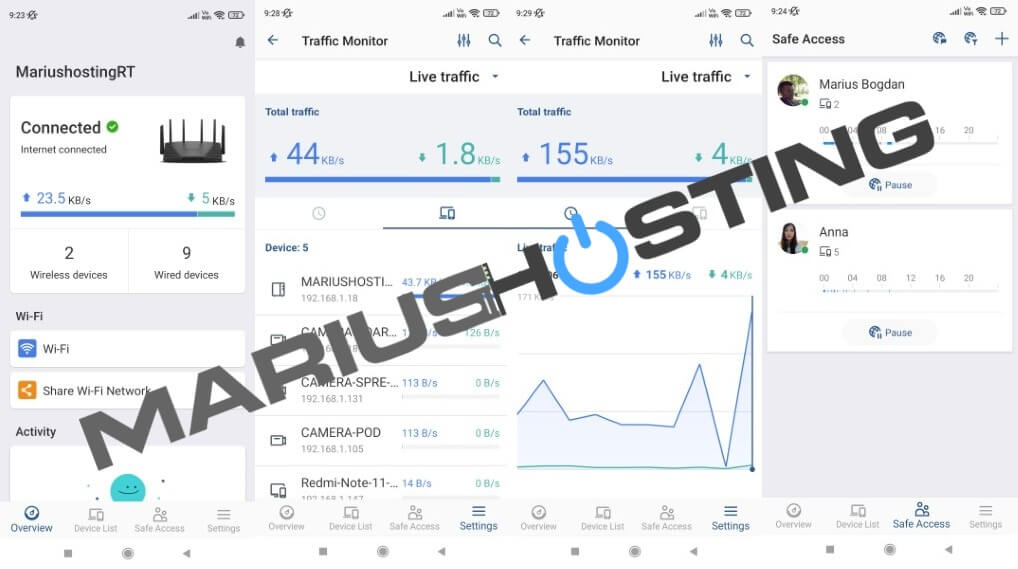 RT6600ax offers Wi-Fi 6 support which is a major talking point in favor of the router's performance. Offering AX compatibility with devices that support it. I can connect to the Internet at maximum speed via Wi-Fi without any problems or lag issues.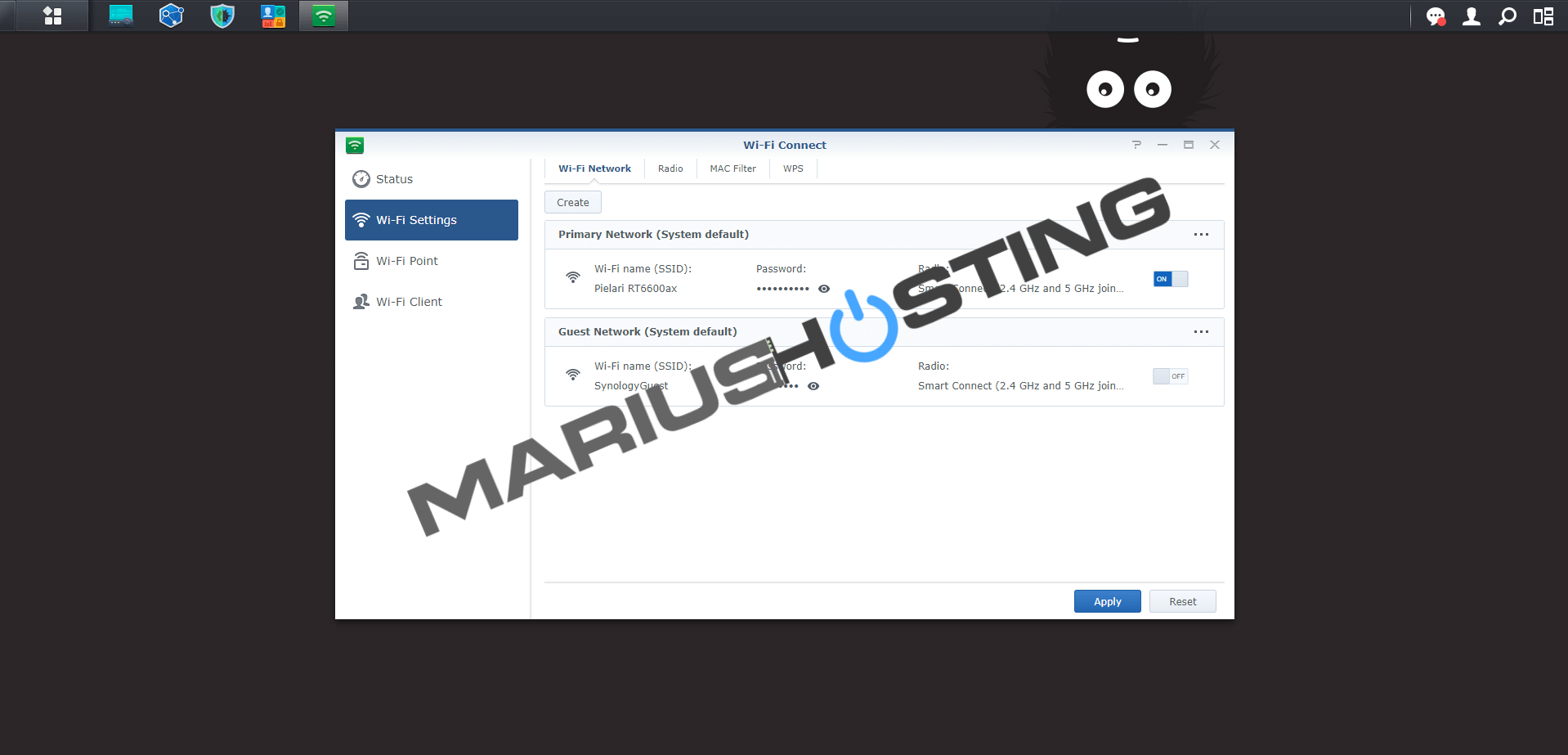 The latest update shows the price for the RT6600ax is about $299 USD or around 285 EUR. So it would appear that the RT6600ax will cost about 100 EUR / 100 Dollars more than its predecessor, the RT2600ac.
Note: Can I add Multiple Wi-Fi Points? Sure, you can extend your Wi-Fi area with the Synology MR2200ac, RT2600ac and RT6600ax.
Note: How to Factory Reset RT6600ax.
Note: How to Connect to Your RT6600ax via HTTPS.
Note: Disable UPnP in RT6600ax.
Note: How To Enable DNS Over HTTPS on RT6600ax.
Note: How do I configure a VLAN ID on my Synology Router for Internet connection?
This post was updated on Friday / June 3rd, 2022 at 12:20 AM