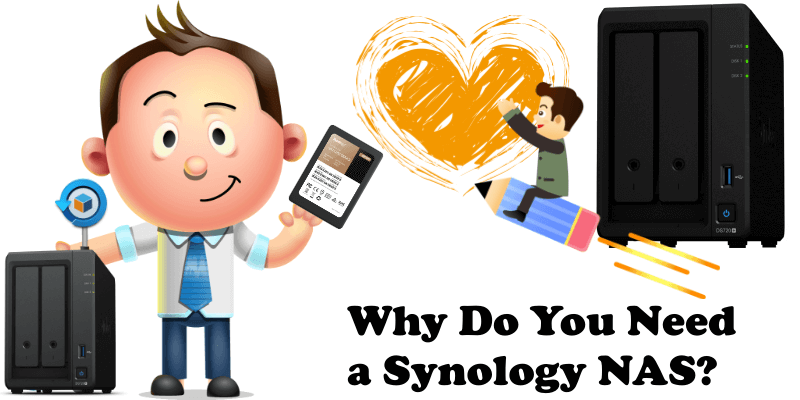 If you're here reading this, then you probably need a NAS. And if you don't actually need a NAS, then you probably want one. And that's great because getting a Synology NAS is one of the best gifts you can give yourself, whether you intend to use it for your own business or for personal affairs. Or you can gift it to someone you care about as it makes an awesome present, practical, thoughtful, one that won't break the bank either. So why do you need a NAS and what is it good for?
As we get older we start realising the importance memories. With a few exceptions, memories in our head get blurred by the passing of time. Fortunately for us, we now have phones and digital cameras that help us capture every important moment in our lives. From the kids' first day of school to graduation pictures, the birth of the first grandchild in the family to 88 photos of the family dog chasing a squirrel in the backyard last Sunday, we have pretty much every lovely moment in our lives recorded. But what about storage space? Enter stage Synology NAS!
Why bother with USB flash drives or external memories when you can just buy the new DS720+ Synology NAS and store every picture and video you've ever taken, and readily access them at any time and from anywhere (your computer, laptop)? And have the certainty that you and only you have access to family photos or other sensitive data such as warranties, bills, insurance files etc. And if you want to transfer photos or other files to a cloud service of your choice, whether it's Synology C2 or another, you can do that as well.
Docker is a lightweight virtualization application that gives you the ability to run thousands of containers created by developers from all over the world on DSM.
Are you just starting your business and need to be on top of things? You need storage space, high-performance SSD disks and processor to provide you with excellent read/write speed to make files and all manner of data accessible to you in the blink of an eye, as well as privacy and protection and software to help you back up your data and much more. A mere computer won't cut it. USB flash drives and external memory drives just complicate things. What you need is a Synology NAS!
Why a Synology NAS for your business? Whether you're a photographer, a florist, a mechanic, a hair stylist, a church, an online shop, or running an IT business solutions company or a non-profit organization, a Synology NAS will provide you with all you need to run your business efficiently.
Storage space, latest privacy and data protection solutions, data retrieval performance and backup solutions such as Hyper Backup and Active Backup for Business for backing up your files and data from your NAS and computer, backup integrity, and all manner of apps to organize your business and make your life easier, that's what Synology NAS means for your business. And you don't need to be an IT expert to run your business on a Synology NAS because it's that simple (and you'll get help from mariushosting with what you don't know, of course!). Get your business where you need it to be with a Synology NAS!
You can use your Synology NAS to host your website from home and enjoy complete control of your files and data at a fraction of the cost offered by commercial web hosting services. The initial cost of the hardware (e.g. a DS720+ Synology NAS, a Synology NAS router, SSD disks) can amount to one year's worth of web hosting services for one small website barely in the business, with not that many visitors. But what your initial investment will get you is priceless: the best hosting solution for your website, whether a business or a personal website!
Dedicated hosting and resources
Great storage space for files and data
Excellent backup solution with a focus on backup integrity and accessibility
Excellent page speed performance
Security solutions
Integrated solutions for web hosting in the form of packages
Complete control over your data, without the interference of any third party
Video surveillance has become akin to locking your door when you leave home. Surveillance systems have become increasingly accessible price-wise and almost a must in this day and age. Getting a camera for your home or office, or even to just check on your back yard when you're away can both deter potential intruders and alert you to suspicious behavior. A Synology NAS provides storage for your surveillance recordings as well as performance, enhancing your video surveillance experience. Synology Surveillance station for video surveillance with monitoring and video management tools also includes prime features such as:
Live stream from multiple cameras in real time
Record, play and export recordings
Special features that allow you to set up surveillance preferences, settings and notifications
Compatible with Windows, Mac, iOS and Android devices and over 7000 camera models
Smart features such as motion detection, missing or foreign object, camera occlusion and loss of focus
You can use Synology Surveillance station not just as a home surveillance system, but also as a business surveillance system. Whether you are a gas station owner, a baker, run a coffee shop or a youth center, Synology Surveillance station is equipped with the latest technology in environment monitoring and surveillance software, identifying suspicious behavior and sending out mail alerts and other types of notifications to allow you to take timely measures and prevent unwanted activity. You can check live streams directly from your computer, tablet or phone while you're away doing errands, in vacation or at home.
Simply put, Virtual Machine is like a computer inside a computer. A Virtual Machine is a standalone piece of software that imitates a computer system and is characterized by being self-contained and operating independently from the host operating system. A Synology NAS, preferably one of the latest versions such as DS720+, provides the ideal setting for running Virtual Machines in terms of storage facilities, system and hardware capabilities.
Conclusion: A Synology NAS is like a magic box, meeting all of your needs. If you're considering getting a Synology NAS and could use some free professional advice, just contact me.
This post was updated on Sunday / August 28th, 2022 at 3:31 PM