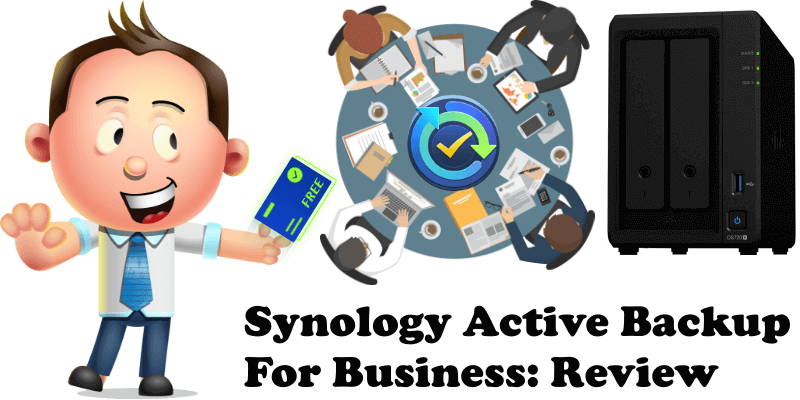 Active Backup for Business was originally designed for enterprises (large businesses and organizations), a suite for the centralized management of various backup tasks. It allows a backup to quickly restore files in the event of a disaster. But because this enterprise-level service is completely free, it is highly recommended for individual users as well. Active Backup for Business supports Windows PC and servers backup & recovery from bare-metal, and lets you easily monitor the backup tasks from one simple console.
Easy installation
First you need to install Active Backup for Business. Go to Package Center and Search for Active Backup for Business. Once you find it, click Install. Follow the instructions in the image below.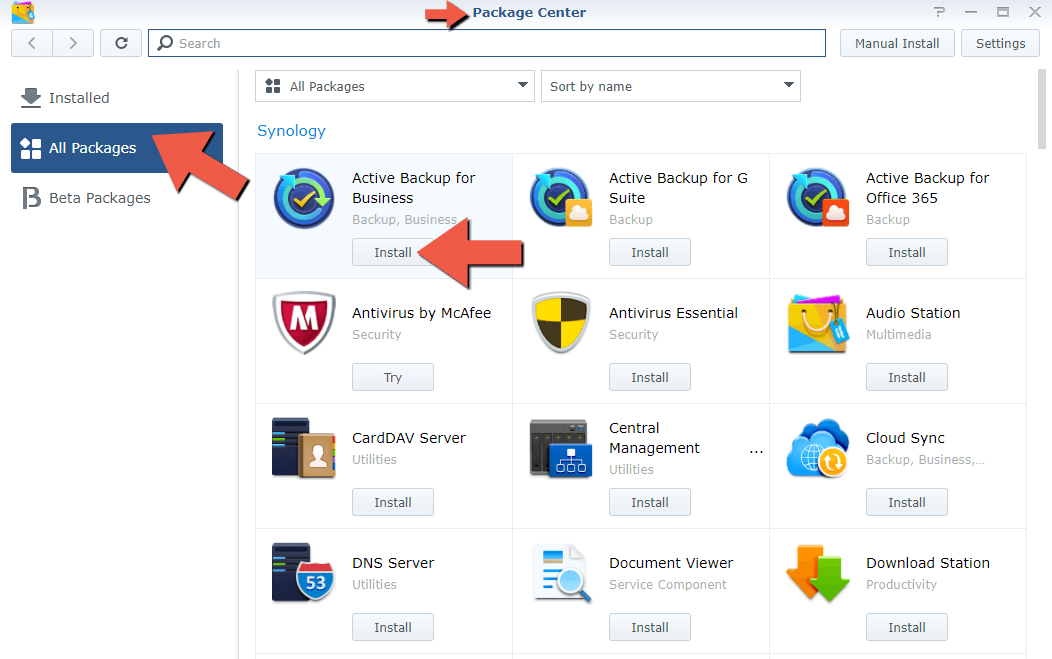 After the installation is done, click on the Package to open it. Then link your Synology Account for the FREE activation.

Easy and intuitive graphic interface
Once you open the Active Backup for Business package, you will find yourself in front of a friendly and, at the same time, easy to use interface. On the main screen you will find all the information you need in real time.
Protected Devices: All devices protected by Active Backup for Business.
Backup Calendar: The calendar of all backups made, which will be colored "green" for each successful backup.
Ongoing Activities: Activities in real time.
Last Backup Time: Information on the last backup made.
Storage Status: Real time status information about your Storage.
Logs: Logs keeps you informed of everything that happens.
Transmission Trends: Real time information on backup "Transferred size".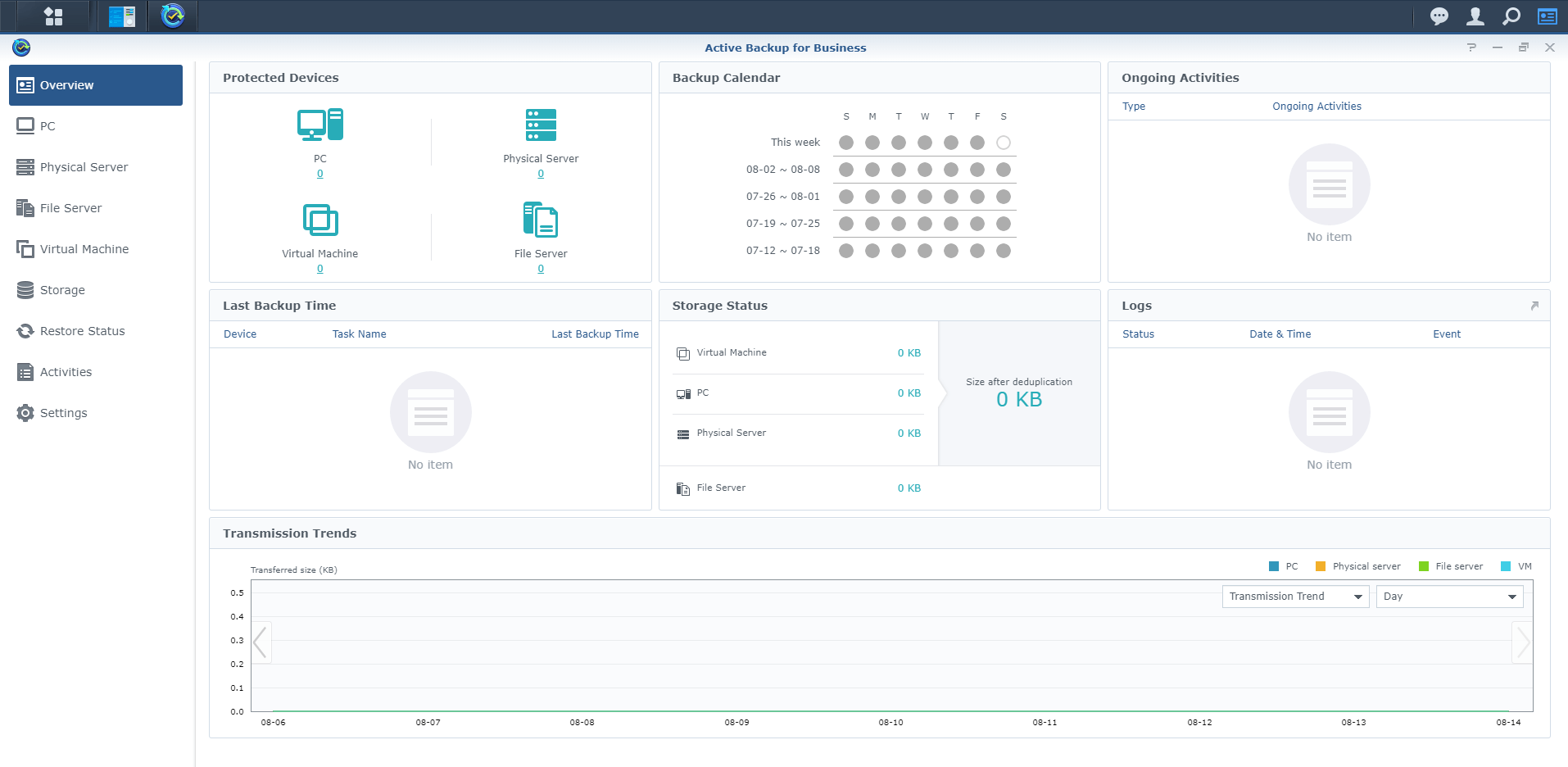 From now on Backup is a breeze
Active Backup for Business is a modern approach to backup and recovery challenges, saving businesses time, effort, and costs with an enterprise-level solution.
Centralized management
Easily manage, deploy, and monitor all backup tasks from one single console. Take immediate action with notifications and scheduled reports.
Maximize the Backup Efficiency
Effectively reduce backup time and storage capacity with incremental backup.
Get data back in a flash
Satisfy various recovery scenarios such as granular file-level recovery, instant and full Virtual Machine to instant restoration to Synology Virtual Machine Manager.
Bare-metal backup & restore
Completely restore your entire environment, applications, settings and data on Windows computers and servers with bare-metal restore (BMR). Global deduplication also efficiently saves additional storage capacity across devices and platforms during bare-metal backup.
What is Global deduplication? Global deduplication is a method of preventing redundant data when backing up data to multiple deduplication devices. This method may involve backing up to more than one target deduplication appliance or, in the case of source deduplication, backing up data to multiple clients. With global deduplication, when data is sent from one node to another, the second node recognizes that the first node already has a copy of the data and does not make an additional copy. This is more efficient than single-node deduplication, which only deduplicates data sets residing on that node.
Complete your 3-2-1 backup efficiently
Always think one step ahead – extend your data protection by replicating backup data to another Synology NAS using Snapshot Replication, and let your storage size stay deduped. Easily restore from offsite backup tasks when a disaster happens at the production site.
Keep alert of anything unusual
You can monitor all backup tasks and failure alerts and gain detailed information through DSM notifications. You have a Schedule Report available to generate a report based on your policy, which you can see in your inbox, letting you quickly view backup status without logging into your NAS.
Active Backup for Business supports the following Windows operating systems
Windows 10 Creators Update (all editions)
Windows 10 (all editions)
Windows 8.1 (all editions)
Windows 7 SP1 (all editions)
Windows Server 2019
Windows Server 2016
Windows Server 2012 R2
Windows Server 2012
Windows Server 2008 R2
Active Backup For Business: New Features coming soon
Will support AES-256 data encryption and data compression at rest.
Will support Linux backup using Active Backup for Business Agent for Linux (command line).
Will support migrating instantly restored virtual machines from Synology VMM back to Hyper-V or VMware.
Fix for ABB skipping backups when encountering bad sectors.
Note: No matter how many computers, servers, or virtual machines you back up, Active Backup For Business is completely free of software licenses.
Note: Find out the difference between Hyper Backup and Active Backup for Business – Hyper Backup vs Active Backup for Business.
Note: Synology announced Active Backup for Business 2.2.0 preview program. It is planned as an invite-only (as it is not a public beta yet).
This post was updated on Friday / August 14th, 2020 at 3:25 PM