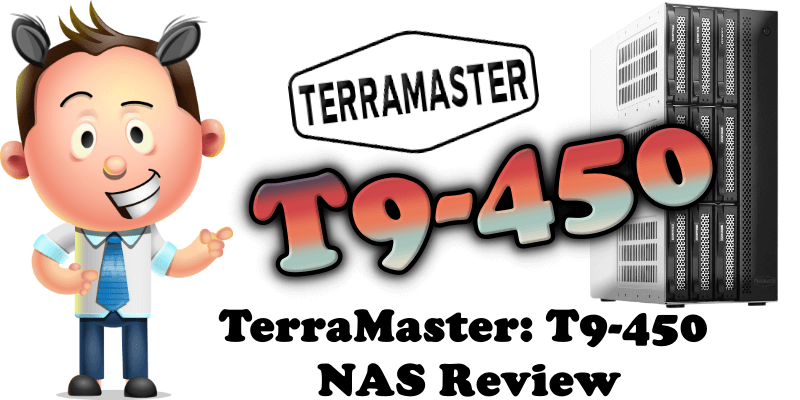 Hello, everyone! For today, your friend Marius has tested a new TerraMaster NAS model: the 9-bay TerraMaster T9-450. The T9-450 is sort of the big brother of the T6-423 that I reviewed last month. Although my blog predominantly deals with Synology products, every now and then I like to take a look at other devices if I think they are worth mentioning, like the T9-450. The TerraMaster T9-450 comes with a CR3558R Intel Atom CPU, 2.4 GHz Quad Core, and the option to upgrade the RAM to 32GB. You can upgrade the NAS RAM via the 2 available slots. The T9-450 comes with 8GB of preinstalled RAM, but you can upgrade up to 32GB. Now let's take a look at the TerraMaster T9-450 NAS in more detail.
The T9-450 boasts double the transmission performance as a result of the pairing between the TerraMaster Hyper Cache SSD cache acceleration technology and dual M.2 NVMe SSD slots. The model has been specifically developed for users requiring high-speed storage, which can meet the stringent demands of 4K image editing, virtualization, databases, and other applications with high storage performance requirements. I personally have started using the T9-450 as a Web Server to host some of my favorite Docker applications online.
What is TerraMaster? TerraMaster Technology is a Chinese company that specializes in computer software and Network Attached Storage (NAS). One of the things I like about TerraMaster is its TOS operating system which boasts a stunning simplicity. The TerraMaster TOS operating system, currently at version 5.1.40, is similar to DSM. As I mentioned in my previous reviews of the TerraMaster F2-423, F4-223, U4-423 and T6-423, the operating system is extremely user friendly and intuitive, easy to adapt, making it suitable even for those who are new to NAS devices.
T9-450 Packaging
The T9-450 TerraMaster NAS comes packed in a sturdy box that is designed to resist damage from shocks. The product itself is packed carefully inside, covered from every angle to ensure its integrity.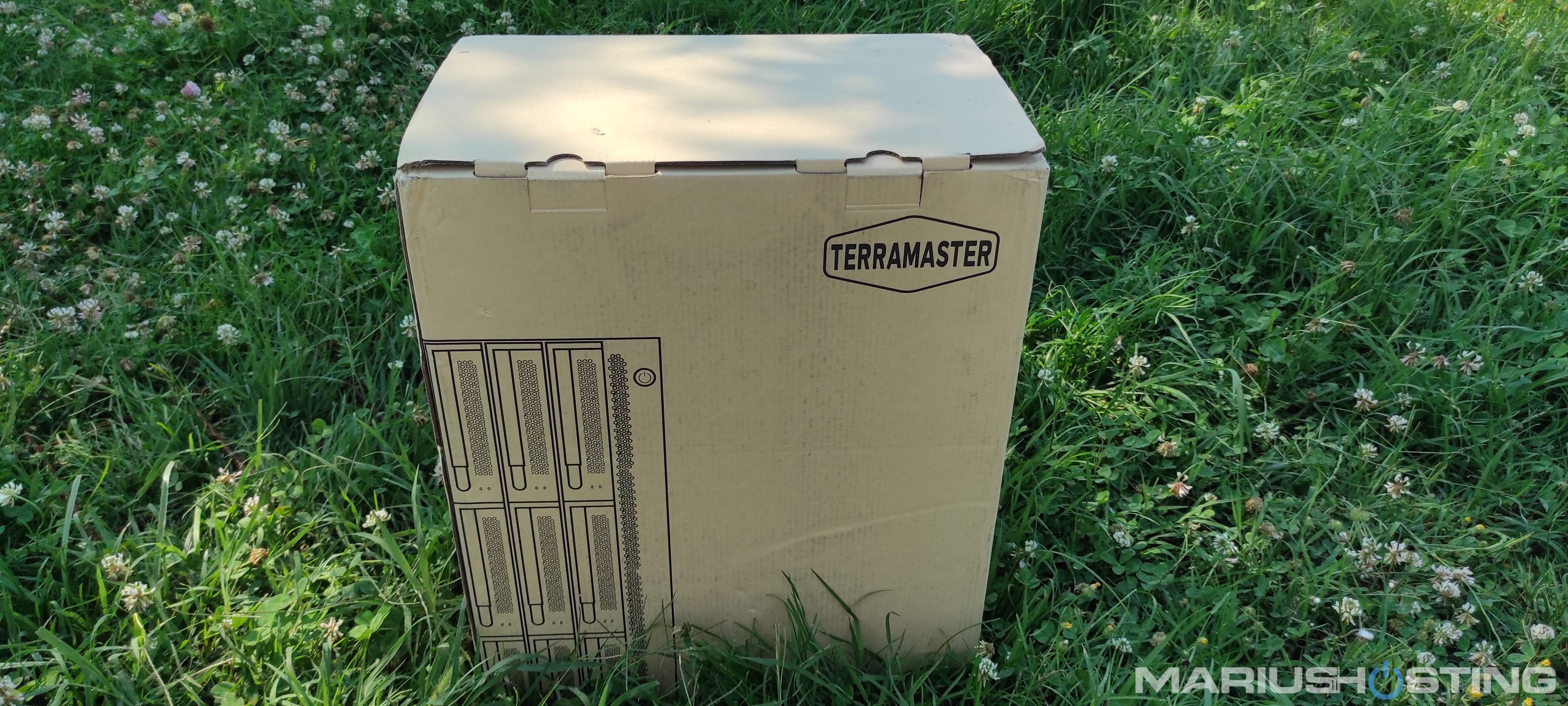 Welcome, T9-450, to the mariushosting residence!
This time it was Tara, one of my other Mioritic Shepherds, to welcome TerraMaster's new T9-450 to the mariushosting residence.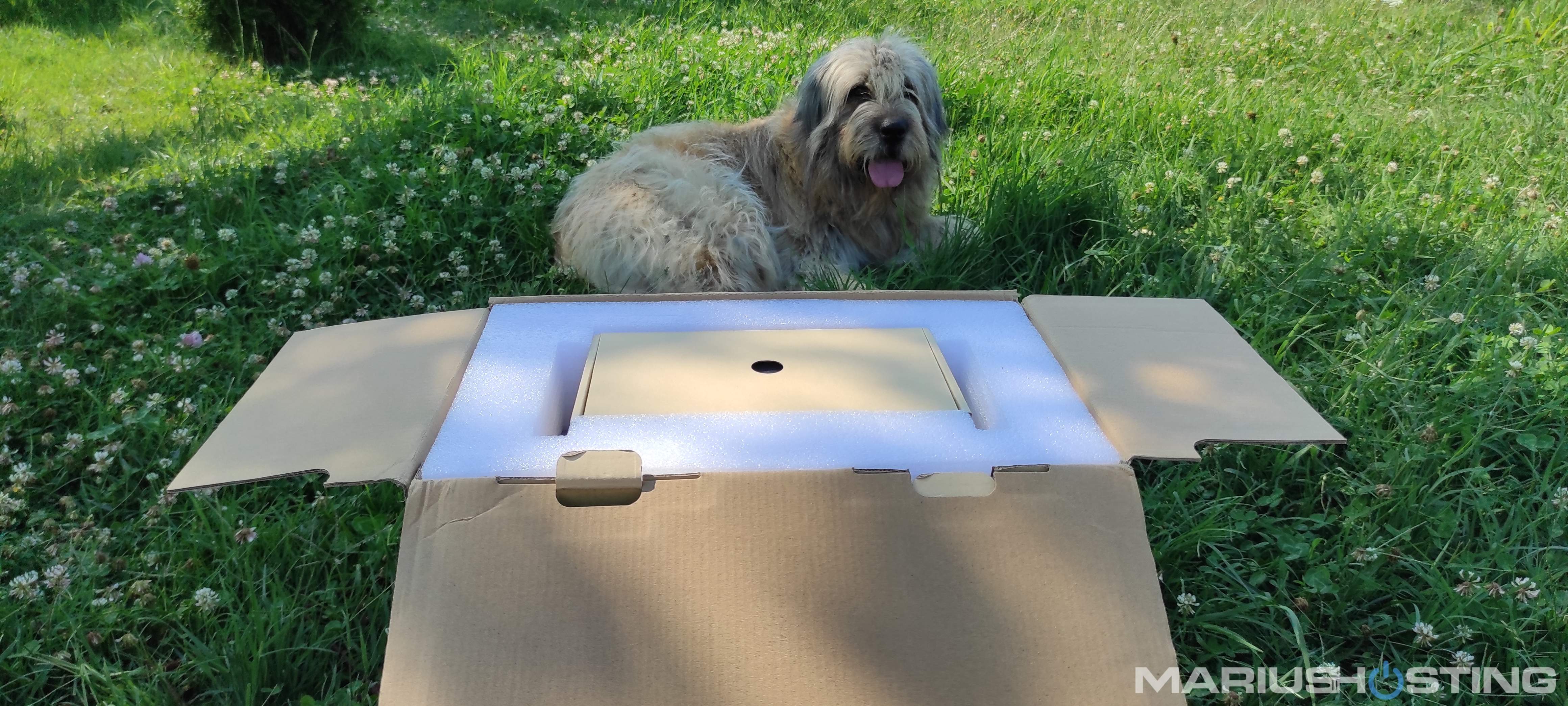 First Impressions
The 9-bay TerraMaster T9-450 is suitable for use with both HDDs and SSDs, depending on your disk preference and budget. The NAS itself is very robust, and, just as important, it is well ventilated. Compared to the other models I recently reviewed, this model is by far the heaviest, coming in at an impressive weight of 9KG!! In addition to the NAS box itself, in the package you will find the following items: an AC Power Cord, screws for the HDDs and SSDs, one CAT 6 UTP cable, a quick installation guide for the NAS and a limited warranty document. In addition to these items, there are also two spare rubber feet in case you may lose one, or two. Also, every TerraMaster NAS box provides a screwdriver inside the package which is both thoughtful and practical! I don't know about you, but I can never seem to find the one tool I need when I need it so this something I appreciate.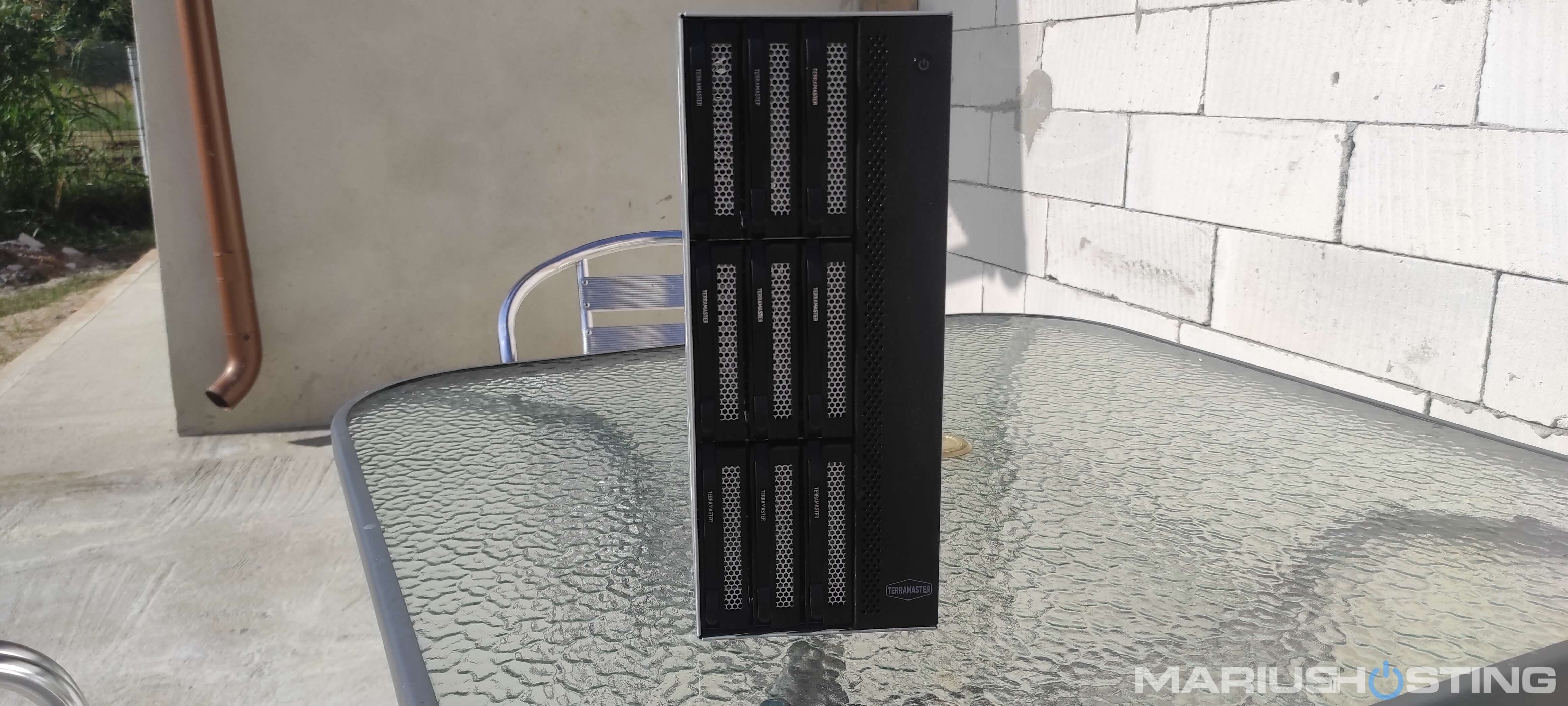 Excellently Ventilated!
As you can tell from the picture below, the T9-450 enjoys excellent rear ventilation. Three large fans plus a little one have been added at the back of the device to handle ventilation and temperature control, providing optimal health dissipation. Despite the rather large back fans, the NAS is surprisingly quiet, as every TerraMaster product I've tested so far.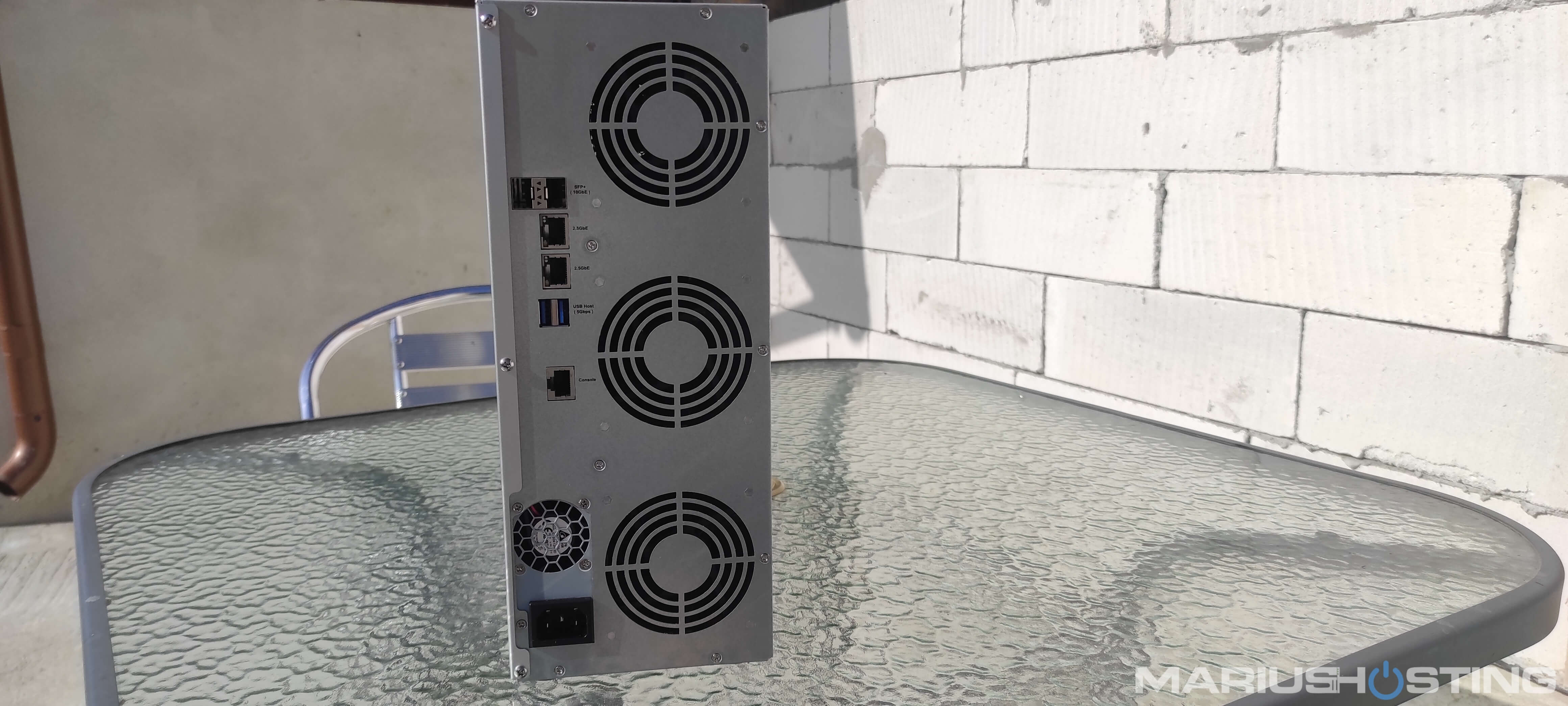 Higher Transmission Speed
The T9-450 is configured with two 2.5 GbE interfaces, supporting 2.5 GbE high-speed network bandwidth. 2x SFP+ 10GbE Network and 2x USB 3.1 Host Ports at 5Gbps make this NAS model a particularly good investment for your office.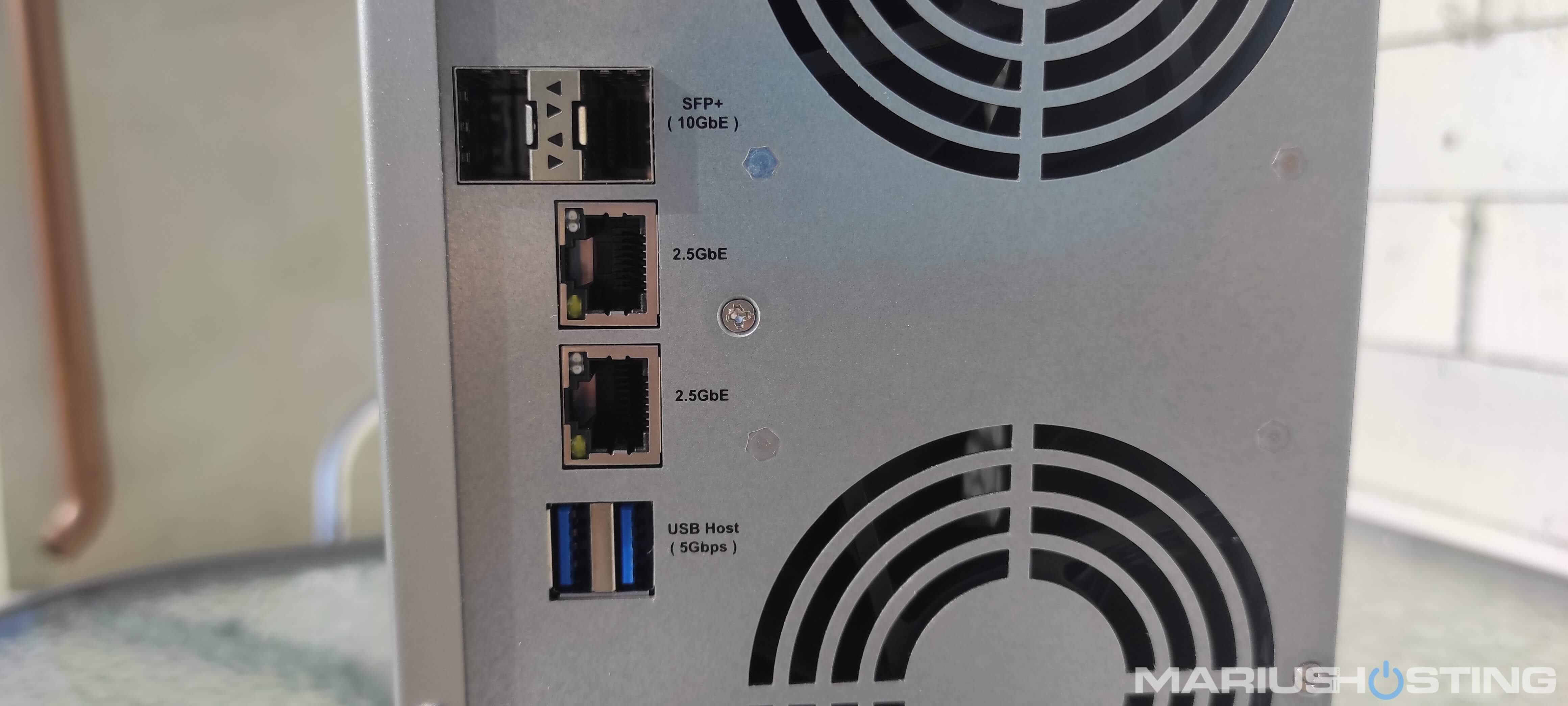 Closer look
If you take a closer look at the device, you will immediately notice that not only is the ventilation excellent, but the NAS itself is quite robust. You can see in the picture below that there are 3 large air vents on the side of the NAS – this is intended to prevent overheating which allows the device to always, and I mean always, preserve a constant temperature which, in turn, allows for optimal workflow and helps increase the device lifespan.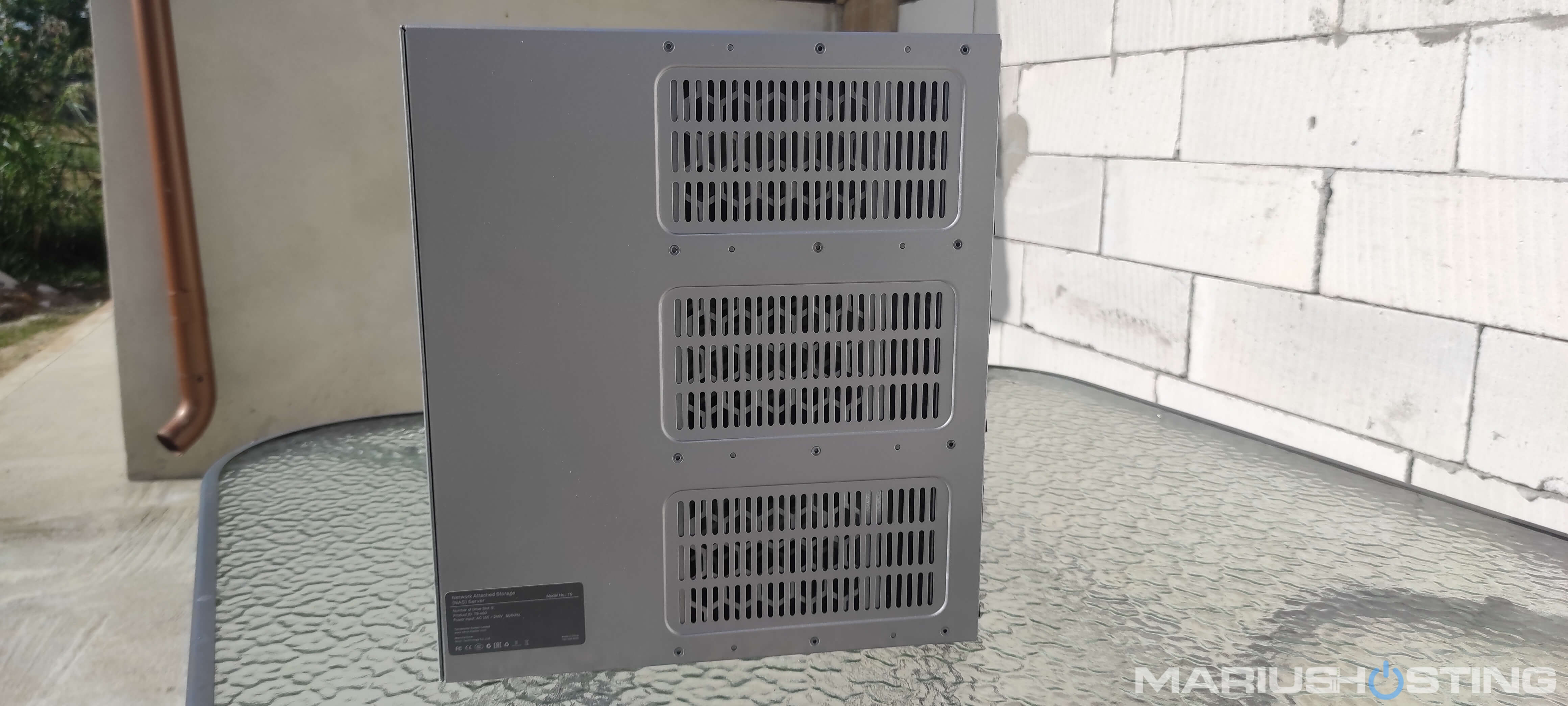 Metal Bays!
Now seriously, take a close look at the grid design and how well thought out it is for heat dissipation. There must be some geniuses in the design team at TerraMaster! Whoever made this happen definitely needs a reward. Or a raise. To go from a completely plastic bay to a completely metal one is something your friend Marius appreciates for what it's truly worth!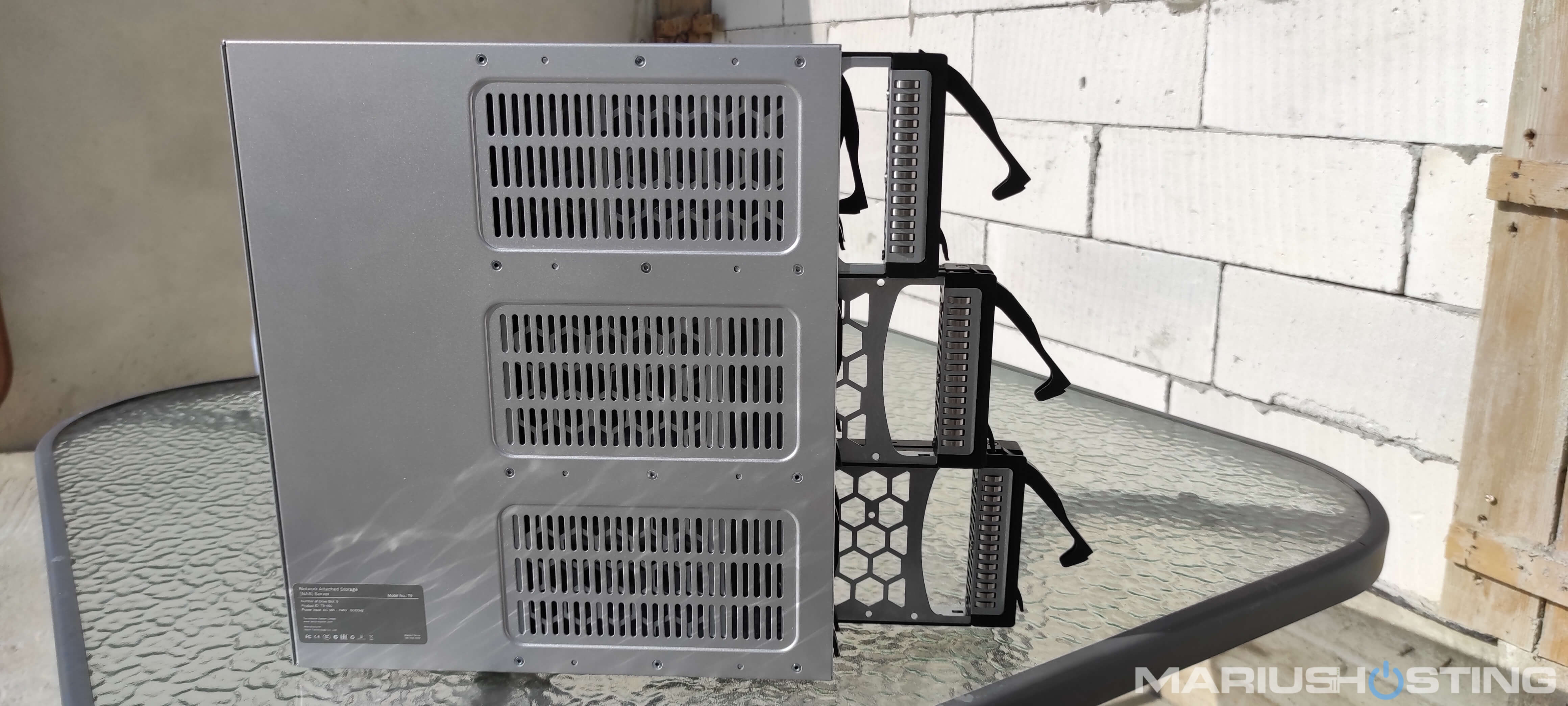 Easy Bay Removal
I made a little video showcasing how to remove a Bay (disk compartment) from the T9-450 TerraMaster NAS. As you can see, it's a piece of cake!
The TerraMaster logo at a glance!
The TerraMaster logo is present in the lower right corner of the device.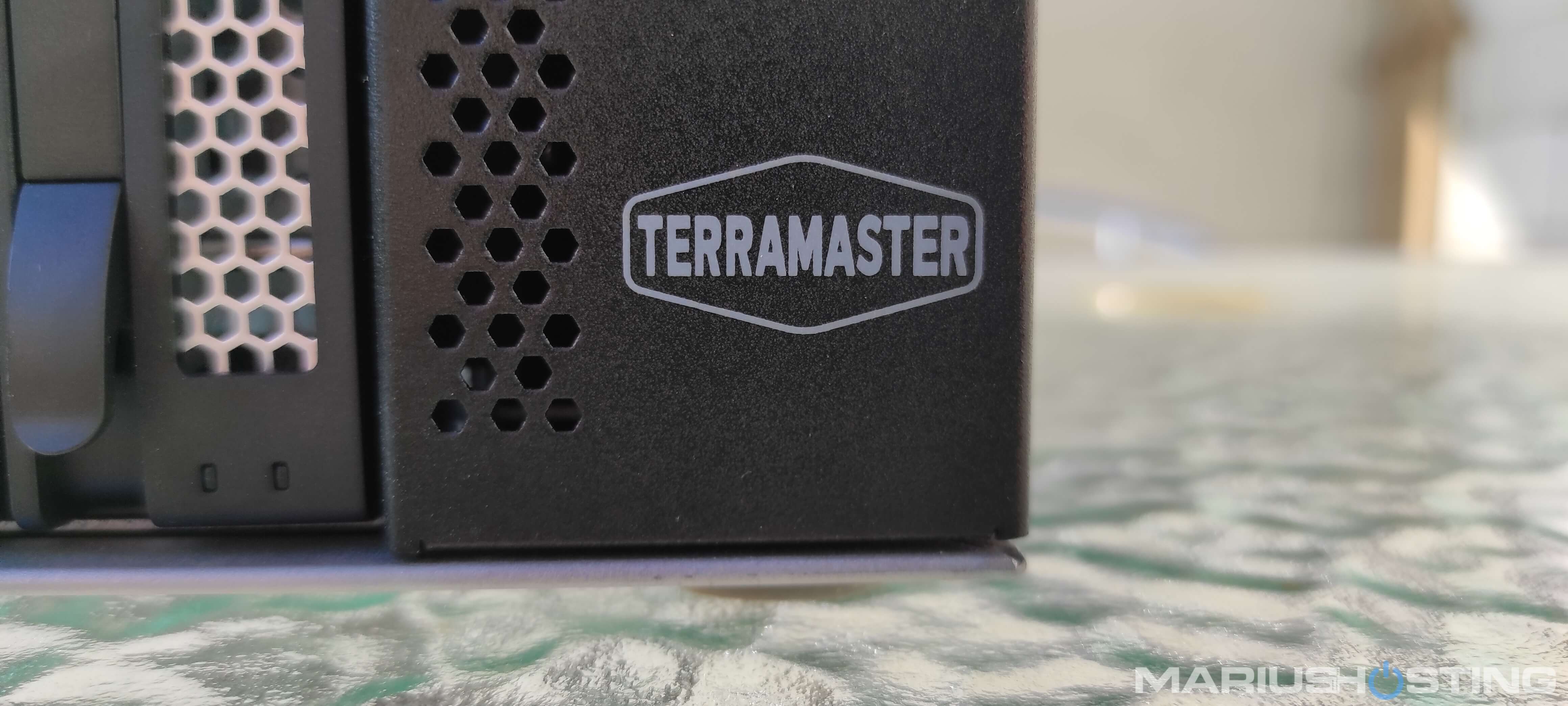 Is This It?
Yes, this is the TerraMaster T9-450 up and running in all its glory! In this picture I have just one SSD disk added in a random slot to run some tests.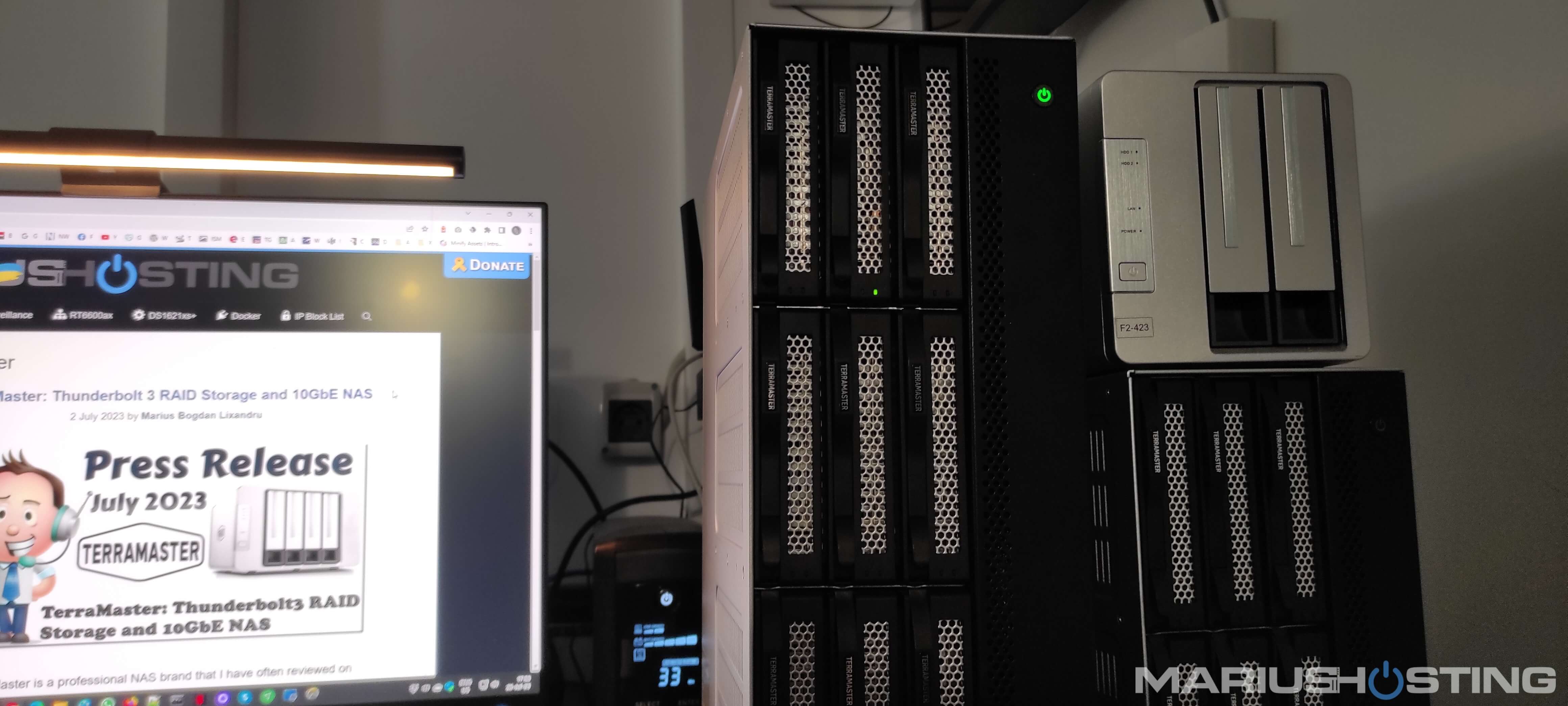 First Power On
After I inserted the disks, everything was up and running in a couple of minutes! To set up the TerraMaster T9-450, after you have inserted the disks, connect the power adapter, plug in the LAN cable, then click the ON button. Next, open your favorite browser and access the following address below to start the installation process.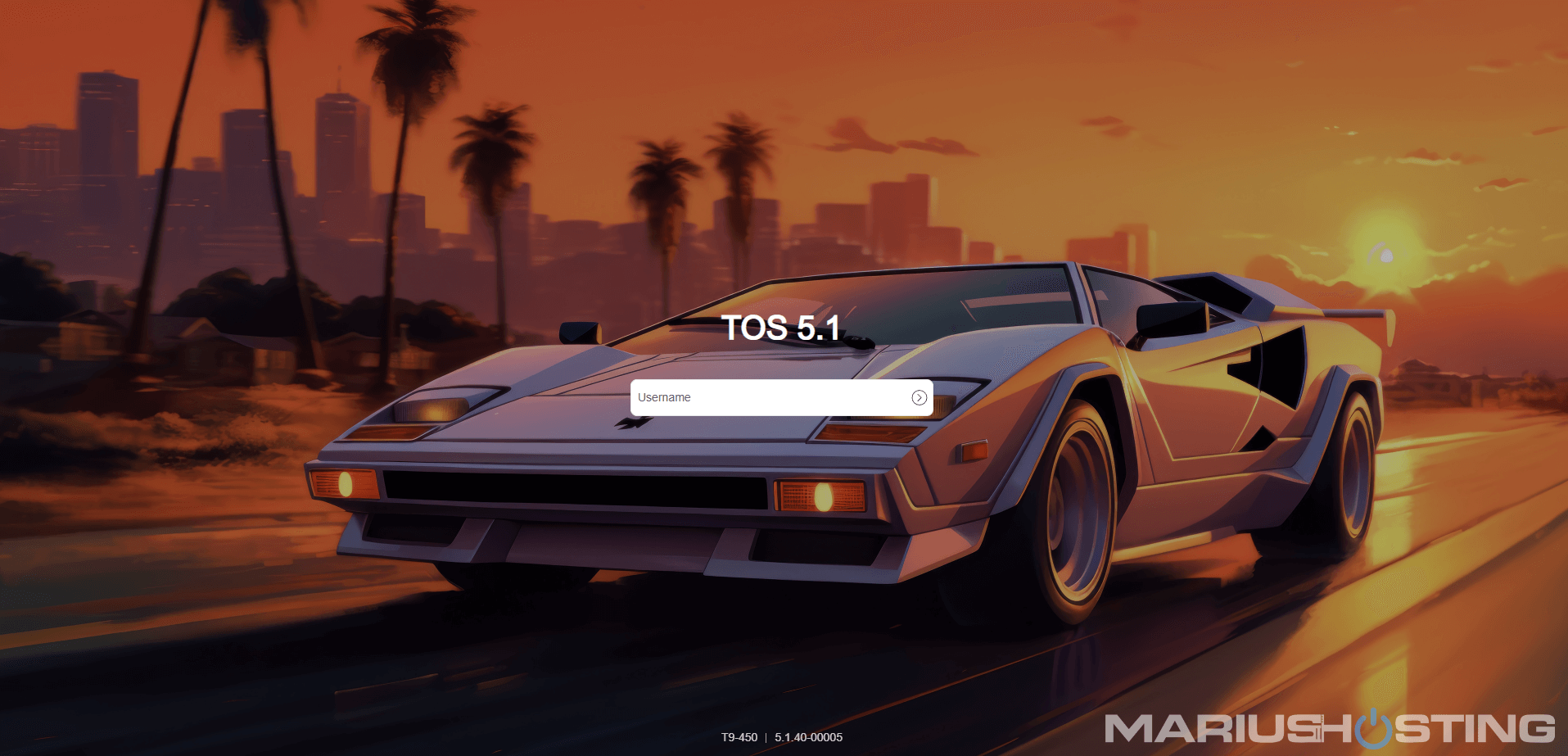 Upgraded

 

Kernel Brings Stronger Performance
The TOS 5.1 kernel has been upgraded from 4.19 to 5.15 Compared to its predecessor, TOS 5.1 optimizes the EXT4/Btrfs/NTFs file systems and the SMB3 file server, uses ext4/f2fs/ubifs file system encryption in API encryption, enables the Apple M1 SoC function under Linux, and adds support for the USB4 interface which greatly improves the performance and security of the file system.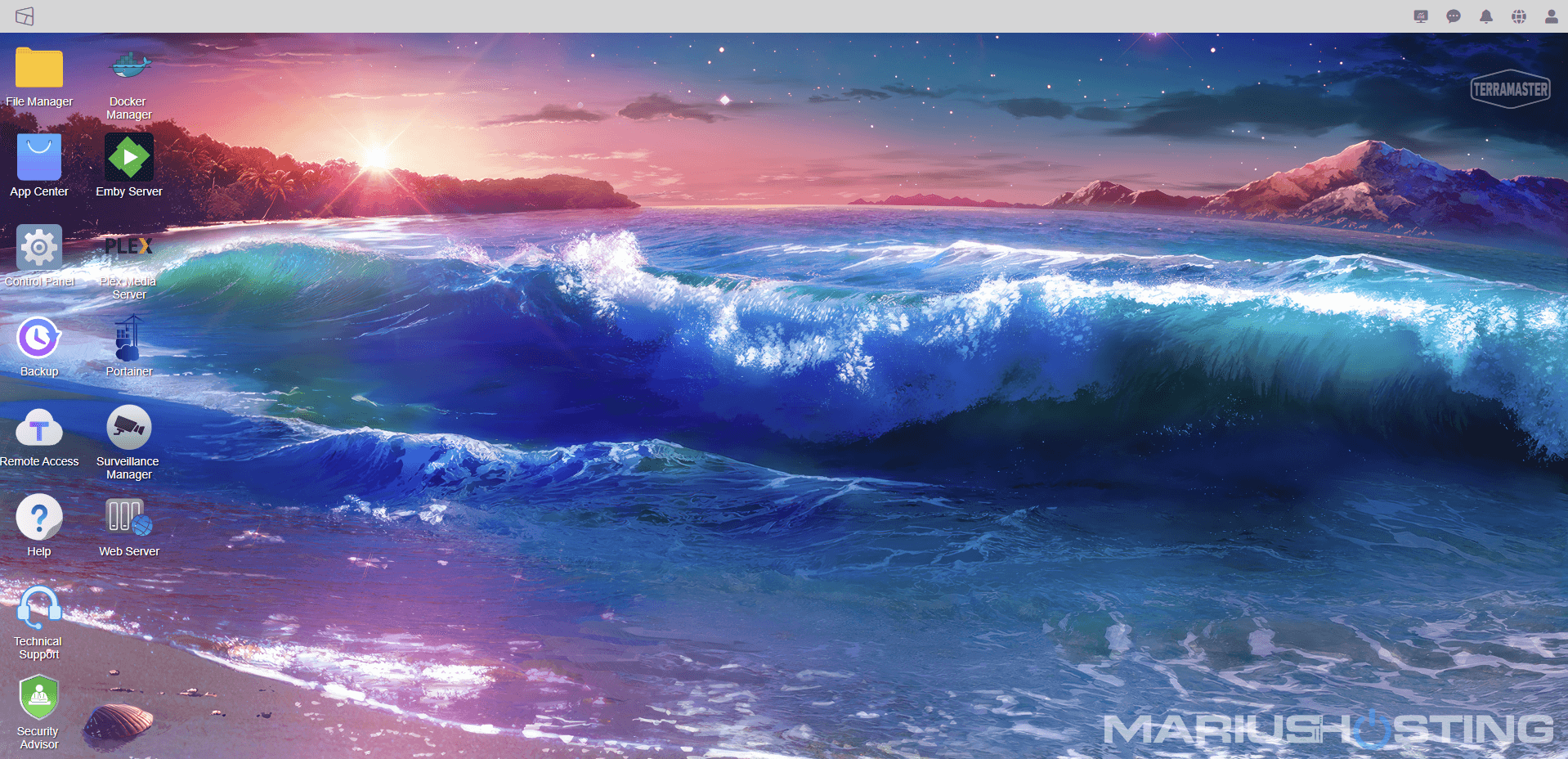 Everything at a glance
Monitor your system at all times! In the image below, you can see an icon called "App Center" which is the equivalent of Synology Package Center. Here you will find hundreds of free applications like Docker, Plex, Nextcloud, WordPress, Portainer, Transmission, qBittorrent and more to use on your device. The Overview in the system Control Panel will keep you up to date about everything going on.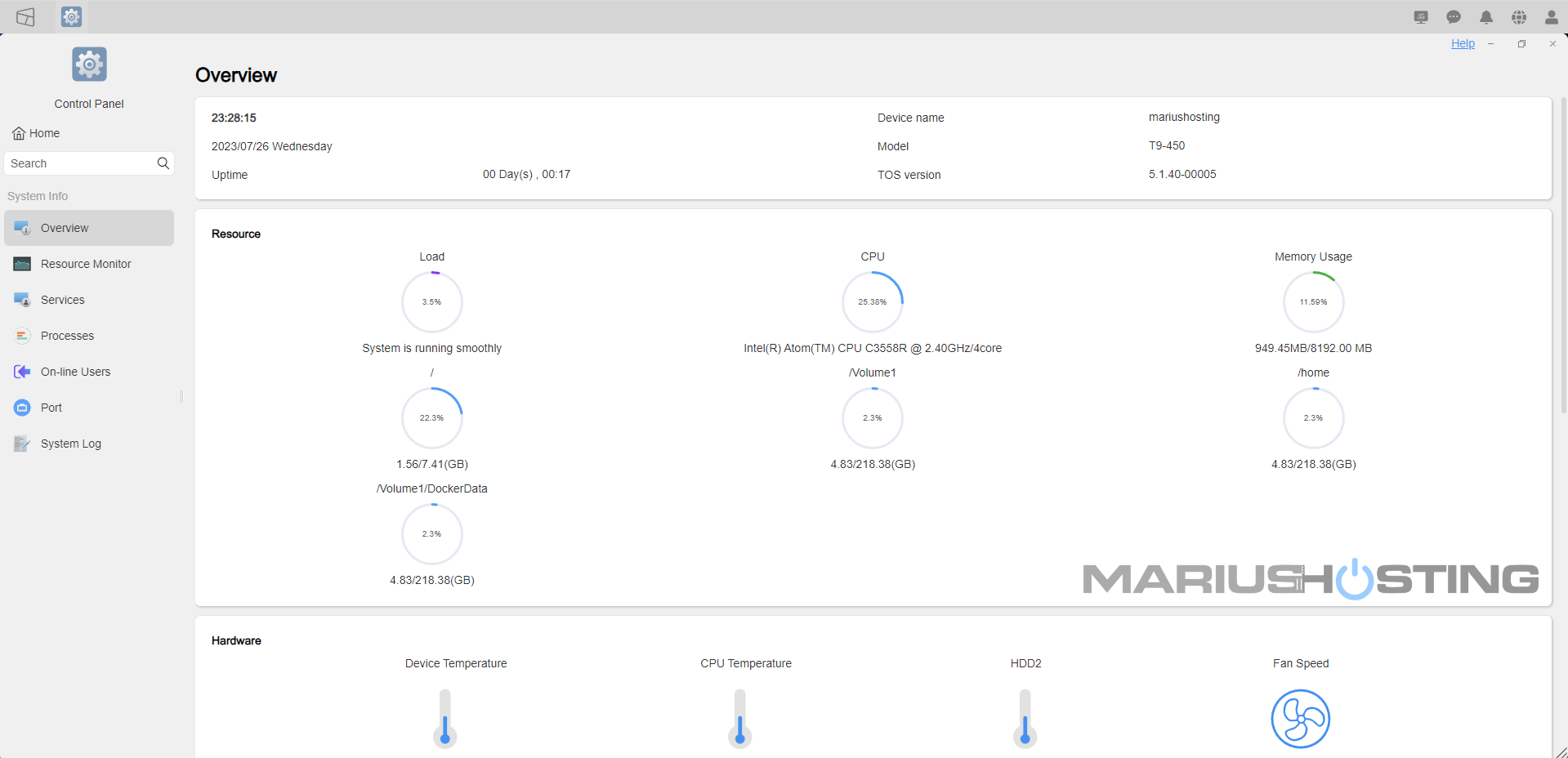 Web Server
Also know that you can use your TerraMaster NAS as a Web Server, not just for data storage. It's very easy to set up and you can go online with your website from home in a matter of minutes.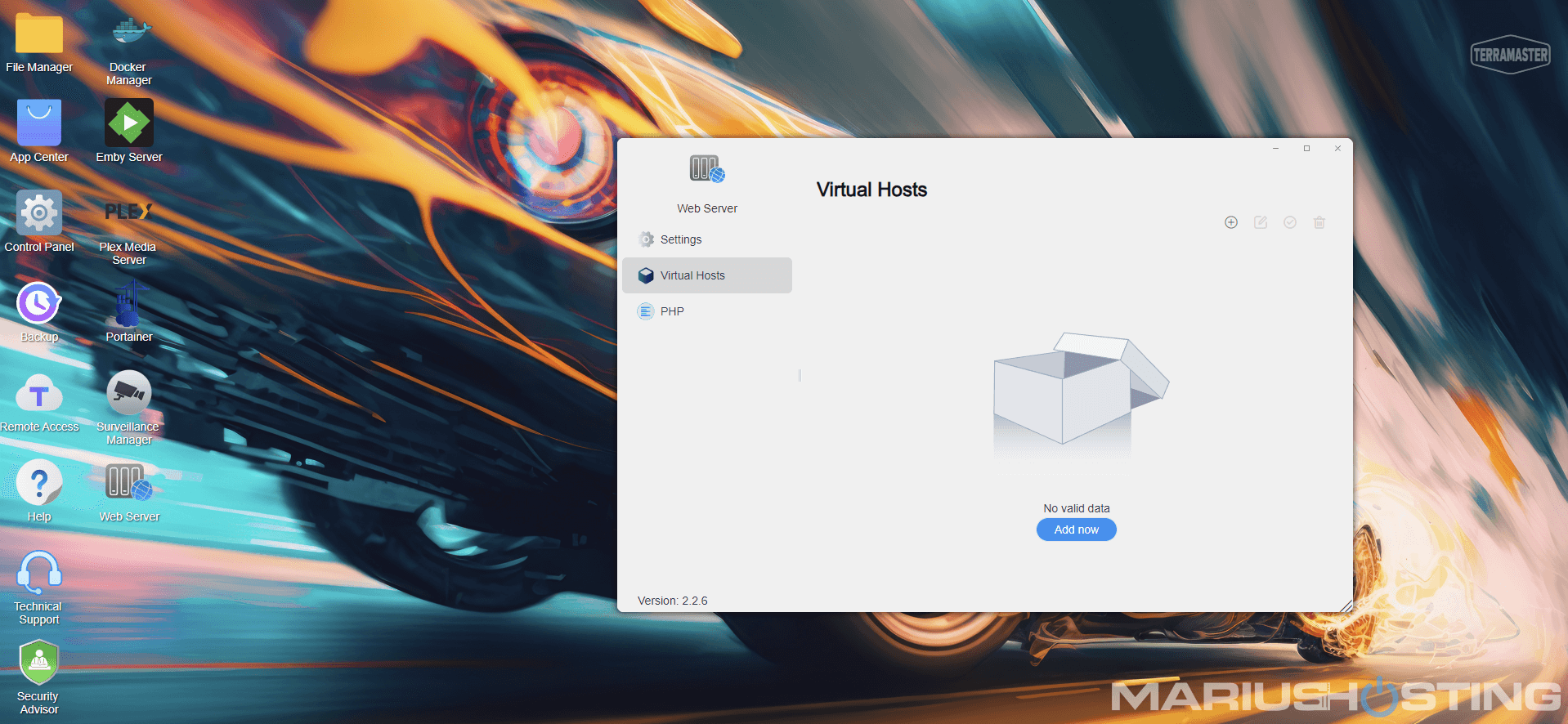 PHP For Web Server
TOS integrates PHP to allow the use of the NAS as an effective Web Server. PHP (recursive acronym for PHP: Hypertext Preprocessor) is a widely-used open source general-purpose scripting language that is especially suited for web development and can be embedded into HTML.
The TerraMaster T9-450 NAS is a great solution to consider should you wish to purchase a NAS for your home or office.
This post was updated on Thursday / July 27th, 2023 at 11:11 PM