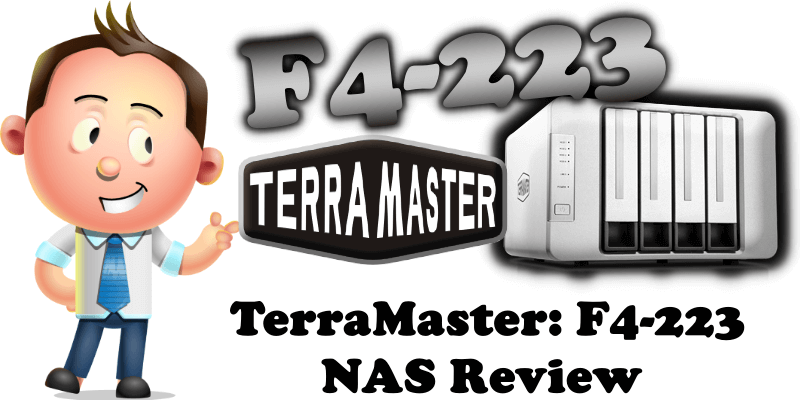 Hello to all of you, loyal visitors! Today, your friend Marius has tested a new TerraMaster NAS. More specifically, the 4-bay TerraMaster F4-223 model. As you well know, my blog is primarily focused on Synology, but, every once in a while, I don't mind taking a look at rival devices, especially when they are worth mentioning. So today I'm going to be examining the TerraMaster F4-223 4-bay NAS. What is TerraMaster? TerraMaster Technology is a Chinese company that specializes in computer software and network attached storage (NAS). One of the things that I like about TerraMaster is its TOS operating system which boasts a stunning simplicity. The operating system is extremely user friendly and intuitive, and easy to adapt, suitable even for those who are new to NAS devices. Since my last review of the F2-423, the TerraMaster TOS operating system has been upgraded from version 5 to version 5.1 which introduces many benefits that I will explore below.
The new TerraMaster F4-223 arrived at the mariushosting HQ on a warm spring day. The package that holds the device is well designed to resist damage from shocks. The two side guards provide great anti-shock protection – in case of mishandling of the box, the NAS inside is secured and protected from damage.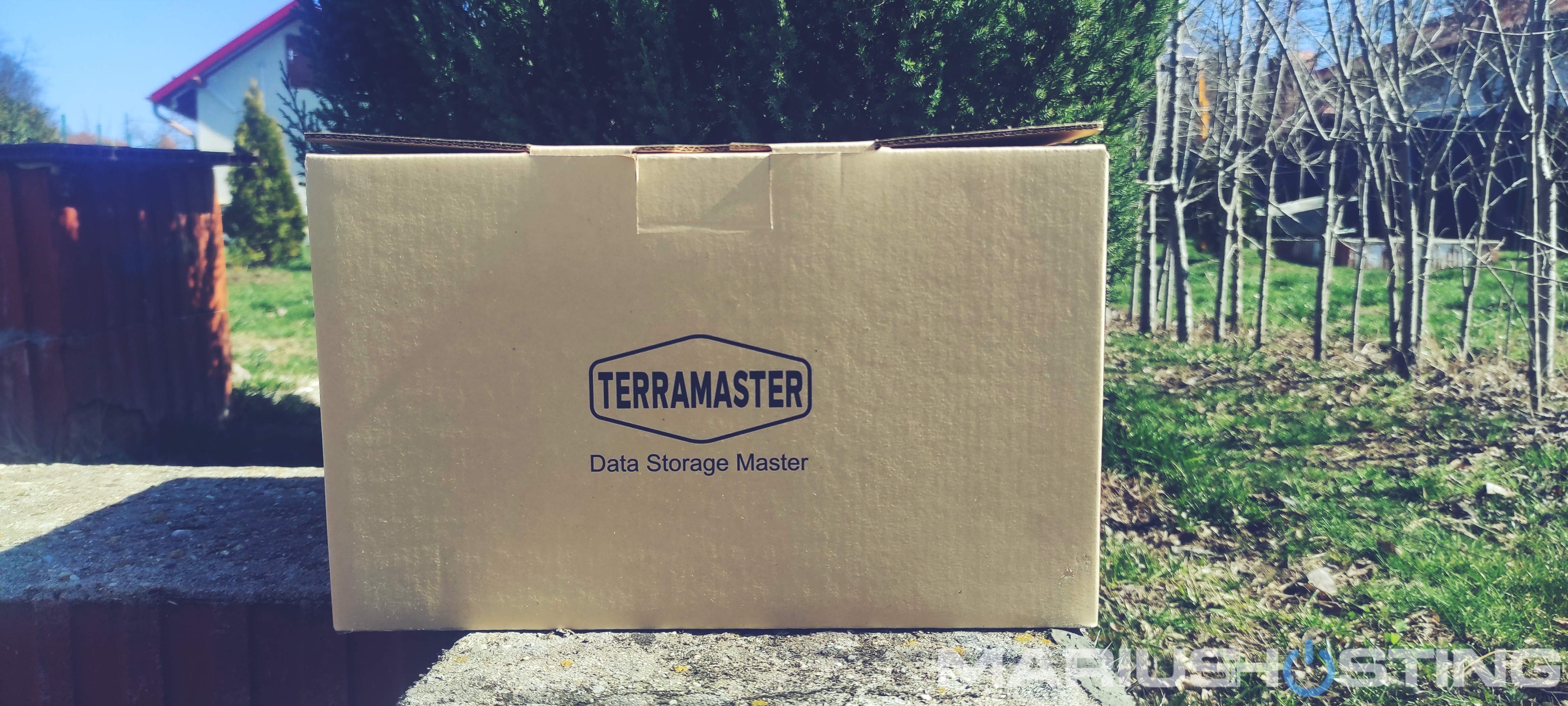 TerraMaster F4-223: First Impressions
The new TerraMaster F4-223 NAS comes with four bays! This model is suitable for use with both HDDs and SSDs, depending on your preference and budget. Over the years, TerraMaster has aimed for a minimalist design that brings elegance into your workplace and home. One of the things I immediately noticed about its design is the updated retro style which I personally really like.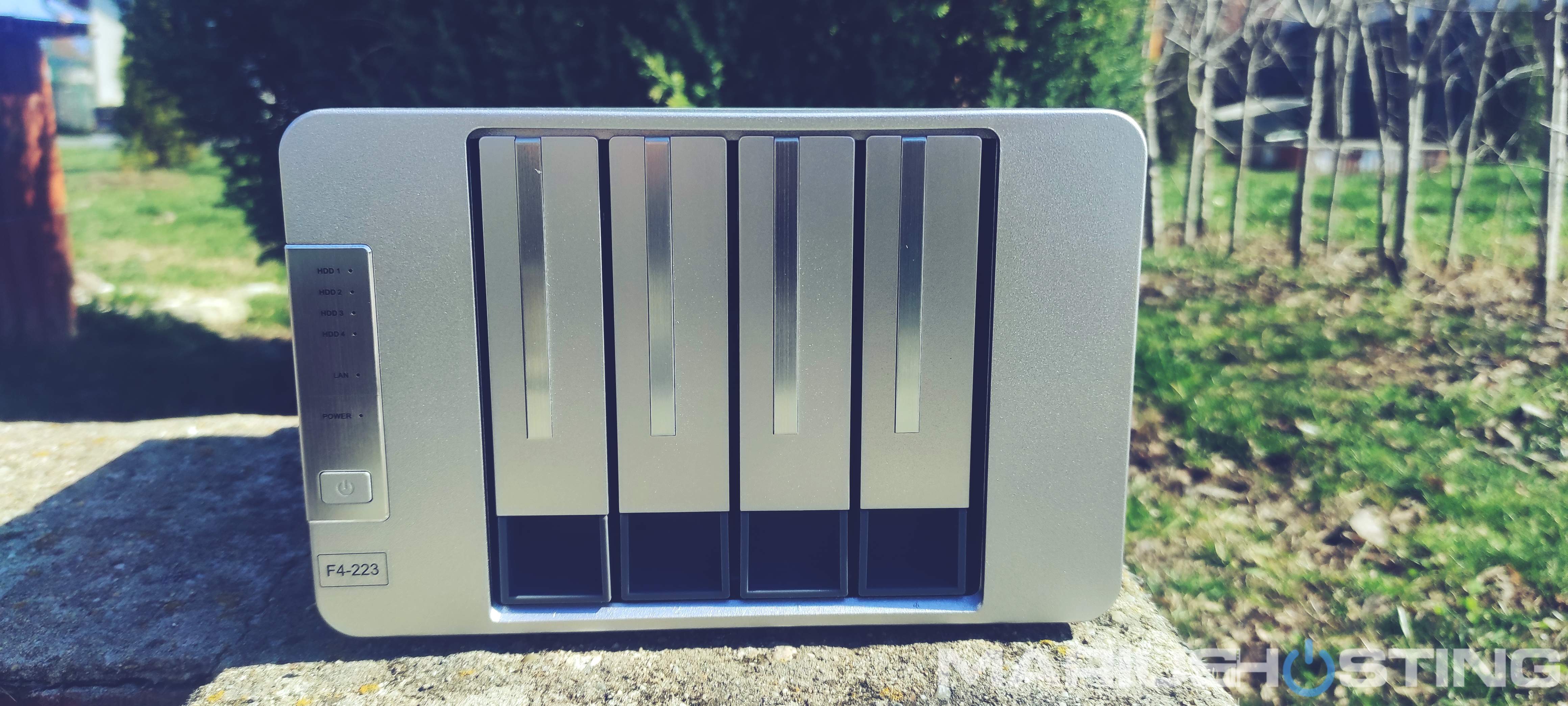 Metal Case!
The 4 bays where you insert the HDD or SSD disks are made of plastic, but the rest of the case is made of metal. One of the things I have instantly noticed about the device is its robustness.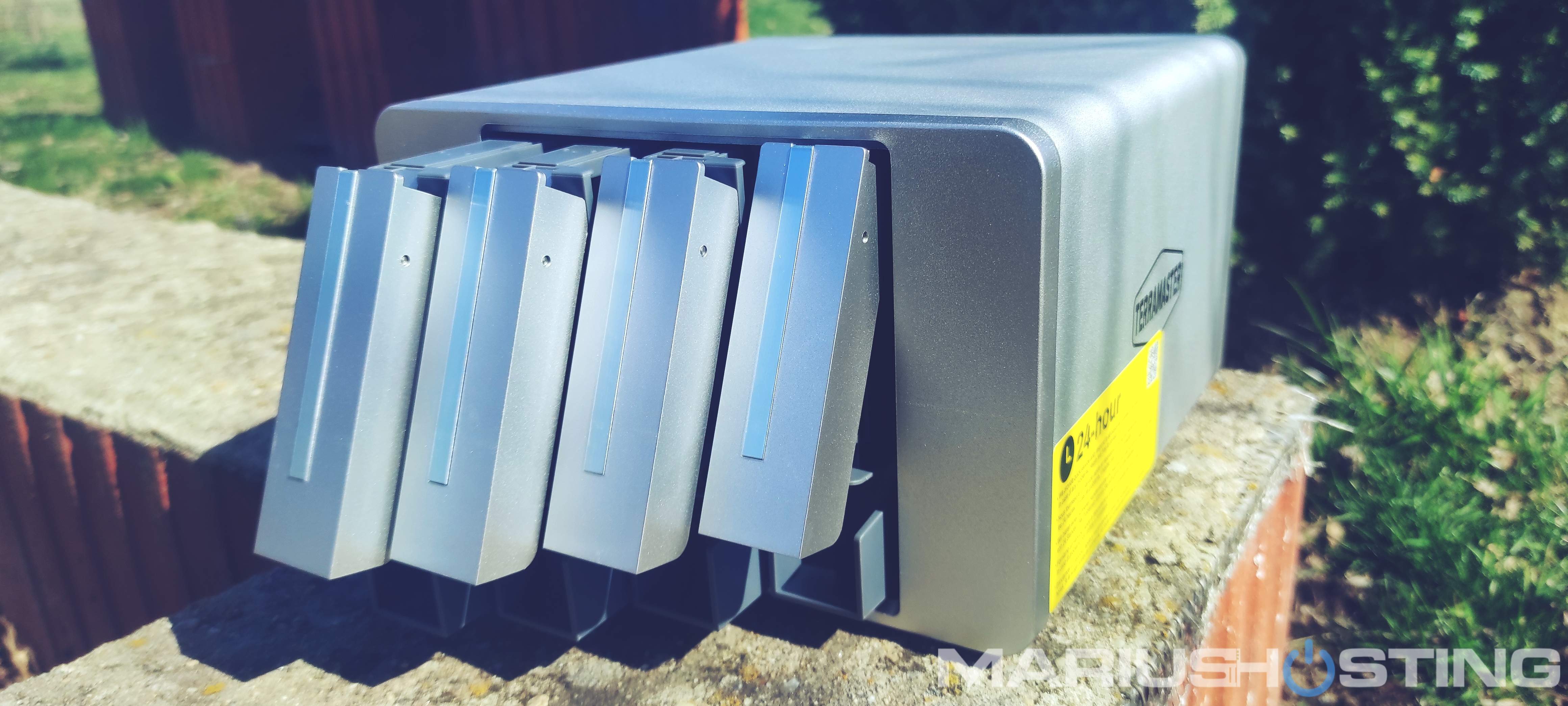 Silent And Well Ventilated
Something else I quickly noticed about the TerraMaster F4-223 is its excellent rear ventilation: 2 big fans have been added to provide optimal ventilation for the NAS. The device is quite silent when it's on. In fact, it is so quiet that it seems to be off even when it's on.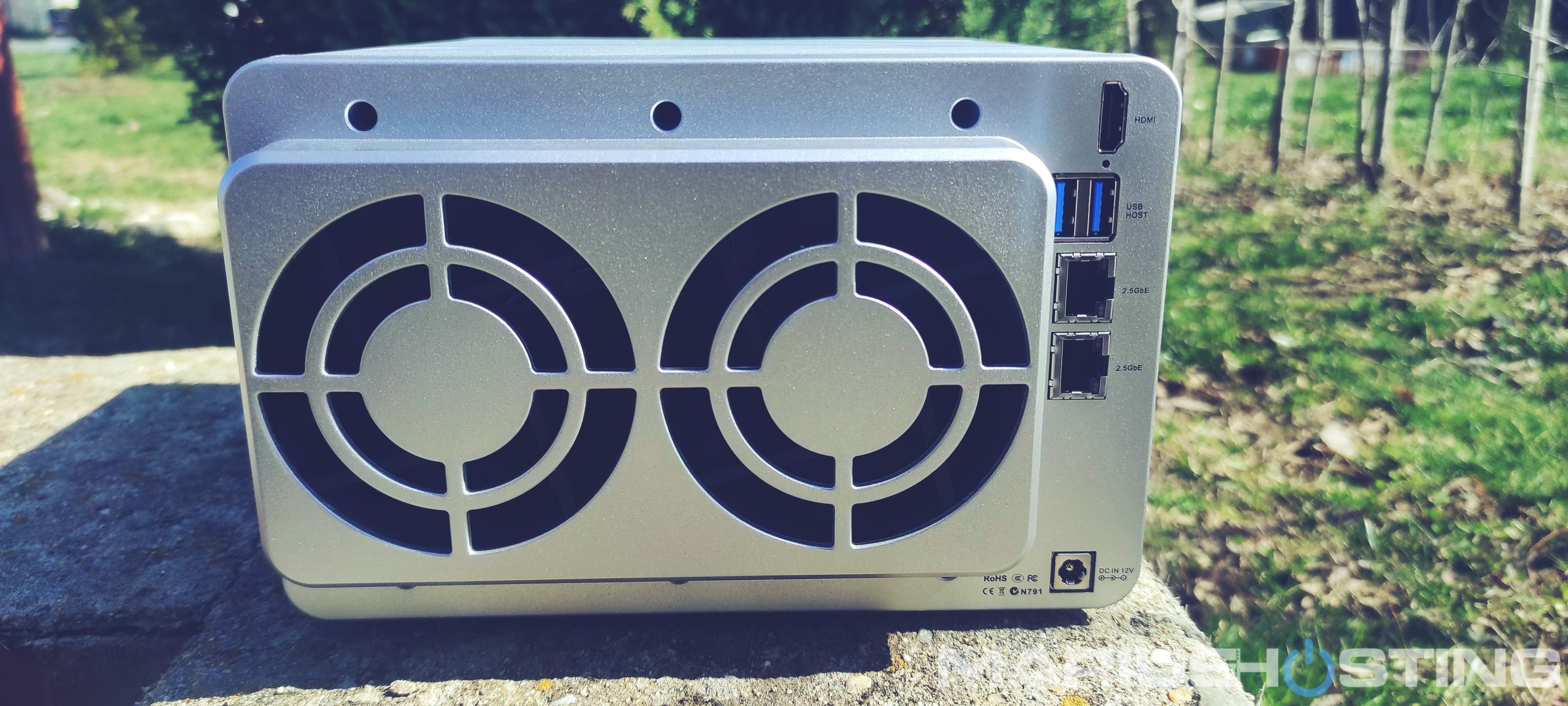 TerraMaster F4-223 Back View
2 FANS
HDMI port
2x USB 3.0 ports
2x 2.5GbE Rj-45 ports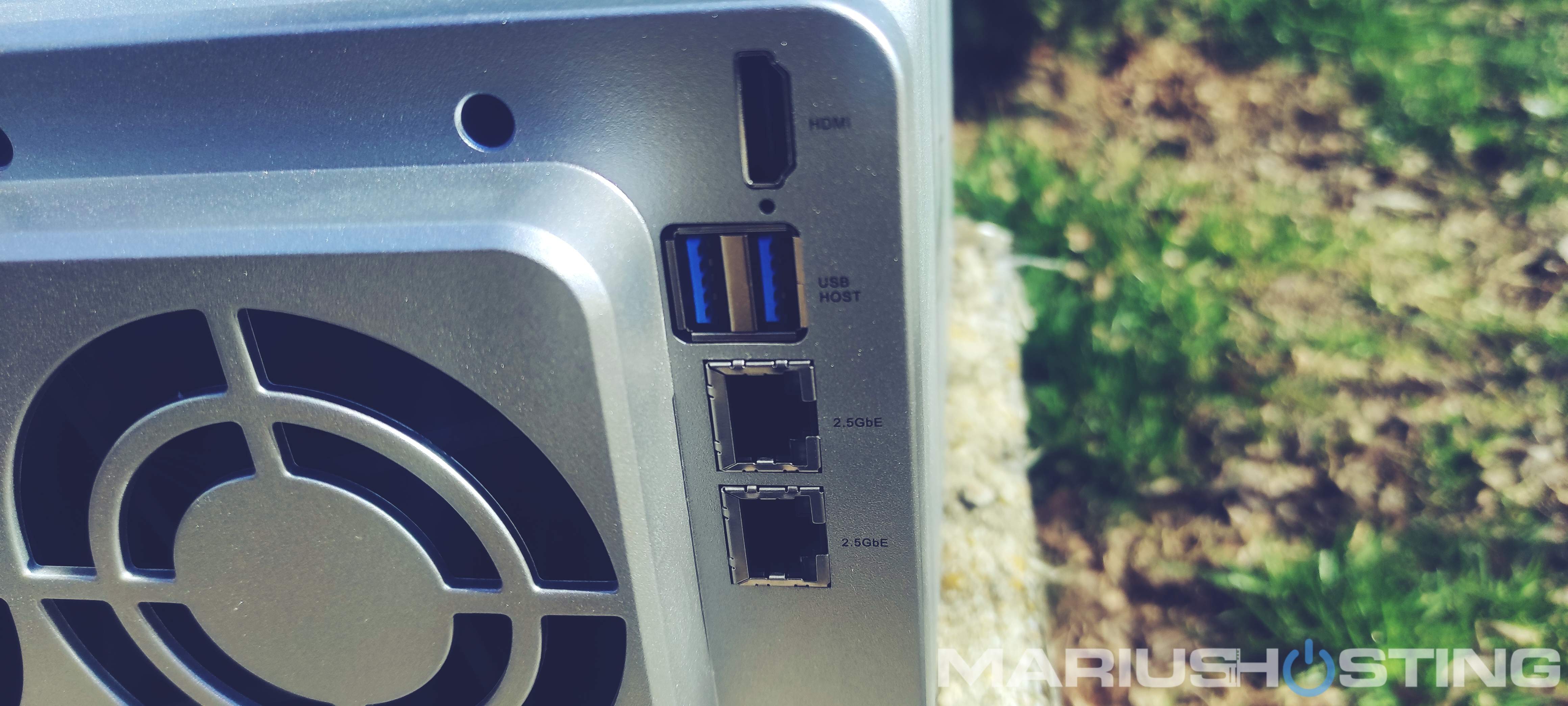 A Close-Up!
If you look closely inside one of the disk slots, you can see there is metal everywhere, and the design supports excellent heat dissipation which helps prolong disk lifespan. Metal protection separates the disks from the well-ventilated motherboard. If the metal case is disassembled, it is possible to upgrade the RAM from 4GB to 32GB with 2x 16GB RAM sticks.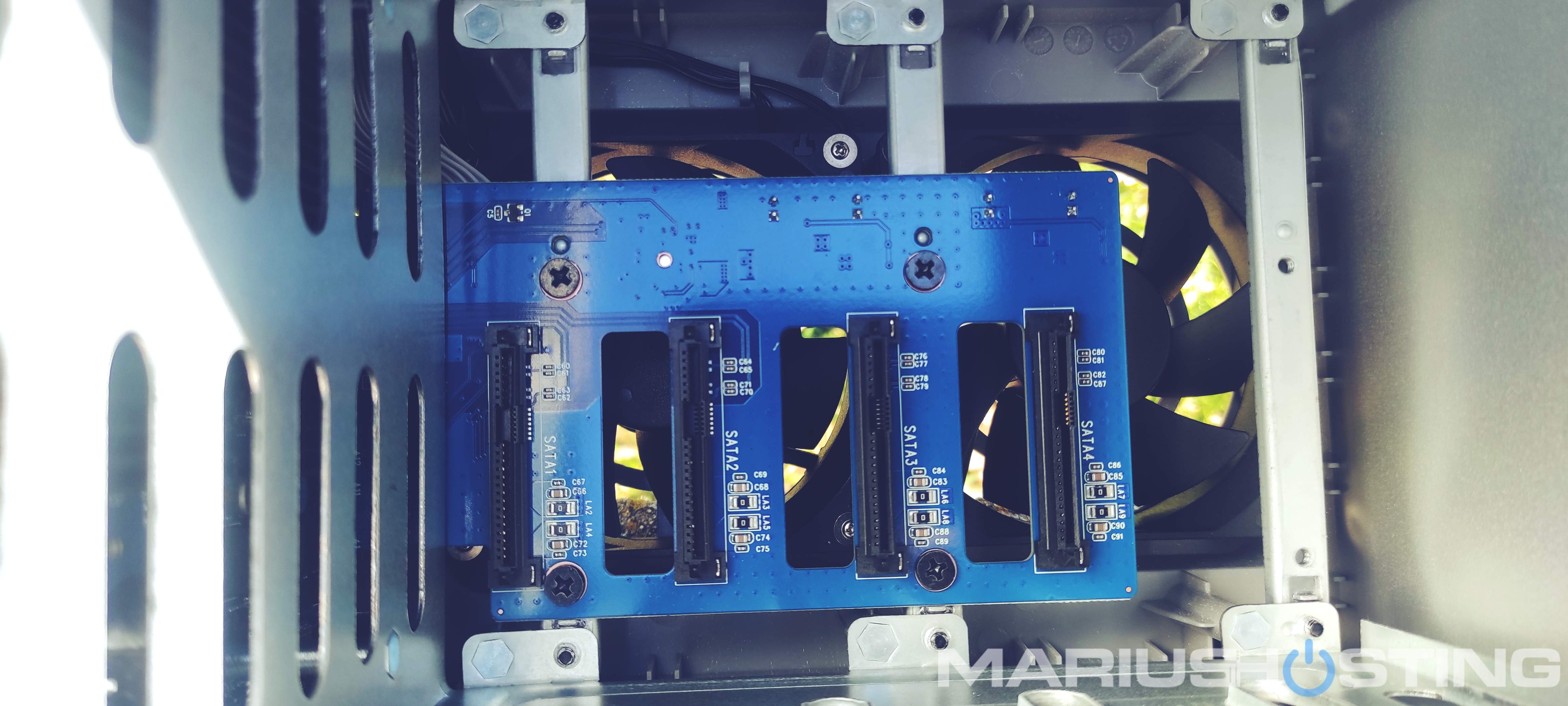 F4-223 Underside View
Wherever you look, everything is metal. The underside is all compact metal with a well thought-out ventilation grille. Not just this, but the NAS has four little rubber legs on the bottom which help keep it in place on the desk or other surfaces so it doesn't slide off.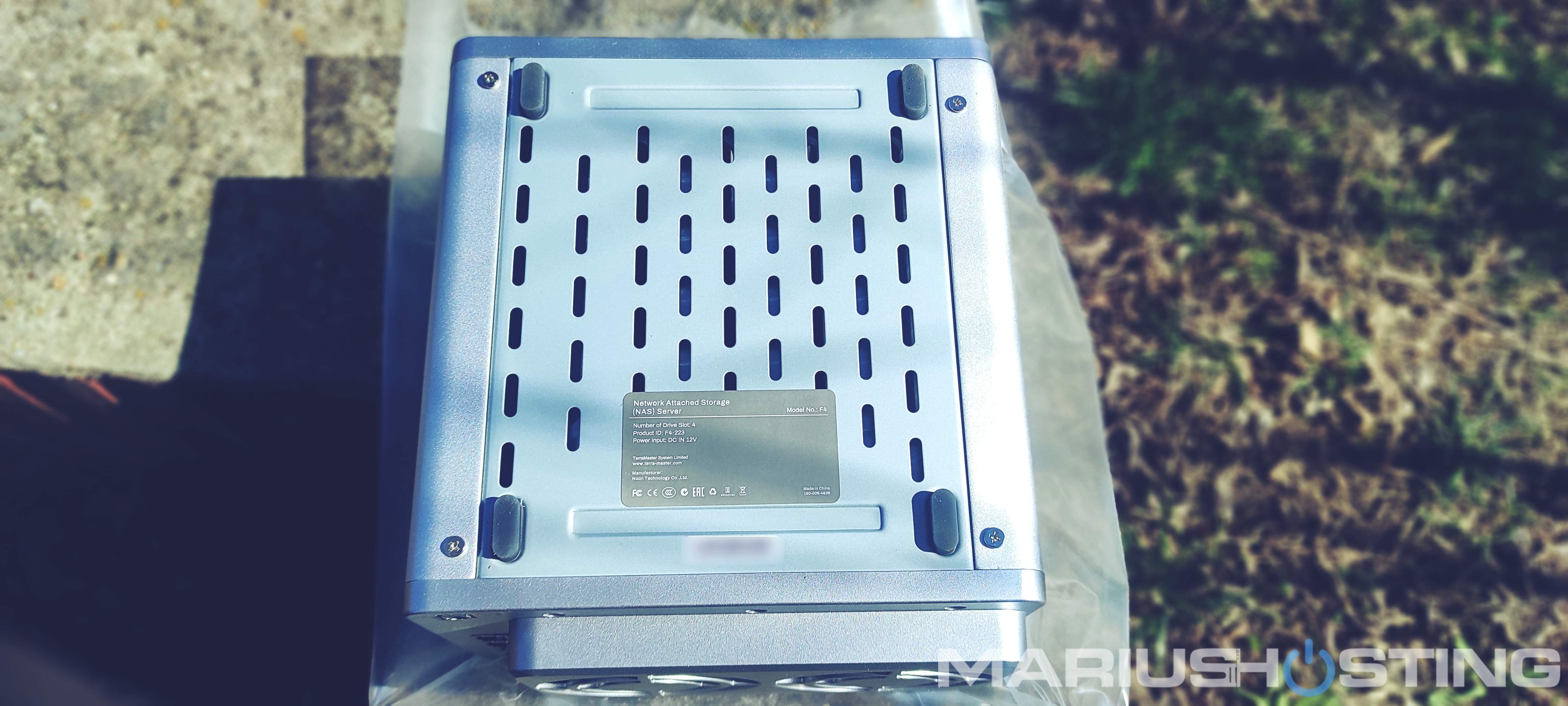 Inside the Package
In addition to the NAS itself, inside the box you'll find one 5e LAN cable. Also, some screws for the HDDs or SSDs, and the power adapter, plus the cord cable. You will also find a Quick installation guide for the NAS and a limited warranty document. In addition, there are two spare rubber feet in case you lose one.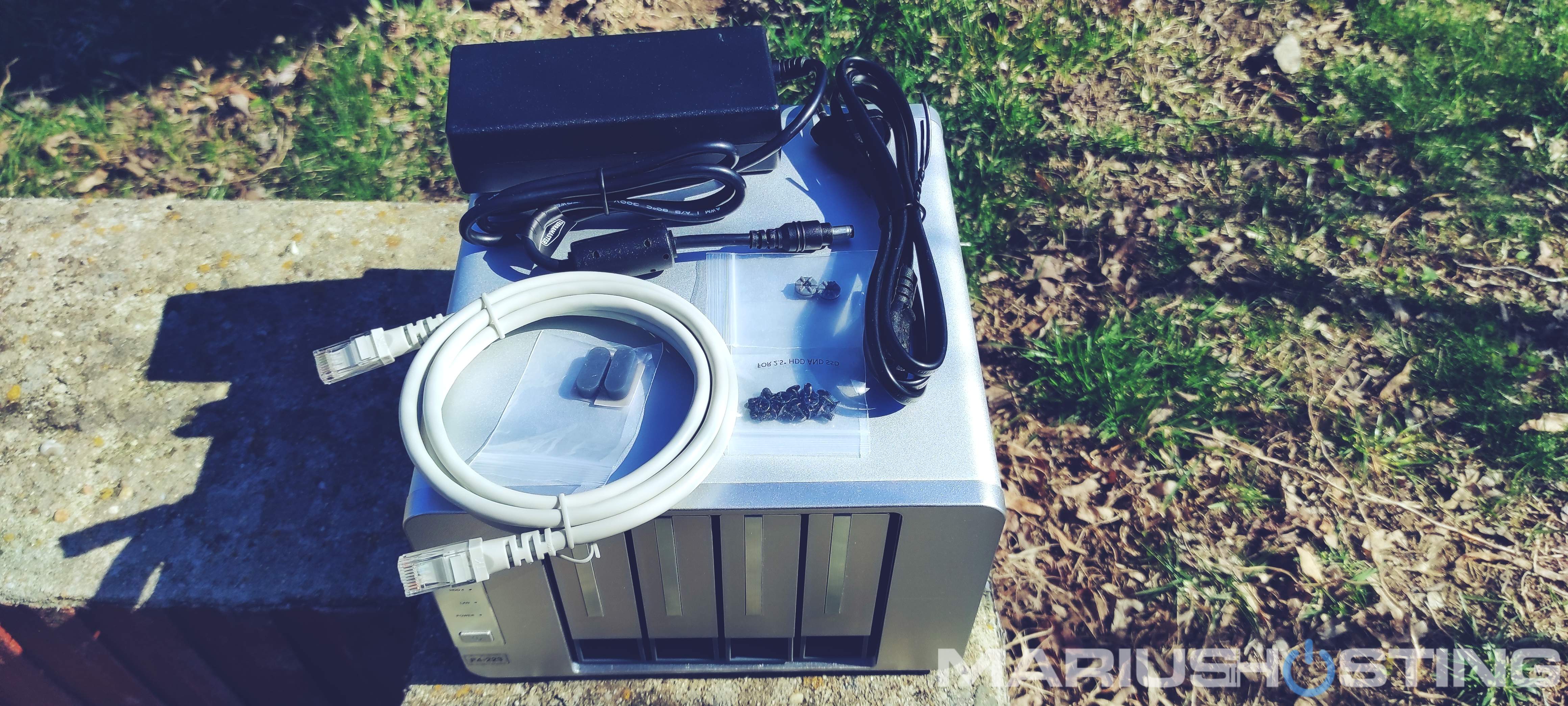 Is This It?
Yes, this is the new TerraMaster F4-223 up and running in all its glory! Right now I have two SSD disks in RAID 1 put in. As you well know, your friend Marius is a big fan of SSDs 🚀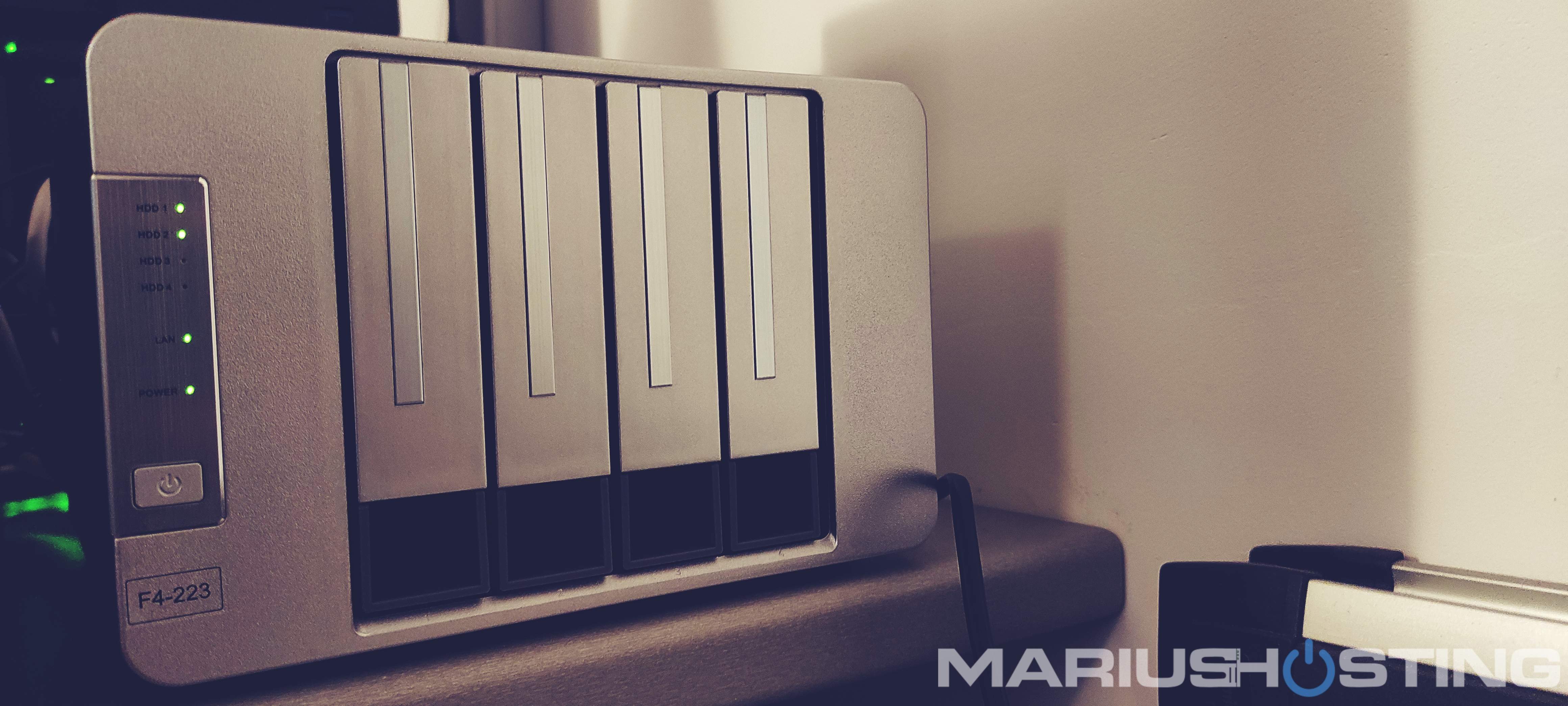 TerraMaster F4-223 TOS Operating System Installation
To set up the TerraMaster F4-223, after you have inserted the disks, connect the power adapter, plug in the LAN cable, then click the ON button. Next, open your favorite browser and access the following address below to start the installation process.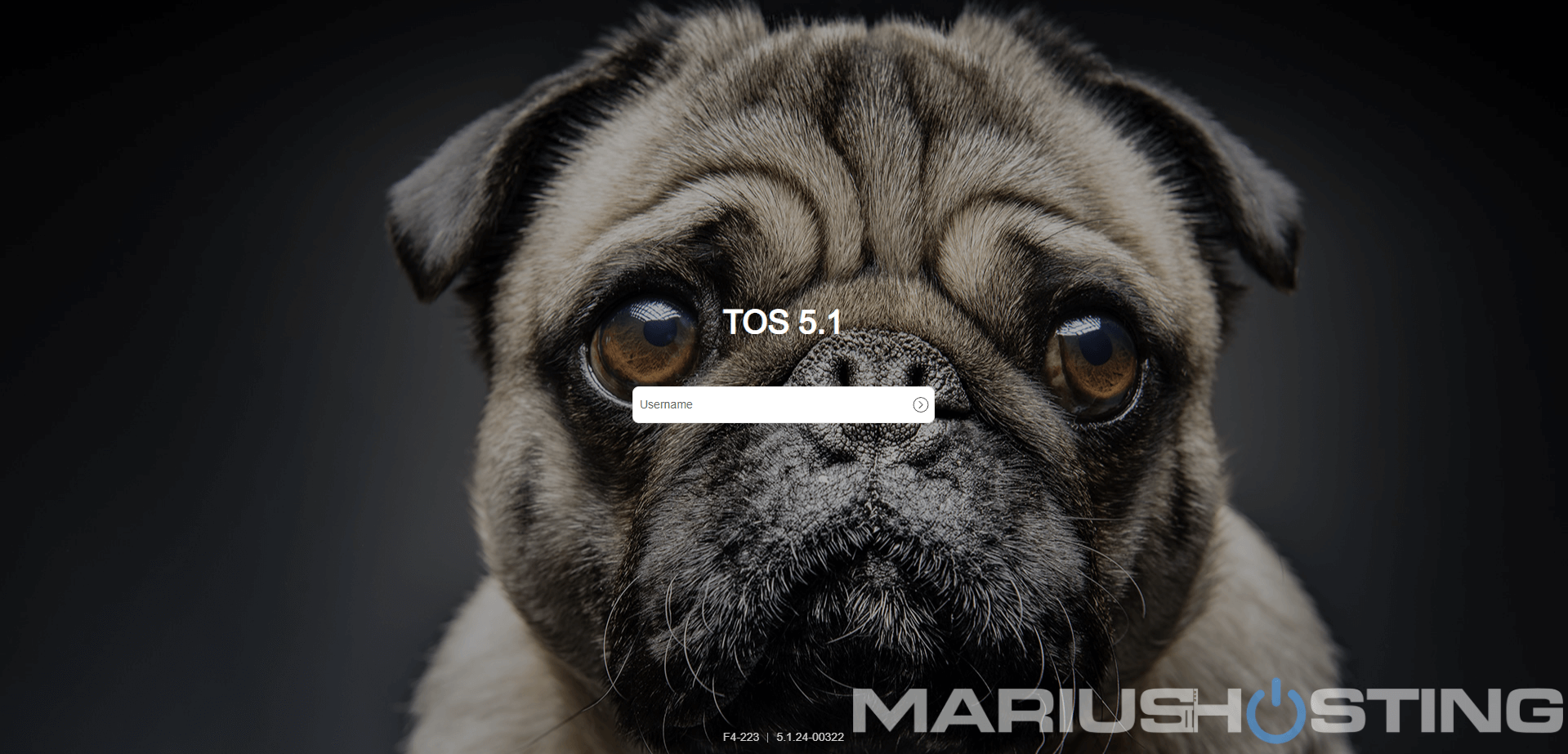 Everything at a glance
Monitor your system at all times! In the image below, you can see an icon called "App Center" which is the equivalent of Synology Package Center. Here you will find hundreds of free applications like Docker, Plex, Nextcloud, WordPress, Portainer, Transmission, qBittorrent etc. and more to use on your device.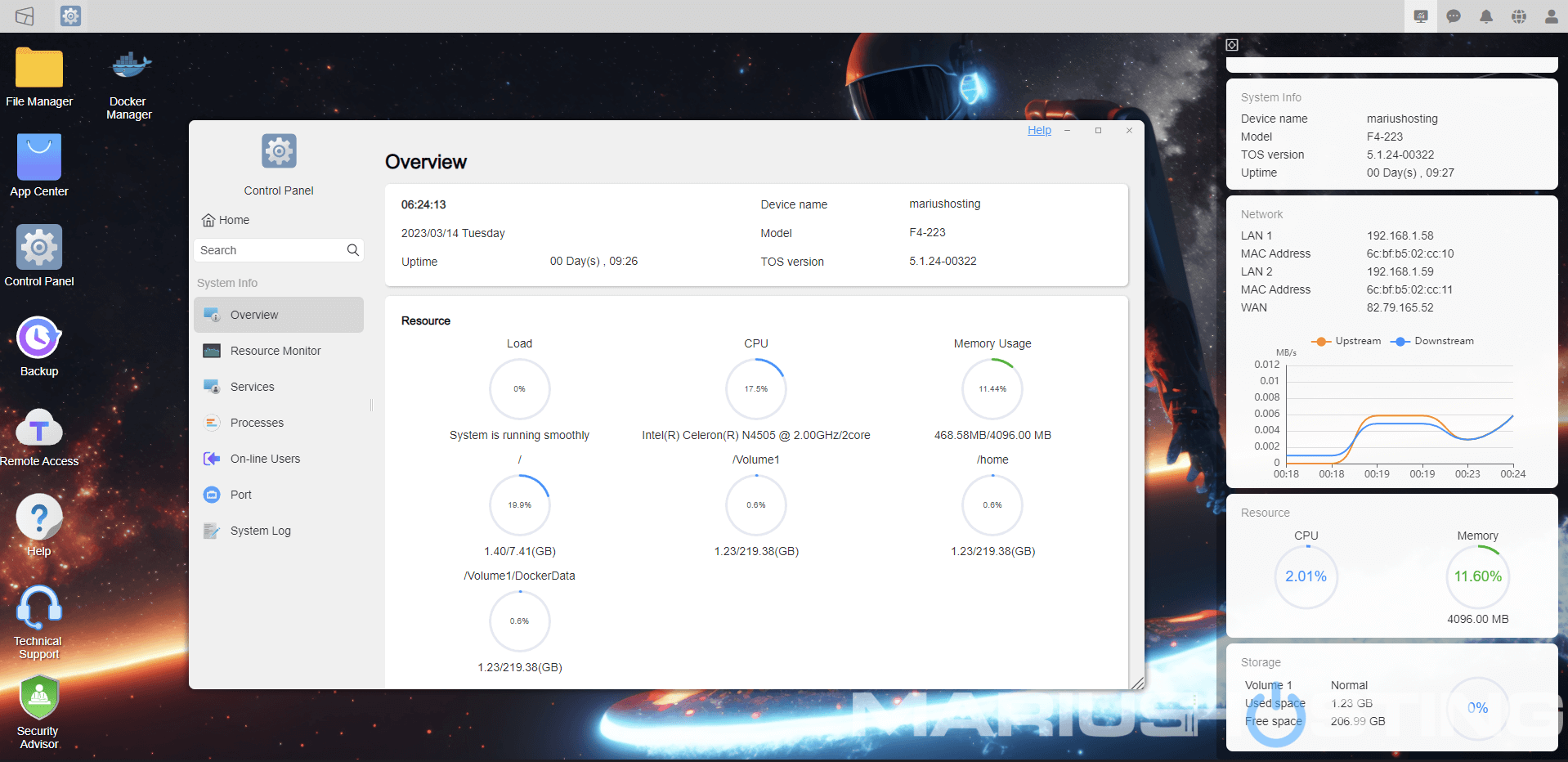 TerraMaster – a Step Forward!
TerraMaster may be a young company, but I can already tell it likes to keep up with the times. Not only are its packages always updated, such as PHP which has already been updated to version 8.1, but also its Kernel which is up to version 5.15. Synology is much more reticent with updates; their devices have an outdated 2016 Kernel and updates to their packages are done in drips and more rarely.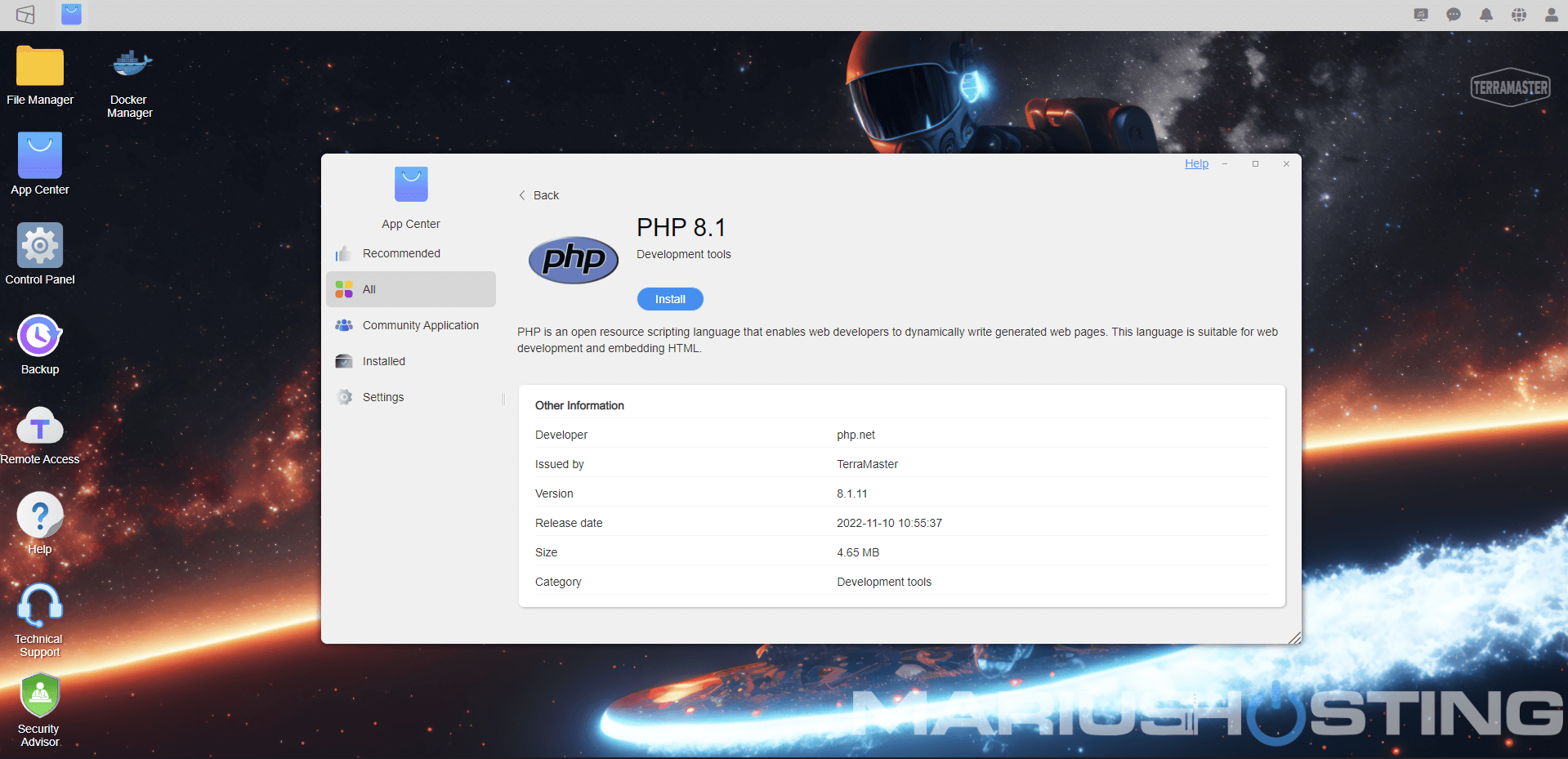 TerraMaster Docker Manager!
Docker Manager, you heard it right. TerraMaster cares about its image and, as a result, has recently implemented the new version of Docker Engine 20.10.17 vs Synology which is currently at Docker Engine version 20.10.3 – This is an aspect that TerraMaster could continue to improve and take the lead on: bringing their Docker Engine to version 23.0.6 This would leave Synology completely behind in this respect considering that, after thousands of requests, they have not yet upgraded to a newer version. As a reminder, some Docker packages require a Docker Engine above 21.x.
I have to say I really like that TerraMaster has included Portainer among the packages associated with Docker Manager, instead of reinventing the wheel as Synology recently did with its Container Manager. This move shows proactiveness and a growth-oriented mindset that is attune to current tendencies and in tune to user demands. Again, TerraMaster could improve even further by remembering to also upgrade their Portainer package to the latest 2.17.1 version. TerraMaster may very well become number one in the future if they continue on this course orbiting around keeping packages beloved by users up to date.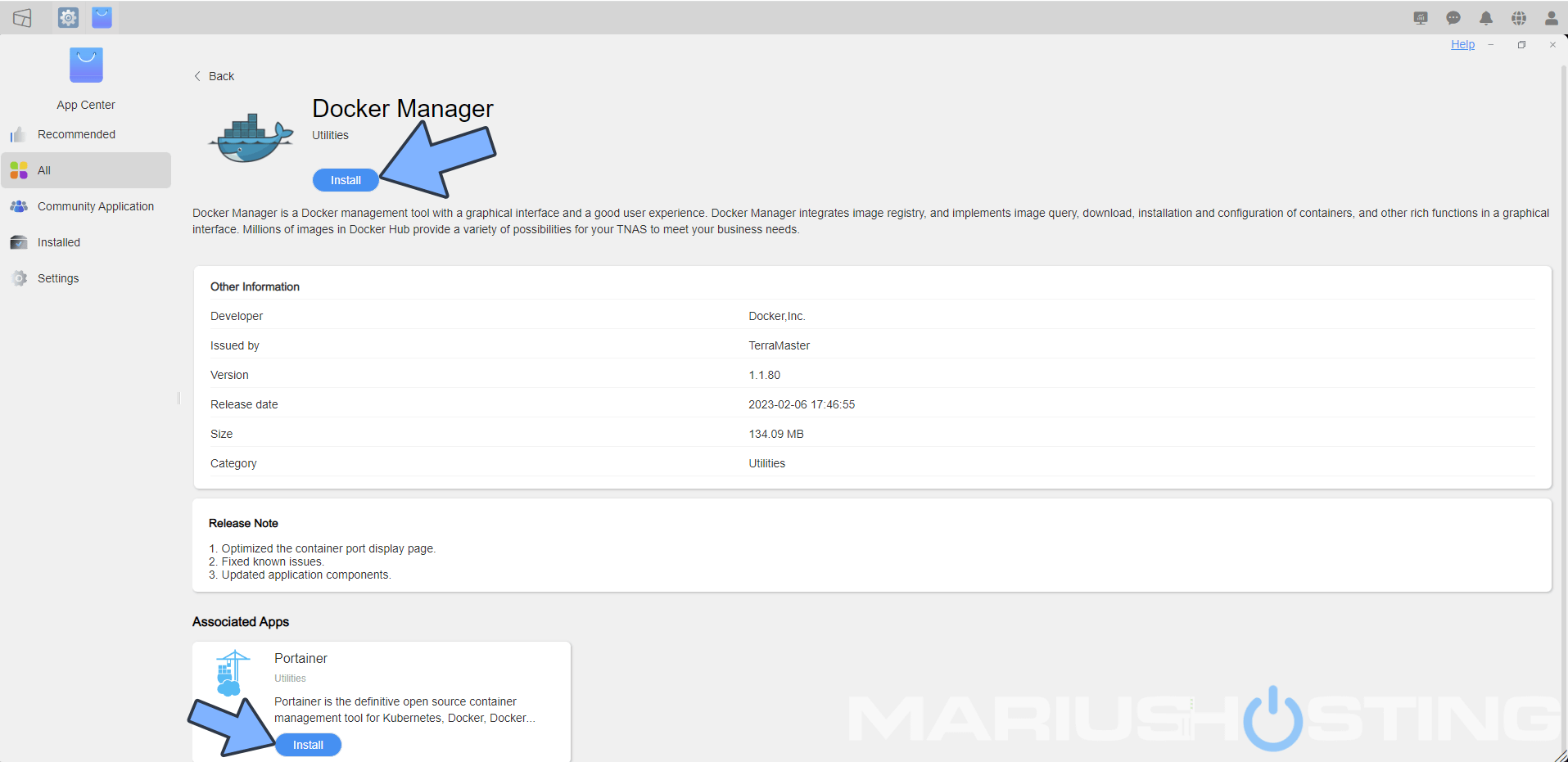 TOS is the Future
I have said it before: I really like the TOS operating system. The TOS Operating System is intuitive and streamlined, which makes for an effortless user experience, and has an updated retro style that is pleasant on the eyes. You can select your favorite language for the OS and get to work!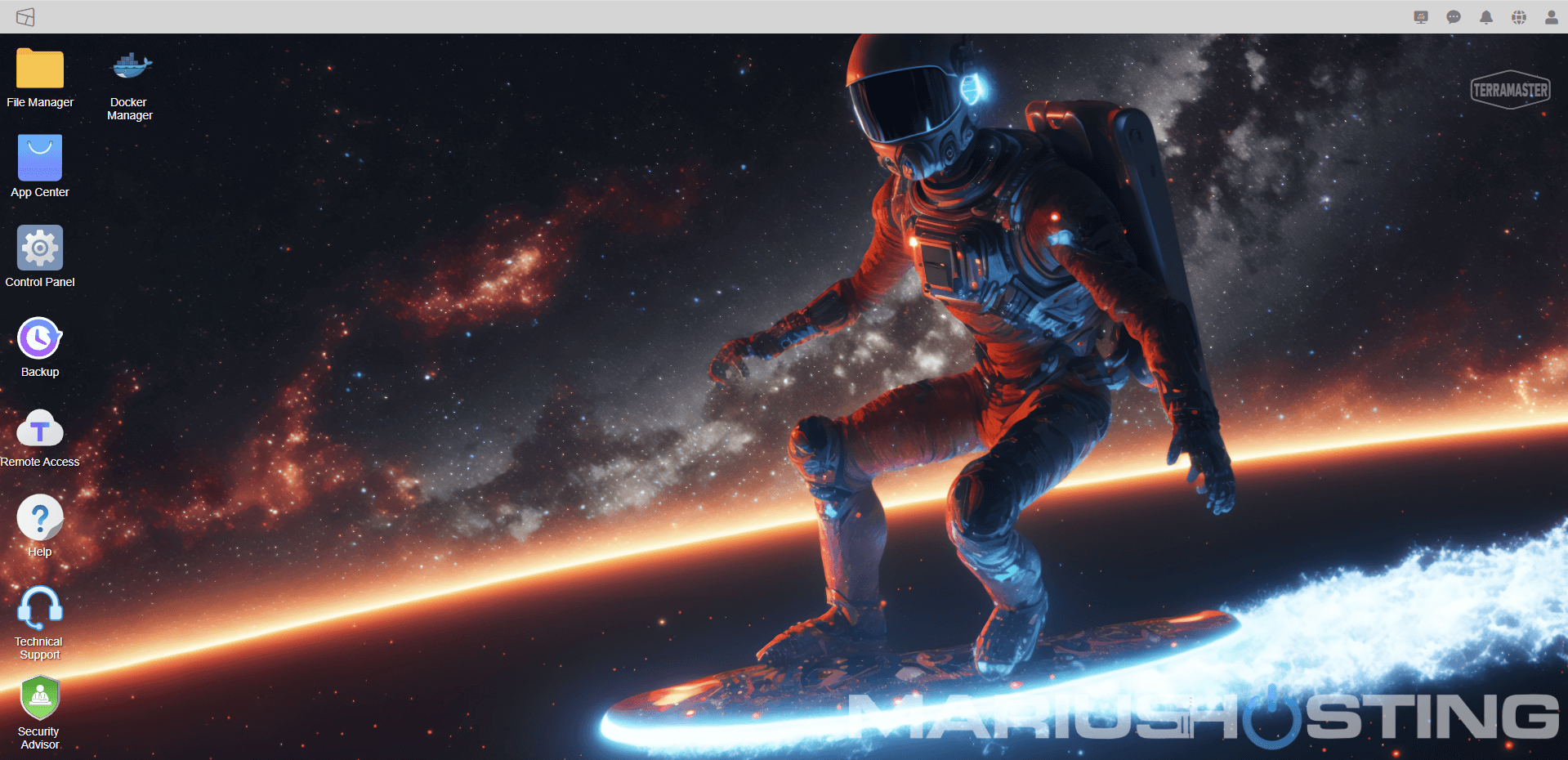 Do you Want More Bays and More Power? If you are a more proficient user and you need more space and more power for your business, you should take a closer look at the new TerraMaster T9-450 and TerraMaster T12-450 in the links below.
Regular updates to third-party packages like Portainer.
PHP 8.2 (right now only PHP 8.1 and PHP 7.4 is supported).
Docker Engine going from version 20.10.17 to version 23.0.1
Better CPU for better Docker management and an enhanced self-hosting experience.
This post was updated on Monday / June 26th, 2023 at 5:06 PM