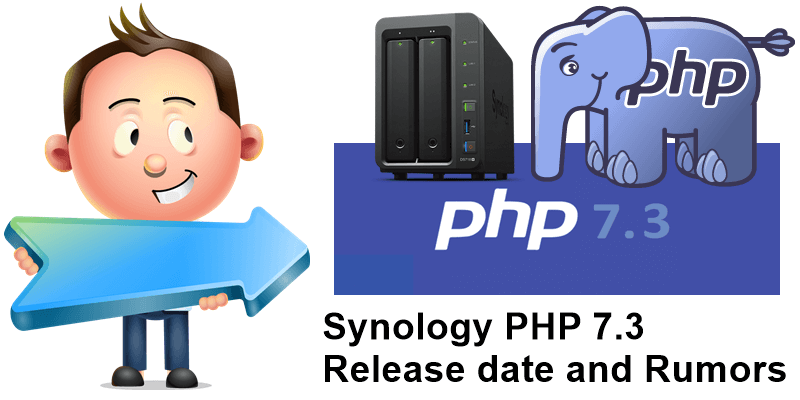 Synology has recently released PHP 7.2.13 which is an updated version of their PHP package. But, as far as we know, PHP version 7.3.8 is the latest version released by the PHP team. A Synology NAS is a small, yet powerful box, perfectly suited for web hosting, but without the updated packages it will not perform well, or as well as it can.
Is PHP 7.3 faster than PHP 7.2?
Yes, PHP 7.3 is faster than PHP 7.2 by 10% and all benchmarks agree with this. As an updated version, it is improved compared to its predecessor and drives higher performance.
Synology releases updates to third-party packages so slowly. There seems to be a certain lack of interest on the part of Synology in updating their packages. Today I will open a ticket with Synology asking for information on the release date of PHP 7.3.2 and the answer I will be getting will be included in this article as soon as I receive it. I will be updating this article regularly with all rumors about PHP 7.3.X and related Synology updates. Below are screenshots of the ticket I opened with the Synology technical support team and their replies. "IMPACT" is my nickname in the ticket.
Synology UPDATE – PHP 7.3.7 WAS RELEASED TODAY AUGUST 20, 2019
Update

: 2.03.2019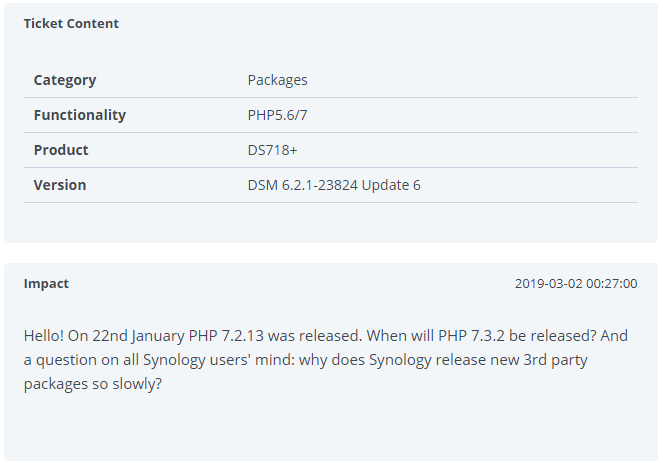 After I got an answer from the Synology technical support team, I have to say what went on was unexpected. The support agent handling my ticket was unprepared, to say the least. For one, he confused the PHP versions and gave me an incorrect piece of information. He also used the term 'integrated' to refer to PHP which, according to his choice of words, is meant to be 'integrated' in the operating system. In reality, PHP is a 3rd party package that Synology users install by themselves once it's released by Synology and there is no need for 'integration'. Also, I was baffled to find out that the Synology technical support team is not given a heads up about release dates of updates to important packages, except fairly shortly before their actual release. Given this choice of policy, the technical support agent could not offer any valuable, usable information about the potential release of PHP version 7.3.3. To me, this lack of communication between the developers team and support team is puzzling.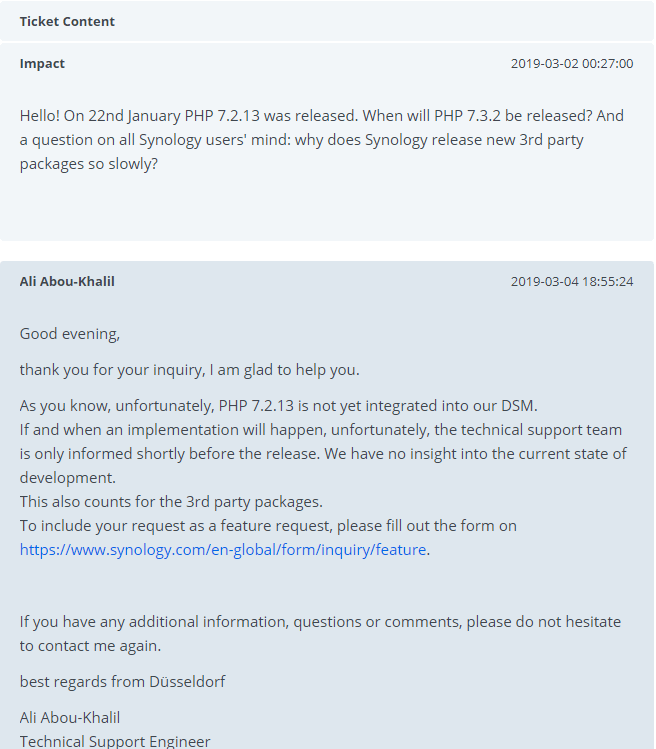 Another aspect of the conversation that I found perplexing was the elusive answer to my inquiry regarding the slow pace at which Synology makes important 3rd party package updates available to its users. The technical support agent that handled my ticket simply avoided giving me an answer to my question. Whether it was because he honestly didn't know or because it's a company policy, I can't say. The point is Synology users can't wait for months on end or, even worse, years, for crucial updates to fundamental 3rd party packages, especially security updates. Such is the case for the 1-year delay in the Apache 2.4 security update. Updating 3rd party packages regularly and promptly is something I feel Synology should pay more attention to, especially since it's something so many of its users continue to request so that they may enjoy optimal performance as well as security when using their beloved product.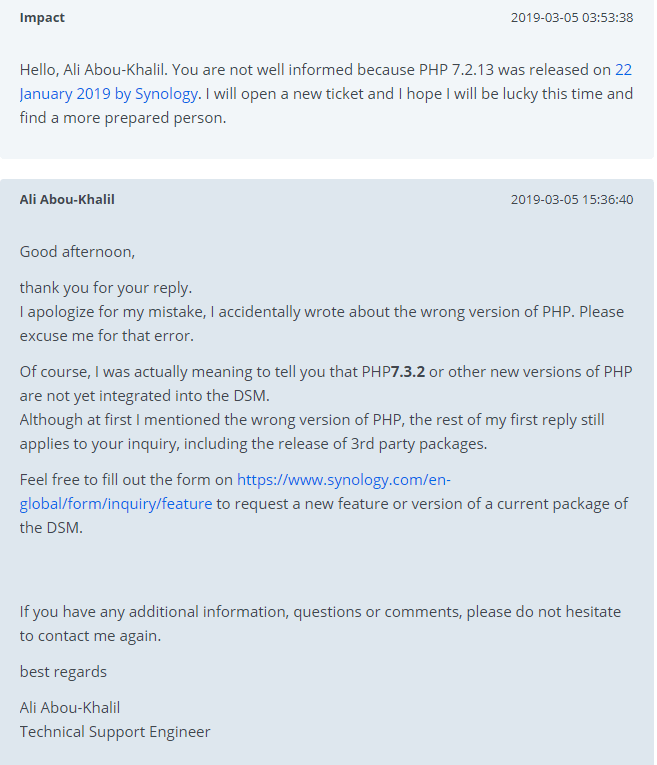 After this first unfortunate experience, I decided it was best to open a new ticket in the hopes that I would be contacting a different agent and get the answers I was looking for. Except that I had told the first agent what I was planning on doing before actually doing it. At that point I was asked to not open multiple tickets (or a second one) on the same topic and that I had been sent a reply in my initial ticket (even though I never really got the answers I was looking for in the reply to my initial ticket). Then I was told to refer to my initial ticket for future processing of my inquiry.
But according to the agent that assisted me, my inquiry had been processed. How it was processed is another matter. I am still left with questions unanswered. Not to mention that the concern both I and so many Synology users like myself have regarding the slow release of updates to 3rd party packages remains and does not appear to hold much weight. I wasn't told that this issue would be passed on higher or taken into account somehow or anything that could make me hope that maybe something will change sometime in the future. I wasn't given a reason for why vital (security) updates to 3rd party packages are released so slowly and my concern was just ignored which did not seem very professional to me.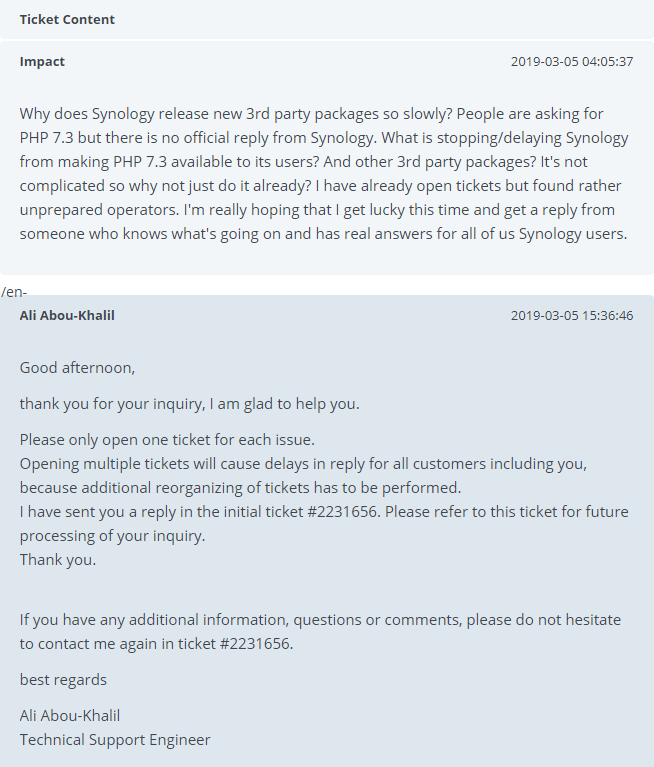 Momentarily I will try to attract the attention of Synology with a tweet and see if they have an answer for all of this. As of today, 14.05.2019, I still do not have an answer.
Update

: 12.06.2019
I contacted Synology again about PHP 7.3 and the answer in the ticket opened is the same as before. As per their internal politics, they don't want to inform users when updates to third party packages will be available.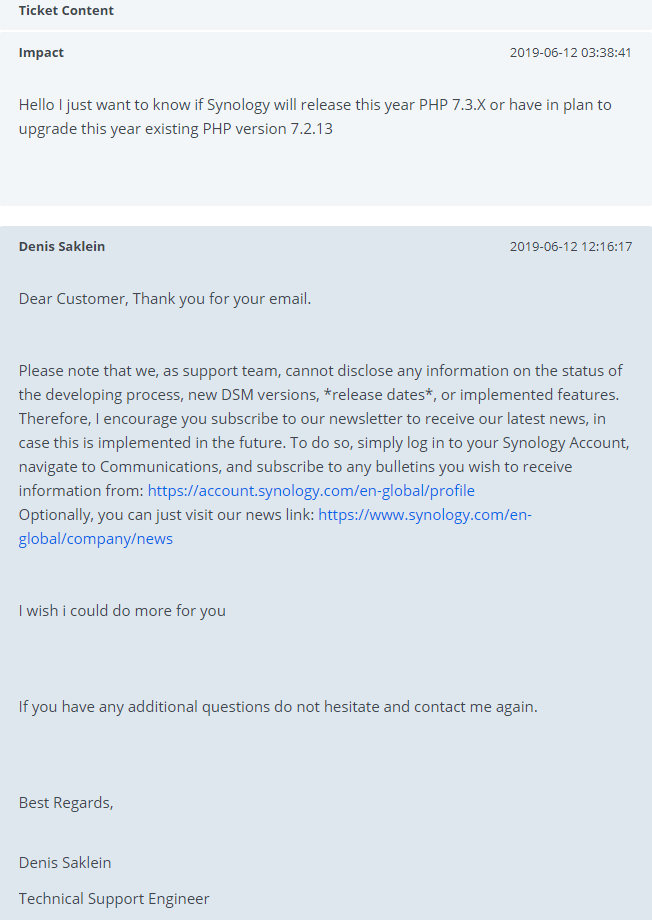 Update

: 06.08.2019
After a few months of not knowing, we finally have some good news from Synology. Joseph Liang (Synology Product Assistant) said that: PHP 7.3 is on the "roadmap" and expect to be published soon. Now we will see what is meant by "soon". Stay tuned!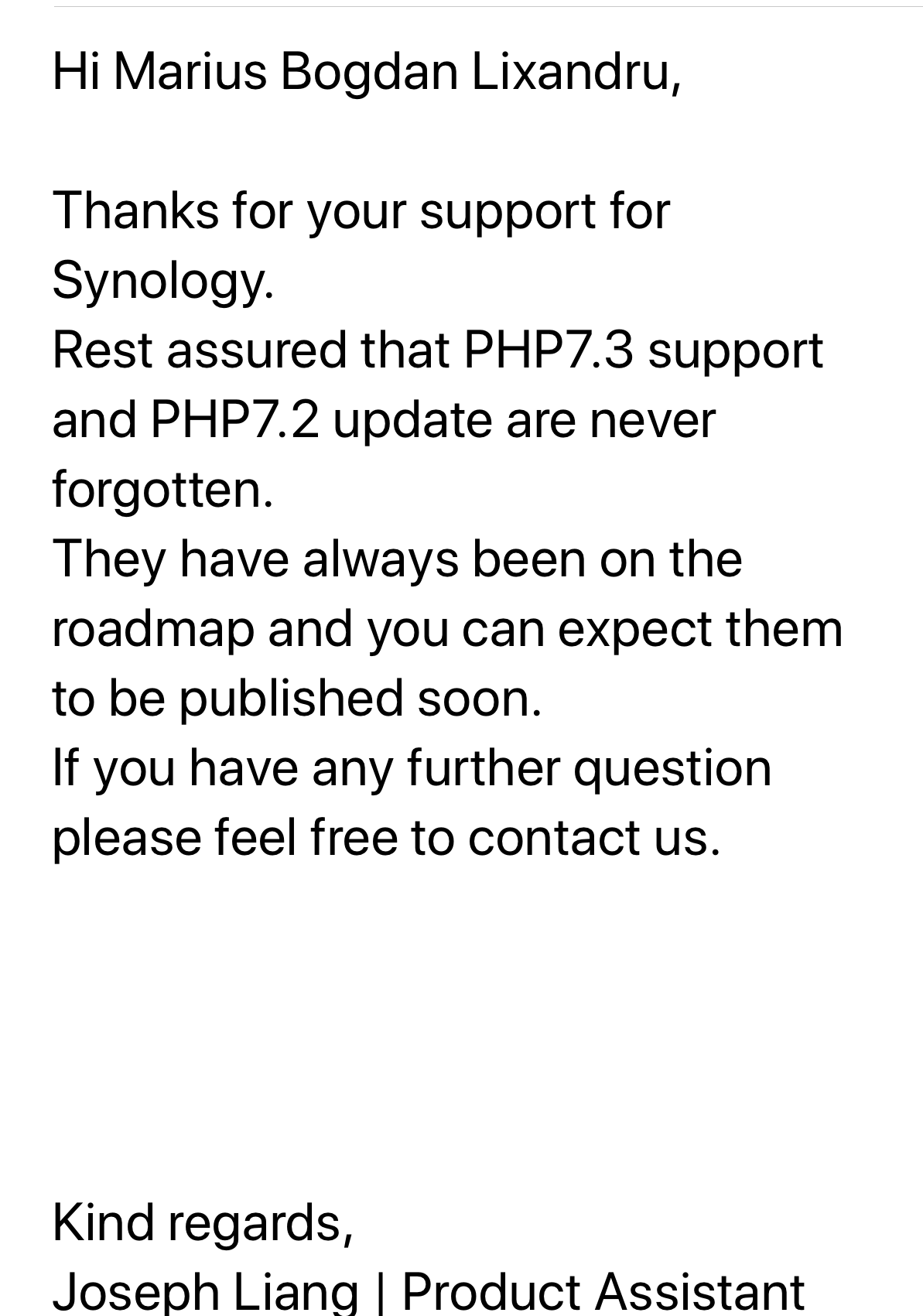 Update

: 20.08.2019
PHP 7.3.7 WAS RELEASED TODAY 20 AUGUST 2019
Update

: 29.11.2019

Synology PHP 7.4 Release Date and Rumors
This post was updated on Tuesday / August 31st, 2021 at 1:16 AM