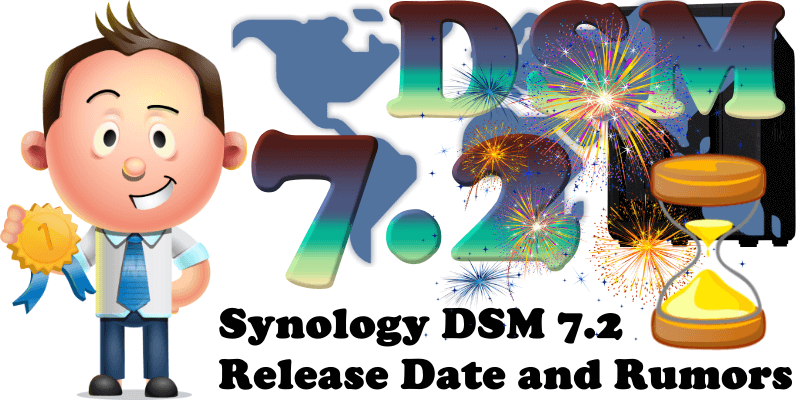 According to an official Synology statement released on October 28, 2022, DSM 7.2 is expected to come out in the first quarter of 2023. Quarter 1 includes the months of January, February and March of 2023. Whenever a new version of DSM is announced, the excitement is always through the roof because Synology always introduces great new features that all users can benefit from. As more information becomes available, this article will be updated with news on Synology's new DSM 7.2 operating system.
The new big DSM 7.2 update will introduce features such as folder encryption and full-volume encryption, with 48% better performance over shared folder-based encryption. Synology announced they will be implementing enhancements to their DSM operating system that will allow sysadmins to encrypt entire volumes, to better protect data. All of the shared folders and LUNs in a volume can be encrypted together starting with DSM 7.2.
Coming to DSM 7.2 is SMB multichannel support which will leverage all available connections for increased transfer speeds and improved workflow.
WORM (Write Once Read Many) is a new feature implemented on DSM. WORM will allow for shared folders to be locked down for a predetermined period of time. There will be two modes. WORM Compliance mode will prevent anyone, even the highest-level sysadmins, from being able to modify or delete files for a set period of time via a secure, tamper-proof timer feature. You can also extend the duration of the protection. WORM Enterprise mode will allow only the primary system admin to bypass the protection put on files. To better protect against the disabling threat that is a ransomware attack, the new WORM feature coming to DSM will allow system admins to lock down whole folders and even volumes, preventing any changes or deletion of files by others, which can protect their content from ransomware attacks and subsequent data corruption and data loss. Immutable locking will not allow any changes to be made to files, whereas appendable locking will only allow addition to the files, but not changes to existing files. There is also a grace period until the locking of files is implemented.
Remember our common request to Synology for PHP 8.1? With each major release of DSM we have always seen the upgrade of the most commonly used packages. Again, with the release of DSM 7.2, the possibility of PHP 8.1 being integrated is not ruled out.
Synology is already working on a major update of the Docker package to bring a more streamlined user interface and function enhancements. In this version, Synology developers are planning to update Docker engine to a much newer version in the first quarter of 2023. Quarter 1 includes the months of January, February and March of 2023. Most likely, DSM 7.2 will also have the new advanced Docker package.
It is possible that the current Linux Kernel 4.4.180 present in DSM 7.1 will be upgraded to a newer version in DSM 7.2 – This will certainly result in increased operating system security and speed.
Hyper Backup will have support to fully back up your Synology NAS system.
UPDATE

18.1.2023
DSM 7.2 Toolchain is live! This means that 3rd party developers can start preparing their apps for the upcoming DSM 7.2
UPDATE

7.3.2023
UPDATE

8.3.2023
UPDATE

25.4.2023
DSM 7.2-64551 RC Release Candidate Is Out.
UPDATE

22.5.2023
DSM 7.2-64651 Officially Released and Available NOW
This post was updated on Wednesday / May 24th, 2023 at 11:14 AM