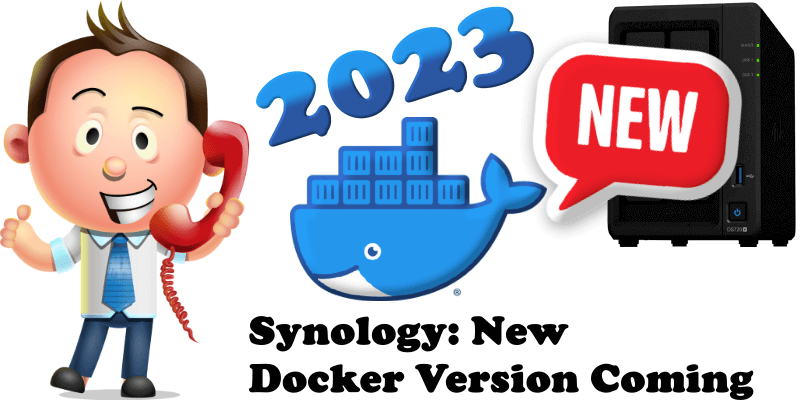 I want to begin by saying thank you to all of you following mariushosting for participating in the Docker campaign I launched a few days ago. Let me tell you it has been a huge success! Over 1000 inquiries have been sent in less than one week, and these are just the ones I know about! As a result of so many users rallying in support of the campaign to update Docker Engine, Synology issued a prompt and positive answer this 14th of July, just 5 days into our campaign. Below you can read the official answer from Synology.
"Thanks for contacting Synology.
We do value our customers and do allocate resources to update packages regularly to provide better user experience and security. Since the release of Docker back in June of 2021, Synology has released three updates for compatibility and bug fix purposes. In general, CVE score expresses the general severity of the exploit. However, the actual severity level may vary as the modules run differently on each platform. Synology's PSIRT team closely monitors CVEs and investigates how it affects our system. Resources are explicitly allocated to address if severe security issues are identified. At last I would like to share some news regarding the upcoming update.
In fact we're already working on a major update of Docker package to bring a more streamlined user interface and function enhancements. In this version we're planning to update Docker to a much newer version as well.
You may expect this version to be released in the first half of 2023."
Reading the official reply I can only say that this is a big step forward! Of course, this major update won't be implemented tomorrow as these things take time, but still, the first half of 2023 is not that far away of a timeline!
What I'd also like to emphasize is that not only will Docker be updated to a newer version, and that we have a timeline for it, but we can also expect new functionalities. According to the official reply, we can expect 'function enhancements' and 'a more streamlined user interface' so that's something to look forward to!
Again, a huge thank you to all the mariushosting Facebook Group users who took the time to participate in the campaign in such large numbers, and to all the members of the Discord Group and my Twitter Followers. You've made this possible and together came through to push this important milestone for our systems! As they say, in unity there is strength, and together we are building a true community for Synology users!
Note: Many of you have already suggested launching more campaigns in the future to ask Synology for various other implementations/features. If that's something you want, go to our Facebook Group and write your idea there for others to see as well and let us launch a new campaign soon with some of the most requested functionalities.
This post was updated on Wednesday / August 10th, 2022 at 9:25 PM