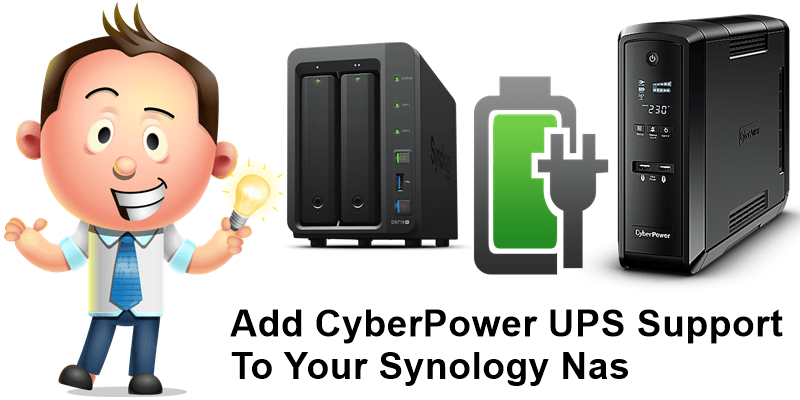 Nowadays, having an UPS when you have a pc at home becomes mandatory. In my case it's even more important because I host my website from home. If you have a NAS, in my case Synology, the UPS will be a holy hand and help you avoid numerous problems. I read a lot about different UPS models and I went for a CyberPower UPS. You must know that this article is in no way sponsored and I do not gain anything from its publication. My words do not hide anything.
I decided to buy a UPS because in Romania in the rural area we often have problems with the electricity grid. Compatibility with Synology NAS is above my expectations. In my case I bought the 900-watt model version: CP1500EPFCLCD. My CyberPower, European version, has 6 Schuko sockets on the back which ensure the connection of 6 different devices. I can safely keep 6 different devices active or even more with the help of a power strip in case of blackouts.
Once you connect your Synology device to the UPS via its power socket, it will be automatically be recognized and you can use the USB cable included in your UPS to activate the "UPS Support" option in your DSM. In my case, this option is deactivated and I will explain below why.
If you check (enable) the UPS support option, every time the power goes off your Synology NAS will power off the disks in its safe mode and will automatically reboot to protect the health of the disks if the blackout lasts several hours.
Why do I keep this option off? In my case, the UPS support option is disabled because a reboot or a shutdown of my Synology NAS will mean my website will be "offline" which is something I cannot allow. By connecting only the Synology NAS to the UPS I will have about 3 hours to manually switch off safely. This means that, despite the fact that there is no electricity, my website will stay online thanks to the UPS battery.
If you use your Synology Nas for backup or cloud, the best option is to activate the disk protection UPS support that will automatically shut down your Synology Nas and allow it to restart when the power is on again. In order to do this, go to Control Panel, Hardware & Power, UPS and check the option "Enable UPS support". Follow the instructions in the screenshot below.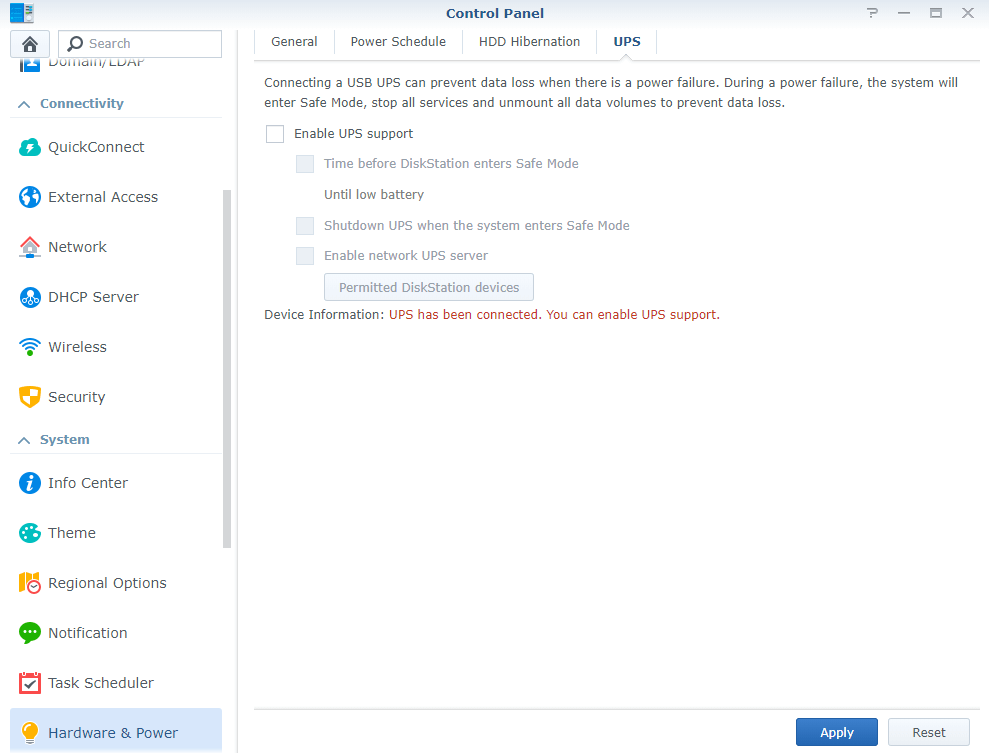 In the picture below you can see the kind of box your CyberPower UPS comes in. As an observation, it's a relatively big, hefty box (the CyberPower UPS weighs about 12 kg).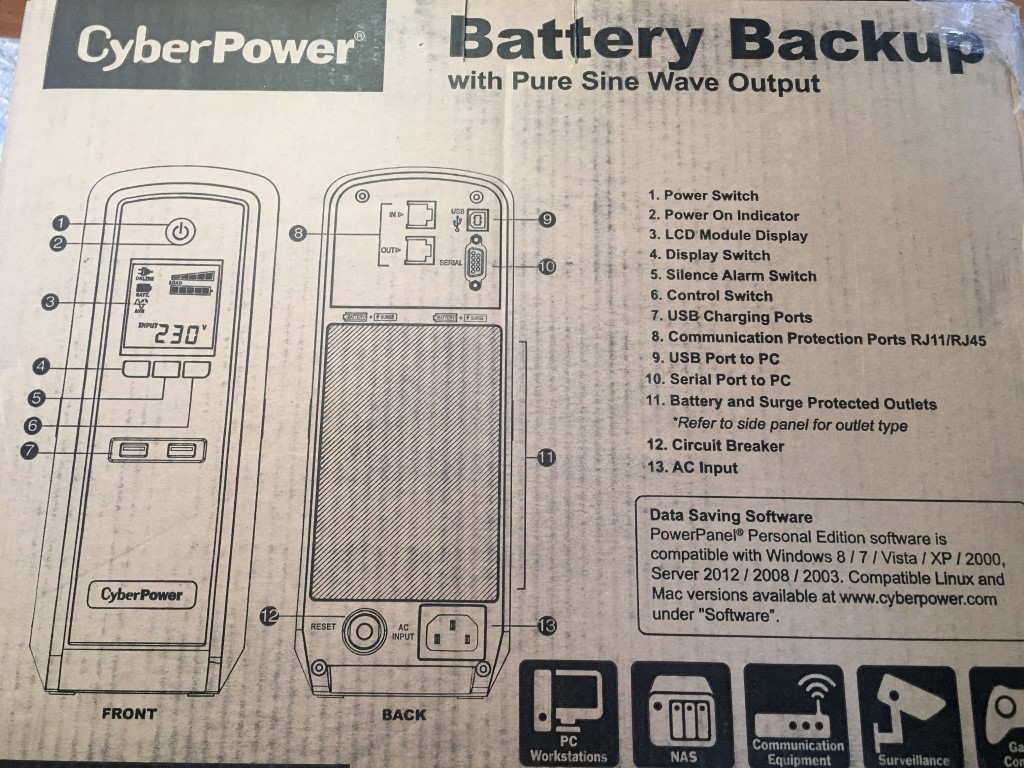 This is a close-up photo of my CyberPower UPS before installation.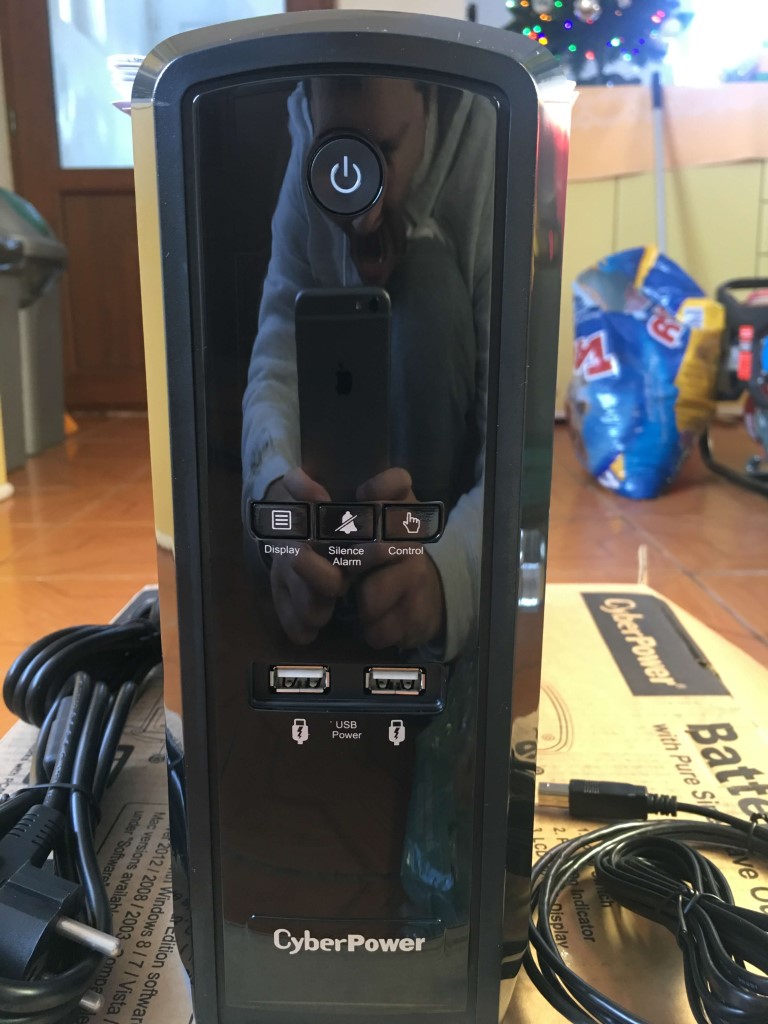 In the following photo you can see the estimated run time in the event of a blackout. Please note that, in this picture, my computer is also connected and it has an energy usage of 450 watts, 20 watt for the monitor, 5 watt keyboard, 2 watt mouse, 50 watt Synology Nas, 5 watt router, 5 watt laptop cooling fan.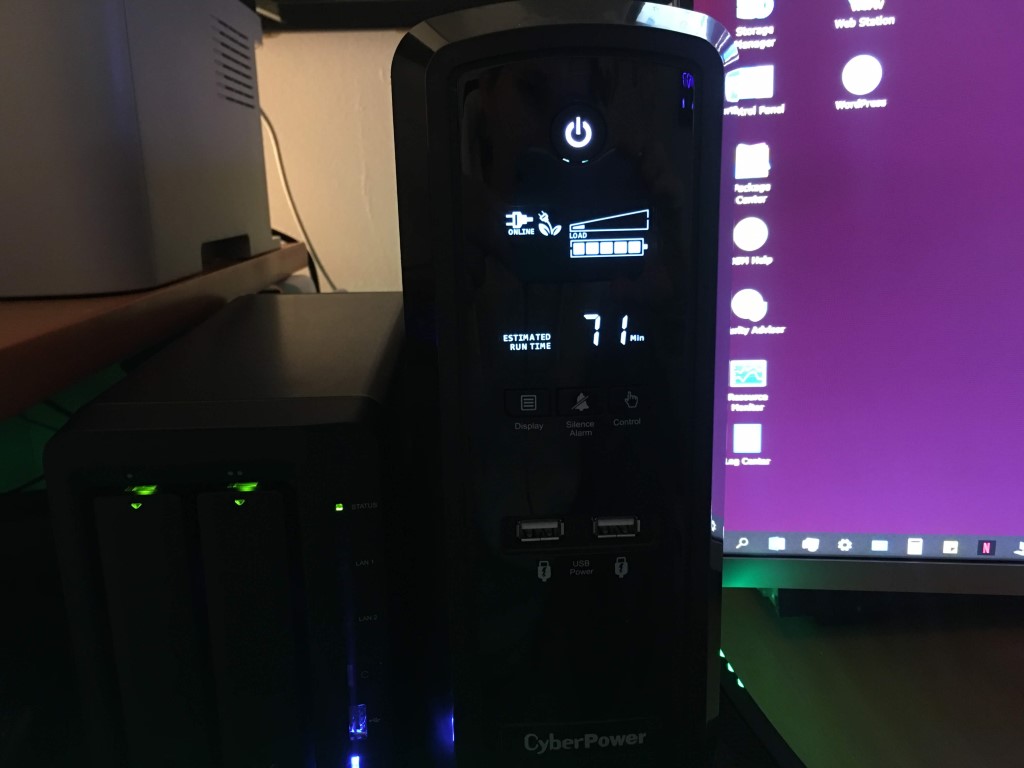 In the following picture, the AVR protection is on. The Automatic Voltage Regulator came into operation. An Automatic Voltage Regulator is a system designed to automatically maintain a constant voltage level.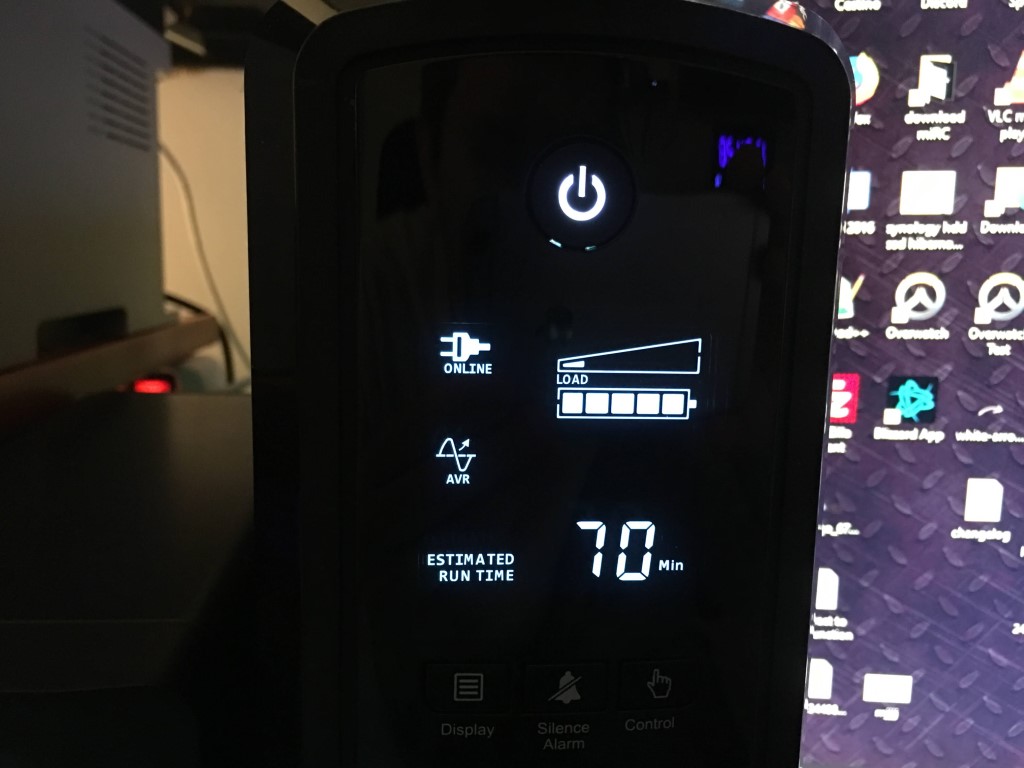 In the picture below my computer is turned off and you can see that my server will last about 220 minutes in case of a blackout. My Synology Nas, laptop cooling pad and router are connected to the UPS. I turned off the alarm by pressing the 'Silence Alarm' button on my CyberPower – you should know that every time the UPS kicks in, there will be a beeping sound to warn you of the blackout. I do not consider this option useful in my case because, if the power were to go off at night while I am sleeping, the alarm (beeping sound) would wake me up. Fortunately, the engineers behind CyberPower have thought of this too and the alarm can be deactivated.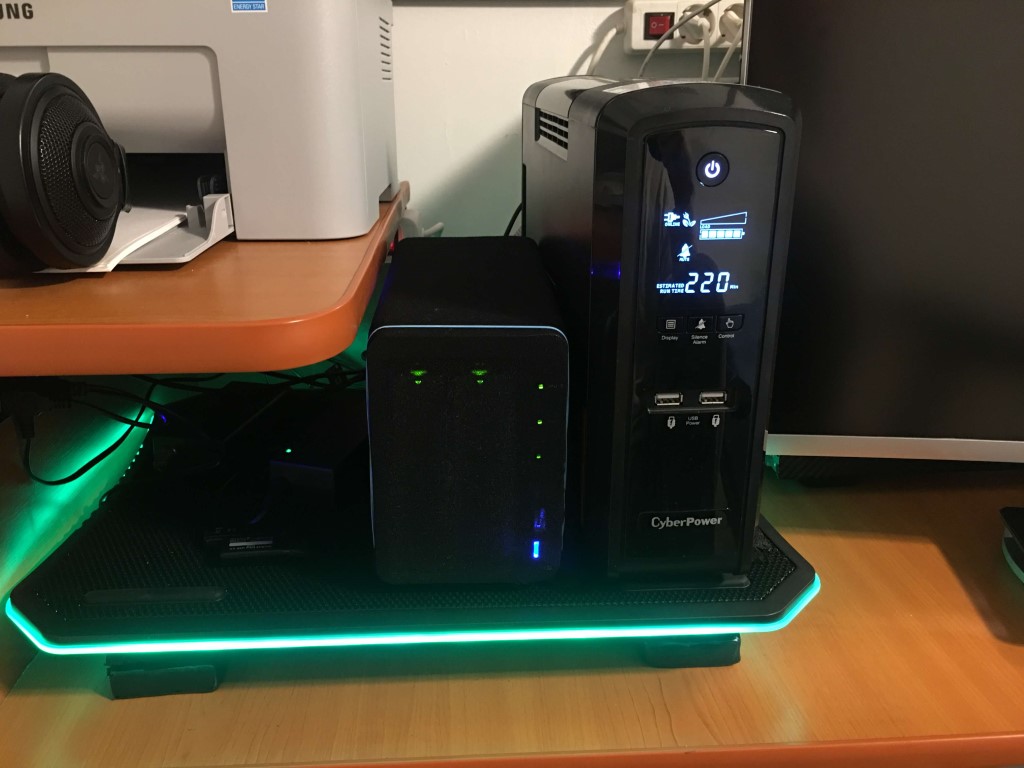 Why does the CyberPower UPS make noise? If you hear a "strange" noise coming from your UPS, it's probably because the battery is recharging after a blackout. The noise should automatically go away by itself within 20 minutes or even less.
CyberPower and Synology are currently a winning couple. The CyberPower UPS is made of the highest quality materials. I also tried an APC UPS, but the smell of plastic and hard, low-quality material discouraged me from buying it (at least, this was my impression of the product).
This post was updated on Wednesday / November 6th, 2019 at 2:45 AM