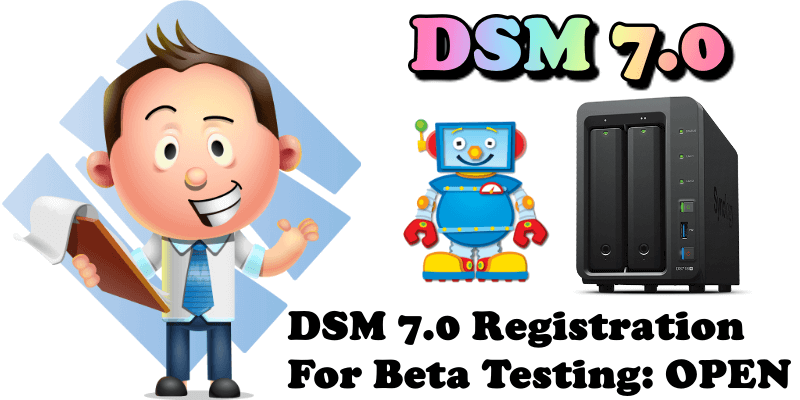 Finally there is news about DSM 7.0 – Shen-Kuei, Product Manager at Synology, announced registrations for DSM 7.0 beta-testing are open to the public. The original message was released on the Synology Community forum and it says the following: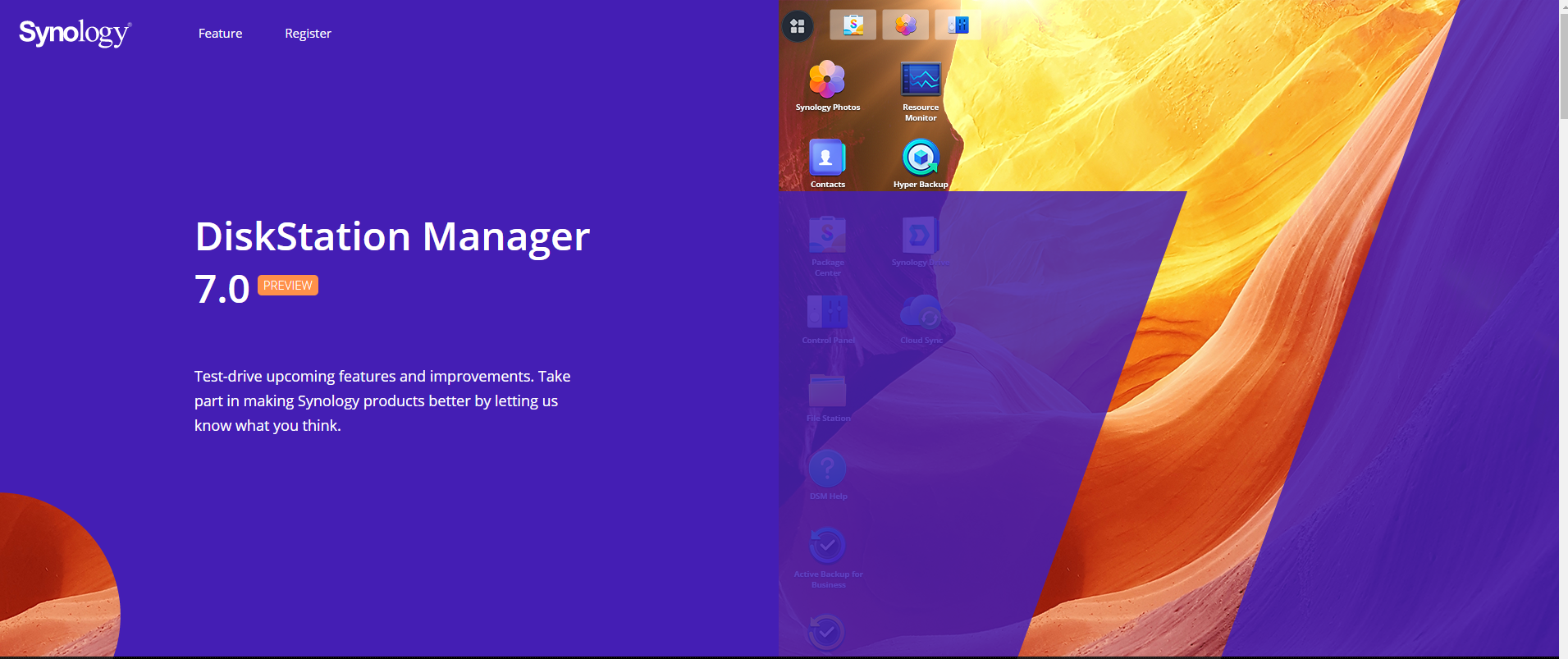 Hi!
DSM 7.0 is our biggest update yet, and we know that while new features and performance improvements are exciting for us and enthusiasts, nothing is more important than stability. For DSM 7.0, we're introducing a Preview stage that comes before the usual Beta. This is the point where we're finished with most of the under-the-hood improvements and major changes that will affect our users and 3rd party package developers.
Our goal is to make sure DSM 7.0 on release is even more stable than DSM 6.2. To get there, we'll need your help!
DSM 7.0 will have three pre-release milestones:
Preview

:
Most major changes completed
Registration & invite-only
Participant-only board on Synology Community Open Beta
Feature-complete
Open to public Release Candidates
Final optimization and minor quality improvements (descriptions, help files, etc.)To sign up for the Preview, follow the link below and sign in with your Synology Account. Selected participants will receive additional information on how to obtain the installation files when they are made available. We are currently targeting late January to early February.Synology DSM 7.0 Preview Registration We're excited for what DSM 7.0 will bring to our users, and we look forward to working with all of you to make it the most stable release ever. Happy holidays everyone!Sincerely,
SK
Product Manager, DSM
---
UPDATE

31.12.2019 (14:00 PM)
Once the registration is sent this error message appears I hope it will be resolved. However, by refreshing the page, registration is successful.

UPDATE

31.12.2019 (14:44 PM)
My registration has been sent. I hope Synology will approve my application as soon as possible.
UPDATE

31.12.2019 (14:52 PM)
The 4 phases of the registration program include:
STEP 1: Registration. Complete the registration process before Jan 14, 2020
STEP 2: Wait for Notification. Selected participants will be notified by email.
STEP 3: Install & Test. Explore new features and stress test the existing ones.
STEP 4: Send Feedback. Discuss in a participant-only board on Synology Community.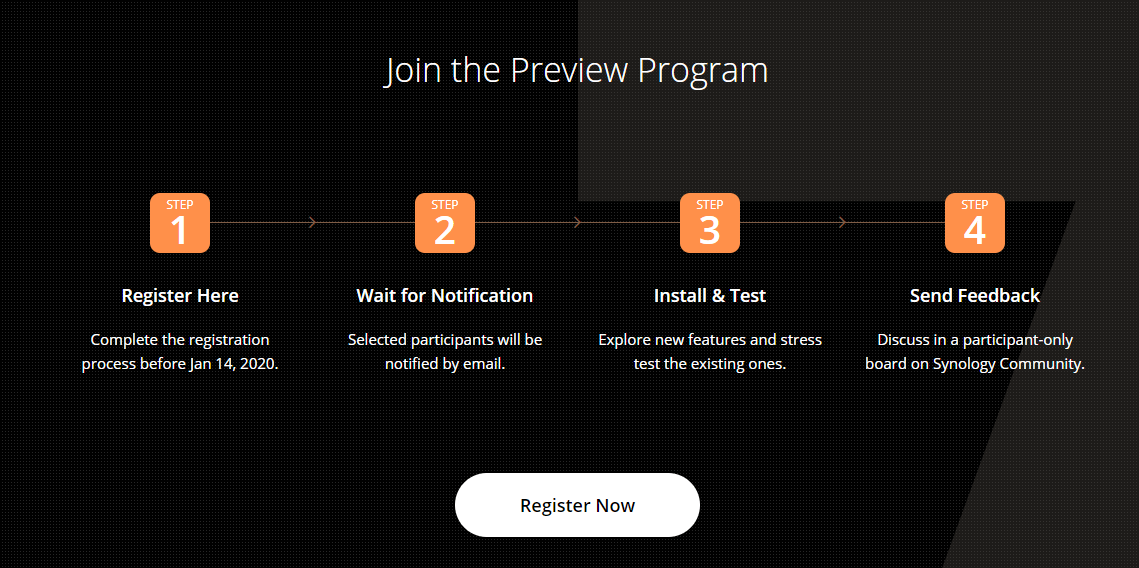 UPDATE

31.12.2019 (15:22 PM)
A complete list of full DSM 7.0 New Features.
UPDATE

31.12.2019 (15:36 PM)
The registration error message that I reported above was corrected immediately by the Synology team a few minutes after it was reported.

UPDATE

31.12.2019 (15:50 PM)
If your registration has been successful, you will receive confirmation by email. Warning: This does not mean that you have been chosen for the beta testing program.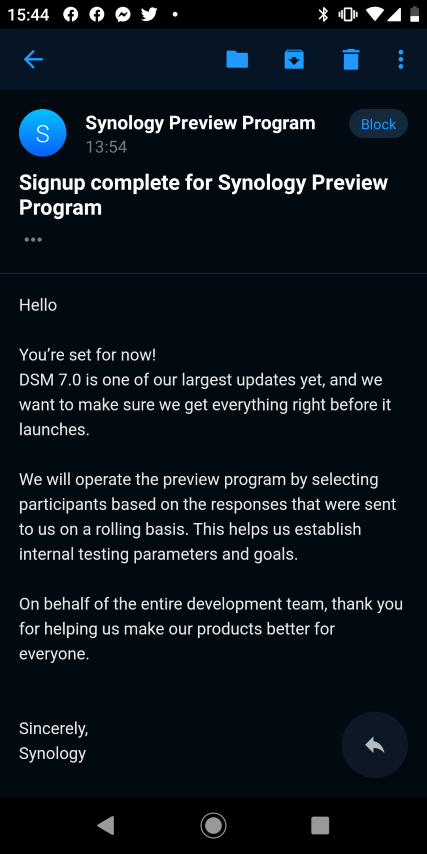 UPDATE

31.12.2019 (23:29 PM)
DSM 7.0 Preview Release Device Support List.
UPDATE

7.1.2020
7 days have passed. There are still 7 days until January 14, 2020. After this date, Synology will contact the lucky Beta-Testers for DSM 7.0 Preview.
UPDATE

15.1.2020
Synology Registration for DSM 7.0 Preview is currently closed. Now, the lucky ones who have successfully signed up must wait to receive an email notification in the next hours/days. Who does not receive the notification has not been chosen for DSM 7.0 Preview.

UPDATE

20.1.2020
The selections for DSM 7.0 preview have started, you should receive an notification email this week.
UPDATE

22.1.2020
If subscribers are not notified via email this week I think there will be a delay due to the Chinese New Year which is scheduled for January 25, 2020. From January 24th to 30th everything is turned off. During this holiday, all factories are shut down. Without exception. While the official holiday only lasts for around a week to ten days. The notifications for DSM 7.0 preview will most likely come in early February.
UPDATE

31.1.2020
Starting with Monday 3 February 2020, you should receive an email notifications for DSM 7.0
UPDATE

7.02.2020
An update for all my followers: Synology: Where is DSM 7.0 Preview?
UPDATE

11.02.2020
I have updated the post above Synology: Where is DSM 7.0 Preview? with new little information.
UPDATE

 13.02.2020
It was already in the air. After the latest events in the Synology Community Forum it was clear. A delay announced. Q3 means that notifications for DSM 7.0 preview will be coming between July 2020 and September 2020. A big delay. Continue to stay tuned.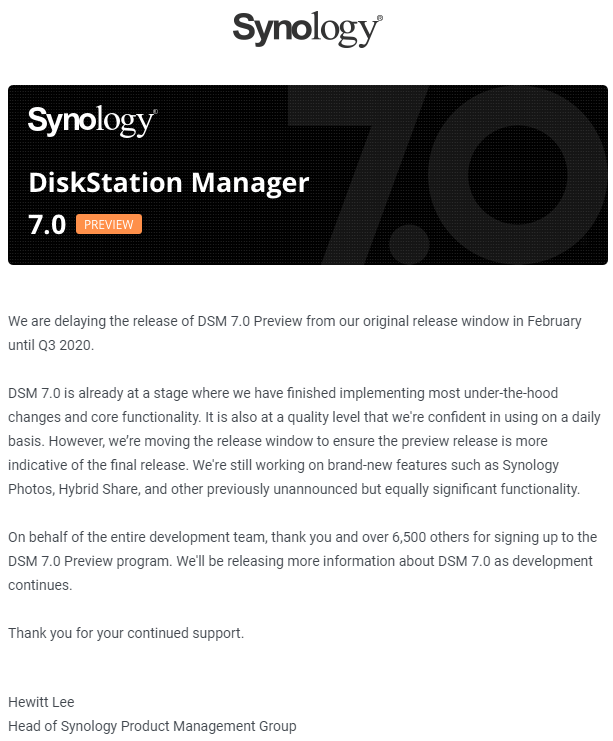 UPDATE

13.02.2020 (9.49 AM)
If you're interested in arguing, it appears that the post in the Synology Community about DSM 7.0 Preview Program closed by HarryPotter has "miraculously" been reopened.
UPDATE

9.03.2020
At the end of this month "March" or early April Synology will release to the public DSM 6.2.3
This post was updated on Tuesday / December 21st, 2021 at 12:53 PM