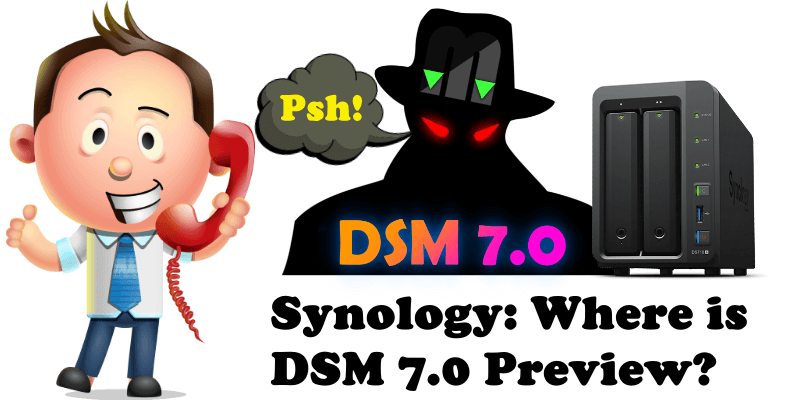 One of Synology's weaknesses is undoubtedly the lack of communication with the public. Although its monthly newsletter has improved, and in it we get not only the latest news on all the new Synology products, but also news relating to the updates of its packages for its DSM operating system. Since last year, I have already noticed a lack of communication on the part of Synology, first throwing the rock and then hiding the hand.
It might be because of the Chinese New Year, or because of the new coronavirus epidemic, but there are no more news from Shen Kuei (Product Manager) since December 31, 2019, the day in which he started the official registrations to have a copy of the DSM 7.0 preview. Despite everything, if we go look at the post published in the Synology Community, we'll see it says:
To sign up for the Preview, follow the link below and sign in with your Synology Account. Selected participants will receive additional information on how to obtain the installation files when they are made available. We are currently targeting late January to early February.
January has already passed and it is clear that the files for the subscribers should be released at the beginning of this month, February. But it's clear only on paper since Synology has provided no more updates. All it would take to reassure all of us waiting for news is an official statement saying "Hey, it's going to take us a few more days to solve some problems and we'll send out notifications for the DSM 7.0 preview". But no such statement was issued. It would have been nice though.
This is what I call lack of attention to your public, to details, those little details that keep everybody in a good mood and make a simple customer a loyal customer. For example, you enter a restaurant, you are well served, you are equally willing to return the excellent service you've received.
Synology, is there anybody out there?
Today I decided to draw the attention of the entire Synology staff with an @ quote to their nicknames in the Synology Community. Will all this take effect? We'll see.

UPDATE

7.02.2020
A few minutes after my post, a moderator on the Synology forum who identifies himself with the nickname "HarryPotter" not only deleted my post, but closed the entire topic regarding the preview for DSM 7.0 – I find this action completely inappropriate, and maybe even motivated by an ulterior motive, but certainly not a move that has Synology's best interests at heart. You cannot close a post about such an important topic for the entire Synology community. Was someone bothered that I drew attention to this? Do delete my message, but do not refuse others the chance to discuss a topic they care deeply about. By definition, a forum is a medium where ideas and views about a particular issue can be discussed freely. Closing a topic that is still of active interest contradicts the very essence of a forum and does not inspire trust.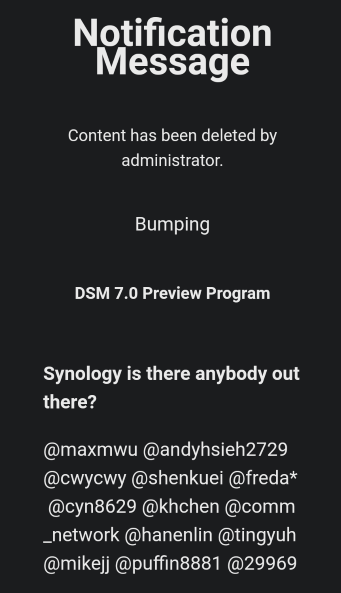 Synology moderator HarryPotter's motivation behind closing this topic was that:

I say the following: showing both the good and the bad does more good than harm and builds trust between a brand and its clients. So what if people are eager for the DSM 7.0 preview? So what if they're asking questions or like to be kept updated? That only shows interest in a brand and its products. Why is that a bad thing? Why close off communication?

If you take a look at the image above that says 'Notification Message', it says my post was deleted because, apparently, it was a matter of 'Bumping'. In online forums and other online discussion spaces, bumping is the word used to describe an action that returns a particular thread (e.g. a message post) to the top in the list of threads. But if you look at the image below, you'll see the post is already pinned, meaning I can't have 'bumped' it. In other words, there was an ulterior motive, disguised as 'Bumping'.

UPDATE

11.02.2020
After just 4 days, HarryPotter come to read this post obviously decided to also remove the Pin to the post related to DSM 7.0 preview program – What happen today it's incredible.
As you can see in the screenshot done on 7.02.2020 the post in the Synology Community about DSM 7.0 Preview Program was Pin.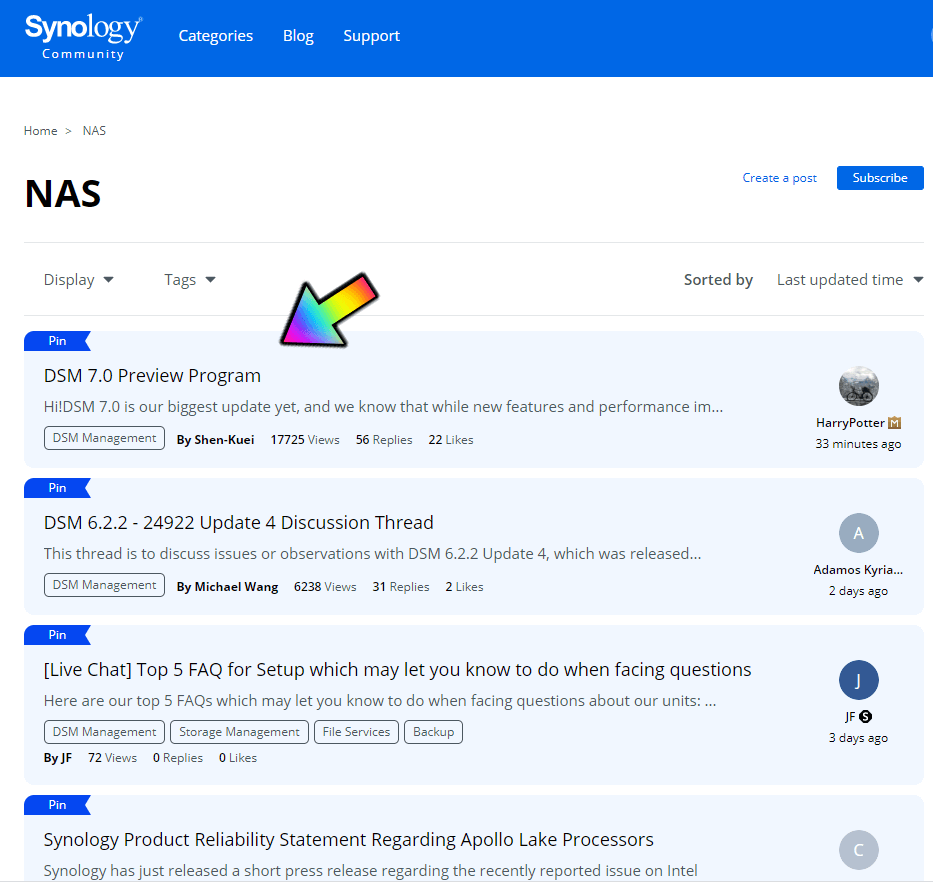 After 4 Days on 11.02.2020 the post about DSM 7.0 Preview Program was removed from Pin on the Synology Community.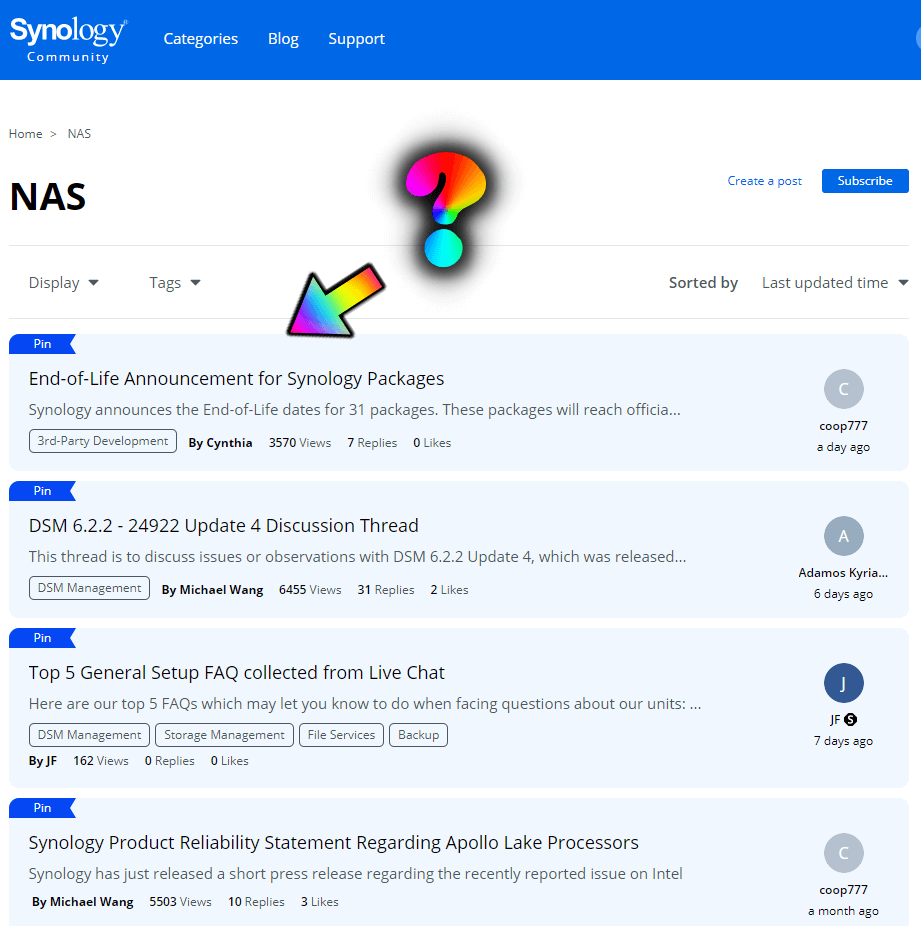 UPDATE

13.02.2020 (6:00 AM)
It was already in the air. After the latest events in the Synology Community Forum it was clear. A delay announced. Q3 means that notifications for DSM 7.0 preview will be coming between July 2020 and September 2020. A big delay. Continue to stay tuned.
We are delaying the release of DSM 7.0 Preview from our original release window in February until Q3 2020.
DSM 7.0 is already at a stage where we have finished implementing most under-the-hood changes and core functionality. It is also at a quality level that we're confident in using on a daily basis. However, we're moving the release window to ensure the preview release is more indicative of the final release. We're still working on brand-new features such as Synology Photos, Hybrid Share, and other previously unannounced but equally significant functionality.
On behalf of the entire development team, thank you and over 6,500 others for signing up to the DSM 7.0 Preview program. We'll be releasing more information about DSM 7.0 as development continues.
Thank you for your continued support.
Hewitt Lee
Head of Synology Product Management Group
UPDATE

13.02.2020 (9.49 AM)
If you're interested in arguing, it appears that the post in the Synology Community about DSM 7.0 Preview Program closed by HarryPotter has "miraculously" been reopened.
UPDATE

16.02.2020
Post about DSM 7.0 Preview Program on Synology Community as you can see in the image below, it's pinned again.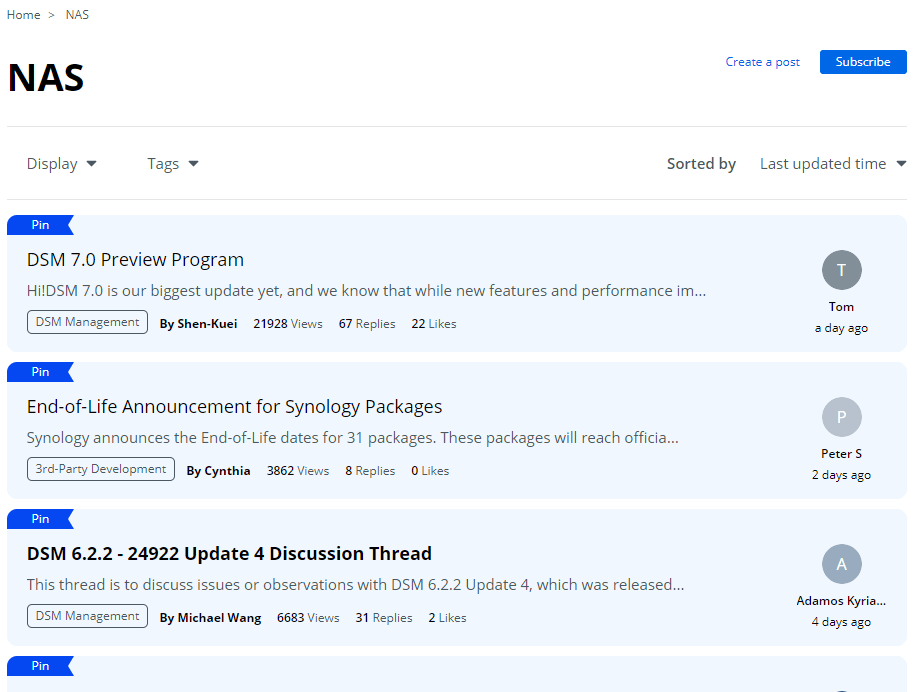 UPDATE

9.03.2020
At the end of this month "March" or early April Synology will release to the public DSM 6.2.3
UPDATE

15.04.2020
Like I said before, the DSM 6.2.3 update is available for download today, April 15, 2020.
This post was updated on Tuesday / December 21st, 2021 at 12:56 PM