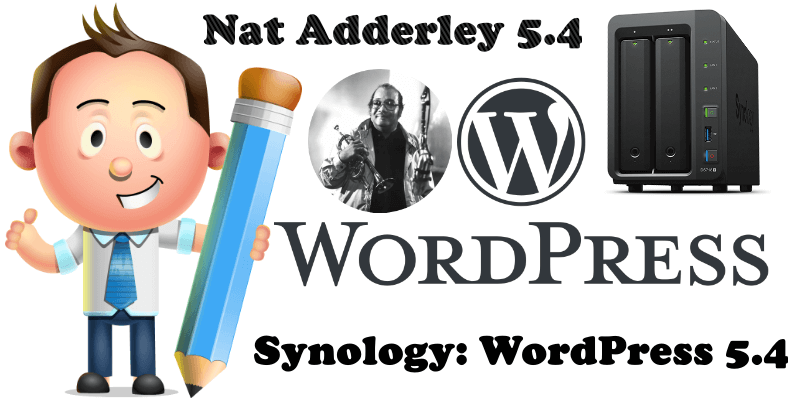 The latest and greatest version of WordPress is WordPress 5.4 code name "Adderley" and it's in honor of jazz trumpeter Nat Adderley. WordPress 5.4 is available for download or for automatic update in your WordPress dashboard. This version is available for "download" from wordpress.org and not in the Synology Package Center. So, if you want to download and install WordPress 5.4 on your Synology NAS, you have to follow my step by step guide on how to manually update a new version of WordPress in your Synology. Synology has currently stopped upgrading its WordPress package in the Package Center, and right now WordPress has stopped at version 5.2.4 which is why I recommend everyone to use the official version of WordPress on their NAS until Synology 'restarts its engine' in the package upgrading process.
What's new in WordPress 5.4?
Improved Block Editor in WordPress 5.4 (Also read how to completely disable Gutenberg).
Fullscreen Editor will be Default in WordPress 5.4 – WordPress 5.4 displays the block editor in the fullscreen mode by default.
New Blocks in WordPress 5.4 – WordPress 5.4 brings two new blocks for you to use while writing content. The Social Icons Block and the Buttons Block.
More Color Options for Blocks.
Block Selection Tool. A new button in the toolbar now allows you to easily select blocks. This is a really useful tool particularly when you have nested blocks inside a group block.
Drag and Drop to Add Featured Image. Previously, you needed to manually select an image to upload and set as the featured image. This didn't match the drag and drop ability of the content editor. Now, with WordPress 5.4, you can simply drag and drop an image to the featured image section.
Better Mobile Toolbar for Block Editor.
Select Image Sizes in the Gallery Block.
Improved Latest Posts Block.
You can now embed TikTok videos in WordPress.
Updated Privacy Tools in WordPress 5.4 – WordPress 5.4 brings improvements to the built-in privacy tools. Personal data exports now include session tokens, community events location, and custom user meta.
Note: If you have any questions regarding the WordPress official version vs WordPress Synology Package, Contact me.
Note: mariushosting has been hosted from home on a Synology NAS device since January 9, 2019.
This post was updated on Wednesday / July 21st, 2021 at 12:35 AM