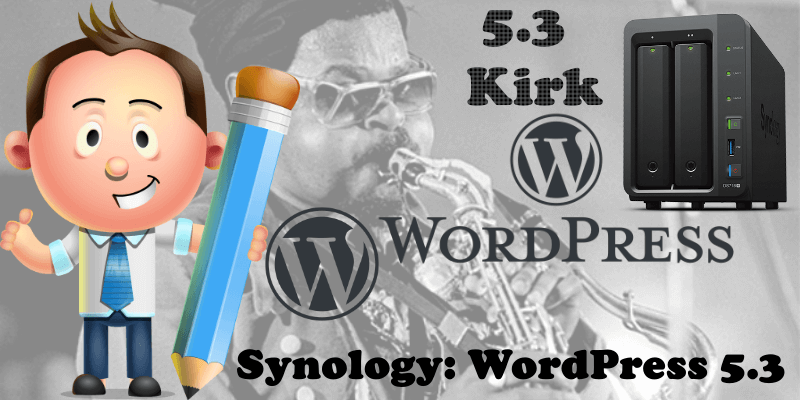 The latest and greatest version of WordPress is WordPress 5.3 code name "Kirk" and it's in honor of jazz multi-instrumentalist Rahsaan Roland Kirk. WordPress 5.3 is available for download or for automatic update in your WordPress dashboard. This version is available for "download" from wordpress.org and not in the Synology Package Center. So, if you want to download and install WordPress 5.3 on your Synology NAS, you have to follow my step by step guide on how to manually update a new version of WordPress in your Synology.
What's new in WordPress 5.3?
Many improvements to the Gutenberg text editor. (Also read how to completely disable Gutenberg).
New free theme called Twenty Twenty.
Automatic Image Rotation. (Ever uploaded an image and then fussed about rotating it till it's in the right direction? In WordPress 5.3, images will auto-rotate to the correct orientation. It's a feature nine years in the making but has finally made it to the public with the release of WordPress 5.3).
Admin Email Verification. (Periodic confirmations of your admin email address when you log in as an administrator will ensure you don't get locked out of your website in case you have changed your email address).
Improved Site Health Checks. (Facing issues in WordPress isn't anything new. However, 5.3 brings improvements that will help identify issues easily. The recommendations area is now expanded and highlights what needs troubleshooting from the Health Check screen).
PHP 7.4 Compatibility. (WordPress 5.3 brings full support for PHP 7.4. There are multiple changes in this release that remove old functionalities to make sure that there is full compatibility with the latest PHP version).
Date/Time Component Fixes. (It is now easier for developers to work with dates and time zones more reliably. For a unified time zone retrieval and PHP compatibility, the two functions have received a number of new API functions. There are also many bug fixes that make developers' work a lot easier).
A few days ago Synology reported in their Security Advisor Bulletin some security issues with WordPress 5.2 which means we can expect the release of WordPress 5.3 in the Synology Package Center in a few days/weeks.
Note: If you have any questions regarding the WordPress official version vs WordPress Synology Package, Contact me.
Note: mariushosting has been hosted from home on a Synology NAS device since January 9, 2019.
This post was updated on Wednesday / July 21st, 2021 at 12:36 AM