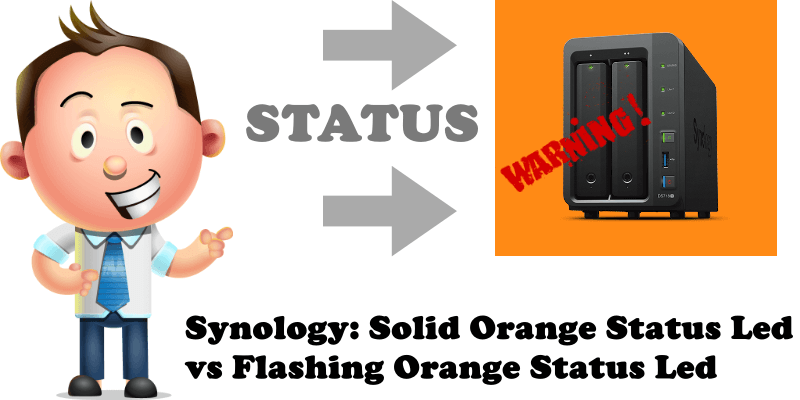 Under normal conditions, the STATUS LED light on Synology devices is solid green – no flashing, no flickering, just a solid green color. But sometimes, the STATUS LED on your Synology NAS can turn orange and stay that way (remains locked on a solid orange color), OR start to flash, OR change its color, flashing between green and orange. But why does this happen? How can you prevent the problem from occurring in the first place? And what is the difference between a solid orange STATUS LED light and a flashing orange/orange-green STATUS LED light on your Synology NAS device? Like I mentioned in the beginning of the article, under normal conditions, the LED STATUS light on a Synology NAS device is solid green – there is no flashing and no changing color.

Available volume space less than 1GB.

Solution

: upgrade HDD/SSD or delete some files.
Available volume space less than 1%. Solution: upgrade HDD/SSD or delete some files.

DSM operating System is not installed. Solution: Install DSM operating system.
STATUS LED alternating between Green/Orange: meaning

No SSDs/HDDs are installed. Solution: install SSDs or HDDs.
No volumes are created. Solution: install new volume on HDD/SSD.
The volume degraded or crashed. Solution: Read how to repair it.
HDD Hibernation.

Solution

: Read how to deactivate HDD Hibernation.
Download and install Synology Assistant to check your Synology NAS. Launch Synology Assistant and find your device. Below are some solutions to common issues you might encounter:
DSM not installed: Do not continue installing DSM, or all the data on the drives will be deleted.
Configuration lost: This indicates that there may be failed system partition or drives on your Synology NAS, or that you may have triggered Mode 2 reset.
Migration/Recovery: You can follow the onscreen instructions in the Synology Assistant wizard to re-install the DSM operating system, and none of the system configurations or data in shared folders will be deleted.
This post was updated on Wednesday / August 10th, 2022 at 10:29 PM