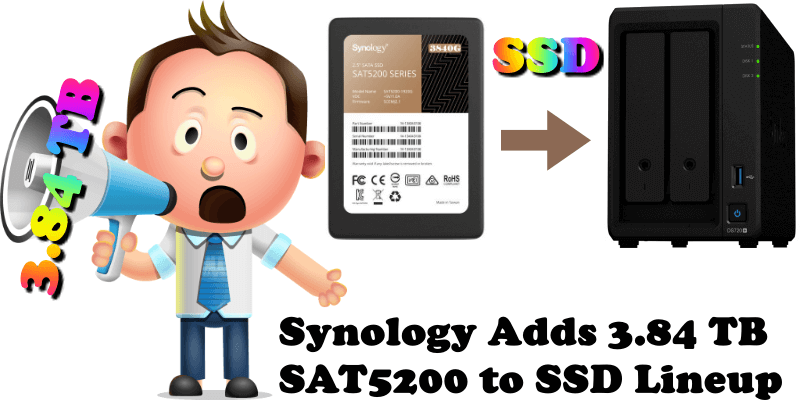 Since June, Synology has been marketing SSDs under its own brand: Synology. Three families are available: SAT5200 SSDs with a 2.5″ SATA interface, SNV4300 with a M.2.2280 interface and SNV3500 with a M.2 22100 interface. Today Synology announced via its Press Releases page that its SAT5200 range will be enriched with a new storage capacity SSD. Thus, in addition to the 480 GB, 960 GB and 1,920 GB versions, there is a new model offering a capacity of a whooping 3.84 TB making this one of the largest capacity SSD storage drives on the market.
Taipei, Taiwan – September 29, 2020 – Synology Inc. launched the 3.84 terabyte SAT5200 2.5″ solid state drive. Designed for Synology users requiring high capacity and reliable storage arrays, all the while sustaining high performance low-latency operations for mission critical work. With the increasingly demanding environment in storage, the SSD is created with enterprise grade endurance and reliability to help businesses and users tackle intensive workloads with robust data protection.
"Part of designing a reliable storage system requires companion drives that can consistently sustain heavy read and write operations without any performance degradation. Our SAT5200 SSDs are built specifically to tackle low-latency and consistent performance requirements demanded by our SMB and enterprise customers," said Julien Chen, Product Manager for Synology solid state drives.
Designed specifically for Synology systems, the SAT5200 SSDs are built to deliver consistently high and dependable performance, over 58,000 4K random write IOPS1. End-to-end data protection and power loss protection circuits ensure that data is safely written to the drive. Integration with Synology DSM provides improved SSD lifespan analysis and insight. SAT5200 drives are rated for 1.3 DWPD under the JESD219A enterprise workload and are intended for mixed-usage deployments.
This larger capacity will allow a larger amount of data to be stored. On the other hand, transfer rates have not changed one IOTA compared to previous models. Random read reaches 98,000 IOPS while random write reaches 58,000 IOPS. Read speed is 530MB/s while Write speed is 500MB/s. The 3.84TB Synology SAT5200 SSD is announced with an MTBF of 1.5 million hours and endurance of 9162TB written. Idle power consumption is 1.9 W. Synology offers a five-year warranty for all the SSDs in their line.
How much do Synology SAT5200 3.84 TB cost? According to Amazon the price will be $1,250.00 USD – 1100 EUR. For comparison, the 480 GB model, 960 GB and 1.92 TB are available at 191.45 € , 348.95 € and 624.95 € respectively.
Availability: Synology's 3.84 TB SAT5200 will soon be available through Synology's solution partners and channel networks.
This post was updated on Monday / March 1st, 2021 at 12:32 AM