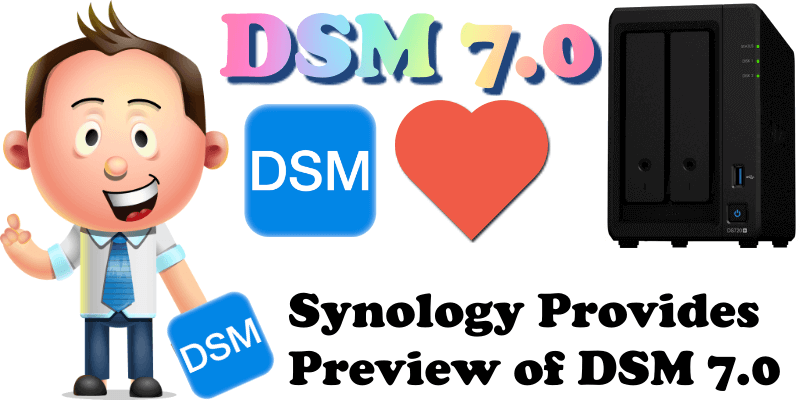 I am one of the lucky ones taking part in the DSM 7.0 preview test. Synology has released the preview of version 7.0 of its DiskStation Manager Software. The manufacturer delayed the release of the test version more than once in order to be able to further develop the new functions of the software. I have frequently updated my DSM 7.0 rumors article since last year.
Synology has sent a message to users who signed up for the test phase to try the DSM 7.0 preview. The company has put a page online for the release with a link where the software can be downloaded. Selected participants must be logged in with their Synology account to download the preview. They must also run at least DSM version 6.2 for the update. Once the .pat file is downloaded, they can install DSM 7.0 preview manually.
For the time being, it is still a preview. The preview will be followed by another beta period, a release candidate and, ultimately, a public release of the final version. At this point in time, it is not known when DSM 7.0 will finally be available for all users. Synology announced its "biggest update to date" in 2018, then spoke of a release in the first half of 2019. The company has since delayed the software release several times as development took longer. Early this year, Synology announced a start of the testing phase in the third quarter of 2020, and the company is now living up to that promise. DSM 7.0 offers many performance improvements and changes from previous releases, including a customized user interface.
Note: During the Preview phase, you may not disclose any information about DSM 7.0 Preview or its packages to anyone, unless expressly permitted to do so by Synology. Details can be found in the Pre-Release Program Agreement. I respect Synology's decision and no further information on DSM 7.0 Preview will be posted on this blog (screenshots etc.) until the official BETA version is released worldwide.
Note: Some of the people who subscribed in January 2020 to the DSM 7.0 preview reached out to me and confirmed that they have not received any emails from Synology. This could mean that fewer than 6500 people have received an invitation to try the DSM 7.0 preview version.
Note: Check your email SPAM box. Some users have found their DSM 7.0 preview invitation in the email spam box. Reported by Onno Smit.
Note: I will release all news about DSM 7 on twitter. Don't forget to follow me on twitter.
This post was updated on Tuesday / December 21st, 2021 at 12:57 PM