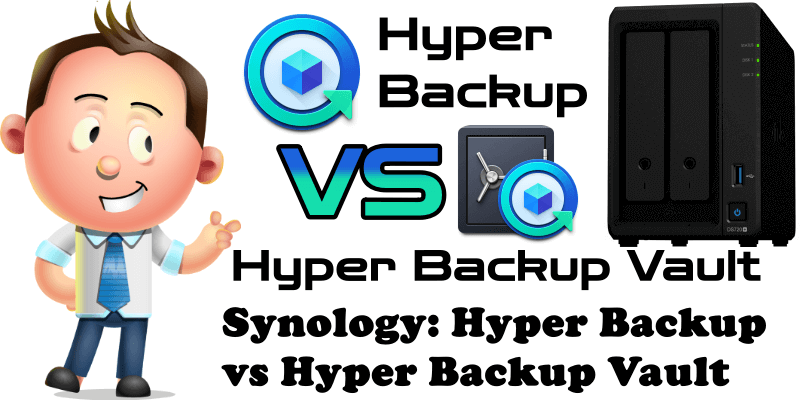 Do you want to use Synology's Hyper Backup package to its full potential without paying for any external backup Cloud services? Do you want to keep your backed up data away from prying eyes in complete autonomy? If the answer is yes, then you have come to the right place at the right time. To do this you will need two Synology NAS devices: one for Hyper Backup and one for Hyper Backup Vault. Basically you will be installing the Hyper Backup package on one NAS and the Hyper Backup Vault package on the other NAS. The Synology NAS with the Hyper Backup package will be where you will run the back up process, while the Synology NAS with the Hyper Backup Vault package will become the backup destination.
What is Hyper Backup? Hyper Backup helps you back up data and LUNs, and retains multiple data backup versions to keep important information handy and easy to track. Hyper Backup also makes restoring data and LUNs simple and straightforward.
What is Hyper Backup Vault? Hyper Backup Vault allows another Synology server to perform backup to this Synology NAS via Hyper Backup. Hyper Backup Vault also provides the overview of all the backup targets on this Synology NAS.
Follow the instructions below and get started on using Hyper Backup and Hyper Backup Vault to back up your data safely and away from curious eyes. Install Hyper Backup on NAS 1 to back up your data on NAS 2 where Hyper Backup Vault is installed.

Note: Hyper Backup together with Hyper Backup Vault represent a complete backup solution for your Synology NAS. Having two NAS devices will allow you to completely eliminate the need for a cloud service for backup, and the related costs.
Note: How and Where Do I Back Up My Website.
Note: Synology Backup Solution Packages.
This post was updated on Tuesday / July 18th, 2023 at 9:11 PM