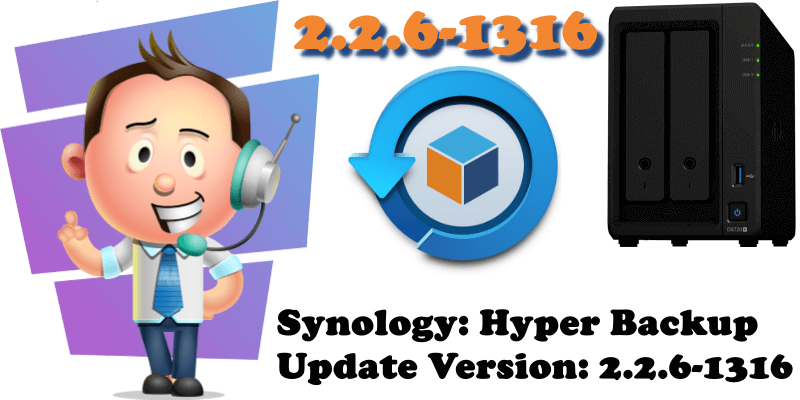 A few days ago, Synology has released the new Hyper Backup Version: 2.2.6-1316. Hyper Backup helps you back up data and LUNs, and retains multiple data backup versions to keep important information handy and easy to track. Hyper Backup also makes restoring data and LUNs simple and straightforward. You can download the new version 2.2.6-1316 directly from the Download Center and update it manually. Select your NAS model, then go to Packages and download the .spk file for your device. If the update is available in your country, it should also be available for automatic download in your DSM Package Center.
What's New in Hyper Backup 2.2.6-1316 ?
Creating new backup tasks for Amazon Cloud Drive is no longer supported as Amazon Cloud Drive will end the service by November 2020. Existing backup tasks will keep running until the service is ended. For data safety, moving the data to other destinations in advance is strongly suggested.
Fixed the issue where editing backup tasks that back up volumes might cause backup failure.
Fixed the issue where the integrity check might fail when the backup destination is an encrypted shared folder or the file system of the destination is ext3.
Fixed the issue where the integrity check might fail when some of the backup files are corrupted.
Enhanced the compatibility of exported file change detail logs (CSV format) with the standard for CSV (RFC-4180).
Support customizing port for the backup task whose backup destination is S3.
Fixed the issue where selecting external devices as backup destinations in some models might cause the external devices to still be mounted after the backup tasks finished.
Fixed the issue where automatic logout might not work properly when the backup widget is on the DSM desktop.
Fixed the issue where task settings might not work properly when the versions are too many.
Limitations:
Due to the system mechanism of Microsoft Azure, shared folders with "." at end of the names will no longer be backed up.
Which is another great reason to switch to Synology C2 Cloud Backup.
This post was updated on Thursday / November 5th, 2020 at 11:48 PM