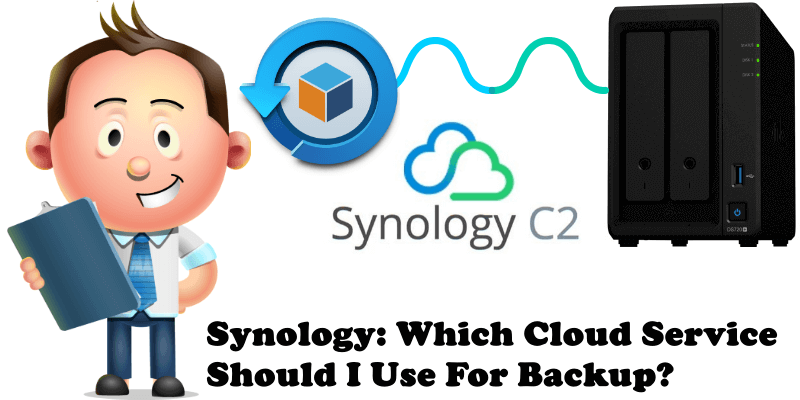 Synology gives us the opportunity to save important data on different Cloud services via its excellent application called Hyper Backup. Many of you have asked me: which Cloud service is the best? The answer is simple: Synology C2. And I will tell you why.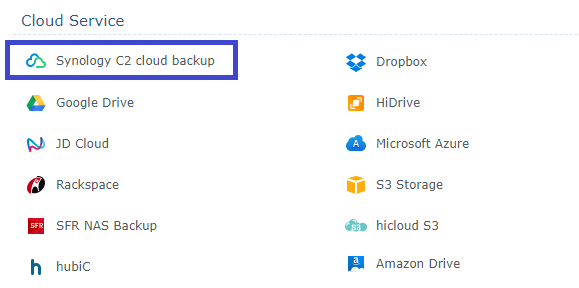 As you can see in the screenshot above, Synology Hyper Backup offers the possibility to backup important data in different Cloud services as described below:
Synology C2 Cloud Backup – Native Synology support, 100% compatible.
Google Drive – Google Drive is a file storage and synchronization service developed by Google. Launched on April 24, 2012, Google Drive allows users to store files on their servers, synchronize files across devices, and share files.
Dropbox – Dropbox is a file hosting service operated by the American company Dropbox, Inc., headquartered in San Francisco, California, that offers cloud storage, file synchronization, personal cloud, and client software.
JD Cloud – JD Cloud, the cloud unit of the second-largest e-commerce site in China, JD, will accelerate steps to expand its presence in the burgeoning cloud computing market.
Rackspace – Rackspace is a managed cloud computing company that aims to make it easy to manage private and public cloud deployments.
HiDrive – HiDrive securely stores your data in the cloud so you can easily access it from any device. Stay secure, stay private.
Microsoft Azure – Microsoft Azure, commonly referred to as Azure, is a cloud computing service created by Microsoft for building, testing, deploying, and managing applications and services through a Microsoft-managed data center.
SFR NAS Backup – French cloud.
S3 Storage – Amazon S3 or Amazon Simple Storage Service is a service offered by Amazon Web Services that provides object storage through a web service interface. Amazon S3 uses the same scalable storage infrastructure that Amazon.com uses to run its global e-commerce network.
hubiC – Store it online with hubiC, synchronize your data across different devices and share your files in one click. 25 GB free.
hicloud S3 – hicloud S3 (Simple Storage Service) provides infinite cloud storage spaces and you can access S3 via Internet anytime, anywhere. There is no preemptive fee.
Amazon Drive – Discontinued.
Why I chose Synology C2 Cloud over other Cloud services?
Native support: Synology C2 cloud backup is built into Synology's DSM, so it is very easy to set up using Synology's Hyper Backup application. Here is a complete tutorial for setting up Synology C2 cloud backup.
Other Clouds discontinued their services: Services like Amazon drive discontinued their Cloud services to Synology NAS users. So, for those of you who want to challenge fate, are you ready to redo your backups?
Cheap plan: 100 GB plan starts from only €9.99 / year.
No hidden fees: Synology charges no additional fees besides the subscription cost. File upload, restoration, and browsing are always free of charge on your Synology NAS, through the PC client, and using the C2 web portal.
30-Day Free Trial: Each Synology Account can activate a one-time 30-day free trial. Try all the great features that C2 Backup offers before deciding whether Synology C2 is the solution for you.
Two different cloud locations: Germany and USA.
Military-grade encryption: Enable client-side encryption and make your data unreadable before it leaves your device with advanced AES-256 and RSA-2048 encryption. A password-protected private key for each task ensures that neither Synology, nor any other person or organization can decrypt, access, or modify your data.
Synology Brand: this means quality and safety.
This post was updated on Tuesday / October 20th, 2020 at 11:46 PM