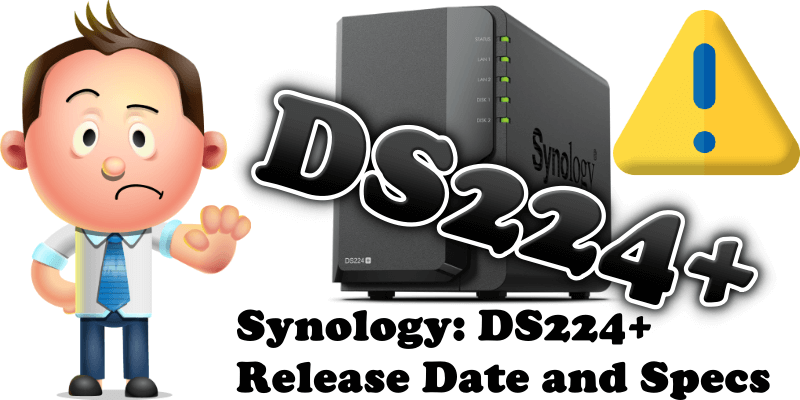 Recently, a new product has joined the ranks of Synology and, of course, mariushosting couldn't pass on the opportunity to tell you about it. The newly released DS224+ is a NAS model in the DiskStation range designed for home data management. The most important thing to know about the model is that it comes with an outdated Intel Celeron J4125 CPU from 2019, without AVX support, which can limit your Docker container options.
The default installed memory is only 2GB, but it's expandable up to 6GB. The DS224+ doesn't support M.2 2280 NVMe SSDs and it's limited to 2x RJ-45 1GbE LAN Network Ports. It would have been ideal if it came with a 2.5GbE port. You are obligated from the beginning to upgrade the RAM at an additional cost to you if you want to use the Object Recognition function in Synology Photos. The default pre-installed 2GB RAM memory is not enough to make the Synology Photos Object Recognition function work. You need a minimum of 4GB of RAM.
Even though it is intended for home use, this NAS model should be avoided because, if you want to run Docker containers that require AVX support, you will not be able to do so on the DS224+. The new DS224+ has the same CPU as the DS720+ although it's a new release. So do not go by the name (24+) as this 2024 NAS model has the same processor as the 2020 DS720+. This DS224+ model can be considered the younger brother of the DS423+ NAS, the only difference being that it has 2 bays instead of 4 bays. The DS224+ NAS is presented in some reviews as something revolutionary, suitable for both home offices and businesses. This is absolutely cheap advertisement. I personally do not recommend buying this product, whether for home or business uses. Instead you should go for the DS723+ NAS model or the NAS models that I personally recommend. My main goal is to help you choose your NAS model with a genuinely honest review.
Note: How much does the Synology DS224+ cost? The manufacturer's suggested retail price for the new DS224+ is $370 or 370 EUR. (VAT. included).
Note: When will the Synology DS224+ become available? According to the official sources, Synology DS224+ is now available through Synology's solution partners and channel networks.
Note: How long is the warranty for the DS224+? 2-year hardware warranty, extendable to 4 years with the Extended Warranty Plus.
Note: Can I run Docker on the DS224+? Yes, you can run it, but you cannot run all Docker containers. The lack of AVX support is what causes it to not support all Docker containers. In other words, this NAS model is not 100% suitable for Docker.
This post was updated on Thursday / August 10th, 2023 at 12:58 AM