Everyday I receive several emails in which people are asking me when the official DSM 7.0 final version will be available. Well, not even Synology is able to give a clear answer to this question because the current DSM 7.0 Beta version needs the help of testers around the world to fix any errors before the final version is released. Honestly, would anyone want to install an unstable version?
With all the uncertainty, I remembered this screenshot from September 8, 2020 when I had the honor of being one of the lucky 6000 who had access to the DSM 7.0 Preview version. If you look at the image below, you will notice that DSM 7.0 Beta was out exactly 3 months after the launch of DSM 7.0 Preview. This could mean that on March 8, 2021, DSM 7.0 Release Candidate could arrive and, finally, on June 8, 2021 the final version of DSM 7.0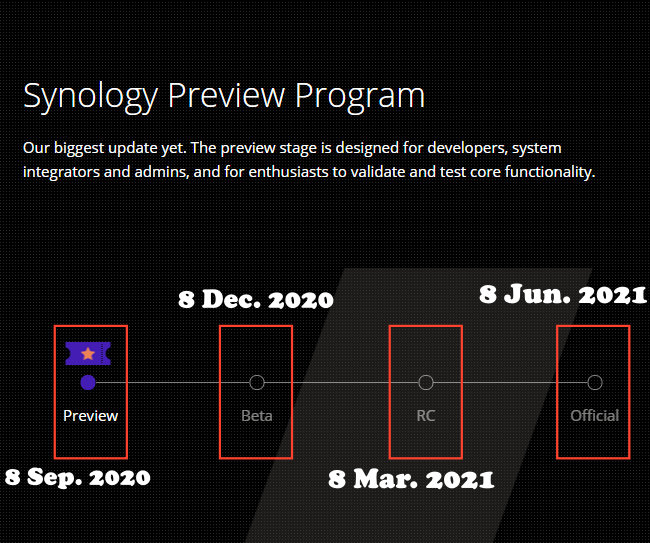 Obviously this is only speculation, but certainly not very far from reality given the short time that has passed from the Preview phase to the Beta phase. Coincidence? Same day? Same time? Anything is possible, but according to my observations of past DSM versions releases, Synology has had a pattern of releasing new versions of its DSM operating system on average every 2-3 months.
At the same time, it's possible that Synology releases a new, second Beta version of DSM 7 around January or February 2021 with fixes to the most pressing and urgent issues encountered in the current Beta version. Either that, or they will jump directly to the Release Candidate sometime in March. As I said in my previous article, Synology developers have worked hard to solve all the bugs in DSM 7.0 Preview which likely means that DSM 7 will be one of the most successful DSM versions ever, in short, a revolution that could surge sales of new Synology NAS models.
Note: Any news on DSM 7 will be included in the new articles published daily on mariushosting.
UPDATE

8.03.2021
On March 8, 2021 DSM 7 Beta is no longer available for download. There is no official statement but I think, DSM 7 Release candidate should be released in the next hours/days.
UPDATE

9.03.2021
After many hours of unviability the DSM 7.0 Beta is back again for download. There seems to be a delay for the RC version.
UPDATE

28.04.2021
Don't forget to follow me on Twitter! Summer is just around the corner, great news coming soon!
UPDATE

1.06.2021
Synology: DSM 7 Release Candidate RC Is Out Summer is just around the corner, great news coming soon! Don't forget to follow me on Twitter!
UPDATE

23.06.2021
Synology DSM 7 Final Release Confirmed: June 29, 2021
UPDATE

29.06.2021
Synology: DSM 7 Final Release is Out
This post was updated on Tuesday / December 21st, 2021 at 1:02 PM