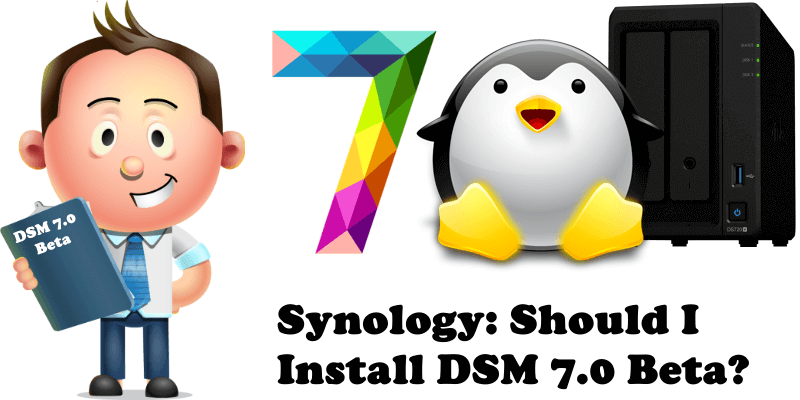 We are all excited about the release of DSM 7.0 Beta and we all want it right away because the waiting time was certainly long enough. And even though it's still an unfinished version, a Beta, we can't wait to try it! But if you only have one Synology NAS, well, my advice is to hold off on installing DSM 7.0 Beta just to avoid any potential unpleasant surprises before the holidays. If, on the other hand, you have another NAS you use for testing, then go ahead and enjoy yourself and run all the tests you want with the newly released Beta. But do not install DSM 7.0 Beta on a production environment. So dear readers who only have one NAS, my advice for the moment is not to install DSM 7.0 Beta. Wait for the final version in which every little issue will be solved. Below I wanted to summarize the major problems with DSM 7.0 Beta that are still unresolved:
DSM 7 Beta and ext3 problems. Volume in ext3 can crash.
DSM 7 Beta Plex problems. Plex is not compatible with DSM 7 Beta – the package is stopped and not fully supported on the Beta version.

UPDATE

10.12.2020 But there is great news from Synology: according to Puffin, a Synology staff member, an update to Plex Media Server will be released in the next few days.
DSM 7 Beta and SMB1. The SMB1 protocol should be removed from DSM 7. SMB1 actually has various problems on the Beta version and keeps disconnecting.
DSM 7 Beta Photos. Here too there is a lot of work to be done, there are options that are missing, the product is still in its beta phase. Not recommended to upgrade now. Synology Photos: Facial Recognition Limited to Certain NAS Models
DSM 7 Beta and WordPress and website hosting. I have a test website with the exact same settings as mariushosting and noticed there is quite a lot of lag with the DSM 7 Beta version. It's not yet known what could be causing the lag.

UPDATE

11.12.2020 – I have found out what is causing the website lag: PHP cache was deactivated on the Web Station package. After activating it, everything is working like a charm.
DSM 7 Beta Docker. The Docker package is not updated. The latest version is identical to that of DSM 6.2.3 which is 18.09.0-1110
DSM 7 Beta and Shared Files. As you can see at this address, there is too much white space between the file and the download button, not to mention the fact that the white background color cannot be changed. In DSM 6.2.3 the background is transparent and well defined.
Alternative safe method for testing DSM 7.0 Beta
On most Synology NAS models you can run a DSM 7.0 Beta VM without any risk to the system. Just install Virtual Machine Manager on your Synology NAS currently running DSM "6.2.3", then download the DSM .pat file from the Synology beta website (in the dropdown menu choose VirtualDSM). Note: Virtual Machine Manager may require a Virtual DSM License. Follow the instructions below:
Please Support My work by Making a Donation.
Install Virtual Machine Manager on your Synology NAS on which you are currently running DSM 6.2.3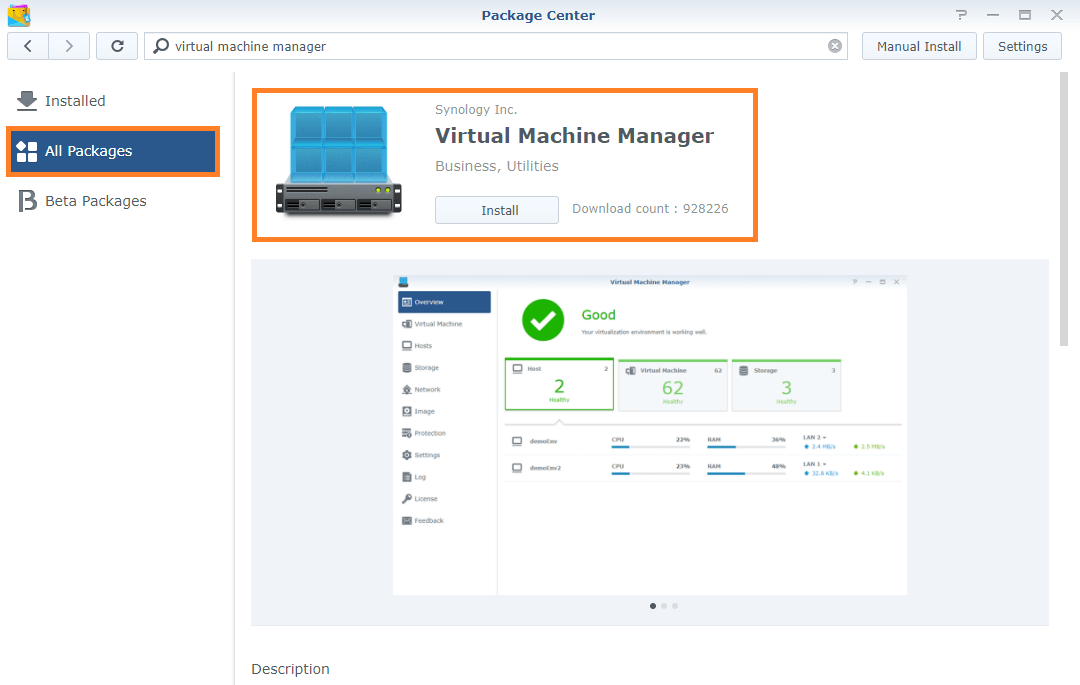 Download the DSM .pat file from the Synology beta website (in the dropdown menu choose VirtualDSM).

Select Virtual Machine in Virtual Machine Manager package then upload the .pat file "VirtualDSM" you have previously downloaded. Enjoy!
Other method:
Test DSM 7.0 Beta Live Online, without a NAS.
Note: I took part in DSM 7.0 Preview and I can honestly say that, in the three months that have passed since the launch of DSM 7.0 Preview, great strides have been made. DSM 7.0 Beta itself is better than DSM 7.0 Preview. I have reported several bugs, most of which have already been fixed, although not all. I want to congratulate all Synology developers for their commitment and dedication over these long few months. I am sure that DSM 7.0 final version will be something unimaginable and futuristic as they are already on the right path. Synology is quality, but also dedication.
This post was updated on Saturday / December 12th, 2020 at 10:31 PM