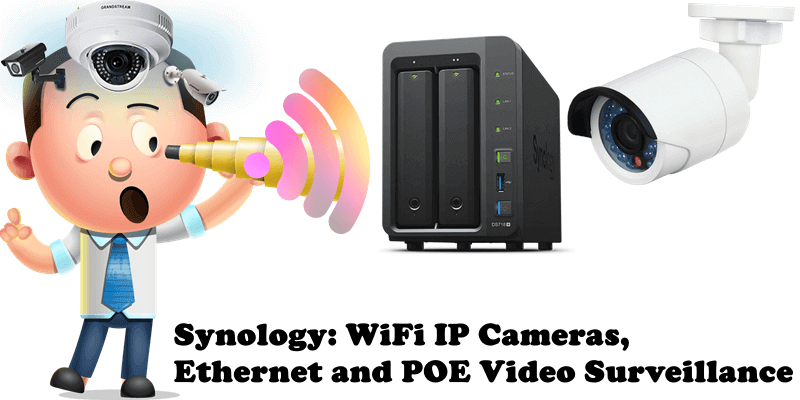 When it comes to buying a video surveillance IP camera, there are many factors to consider. Before proceeding with the purchase, it is necessary to deal with a wide range of technical specifications, but with the right tips it is possible to get to grips without confusion. In this article we will discover the differences between a camera made for outdoor vs indoor environments, between the different types of connection (Wireless or Ethernet) and power supplies, and find out what are the various camera shots and angles, the audio and video recording modes, the different types of sensors, the best video formats, the aperture and focal values. Once all the technical issues have been clarified, we will see which are the best IP cameras to buy according to your needs.
The first question to consider when you are looking to purchase an IP camera for video surveillance is to ascertain if it is intended for external or internal use. Although aesthetically these two types of cameras may seem identical, in reality an outdoor IP camera as well as being more expensive, has a number of important technical features specific to outdoor use.
Outdoor IP cameras are first and foremost much more robust. These are in fact designed to withstand bad weather and adverse meteorological conditions, managing to function perfectly even during winter frosts or torrid summer heat. Try to leave a regular indoor IP camera out in the open and you will, in all probability, throw it away after the first drizzle of rain. Another important factor to consider is low light conditions during the night. By positioning it, let's say, in the garden or near where your car is parked, the camera will find itself shooting in low light conditions at night, if not total darkness. Nighttime lighting conditions are why outdoor IP cameras are almost always equipped with an infrared LED system that allows them to function optimally even in the darkest of scenarios.
Having ascertained the substantial differences between outdoor and indoor cameras, it's time to understand what type of network connection to adopt. The issues to consider are the type of IP connection, which can be wireless via Wi-Fi or wired Ethernet connection via an appropriate LAN cable, and of course, the power supply. As their name suggests, IP cameras use the TCP / IP protocol to send the video stream (and possibly audio too) that they capture to an NVR for recording, or directly to your router.
Wireless cameras therefore need a good Wi-Fi signal, while the others absolutely need an Ethernet cable. All obviously need an energy source to work, so it's mandatory to have an electrical outlet to connect them to. However, some exploit a particular system called PoE (Power over Ethernet) which, by means of an inexpensive adapter, allows you to take advantage of the same Ethernet cable both for connection to the network and for power supply. When choosing the location of your cameras, it is therefore important to keep in mind all of these aspects.
Whether your camera is powered via Ethernet connection or a small transformer, in one way or another you kind of always need at least one cable. But fortunately, the first true wireless IP cameras are starting to emerge – they have a small internal battery that, without having particular demands in autonomy, allows you to do without the electrical outlet. One of these is the recent Arlo produced by Netgear. Where there is absolutely no possibility of wiring, you can consider completely wireless cameras with a solar panel power supply. There are solutions even in more extreme cases where there is not even a Wi-Fi Internet connection: video cameras that send the signal using a plain data SIM card like a smartphone (the SIM card may belong to any mobile network operator/carrier).
Static IP cameras, also called fixed-frame cameras, are cameras restricted to one frame, only capable of shooting in the direction they are pointed at. For this reason, several such cameras may be needed for large areas, to be able to keep everything monitored. Cameras with a mobile frame are the so-called robotic cameras. These are able to move around their axis, and therefore to change frames in such a way as to monitor an area from multiple angles. Their movement can often be controlled remotely which means these types of camera represent the ideal solution if you want to cover a large area without using a large number of devices. There are also Pan-Tilt-Zoom (PTZ) cameras that can move slightly horizontally and vertically in addition to zooming in on the framed area. Finally, there are the so-called Fisheye, special cameras with a fixed frame; thanks to their fish eye lens, if they are placed upside down facing downwards (perhaps mounted on a pole or on the ceiling), they can offer a 360 ° view of the area which they are monitoring.
There are several ways to record footage taken from an IP Camera. Usually, recordings from an IP camera can be acquired and controlled directly from your PC, through software released by the camera manufacturer. Some cameras on the other hand, if equipped with a specific slot, can record directly to memory cards such as Micro SD cards, essentially the same ones used by common digital cameras. Others on the other hand, can send their recordings to a Synology NAS (Network Attached Storage) or a hard disk connected to the network via an Ethernet cable, without the need for a computer to operate them. Finally, a more modern solution is the NVR (Network Video Recorder), advanced hardware equipment, not necessarily very expensive, but which allows you to record videos from surveillance cameras and to take control of all their functions.
The option for audio recording in this type of camcorder is far from obvious. So if you also need to check the audio of the shots, it is important to check for the presence of this feature. It is possible to find two different types of audio systems in surveillance cameras: one-way or two-way. Cameras with one-way audio are equipped with a microphone that allows you to listen to what is happening in the monitored area, while cameras with two-way audio also have a small audio speaker that allows you to both listen and send messages to the other side (to potential intruders), using the computer microphone, or your smartphone or tablet.
The IP cameras equipped with motion detection have a particular sensor capable of detecting movements in the monitored area so as to start recording only when necessary, thus allowing you to save storage space and to view the video more comfortably by showing only the parts where something actually happens. These types of camera are often also able to notify the owner via email or SMS when suspicious movement is detected. Furthermore, cameras with passive infrared PIR sensors can detect intrusions even in low light conditions. And you can connect your IP cameras with motion detection to a Synology NAS device for round-the-clock surveillance. Why a Synology NAS? Because you can keep a Synology NAS on 24/7. Find out more about this disputed topic in my article Synology NAS Always On: Yay or Nay?
The resolution and quality of the images captured by a camera must be carefully evaluated. Obviously, cameras with Full HD resolution (1080p) offer a better image definition compared to normal HD (720p) image resolution cameras. At the same time, it's important to also take into account your Internet speed. The higher the video quality, the higher the bandwidth required to remotely view videos smoothly. Extremely defined, the new cameras are equipped with a 2.0 Megapixel 2K sensor (2018 pixels on the horizontal line) or the even more modern 4.0 Megapixel Ultra HD 4K (3840 x 2160 pixels). The latter require a large capacity of the recording medium as well as a screen to match to be able to appreciate all the advantages of such a high resolution. The best solution for a large capacity recording medium is a Synology NAS device, while a newer PC desktop monitor will allow you to view everything in great detail. Normally, the supported video formats are H.264, MPEG4, MJPEG and for static images the JPEG format is preferred. The format that offers the best quality-to-file weight ratio is undoubtedly the modern H.264, now used by most IP cameras. The fluidity of the moving image is given by the frames per second (FPS) of the shots. The higher this value, the smoother the footage will be.
The diaphragm is the small hole through which light passes through the lens. Its size is expressed by a value called F-Stop. The lower this value is, the brighter the lens.
The focal length, measured in millimeters, instead describes the viewing angle of the lens. The shorter the focal length, the greater the angle of view of the lens. With a low focal length you will have a wide view of the monitored area, but the shooting will take place from a distance and with few details. With a higher focal length, on the other hand, you will see in more detail, but the monitored area will be smaller.
Depending on the model, it is possible to connect to IP cameras using specific dedicated software, connecting directly to the camera's IP address via a web browser or through smartphone and tablet applications. If there is a need to connect remotely to monitor the affected area when you are out and about, it is good to make sure that the camera has an official application so that it can be used comfortably even with small smartphone displays. The best apps, in addition to allowing you to view the camera footage live, can move the frame, zoom in, save individual frames and even send live voice messages to warn potential intruders.
This post was updated on Wednesday / August 10th, 2022 at 10:25 PM