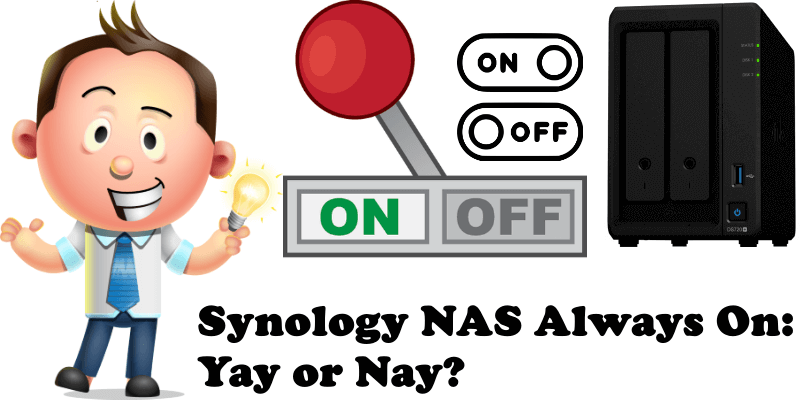 Should your Synology NAS be always on, or can you turn it off from time to time? First of all, you need to know that a Synology NAS is built to stay turned on 24/7 without it ever needing to be turned off. It is also essential to connect a good UPS to it so that it never loses power. Is your router always on? It probably is. Then your NAS will have to be too. As I explained in a previous article, a NAS consumes very little power.
Synology NAS can be a cloud storage server like Dropbox, OneDrive etc. that enables you to store and share your files online. What does that mean? It means that you can store and back up your files online for easy access from anywhere, whether it's your home computer, your work computer, or your mobile device. Your files are stored on the NAS server and can be synchronized, or automatically kept up-to-date, on all of your devices. This service needs to always be online so the NAS should always be on.
If you are using your NAS for web hosting like I am, you need to keep it online 24/7.
An offline NAS server serves no purpose, therefore, if someone ever asks you if they can turn off their Synology NAS, answer them like this: yes, you can, but why do it if all the services connected to it will automatically go offline once you turn it off? Why did you buy a NAS in the first place if you didn't plan on always keeping it turned on like it's supposed to be to do its job properly?
This post was updated on Sunday / June 25th, 2023 at 9:19 PM