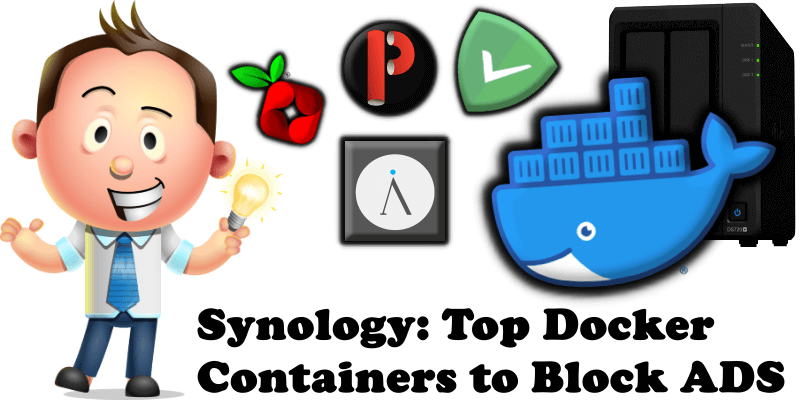 Did you know that you can block all advertising from sites you visit and all advertising on YouTube using your Synology NAS? Having a Synology NAS allows you to block all kinds of online advertisements. Docker containers such as PiHole and AdGuard automatically block all ADS (Adverts) on sites you visit, while Invidious and Piped block all ADS (Adverts) on YouTube, even those that are integrated in the videos.
Pi-Hole is a Linux network-level advertisement and Internet tracker blocking application which acts as a DNS sinkhole (and, optionally, a DHCP server), intended for use on a private network. What is a DNS sinkhole? A DNS sinkhole, also known as a sinkhole server, Internet sinkhole, or Blackhole DNS is a DNS server that gives out false information, to prevent the use of a domain name. It is designed for use on embedded devices with network capability, such as the Raspberry Pi, but it can be used on other machines running Linux like Synology NAS and cloud implementations. Pi-Hole has the ability to block traditional website adverts as well as adverts in unconventional places, such as smart TVs and mobile operating system adverts. Simply put, with Pi-Hole any advertisements from the websites you visit are blocked completely on all devices at once, without the need to install individual packages on any of your devices.
AdGuard is DNS ad blocking similar to Pi-Hole. It's a privacy protection software which comprises open-source and shareware products that protect Microsoft Windows, Linux, OS X, Android and iOS users from unwanted ads, pop-ups, banners, as well as from tracking, obscene content, malware and phishing. Over 5 million people are reported to be using the software in 2018 and 7 million in 2019 with very fast growth. AdGuard is not only an ad blocker, but a whole ad blocking and privacy protection suite, a must-have product if you have a Synology NAS device. AdGuard Home intercepts and filters DNS requests. It works as a DNS server and prevents all the devices in a home network from connecting to the servers that track user browsing.
Invidious is a free and open-source alternative frontend to YouTube. It is available as a Docker container, or from the GitHub master branch. It is intended to be used as a lightweight and privacy-respecting alternative to the official YouTube website. One of the best things about Invidious is that you can watch YouTube videos without ADS.
By using Piped, you can freely watch and listen to content without the fear of prying eyes watching everything you are doing. One of the things I most appreciate about Piped is that you can watch YouTube videos without any kind of commercial interruption. YouTube has an extremely invasive privacy policy which relies on using user data in unethical ways. You give them a lot of data – ranging from ideas, music taste, content, political opinions, and much more than you think.
This post was updated on Tuesday / March 21st, 2023 at 1:26 PM