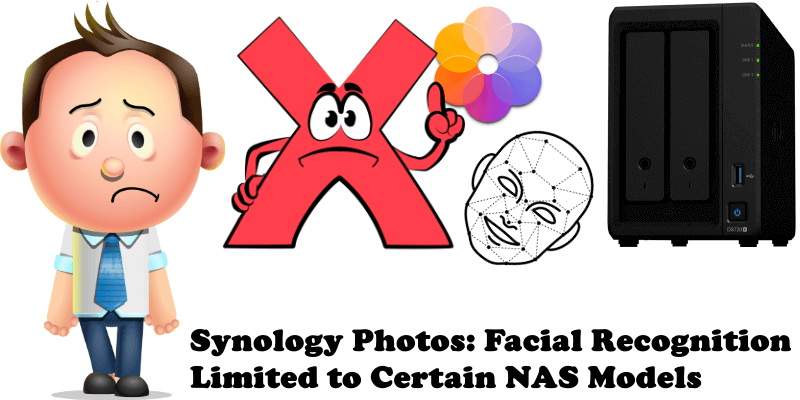 One of the options that has been missing in DSM 7.0 Beta is Facial Recognition for Synology Photos. More exactly, the Facial Recognition option for Synology Photos is no longer available for certain NAS models in DSM 7.0 Beta. The Facial Recognition option was available in the Moments package on DSM 6.2.4 and on a vast majority of devices. Synology users who used Moments and had the Facial Recognition option on their devices didn't take this decision very well which is understandable.
To ensure system performance, Facial Recognition in Synology Photos is only supported on the following NAS models
SA series: SA3600, SA3400
22 series: DS3622xs+, DS2422+
21 series: DS1621+, DS1621xs+ DS1821+, RS1221+/RS1221RP+, RS3621RPxs, RS3621xs+, RS4021xs+
20 series: RS820RP+, RS820+, DS1520+, DS920+, DS720+, DS620slim, DS420+, DS220+
19 series: RS1619xs+, RS1219+, DS2419+, DS1819+, DS1019+
18 series: RS3618xs, RS2818RP+, RS2418RP+, RS2418+, RS818RP+, RS818+, DS3018xs, DS1618+, DS918+, DS718+, DS418play, DS218+
17 series: RS18017xs+, RS4017xs+, RS3617RPxs, RS3617xs+, RS3617xs, DS3617xs, DS1817+, DS1517+
16 series: RS18016xs+, RS2416RP+, RS2416+, DS916+, DS716+II, DS716+, DS416play, DS216+II, DS216+
15 series: RS815RP+, RS815+, DS3615xs, DS2415+, DS1815+, DS1515+, DS415+
14 series: RS3614RPxs, RS3614xs+, RS3614xs, RS2414RP+, RS2414+, RS814RP+, RS814+
13 series: RS10613xs+, RS3413xs+, DS2413+, DS1813+, DS1513+, DS713+
12 series: RS3412RPxs, RS3412xs, RS3411RPxs, RS2212RP+, RS2212+, RS812RP+, RS812+, DS3612xs, DS1812+, DS1512+, DS412+
11 series: RS3411xs, DS3611xs
Synology NAS models that no longer support the Facial Recognition option in Synology Photos in DSM 7.0 Beta
20 series: DS420j
19 series: RS819
18 series: DS418, DS418j,DS218,DS218play, DS118
20 series: DS220j
19 series: DS419slim
18 series: DS218j
17 series: RS217
16 series: DS416slim, DS416j, DS216play, DS216j, DS216, DS116
15 series: DS2015xs, DS1515, DS715, DS415play, DS215+
14 series: DS214play
Note: Since DSM 7 and Synology Photos are still in the beta phase, there is still a small possibility, a glimmer of hope that the Facial Recognition option is reintroduced for excluded models. Obviously this is Synology's choice.
This post was updated on Tuesday / December 21st, 2021 at 1:02 PM