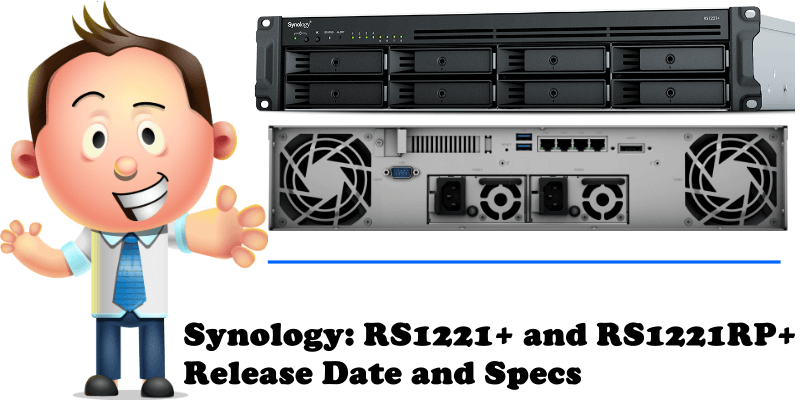 A few days ago Synology unveiled two new rack-mounted NAS models, RackStation RS1221+ and RackStation RS1221RP+, both featuring 8 disk bays. RS1221+ and RS1221RP+ are available globally starting January 14, 2021. The previous model, RackStation RS1219+, had an Intel Atom C2538 CPU. But in the new models, RackStation RS1221+ and RackStation RS1221RP+, the old Intel Atom C2538 CPU is replaced by the AMD Ryzen V1500B CPU. Although this is a processor based on the Zen architecture of the first generation, thanks to it, these Rack Stations are able to offer up to 3.6 times higher computing performance than the previous generation, 108K IOPS in random read (3.8 times higher performance than the previous generation) and a sequential write speed reaching 1,147 MB/s (2.3 times better performance compared to the previous generation).
There is a 4GB pre-installed memory module, but it is possible to go up to 32GB of RAM. The NAS models are also equipped with PCIe 3.0 slots and can be further expanded using an RX418 drive.
There are no NVMe slots for cache, as is the case for desktop models such as DiskStation DS1621+; for cache, you can take advantage of the PCIe slot, but you will have to choose between cache on SSDs and faster network connectivity. Like all Synology brand products, the RS1221+ and RS1221RP+ are also equipped with the DiskStation Manager (DSM) operating system and therefore integrate with other Synology solutions, and beyond. The operating system can easily be upgraded to DSM 7 beta.
Note: What is the difference between RS1221+ and RS1221RP+? The main difference between the two models is that the RS1221+ is a single fixed PSU model, while the RS1221RP+ is a dual power supply model.
Note: What price do they have? How much do Synology RS1221+ and RS1221RP+ cost? $1299 for the RS1221+ Model and $1699 for the RS1221RP+ Model.
Note: Which RAM to Buy For RS1221+ NAS
Note: If you had to choose between RS1221+ and DS1621+, what would you choose? I would definitely choose the DS1621+ model because it features the NVMe slots, same AMD Ryzen V1500B processor, and is priced at $799 instead of $1299.
Note: When will Synology RackStation RS1221+ and RS1221RP+ come out? They are already available to buy worldwide.
This post was updated on Monday / February 1st, 2021 at 3:07 PM