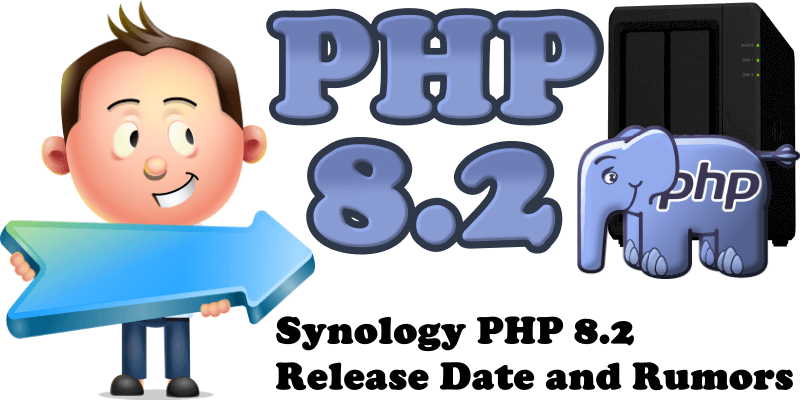 PHP 8.2, the latest major PHP version, was released to the general public on December 8, 2022. And now it's time for us to dive into some of the most exciting additions and new features that make PHP 8.2 faster and more reliable than its predecessors, PHP 8.1 and PHP 8.0. Currently, PHP 8.0, PHP 7.4 and PHP 7.3 are available for download in Synology Package Center. According to PHP.net, PHP 7.4 has reached its end of life on November 28, 2022. Which means Synology needs to review these packages and update them as soon as possible. I suggest  Synology gets rid of PHP 7.x 3rd party packages and releases updates for PHP 8.1 and PHP 8.2 in 2023.
I have already sent a "feature inquiry" to Synology via their official page requesting for their PHP package to be updated to PHP version 8.2 and I strongly recommend all of you also send a "Feature Inquiry" to Synology to add PHP 8.2 to Package Center. The more we are that request PHP 8.2 in Package Center, the faster the process.
As you well know, Synology is a wonderful company with a very hard-working team that has always shown a great deal of determination when it comes to solving issues such as this. The thing is, they can't stay on top of everything and need people like us to help them do just that by sending in suggestions such as this Feature Inquiry about PHP 8.2. The more of us there are that send this Feature Inquiry, the higher the chances that the new PHP 8.2 version will be released soon, and we will all benefit from it. In unity there is strength so let's unite and do this!
PHP 8.2 will be considerably more secure than PHP 8.1, PHP8.0, PHP 7.4 and earlier versions.
PHP 8.2 will fix all major (known) PHP 7.x and 8.x issues.
PHP 8.2 performance is superior to that of versions 8.1, 8.0, 7.4 and older.
PHP 8.2 will bring about major changes for WordPress sites and performance will definitely increase which is an advantage for anyone hosting their WordPress website on a Synology NAS.
Right now over 75% of websites worldwide are based on PHP. So support and performance will only get better by the day.
UPDATE

12.12.2022
PHP 8.2 was officially released on December 8, 2022. Official Link. Official Changelog Link. Right now not included on Synology DSM.
UPDATE

5.1.2023
PHP 8.2.1 was officially released on January 5, 2023. Official Link. Official Changelog Link. Right now not included on Synology DSM.
This post was updated on Friday / January 13th, 2023 at 2:00 PM