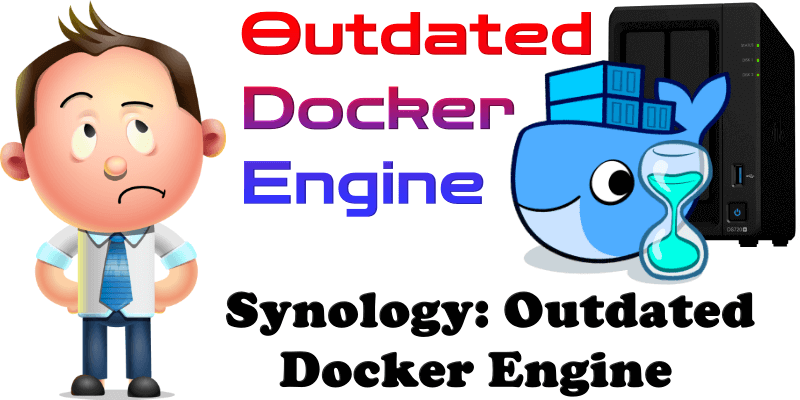 As you well know, Docker Daemon has not been updated by Synology developers for about a year and a half now. The latest versions of Docker fix a lot of CVEs security issues. The current Docker version available in Synology Package Center is version 20.10.3, available for DSM 7.1 – Docker Daemon version 20.10.3 was originally released by Docker on February 1, 2021 (2021-02-01) and by Synology on June 6, 2021 (2021-06-01). Many of you will remember that, on January 1, 2021, mariushosting launched a campaign and invited all readers to send a feature inquiry asking Synology Developers to release an update as soon as possible. After 6 months and countless requests, Synology finally released the update to the Docker daemon. Today I am here to ask you to repeat the miracle from a year and a half ago so that Synology can once again make an upgrade to its Docker engine given the tremendous popularity that Docker is having among Synology Fans.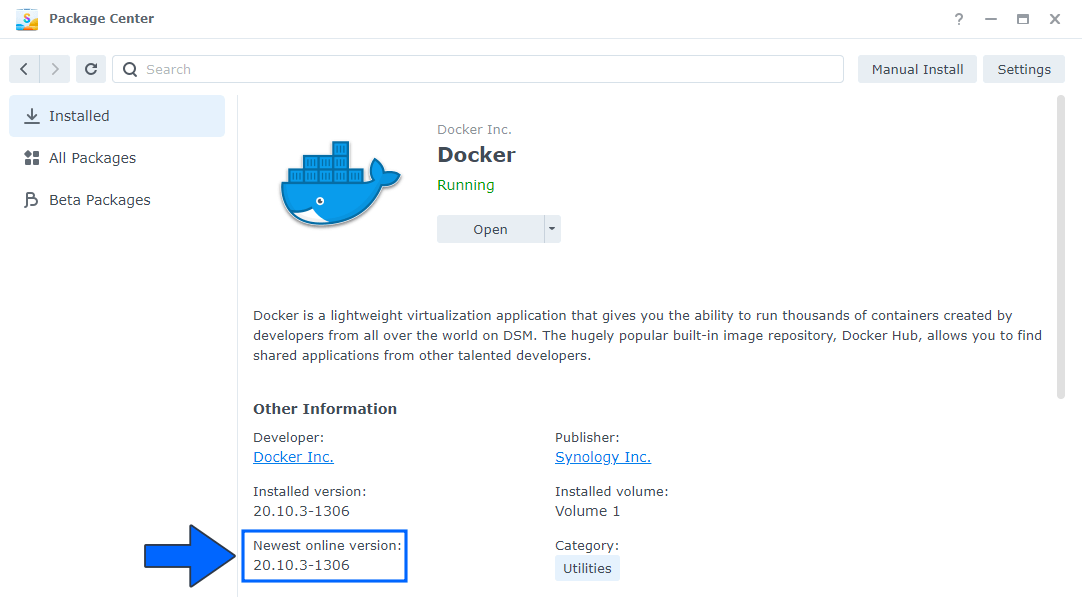 Synology users have been complaining for a while now about how their Synology experience is being negatively impacted by the outdated Docker version. After having received hundreds of emails in the last month from Synology users complaining about the outdated docker daemon, I decided to write this article and tell you that, today, July 9, 2022, I sent a Feature Inquiry to Synology to help speed up the process for the update. And I strongly recommend my readers to also send a "Feature Inquiry" to Synology to speed up the process with Docker Daemon 20.10.17
As you can see in the image below, you have to choose Packages from Category, then Docker. After that, select your email, confirm it and select your current location. And then write your message and hit the send button.
Hello, Synology team!

I would like to let you know that the current Synology Docker Daemon Version 20.10.3 released on June 6, 2021 is affected by several security CVEs https://docs.docker.com/engine/release-notes/
The entire Synology fans community is eagerly awaiting for the update to the Docker Daemon Version 20.10.17

Sincerely,
Your Name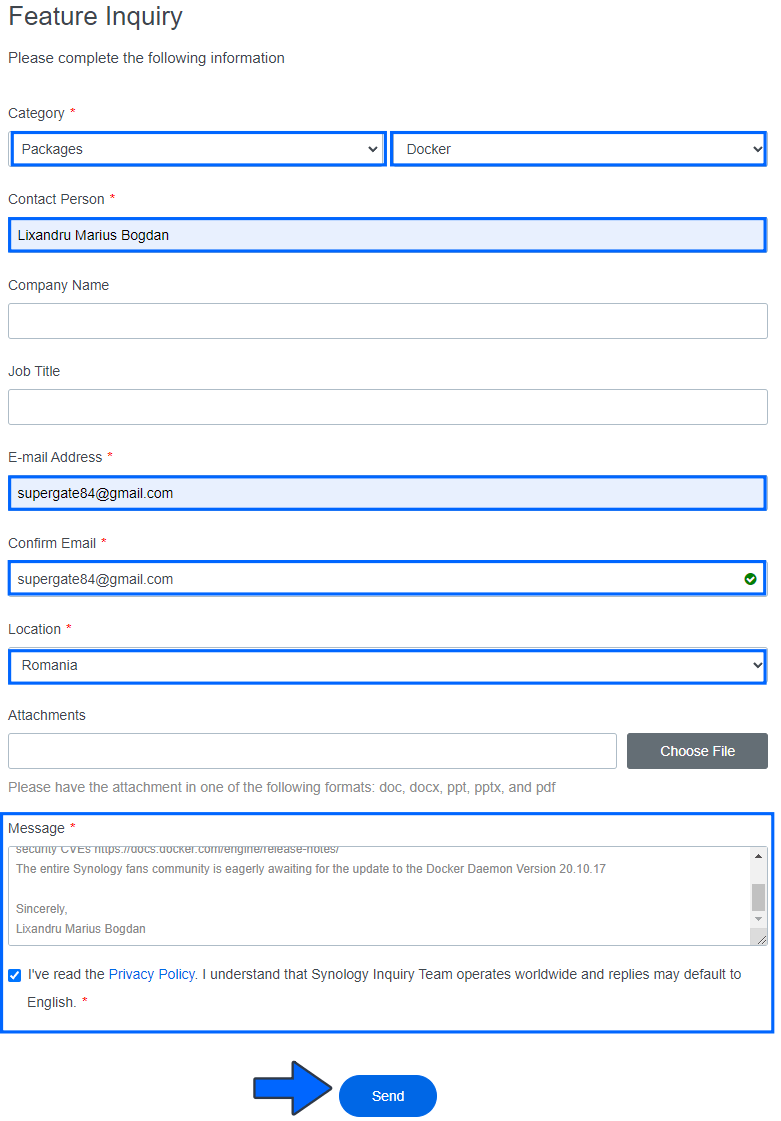 Once you've clicked the Send button, you will see an automatic thank you message.

Note: Synology is a wonderful company with a very hard-working team that has always shown a great deal of determination when it comes to solving issues such as this. The thing is, they can't stay on top of everything and need people like us to help them do just that by sending in suggestions such as this Feature Inquiry about Docker. The more of us there are that send this Feature Inquiry, the higher the chances that the new Docker version 20.10.17 will be released by winter, and we will all benefit from it. Unity is strength so let's unite and do this!
Note: Docker is a lightweight virtualization application that gives you the ability to run thousands of containers created by developers from all over the world on DSM. The hugely popular built-in image repository, Docker Hub, allows you to find shared applications from other talented developers.
This post was updated on Monday / May 22nd, 2023 at 10:29 PM