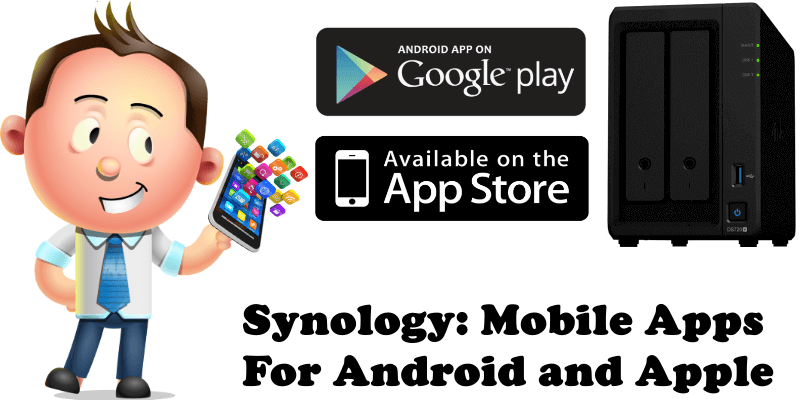 Did you know that you can use a lot of Synology apps that work in sync with the packages installed on your NAS or Synology Router on your Android or Apple iOS Mobile devices? In the links below you can discover all Synology applications available for use on mobile devices, both Android and Apple.
Synology Drive – Synology Drive iOS application allows you to easily access and manage files in your Synology Drive on the go. Apart from common file types, such as documents, images, videos and music, you can also open Synology Office document, spreadsheets and slides in the user-friendly viewer provided by Drive. In addition, the features of searching, sharing, moving and applying labels to files are all available on iOS device, which allows users to complete tasks efficiently anytime, anywhere.
Synology Photos – A flexible and comprehensive management tool that allows photo backup and browsing by chronological order or folder structure. Explore photos of loved ones or favorite vacation spots through automatically created albums. Group photos by themes or topics of your choice. Enjoy cherished memories in the palm of your hand.
Synology Chat – Own a Synology NAS to start chatting with your colleagues. Synology Chat is a web-based application that allows you to create a safe and secure place where conversations can be held in real-time. Collaborate from anywhere using your mobile devices, whether you are at home or out of the office. Receive push notifications whenever there's a new incoming message or mention, ensuring you never miss important updates
Synology VPN Plus – VPN Plus allows easy access to Internet and local network resources via the Synology SSL VPN service powered by the Synology Router. This mobile application provides you with fast connection speeds, enhanced security, and better capacity to pass through firewalls.
Synology MailPlus – Composing emails or replying to messages on mobile devices can be a hassle. With the intuitive design of Synology MailPlus, you can accomplish more with less effort. Organize your emails right in the palm of your hand. The swipe gestures allow you to quickly apply desired actions to your emails. Quick-reply templates save repeated keystrokes and make your reply even more efficient. With Synology MailPlus, managing emails is only a few taps or swipes away.
Synology Active Insight – Synology Active Insight is a health monitoring solution that supports multiple Synology NAS system health and performance monitoring under one Synology Account. You may receive system events with detailed troubleshooting actions from Synology with your mobile device. You may view current performance and storage summary of your Synology NAS.
Synology Secure SignIn – Synology Secure SignIn increases account security and offers two verification methods: Approve sign-in and verification code (OTP). Approve sign-in can be used to replace DSM password. For enhanced protection, use either method as the second sign-in step of 2-factor authentication.
Synology LiveCam – Synology LiveCam requires a Synology Surveillance Device License to operate. To purchase more licenses, please contact our authorized distributors at your location. With Synology LiveCam, you can turn your mobile device into an IP camera and pair it with Surveillance Station. This not only allows you to view live streaming, recordings, and snapshots on both Surveillance Station and your mobile device, you can also download and store the files locally for saving and viewing.
DS Finder – DS finder allows you to set up and manage your Synology NAS, sends you NAS-related notifications, and opens your door to the world of Synology apps. And yes, all these features can be accessed directly from your phone, so wave goodbye to complicated setup and management with DS finder!
DS Cam – DS cam makes it possible to monitor and receive alert notifications from all your surveillance cameras set up on a Synology DiskStation. Smart features such as PTZ, patrols or lens control allow for perfect control of your cameras in real time, while advanced filters make it easy to pinpoint any specific event from large lists of recordings. You can even perform all essential management tasks, from disabling a camera to unlocking and deleting a snapshot.
DS Router – DS router allows you to manage you network with just a few taps whenever you want, wherever you go. Easily set up brand new Synology Routers, monitor live traffic, and protect your children's Internet activities with the comprehensive features of DS router.
DS Video – Use DS video to stream your video collection on your DiskStation from your iOS mobile device. Browsing is made easy as your videos are sorted in different libraries, and each movies has its information retrieved online automatically. And if you have plugged in a DTV dongle to your DiskStation, you will also be able to record TV programs, as well as view the TV program to manage the recording schedule even when on the move.
DS Note – Whether for creating your weekly to-do list, sharing information on projects with your teammates, or simply describing your best holiday memories, DS note's editing features make it easy and pleasant to take note of anything you want, anywhere you need, even with no network. Use tags, notebooks and shortcuts to organise all your notes, and share them instantly with anyone you want. And that's always safe as DS note keeps it all in sync with your note library on your Synology NAS server, your personal cloud.
DS Audio – DS audio allows you to stream music stored on your DiskStation with your Android device wherever an Internet connection is available. Better yet, with the offline mode you can listen to songs stored in the device's local memory for when no network connection is available. You can browse music by albums, artists, folders or genres, create your own playlists or share them with your friends, and even rate your music! And if you have dedicated stereo speakers at home, DS audio can also become a remote control to stream music to them.
DS File – DS file is ideal to manage files stored on your NAS, upload or download between the NAS and the Android device, or do basic editing tasks. And always securely with HTTPS support. Besides file management, DS file is also a useful tool to do anything from browsing pictures, watching videos or checking work documents when you are on the go.
DS Get – With DS get, manage your downloads anywhere you are with your Android Device, directly to you DiskStation. In addition to viewing your Download Station status, individual task information, controlling key settings such as download schedules, DS get also has an inbuilt browser to conveniently start downloads, and integrates with Chrome. You can even use keywords to search for content, just like in Download Station.
DS Cloud – Discontinued in DSM 7.

DS Photo

– Discontinued in DSM 7.

Synology Moments

– Discontinued in DSM 7.
Note: You must own a Synology NAS to run the apps above.
Note: You must own a Synology Router to run some of the apps above.
Note: You must own a Synology NVR to run some of the apps above.
This post was updated on Saturday / May 20th, 2023 at 4:33 PM