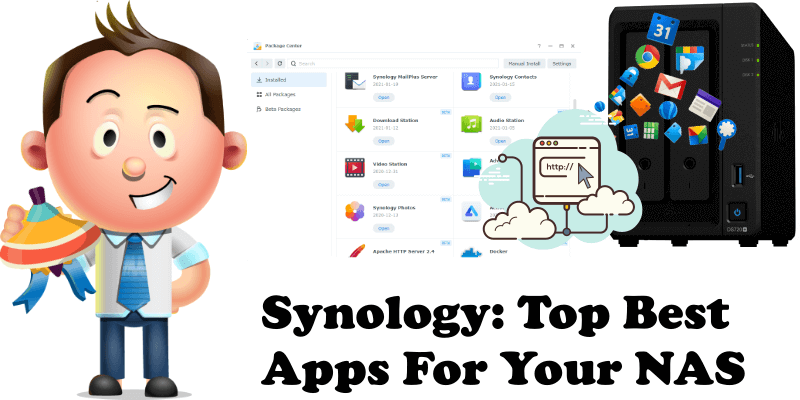 Below I want to introduce you to a collection of the best Synology applications for your NAS. But do keep in mind that what I consider to be the best apps for me might not coincide with what you consider to be the best apps for you. Any applications you install on your NAS will be applications you need. Below you can find links to all Synology Packages and the top ten packages that I frequently use on my own Synology NAS device.
Active Backup for Business is designed to provide a comprehensive while centralized data protection solution, helping you back up business PCs, VMs, physical servers, and file servers all alike.
Snapshot Replication is an expert of data backup and recovery with the point-in-time copy mechanism. Businesses need data protection to prevent data loss from accidental deletion, application crashes, data corruption, and viruses.
Hyper Backup helps you back up data and LUNs, and retains multiple data backup versions to keep important information handy and easy to track. Hyper Backup also makes restoring data and LUNs simple and straightforward.
With Audio Station and its mobile app DS audio, you can enjoy high-quality playback, listen to radios, manage your music collection, create personal playlists, and share with friends anywhere.
Video Station lets you manage and watch your video collection—movies, TV shows, home videos, and TV recordings—with intuitive convenience. It provides instant watching by streaming videos to your computers, AirPlay devices, iOS/Android devices, Windows 10 tablets/laptops, Apple TVs, Android TVs, and more. What's more, it can enrich your videos with posters and subtitles from the Internet, and create a watchlist or favorite list for quick access.
Surveillance Station is a web-based application that can manage IP cameras to safeguard your home or office environment. With Surveillance Station, you can watch and record live view videos, set up scheduled recording, playback recorded events via web browser, VisualStation, or mobile device for remote monitoring. Notifications can also be sent to you whenever important events occur.
Container Manager, previously Docker, is a lightweight virtualization application that gives you the ability to run thousands of containers created by developers from all over the world on DSM. The hugely popular built-in image repository, Docker Hub, allows you to find shared applications from other talented developers.
With Web Station you can easily host and publish your own website. Additionally, after installing the PHP package, you can freely create dynamic websites for your personal use, or business. For website hosting, the Web Station package works in conjunction with MariaDB 10, PHP and phpMyAdmin.
Synology MailPlus Server provides a cost-effective mail solution for enterprises requiring high-level security and stable performance. The high-availability architecture provides single server fault-tolerance to maximize service uptime. Synology MailPlus is a powerful webmail service with rich features. You can send/receive mails via any mail servers at your will, and enjoy the centralized management of all the incoming and outgoing mails. You can design a beautifully-formatted mail with built-in stickers and inline images. Synology MailPlus provides labels and smart search functions to help you efficiently find and manage your mails. Through the integration with Synology Note Station, you can save any mails to Synology Note Station without any hassle.
Synology Photos provides a series of smart and flexible features, allowing both photography lovers and home users to manage photos with ease.
Synology Office is a collaboration-oriented application for creating documents, spreadsheets and slides in Synology Drive. You can edit files with various built-in tools and exchange ideas with collaborators via interactive comments and the Synology Chat plugin. For confidential content, you can also encrypt files with passwords for extra privacy. Synology Drive Server is a comprehensive solution for file storage, management, sharing, and synchronization. It is equipped with Synology Drive Admin Console for centralized management and monitoring, Synology Drive for file access via web portal, and Synology Drive ShareSync for synchronization across Synology NAS devices.
This post was updated on Saturday / July 29th, 2023 at 12:06 AM