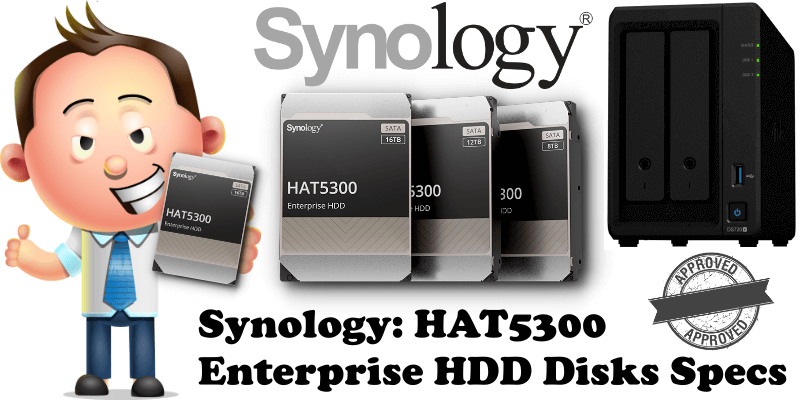 On January 4, 2021, mariushosting was predicting the release of the HAT5300 HDDs, Synology's own Enterprise level HDD disks. And today, January 29, 2021, it appears the prediction is validated as Synology releases its Enterprise solution HAT5300 HDD disks. You can take a look at the official press release at this address. There is a lot of confusion on the Internet about the newly released Synology brand HDDs so, in this article, I will provide you with the correct information.
Will Synology force me to buy its HAT5300 disks for my DiskStation? Nobody will force you to buy the Synology Enterprise HDD solution, and your NAS will continue to be compatible with all other HDDs on the market, as it has been until now.
Is Synology trying to lock DiskStation compatibility to their own disk solutions in the future? The answer is NO. Absolutely not!
Will the new Synology HAT5300 HDDs cost more than HDDs from other brands? The price is in line with that of other brands offering Enterprise solutions. It will not break the bank. But we are talking about Enterprise discs, not consumer discs.
Will Synology HAT5300 HDD disks be overpriced? No, as I already said above, the price is in line with prices from other competitors offering Enterprise solutions.
Which is the manufacturer? Synology's HAT5300 is a Toshiba Enterprise drive solution with a Synology optimized firmware to provide enhanced read values of up to 23%.
Can domestic/consumer audiences install HAT5300 in their DiskStation? Yes, they can install the HAT5300 HDDs without any problem, but remember that these disks are intended for Enterprise solutions. So if you install them in your DiskStation, you will get an Enterprise solution at home.
If I want to update the HAT5300 firmware, do I have to remove the discs from the NAS like I have been doing with HDD discs from other brands? No! Synology offers integrated firmware updates directly via its DSM operating system. Peace of mind! You no longer have to remove your disks from the NAS to update the firmware. Reducing the degree of manual manipulation of your disks will lower the risks for potential damage, as well as preserve a great uptime score.
How long will the warranty period be on the HAT5300 Synology HDDs? The HAT5300 drives are backed by a 5-year limited warranty that includes technical support and hardware replacement services to maximize your return on investment. The warranty period starts from the purchase date, as stated on the receipt of purchase.
How fast will the Synology HAT5300 Enterprise-level disks be? 7200RPM for 8TB, 12TB and 16TB disks.
When will the HAT5300 HDD disks from Synology come out? Most likely in the coming weeks, after the Chinese New Year.
Below you can take a look at the performance of Synology's new HAT5300 HDD drives.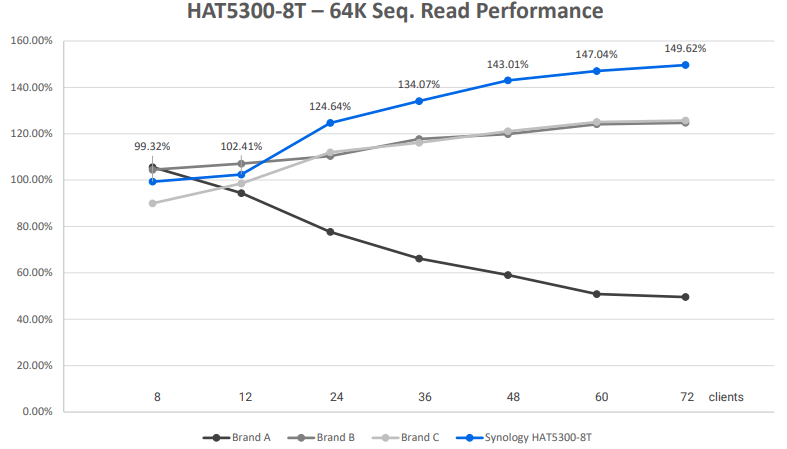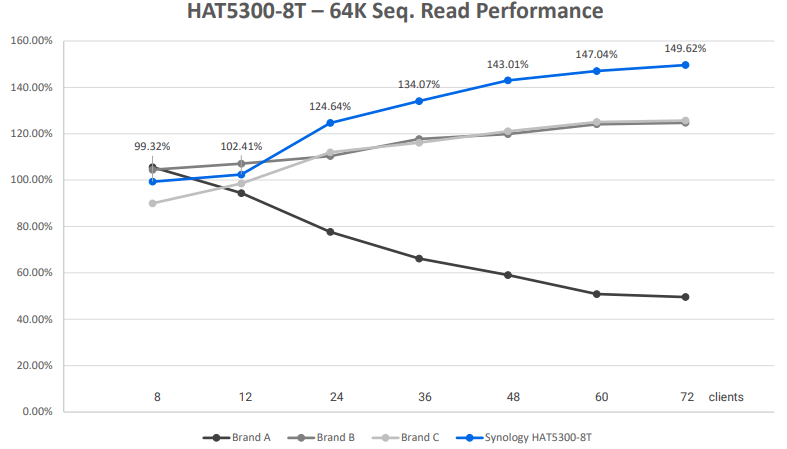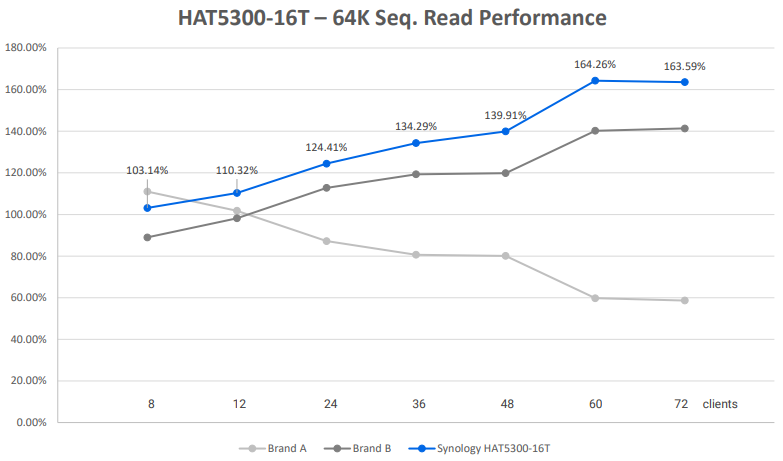 Note: Relative performance in the screenshots above (screenshots 1, 2, 3) is compared to the industry average (baseline at 100%), baseline determined by average of other drives of the same class. For reference only, actual results may vary depending on testing methods, devices and software used, and other variables.
The strength of the HAT5300 HDD discs from Synology lies in their Endurance and Reliability, two aspects that beat all competition.
Perfect compatibility with Synology's DSM operating system – The Synology firmware and DSM optimization provide enhanced read values ​​at a higher level of up to 23% compared to HDDs from other companies of similar volume.
Reliability and durability at Enterprise level – Designed for use in environments of 24/7 operability, with 2.5M hours of MTTF and an annual load of 550TB.
Integration of NAS, hard disks, and software provides a comprehensive solution offered by Synology – This means better service and quality. The company places a high priority on ensuring consistent reliability of its NAS products and reducing the number of service calls, and enforcing this policy will help ensure the company achieves its goal.
This post was updated on Thursday / June 1st, 2023 at 12:27 AM